This lovely home has a great layout.  I just felt that there were too many paint colours on the main floor since they had beige, chocolate brown and royal blue walls.  Buyers are looking for more neutral colours so the house is move-in-ready.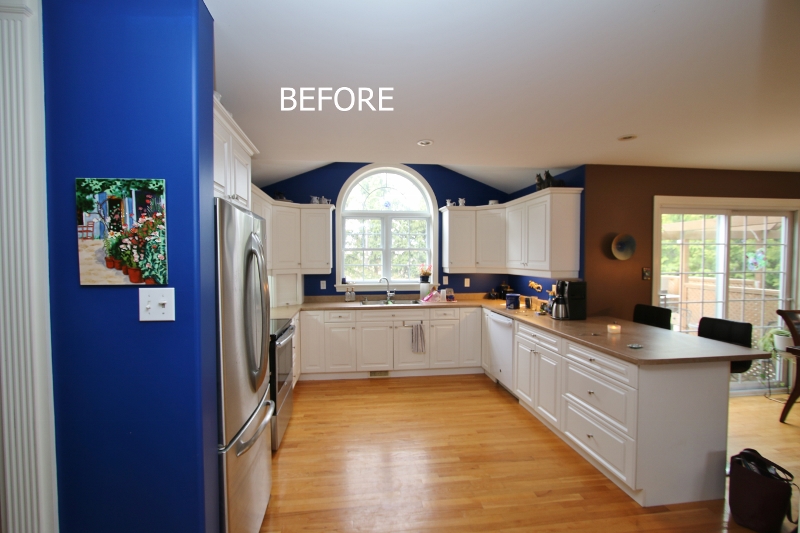 I suggested that they keep all the beige walls since they were nice and neutral, but paint any royal blue and chocolate brown walls in a dark gray.  I chose gray since there was a gray vein in the counter top and they also had two gray chairs in the living room.  The beige colour didn't look good with the countertops. When I put the beige paint sample beside the counter it suddenly looked pink. The goal is always to make the rooms flow from one room to the other.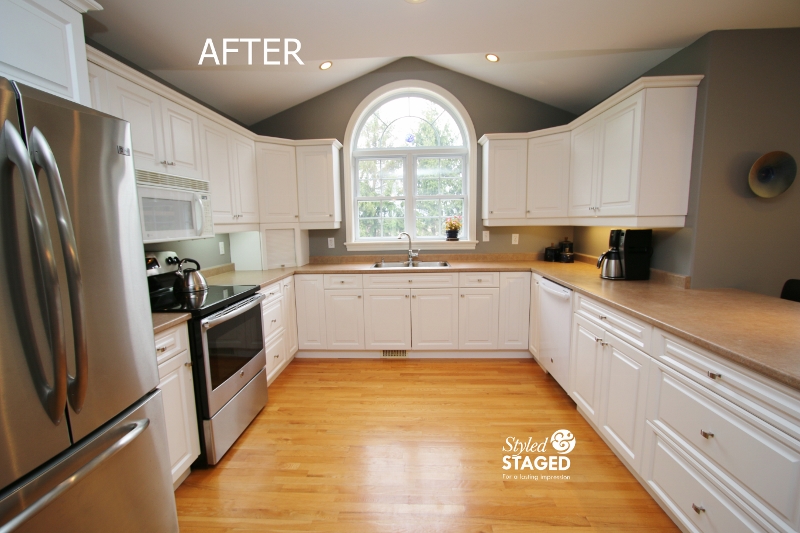 The countertops look much better with the new wall colour.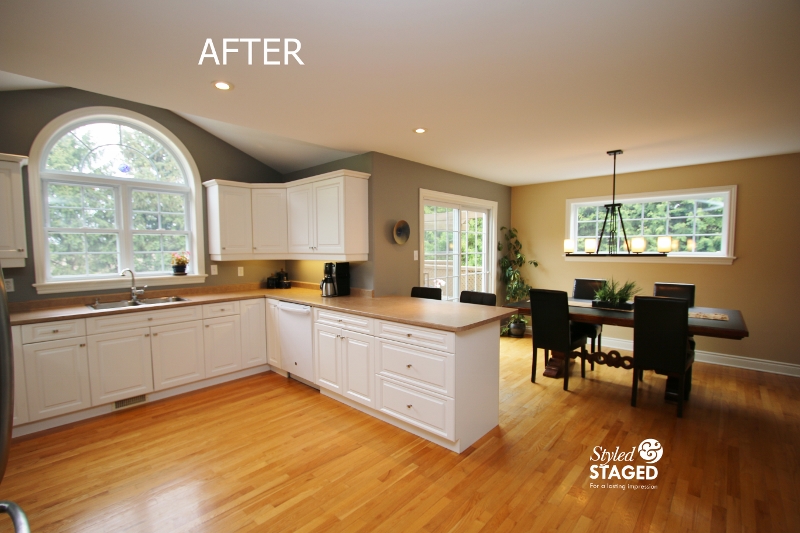 The gray was continued into the dining room so the two rooms weren't divided. It made it feel larger.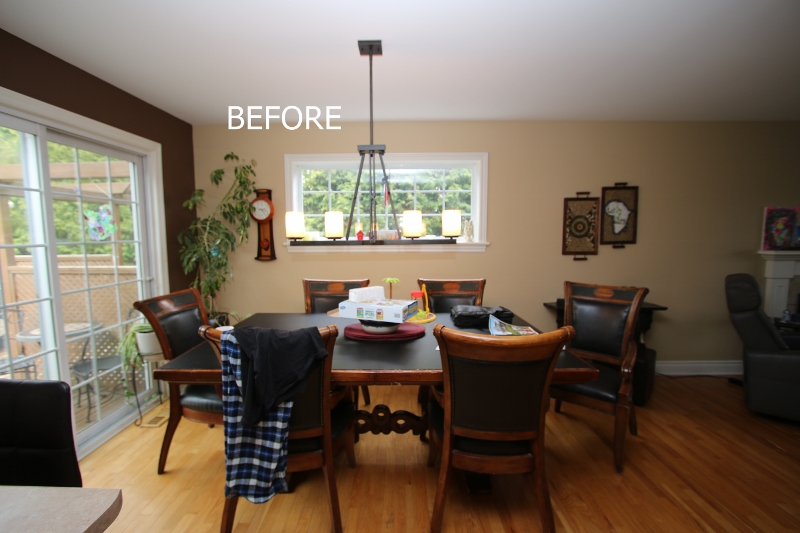 We brought in smaller parson chairs and only put 4 chairs instead of 6 to open up the space.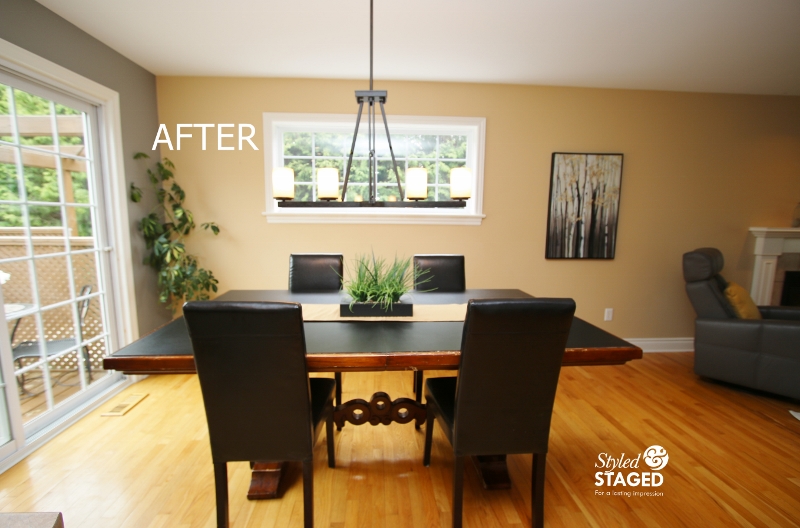 Subtle changes can make a huge difference.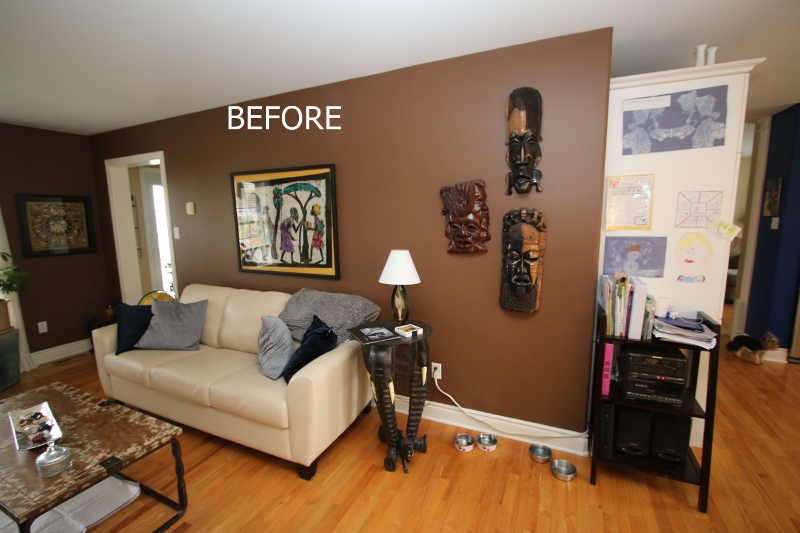 Painting out the chocolate brown walls and bringing in generic, less personal artwork is safer for staging purposes.  The gray is a more current colour than the chocolate brown so it will appeal to the buyers. Remember, decorating and staging are very different.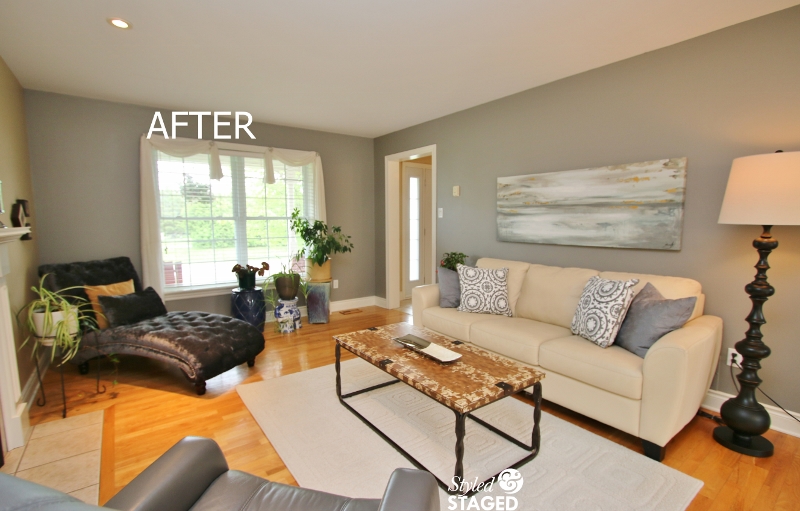 The room immediately looked lighter and fresher even though it's a dark gray.  The ivory area rug also lighten the room and defined the space from dining room.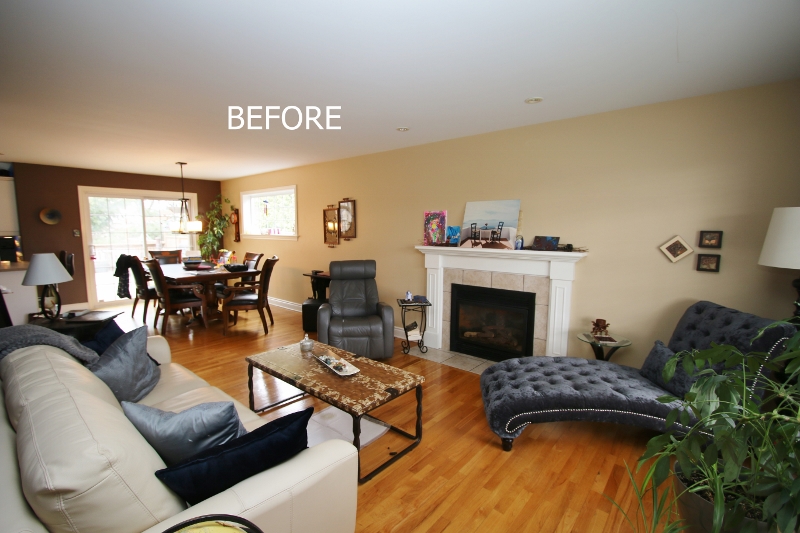 Their chairs helped inspire the gray accent colour.  You always want to make your fireplace the focal point of the room since that is what buyers are buying.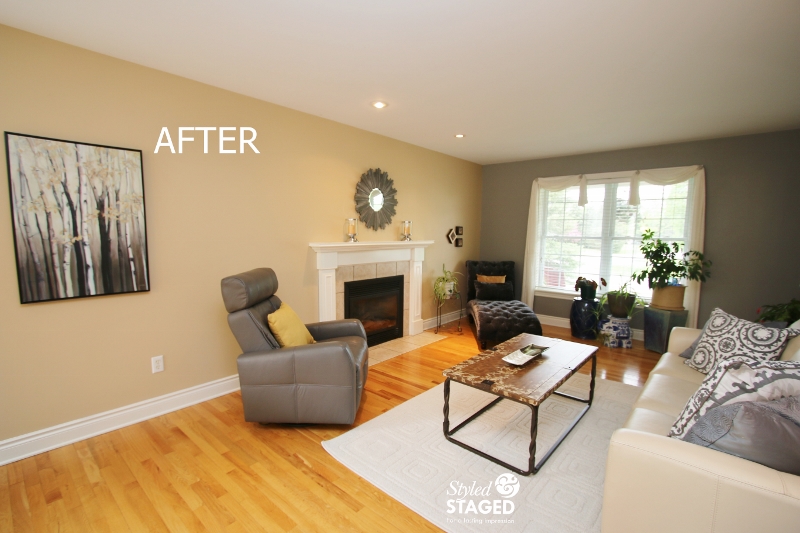 Again, I just brought in simple oversized accessories to draw your eye all around the room.  The wooden gray round mirror balanced the opposite gray wall.  The artwork also tied all the colours together. The key is fewer, but larger pieces.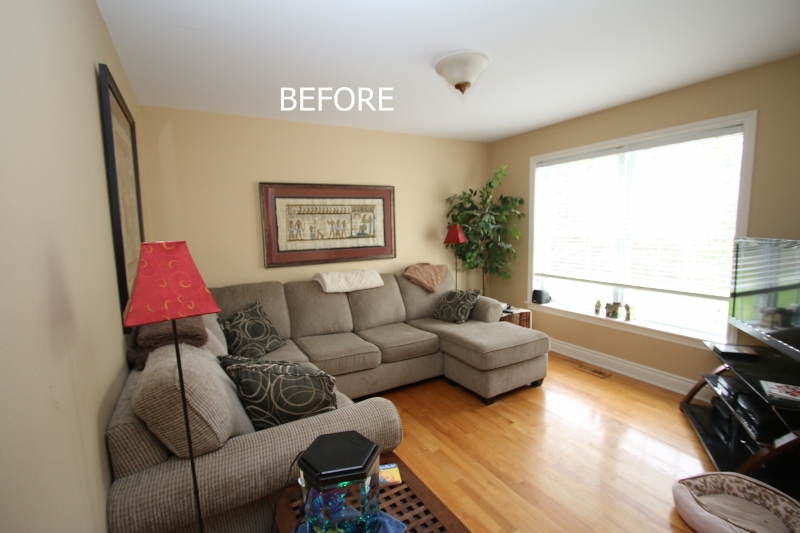 I wanted to have a cohesive flow into the adjoining family room.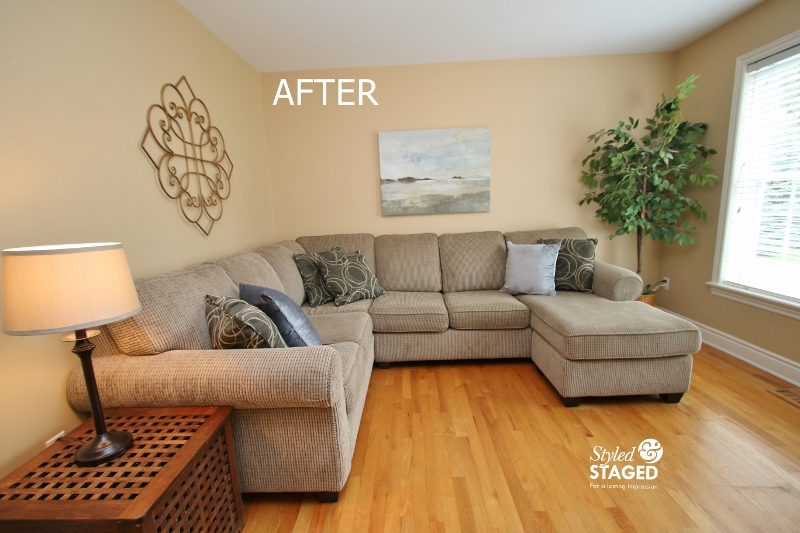 All I had to do was add some gray accessories to tie the rooms together. I always try to use as many of the homeowner's accessories as possible.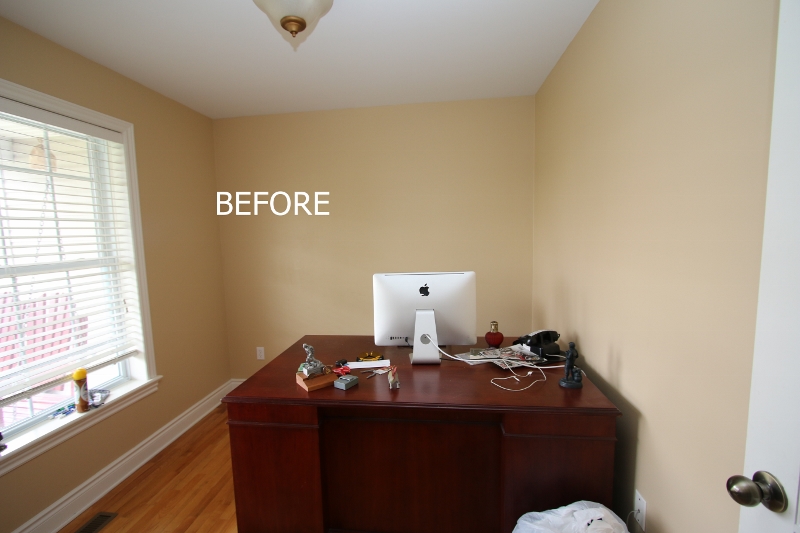 A main floor executive office adds great value to your home.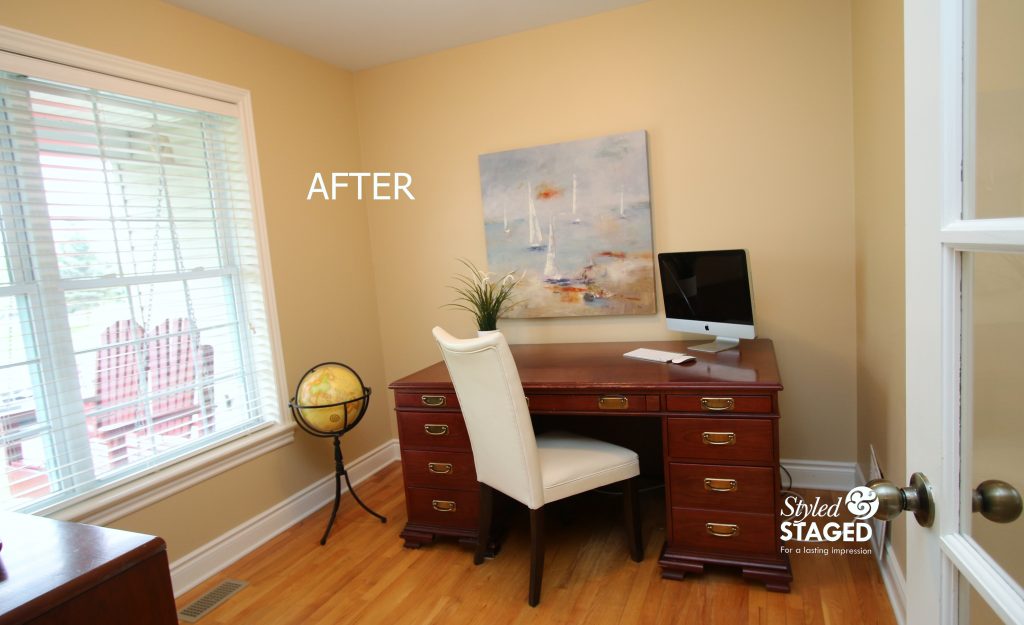 Turning the desk around so you see it's beauty made a huge difference. It no longer cut the room in half and it welcomes you in. Adding a few decorative accessories and artwork pulled the room together.
Now the entire main floor feels updated simply by changing the accent paint colour.  I love combining beige and gray together since it creates a nice balance of warm and cool colours.