How To Incorporate Moscow Mule Mugs Onto Your Bar Cart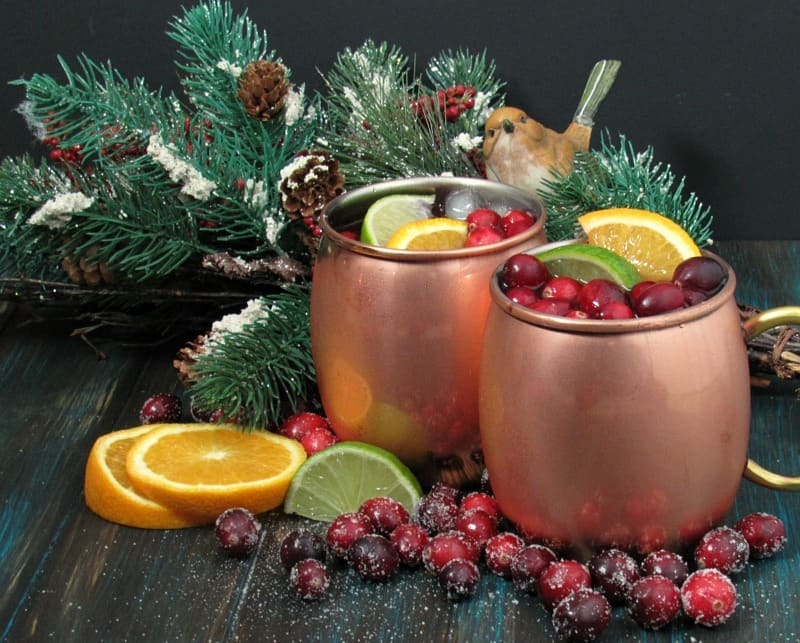 First of all, if you don't know what a Moscow Mule Mug is, lets start with that.
Moscow mules can be enjoyed all year long. At first, I assumed they were for hot drinks but they are not.
It's a cold and really refreshing drink, with a lot of citrus and fizz, so it's perfect in the spring and summer months. But because of the warm ginger flavor, it works really well in fall and winter too. That gentle heat at the back of the throat is so nice on a cool, crisp evening! The garnishes are endless depending on the time of year as well.
Questions From One Of Our Members
One of our members sent in a few photos of her bar cart and asked:
How do I incorporate my new mugs onto my bar cart?
Can I have some ideas on how to stylize my cart?
I am actually creating a whole video on bar carts in general since they have made a huge comeback and they are something that every house can use (even if it's not for liquor!) They such a fun DIY project for those who want to repurpose and they range up into the hundreds depending on the materials used. Stay tuned. I will even show you my first bar cart from 1980! I was so proud lol.
Choosing the right bar cart can be tricky. Do you drink more wine than liquor? Do you like to display glassware? How large do you want it? Pick one that works for your needs.
Answer #1:
In the meantime, I will answer Avery's specific questions since I'm sure many of you have the same questions.
I absolutely love the look of Mule Mugs. The warmth of the copper and the textures are very inviting. To me, they are a festive drink so the mugs should be showcased as such.
This is Avery's cart. I really like the simplicity of the cart and you can see that serves many functions since it has holders for hanging wine glasses and bottles of wine so it's efficient. I like that it's black with wood. Simple and versatile.
Mule mugs look great with this colour combination since they have a bit of a rustic feel to them. Personally, I feel they look a bit lost on the top shelf. I would like to see them on a round lighter wood tray similar to the photo above. The lighter wood would also tie in with the lighter wood around the cart. Putting them on the tray would give them more presence and make a statement. If I was serving Mules that night, I would put all the necessary liquors and garnishes on the top shelf so everything is handy.
One of her concerns was that she has a lot of bottles but doesn't want the cart to look busy. I suggest that she looks underneath the side bars where the wine rack is being held. I think she might be able to remove the wine rack so she has more room for the tall bottles. If it's still too busy she could probably remove the hanging wine glass holder as well since glasses don't take up too much in kitchen cupboards.
Stylize # 2
I like the fact that she has greenery as well on her cart. She doesn't need too many plants since she them on the floor around the cart. I personally don't like it when it's just bottles and nothing decorative. I think of the cart as an extension of the home decor. I want it to be functional yet still attractive. In Avery's case she can still add decor to the mugs on the top shelf.
Now think of the copper colour. Do you need more copper on the cart? Not necessarily, but I think the lighter wood tray and maybe even some black elements would tie them in more. You'll see examples below.
Every time I go into the stores I seem more and more copper elements. I love how it blends with all the other metals and adds warmth. Yes, you can mix your metals! I especially like it with pewter, brass or aluminum.
Remember I said she could add more copper and/black? Just make sure you don't go overboard with the copper or it will look like you bought out HomeSense and look too matchy-matchy. Perhaps sprinkle a bit of copper in other areas of the room like your coffee table or kitchen counters (candle holder, cannister etc.) I love these black stem wine glasses since they have some drama to them. Black and copper is an amazing combo but you should always consider the rest of your decor.
I do NOT suggest solid black wine glasses. I have some since I love the look of them but I always spill since I can't see if the bottom of the glass is full or empty. And no, it's not because I drank too much 🙂 The ones above have just enough black.
Avery doesn't have much room for stemless glasses like the ones above on her bar cart but I just wanted to show them since I really like them :). They can always be pulled out for entertaining.
*side note* Avery could put her mugs on this aluminum tray as well. I think I would just prefer them on a wood tray for the winter months but this would be great for the summer months.
Don't forget to have lots of napkins around for your guests that match the decor so they will use them as coasters. It's also another inexpensive way to add some colour to your cart.
Inspiration For Different Seasons
Now, getting back to the Mule Mugs, this is the perfect opportunity to continue her already fabulous seasonal decor. Check out the photos below to set some inspiration on how you could showcase your beautiful copper mugs for each season.
Don't these inspiration photos make the drinks look so festive and deliscious? It's all about the presentation. I hope these suggestions help. Avery, keep up the great work of your seasonal decor!
Being Celiac, I was happy to find that there are several kinds of ginger beers that are gluten free. I guess I'll have to give it a try. For research of course! Cheers