I Don't Always Get It Right The First Time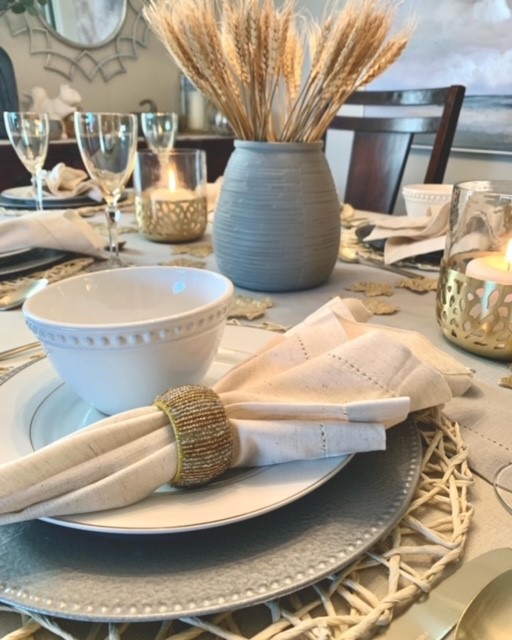 Anyone else obsessed with this colour combination? I find it calm and relaxing while still looking elegant.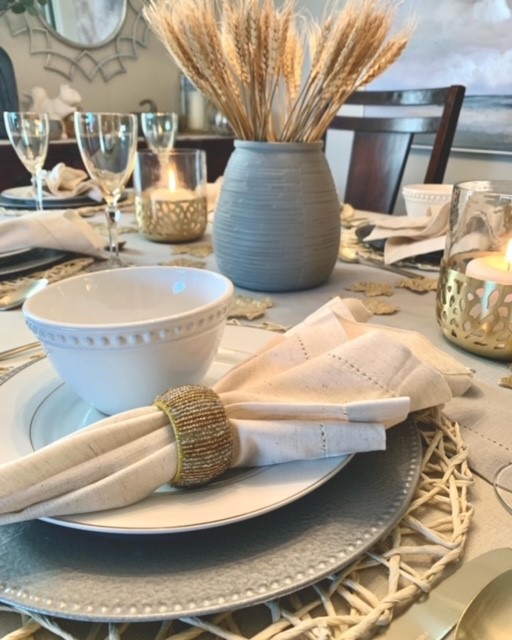 In my opinion the key to setting a pretty table is to add several layers and textures. Even though there isn't much colour here, it certainly isn't boring.
How It Started
I seldom get a table setting the way I like in the first try! I have to admit I'm a bit obsessed with table settings. 🙂
This is how I started out and I realized I didn't like it at all. Let me explain why.
I didn't like how the dark table created too much of a harsh contrast. I was hoping for a soft colour palette.
The blue runner velvet runner was throwing me off (even though I love that runner). I also didn't like the teal vase even though I love the vase.
Good Lesson
Just because you like individual elements, doesn't mean that they go well together.
As soon as I put the ivory table cloth and soft gray linen runner down, everything completely changed. The rattan placements also looked softer since there wasn't as much of a contrast.
DIY
Since I really liked the shape of the glass vase and I have 4 of them, I decided to spray paint it with gray chalk paint. I loved how you actually see more details of the glass and it had a matt finish to it. Obviously I won't put water inside since I also spray painted inside so you didn't see the colour from the top. It's perfectly fine for dried flowers or dried wheat etc. As I said, I had multiple vases like this and they were under $10 each.
I didn't like the white charger plates so I painted some old ones that I no longer used with hammered metal spray paint. They will be used a lot more in this gray colour.
Finishing Touches
Notice how the napkin rings tie in with the gold rim around the white plates and the brass candle holders.
Even the candle holders mimic the rattan placemats.
The wine glasses had a gold tint to them for a soft warm look.
The gold metallic maple leaves on the table added just enough sparkle and seasonal flair.
What Makes This Table Setting Work?
Consistently used the same colour palette. Soft gray, cream, wheat and white and gold.
The appropriate dishes were used for the meal so it was functional.
The colours also complement the artwork and the decor on the buffet for a cohesive flow.
Soft candles always add mood to any table setting.