Tips On Setting A Festive Table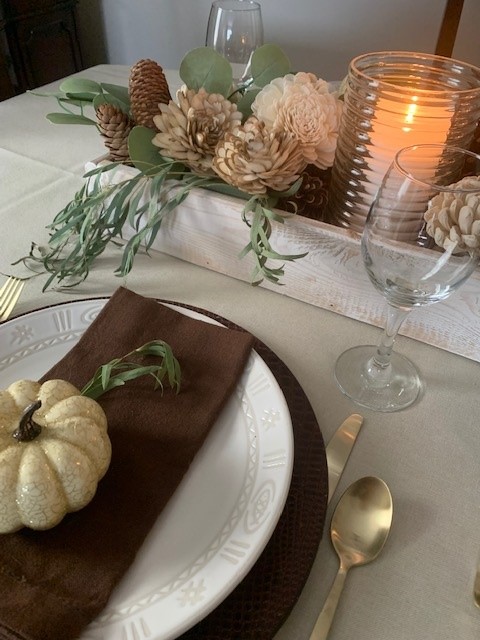 How do you know where to start? What is your colour scheme? What is your inspiration?
My Thought Process
For me setting a table is completely different each and every time even if I use many of the same elements. This was my thought process for this table setting.
I wanted to use my wooded box holder that I made last year (I've had a few order to make these for people).
I wanted something to look seasonal but not only for Thanksgiving (I used nature as my inspiration).
What did I have on hand already to make an inexpensive centrepiece?
What linens and dishes did I already have to complement the theme?
What candle holders did I have that would fit in the wood box and still feel a bit rustic
What mood did I want to create?

Steps
Once I decided on a casual natural and organic look to my table I brought out natural elements like pinecones (I keep them year after year and use them at Christmas too).
I chose white, brown, cream and different shades of green for my colour palette. The key is to keep repeating the same colours in different ways.
I knew I wanted it to feel fresh so I bought some fresh willow eucalyptus from the grocery store.
I brought out my faux silver dollar eucalyptus garland since it's great filler. I always add some fresh greenery to faux greenery so it looks better.
I dug up my old white delicate flowers that I've had for years. I love them since each petal is made from a very thin woodchip.
I wanted a neutral background so I laid my taupe/cream linen linen table cloth followed by the wood box in the centre of the table.
Filler:
I started with my candles first since I wanted to make sure they sat flat on the bottom of the box. I always put my candles in glass and never leave them unattended for safety.
I arranged the faux garland around the whole base of the box. It's made of wire so it's easily pliable.
Then I layered all the pinecones since they also take up a lot of room and sink a bit to the bottom. The add lovely texture and each one is different.
The delicate flowers are laid on top of everything so they don't break.
I thought I was finished but something was missing. It needed the live greenery for freshness and it also drapes over the ledge of the box so it doesn't look so 'set'. I just tucked it under everything so the stems were hidden.
Make sure things looks good from all angles.
Look at the difference below between not having the willow eucalyptus and then having it cascading over the box. Just pretend you are filling an exterior window box. You want different heights, colours, textures and trailing vines as well.
Final Touches To The Table
This box is lovely on it's own for every day enjoyment but I wanted to continue to set my table for dinner. I still wanted a casual, natural and organic feel to the table. Nothing too fussy!
I added:
brown leather charger plates to tie in with the pinecones
ceramic chunky plates with a rustic design on them
matt gold simple flatware since I didn't want anything too shiny on the table
brown linen napkins that tied in with the colour scheme
simple chunky wine glasses
to finish it off I added an ivory pumpkin and a fresh sprig of the eucalyptus on every place setting
What do you think of this colour combination? Would it work in your house?
What menu would you serve? I think it would be perfect for a nice hot chunky stew, crusty bread and red wine. Just a good old fashioned home cook meal.