Take Your Time and Don't Rush a Vignette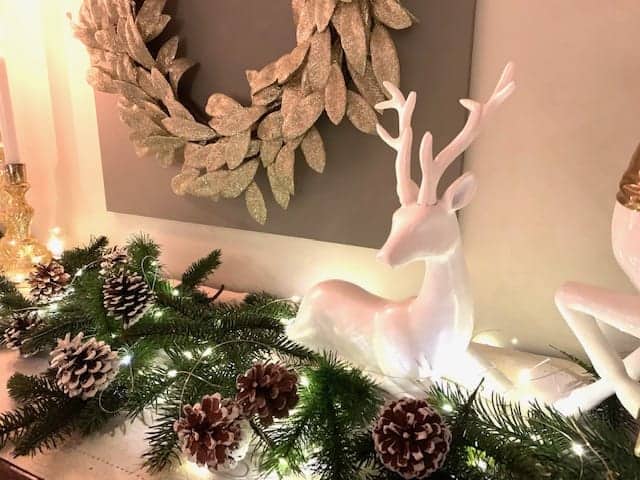 Whenever I start to decorate a little 'moment' or vignette for the holidays, I always remove everything so I have a blank slate. The biggest lesson I've learned over the years is to not decorate when you are rushed or you won't be happy. Tackle little areas at a time if you need to. Obviously when I'm at work I don't have luxury since I'm usually waiting for the photographer to walk in the door, so I really enjoy this process.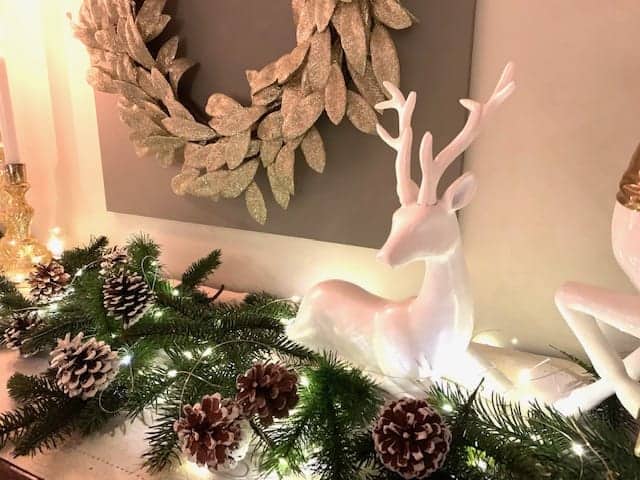 DIY
I wanted to hang something festive above the piano as a nice backdrop so I decided to make this DIY
I had an old piece of artwork on a thin canvas that I didn't like anymore so I painted over the picture with the same paint that I used in my adjoining dining room. This way the colours flow from room to room. I never used this gold leaf wreath since it just looked lost on a light wall colour,  so I literally just attached it to the canvas right through to the back with fishing wire and a big needle so you couldn't' see it. It's nice and secure and you can't see the wired.  There is even the picture hanging hook for me.  Now, the wreath looks great with the contrasting colour.
Be Prepared to Start Over
So much is trial and error and you should be willing to start over if you're not happy with the results.
I removed all my 'normal' décor and artwork from the top of the piano but I left the blue runner.  Then I started to add the gold candles and the white reindeer. It actually took me a while since I tried many of my candle holders etc. Once I agreed with the candles, then I realized the standing deer needed some gold around it's neck to add some weight to that end of the piano.
I continued on with my greenery and some twinkle light.  I really wasn't happy with the outcome.  After looking at it for a while, I realized it was the blue runner underneath that was making it look dull. Needless to say, I removed everything and stared over.
As soon as I switched the runner to the cream linen one, everything seemed brighter.
At first I wasn't going to put the greenery back up but it looked odd with just the lights.
Once the greenery was on, I still felt like something was missing and then I realized it needed the natural element of some pinecones.  The pinecones needed to have some white frosting on them or they would have looked too heavy.
I am really satisfied with the elegant, yet simple look that was created.
Sometimes it takes more effort to create a simple look!