Table Settings for Christmas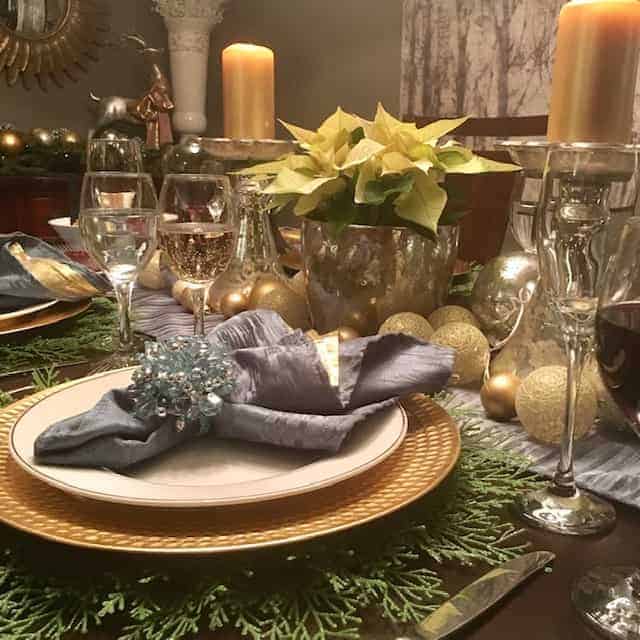 I always look forward to setting the table for any special holiday.  Maybe it makes me feel like I'm contributing more, since I am not known for my cooking skills.  I figure if I can make the table look pretty, people won't notice the taste of the food so much and they know I have put effort into the occasion. 🙂
Years ago, I created all these table setting photos to help give people ideas using things that they might already have around the house for the holidays. Every November you will see charger plates on sale in home stores.  It's the best time to buy them since they are not always available throughout the year.  Every year new chargers come out but you can't go wrong with the classic gold or silver ones. Personally, I like to use chargers since they protect your table or your linens and they make the setting look more 'special'.
Christmas isn't always about red and green.  If you have a teal colour scheme in your home, you could still make it look festive with your teal accessories.  Adding ribbon/napkins/ornaments in your accent colour definitely look great with either silver or gold chargers.
For a more formal look, black/gold/white is always dramatic.  Look around and see what you can create in those colours.  You can even wrap little gifts for each place setting.  If you've got special dishes, bring them and enjoy them.  I use mine all year since I believe in enjoying what you have.  If they get broken, at least they were well loved instead of hiding in a buffet.
Wrap your napkins with ribbon, add candy canes or some fresh greenery and berries for a more traditional look.  If you have coloured everyday dishes, bring them out and make them look festive by layering different sizes.  The brown leather charger plates look natural with the greenery and berries.
Add tree personalized tree ornaments to the napkins.  Have fun and try the different combinations that work with YOUR holiday theme.
You still have a very formal look without using black.  It's amazing how just changing the ribbon or napkin can totally change the look with your everyday napkins.
For a more casual look, consider plaid napkins and add little toys to the children's place setting to keep them happy. these little stocking were top stitched out of felt.  I used to tuck a little surprise in each stocking.
I've often used tree ornaments or faux poinsettias adorn the napkins.
I guess what I'm trying to get across is to just have fun by looking around your house to see what you already have and how you can repurpose it. The items don't necessarily have to related to the holidays.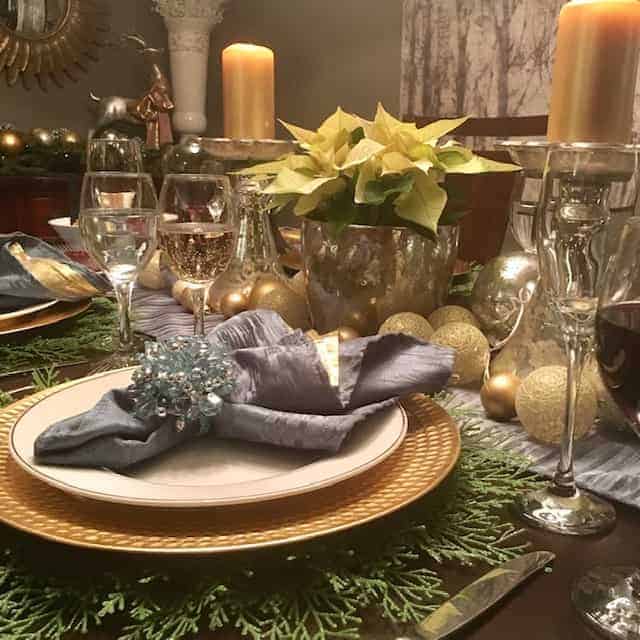 Cheers everyone.