When there are several houses on the market in the million dollar price range with fewer buyers, you have to make sure that every room looks it's best.
This post is a continuation from the main floor. We are now heading up to the bedrooms. To see the main floor transformations click on Main Floor Transformations
Master Retreat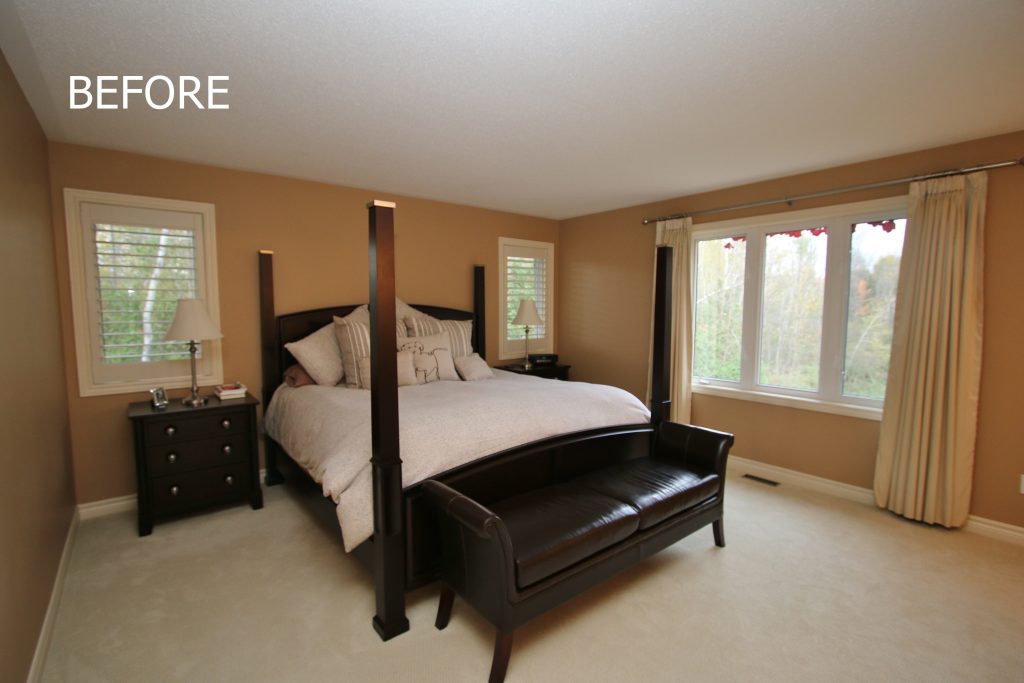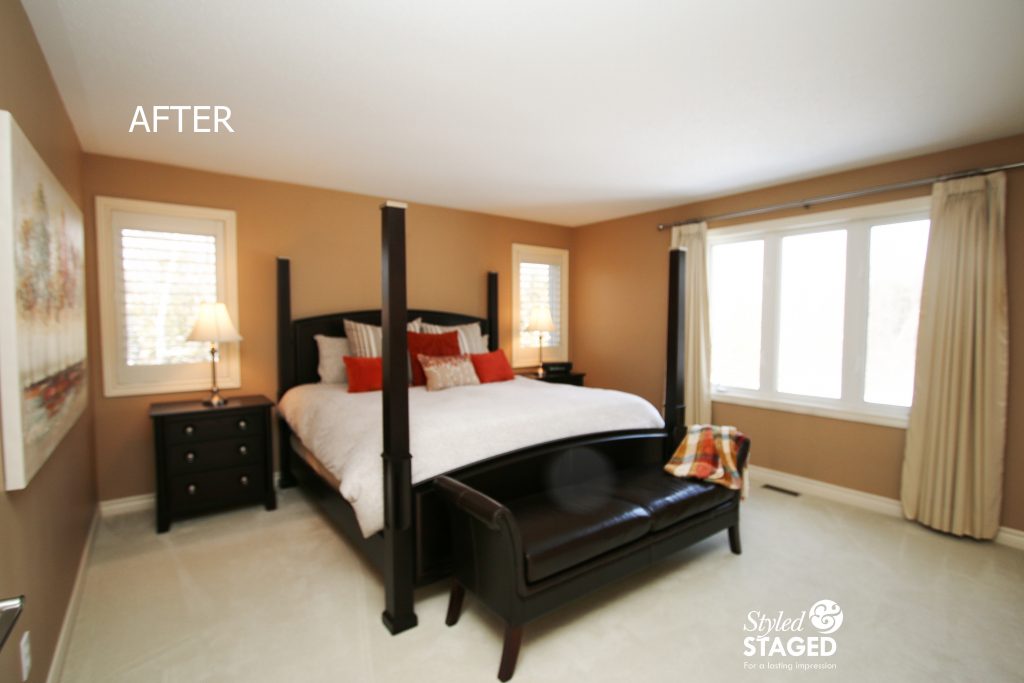 The homeowners had beautiful furniture and drapes, but the room was lacking colour and ambiance.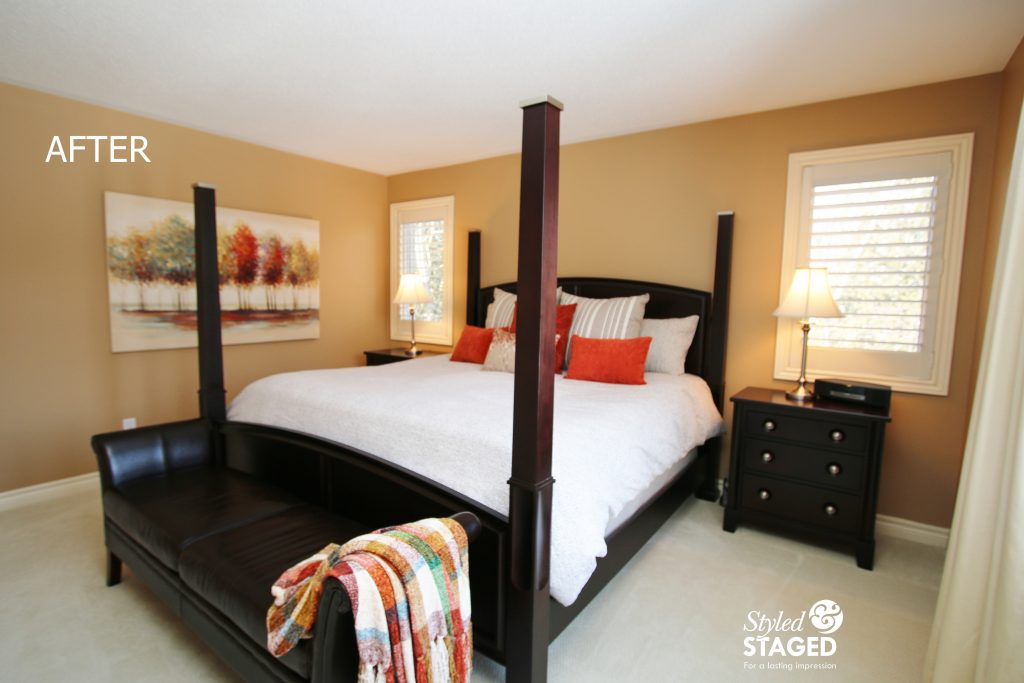 They loved this new artwork so we used it as their jumping off point for adding colours.  Suddenly the room came to life and it will be remembered by potential buyers.  Since the house is in a rural area, the tree artwork is a nice continuation from the backyard view.  I always suggest when you are staging your house, choose artwork that is similar to the environment.
The room also feels larger since your eye moves around the entire room following the pops of colour.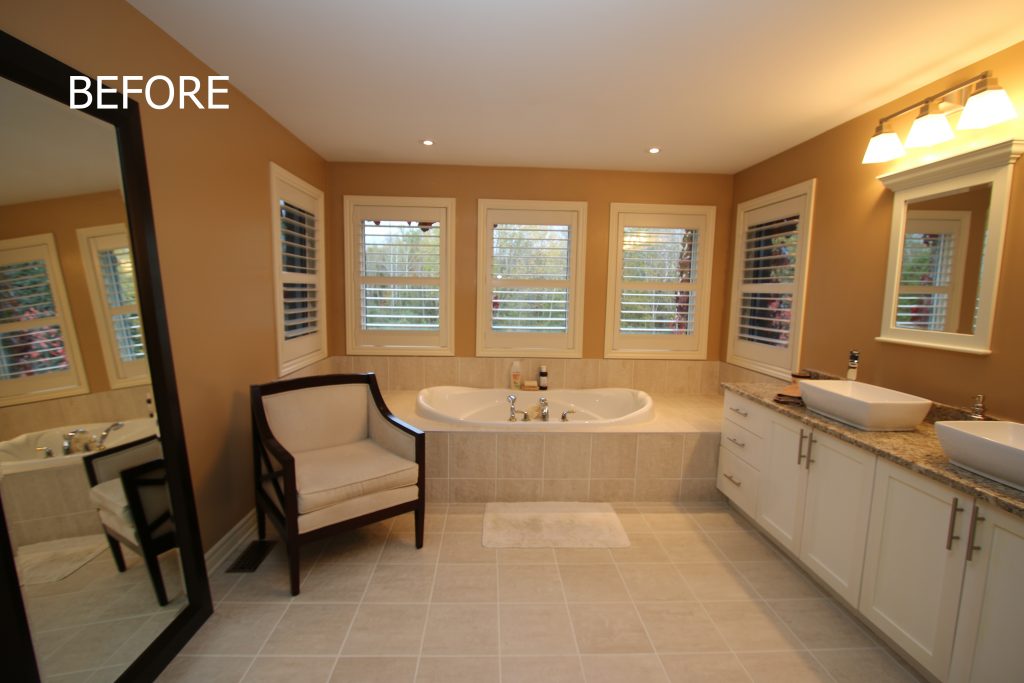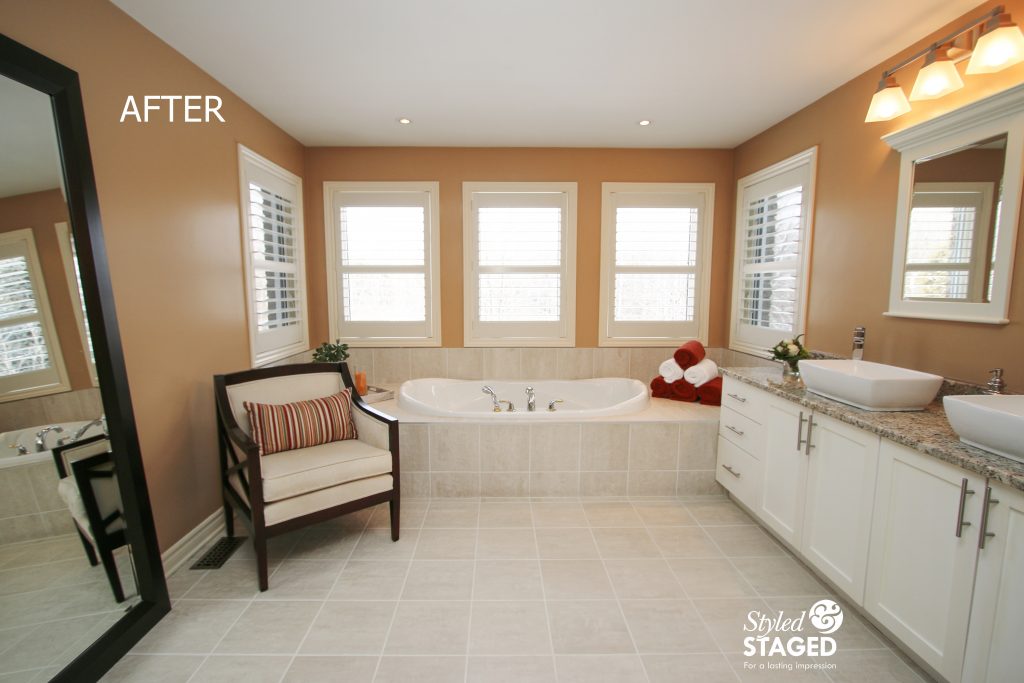 Simply continuing the same colour palette into the restful master bathroom made it feel warmer and inviting.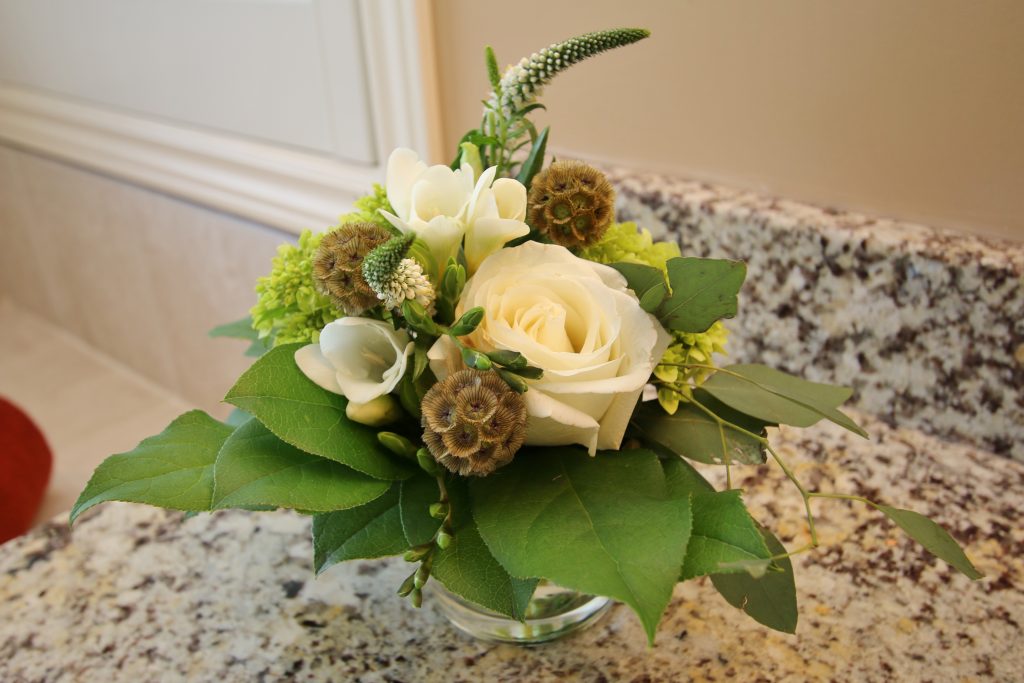 Fresh flowers on the vanity are so decadent and create a luxurious lifestyle that we all aspire to.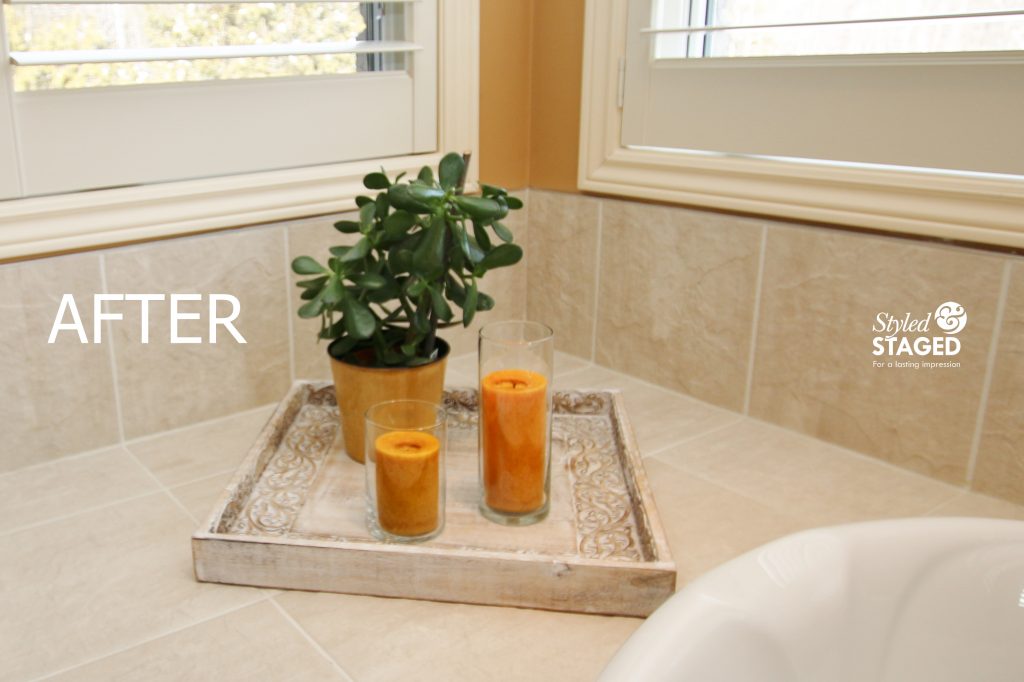 Adding candles and greenery on this beautiful tray help buyers visualize themselves enjoying the soaker tub.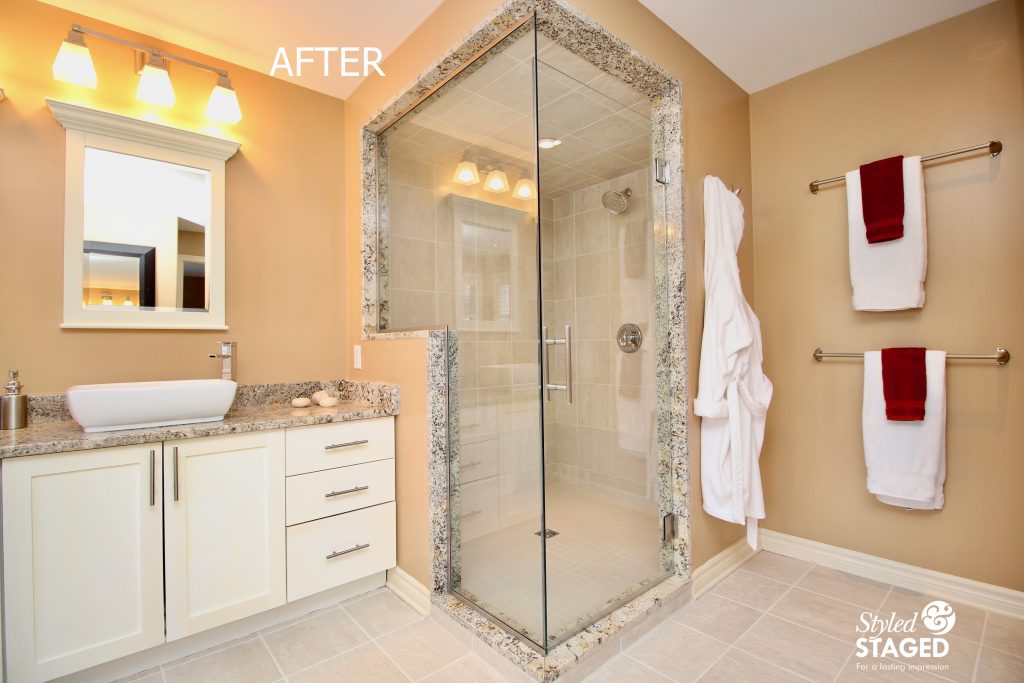 This walk-in shower is such a lovely place to start your morning everyday.
Cater to the Buyers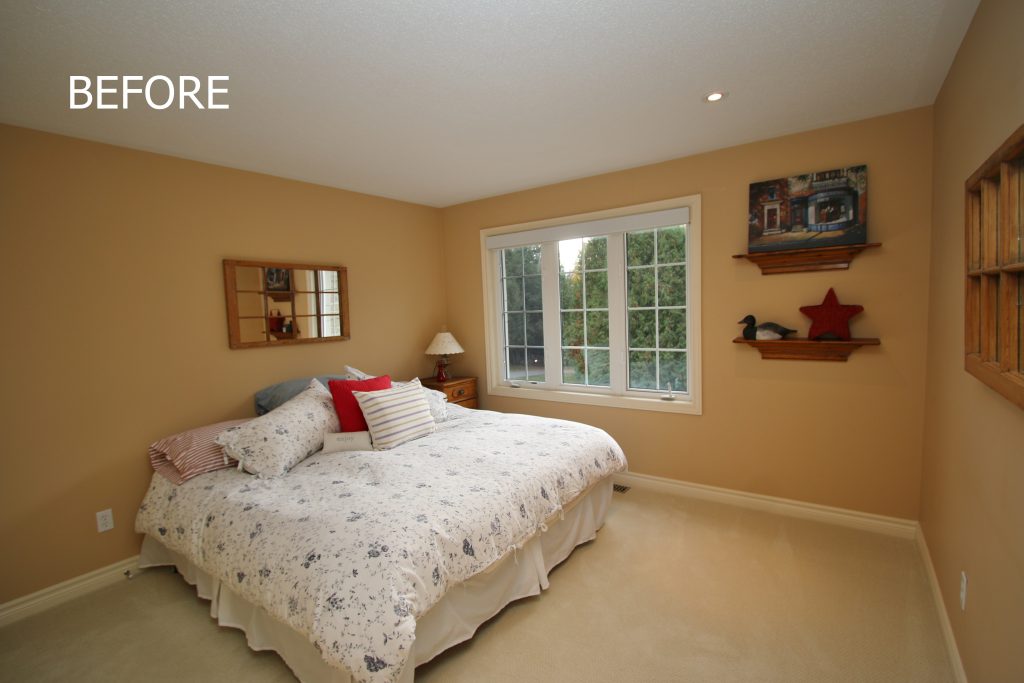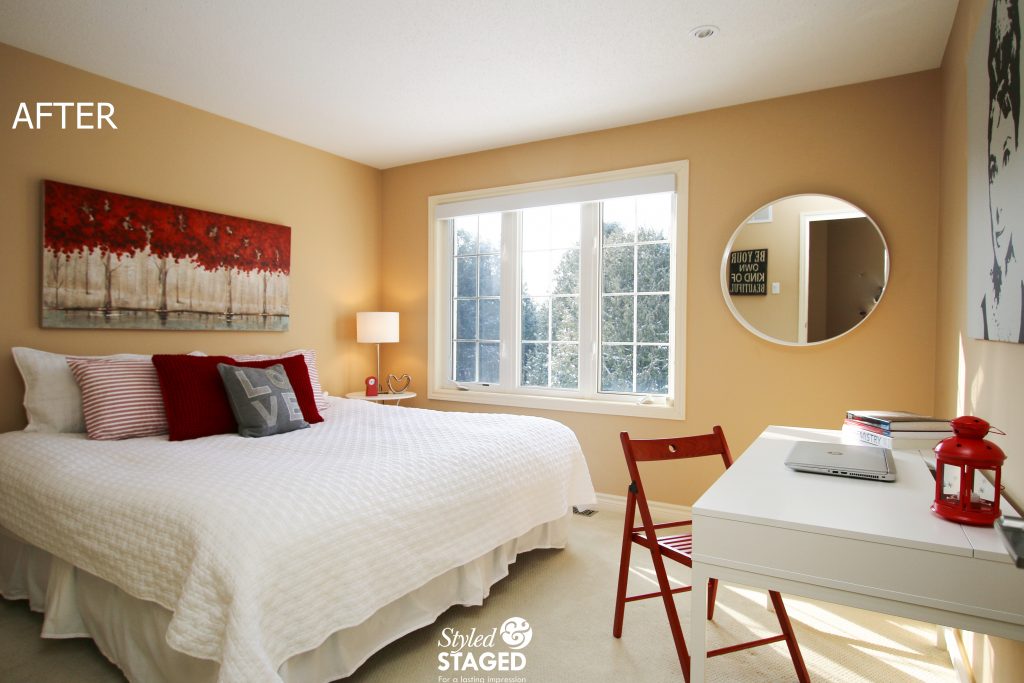 The homeowners were previously using this as a guest room, but you should always try to showcase each bedroom for the buyers.  Because of the listing price point, chances are the bedrooms will be for teens.  It would have also been harder to create a young child's room with a king size bed in it.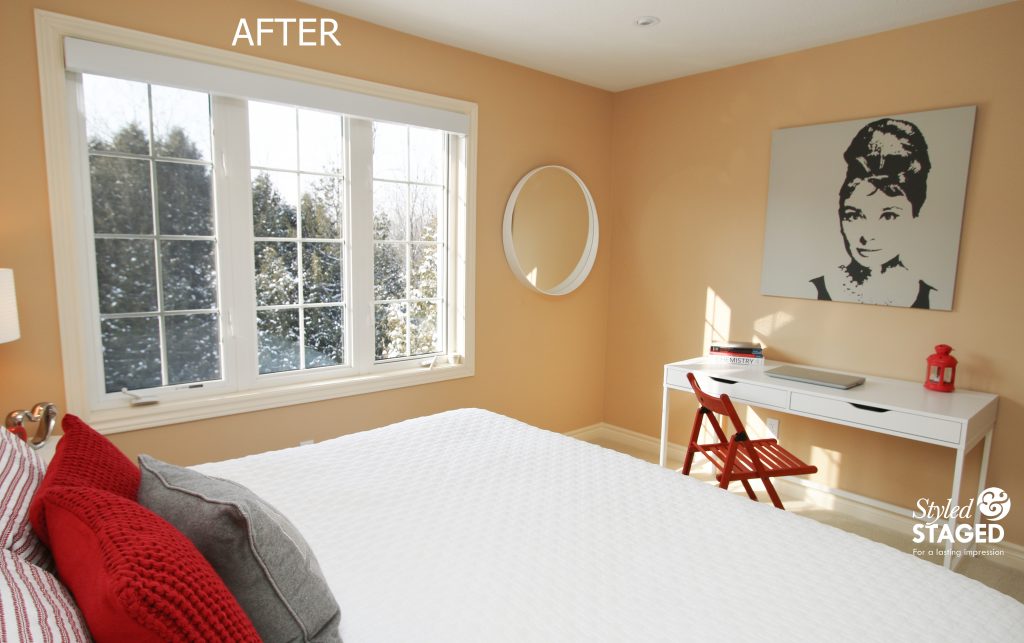 The room looks larger with furniture in it.  The fresh modern accessories will appeal to teens.  The wall colour is suitable for either gender or age.
Make The Photos Pop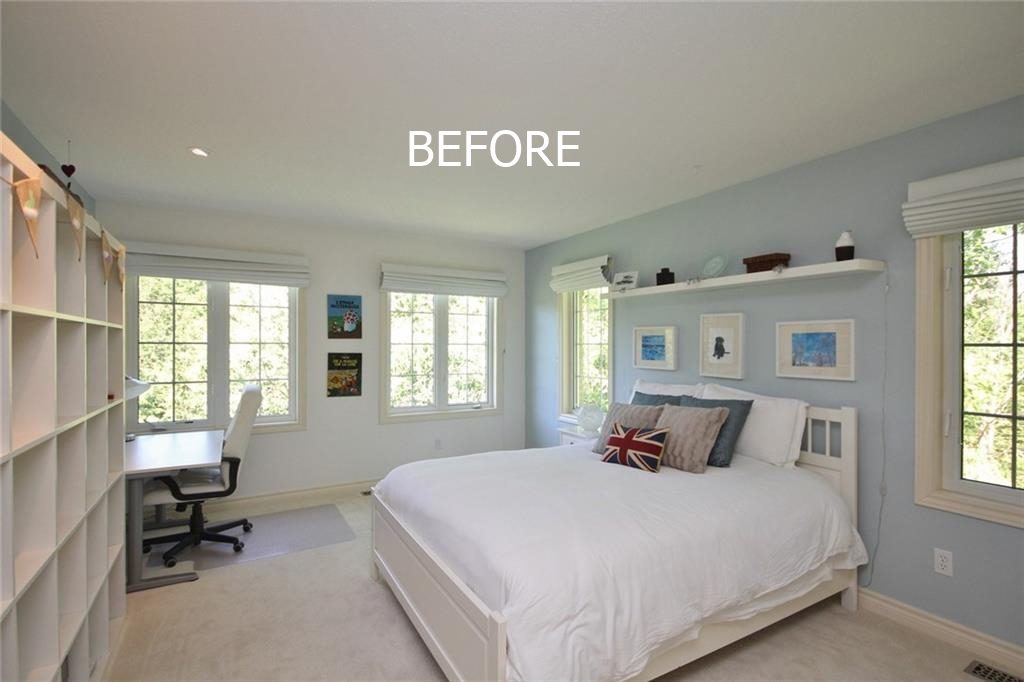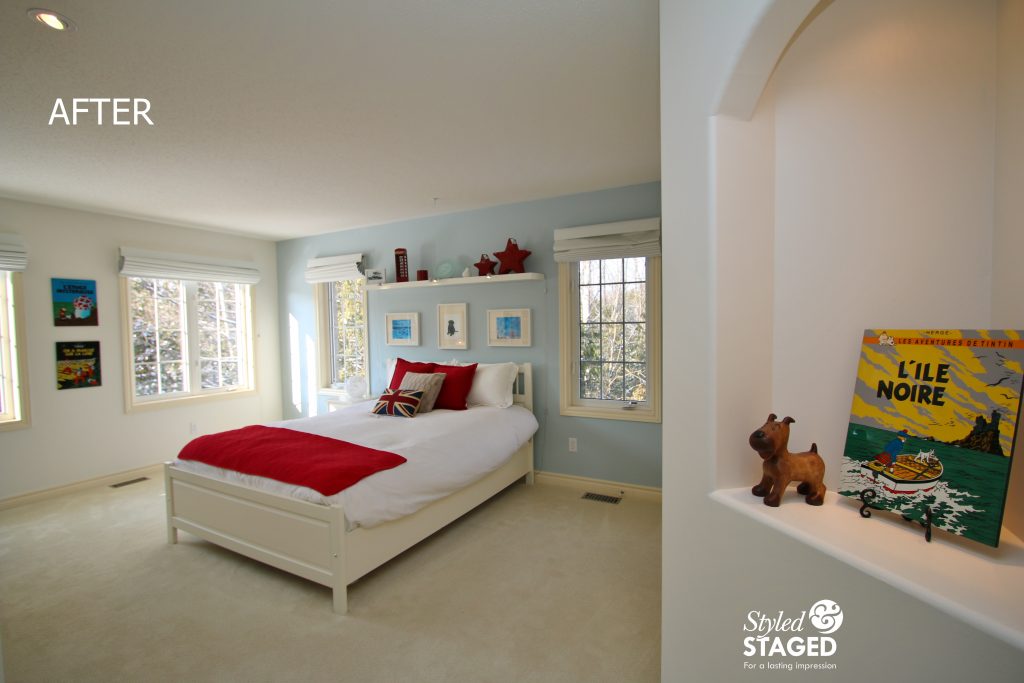 There was absolutely nothing wrong with this bedroom before, but adding a few pops of red make the photos more memorable.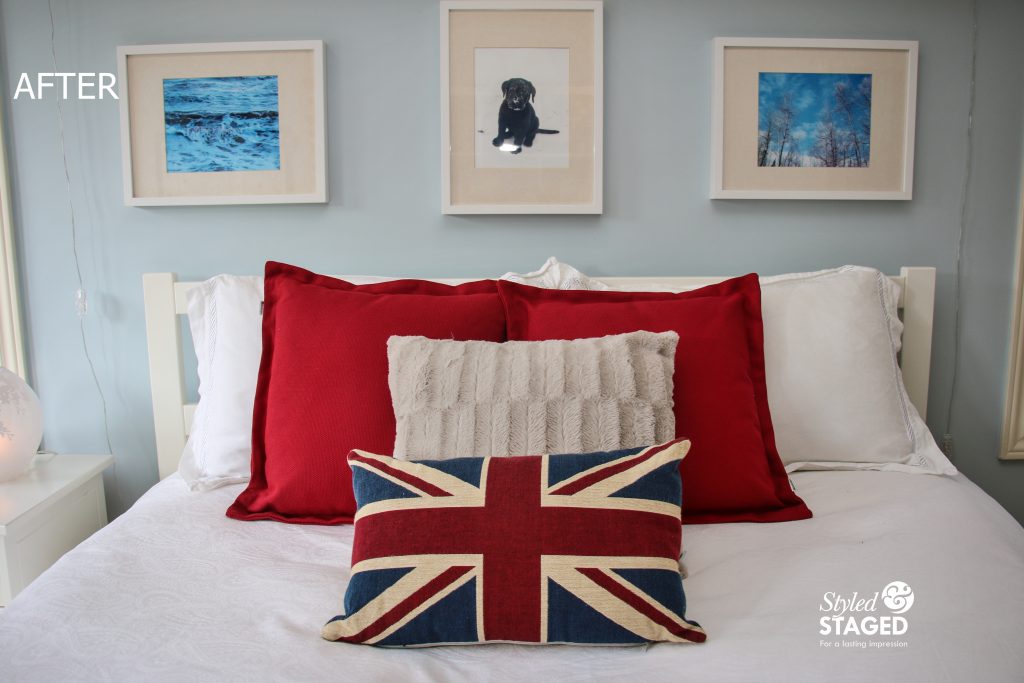 Keep bedrooms fun and youthful to attract prospective buyers.  Kids love to visualize themselves in their new bedrooms too.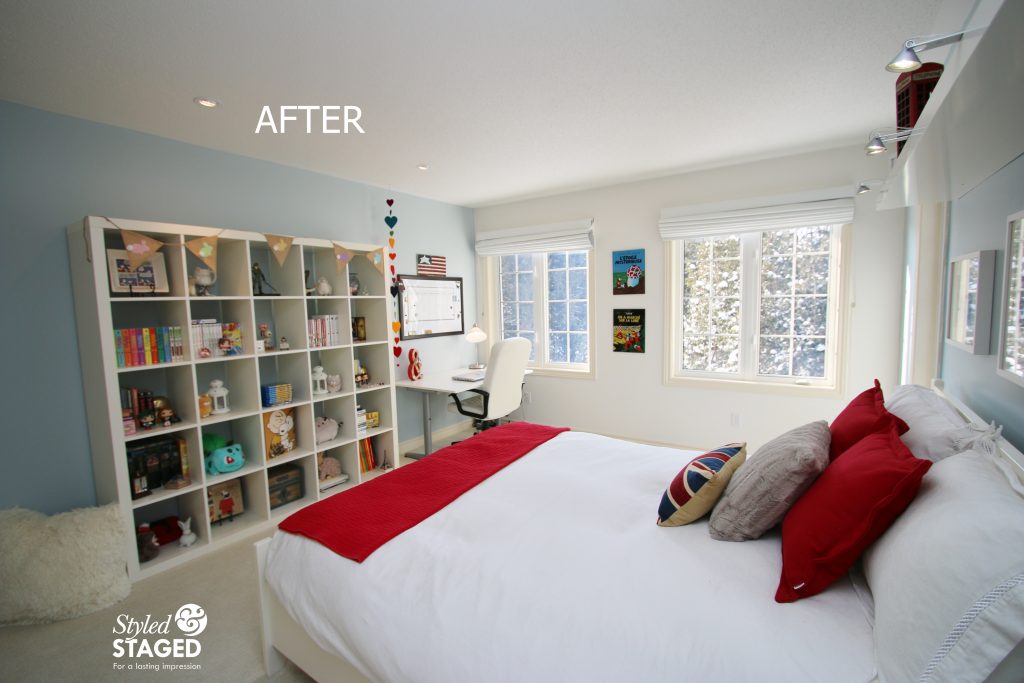 Who wouldn't want all these beautiful windows in their bedroom?  You feel like you're in a tree house with all the privacy.
Repurpose a Room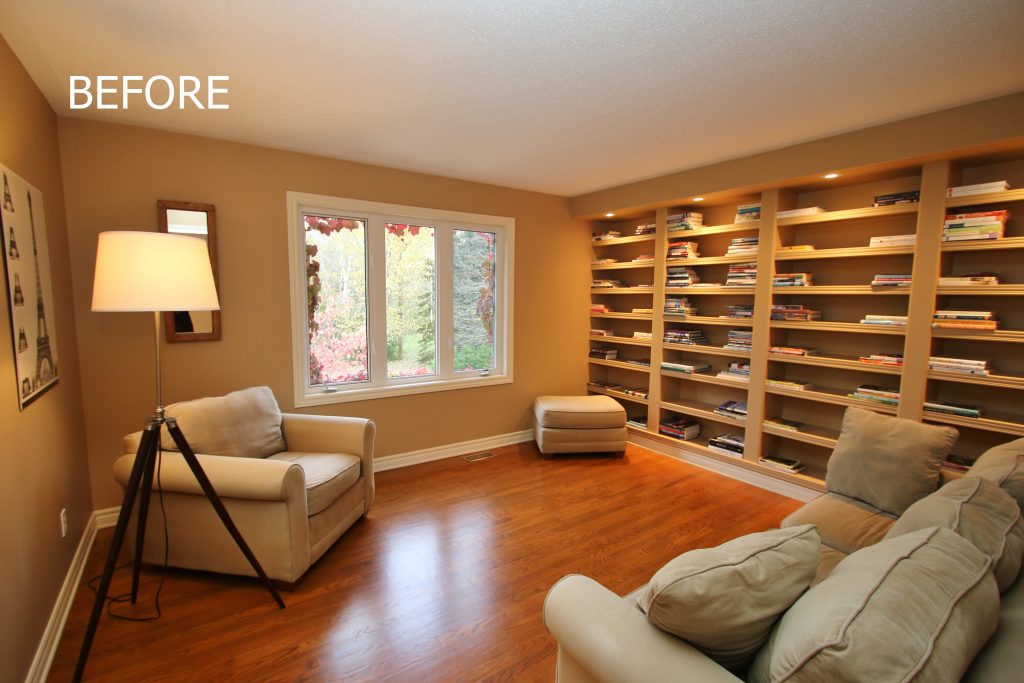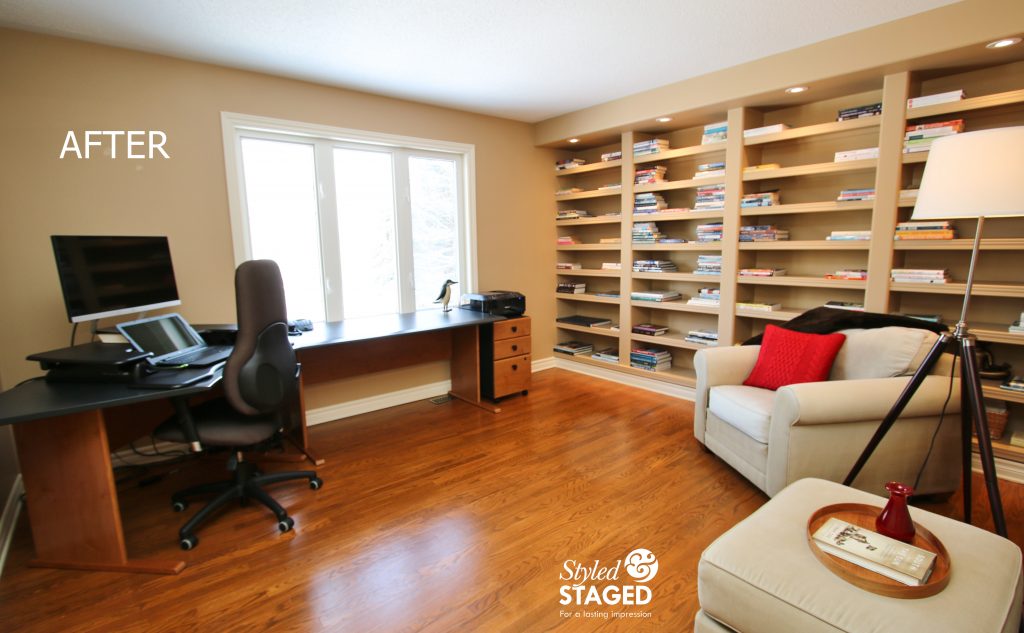 This was a lovely study, but we needed a place to put this desk that was previously downstairs in the 'new formal living room'.   It made sense to convert this into the office with all the built in book cases. See previous post for more details.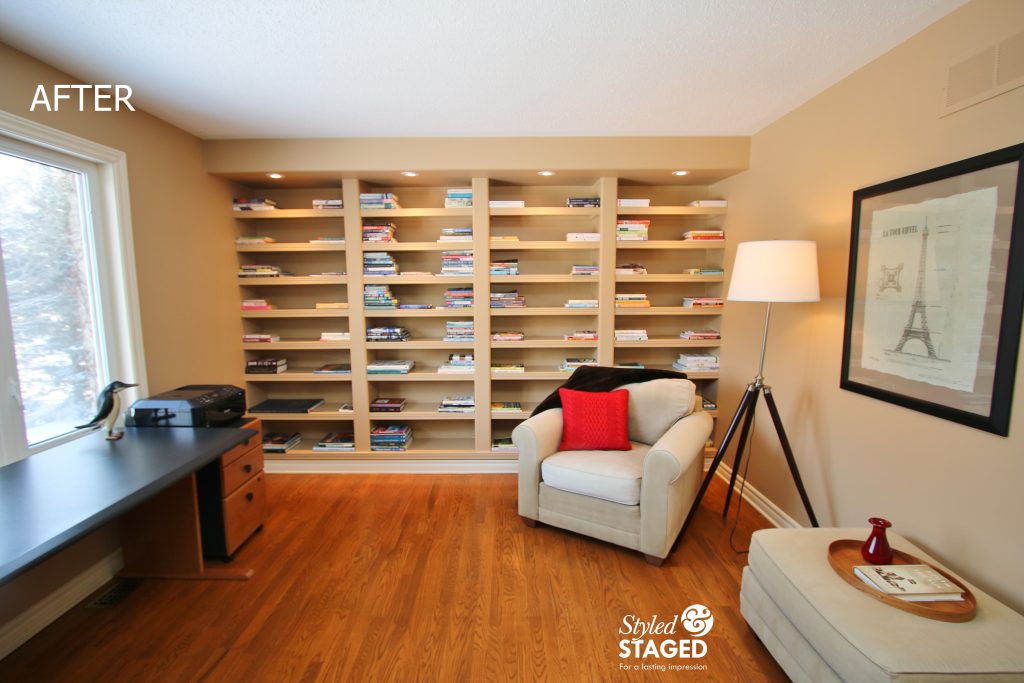 We moved the sofa that was in here downstairs to the main floor office/TV den so we could use the better brown leather sofa from that room in the living room.  Who wouldn't want to have this view everyday as you sit at your desk? It was amazing how much furniture was moved around in this house to utilize each room to it's fullest potential.
Staging is all about reusing and repurposing what you have.  Think outside the box and create new rooms.
Calm Bathroom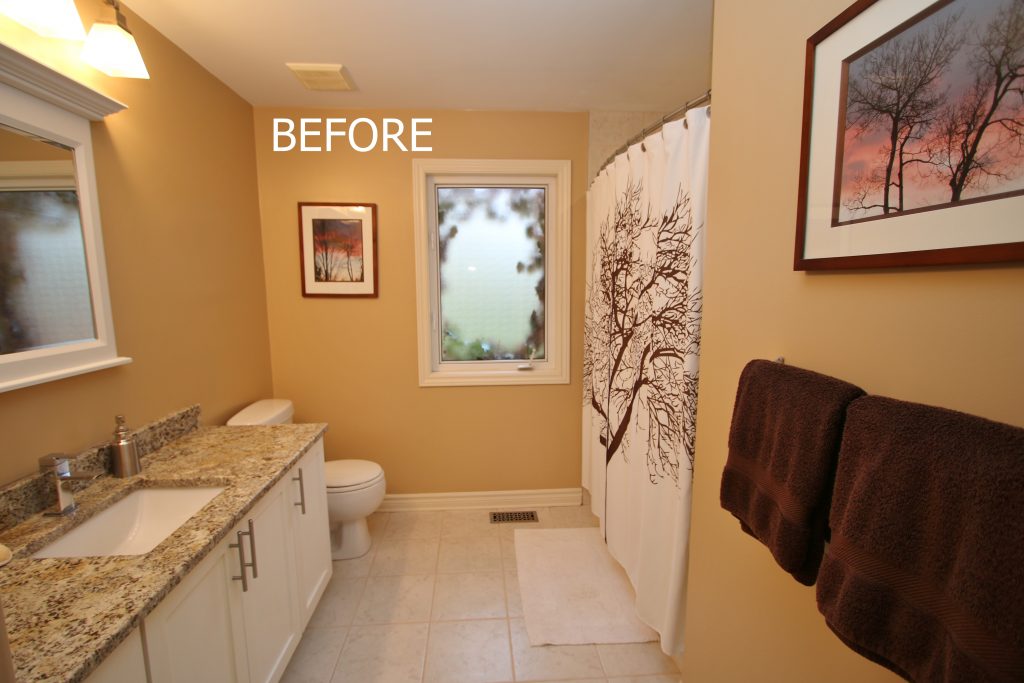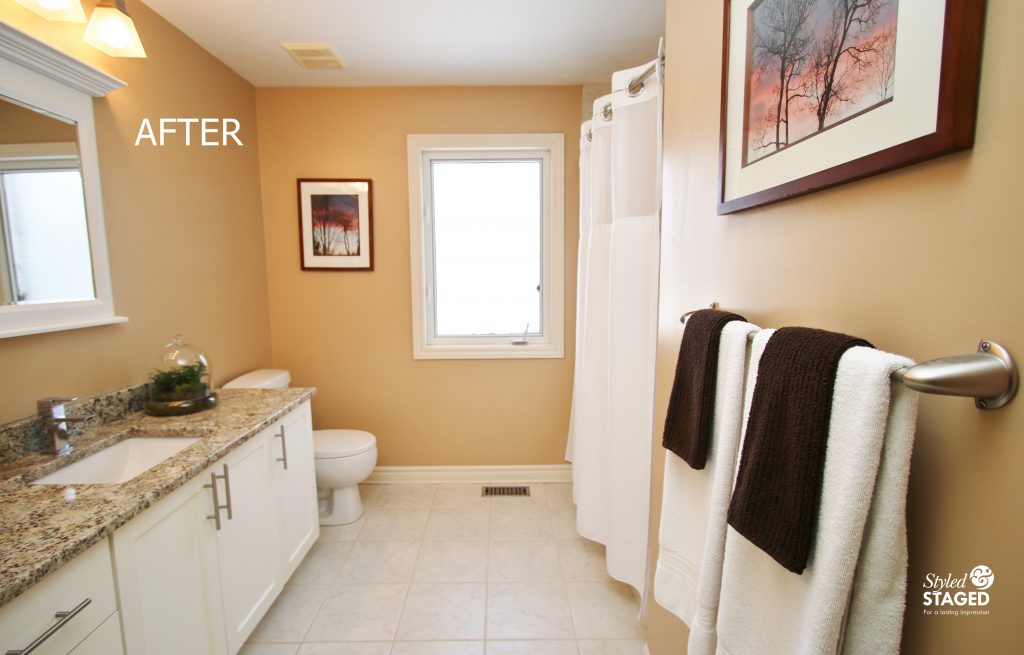 This tree shower curtain looked lovely in person but the solid white shower curtain keeps the room looking fresh.  I always like to add white towels and the dark brown hand towels enhanced the vanity and artwork.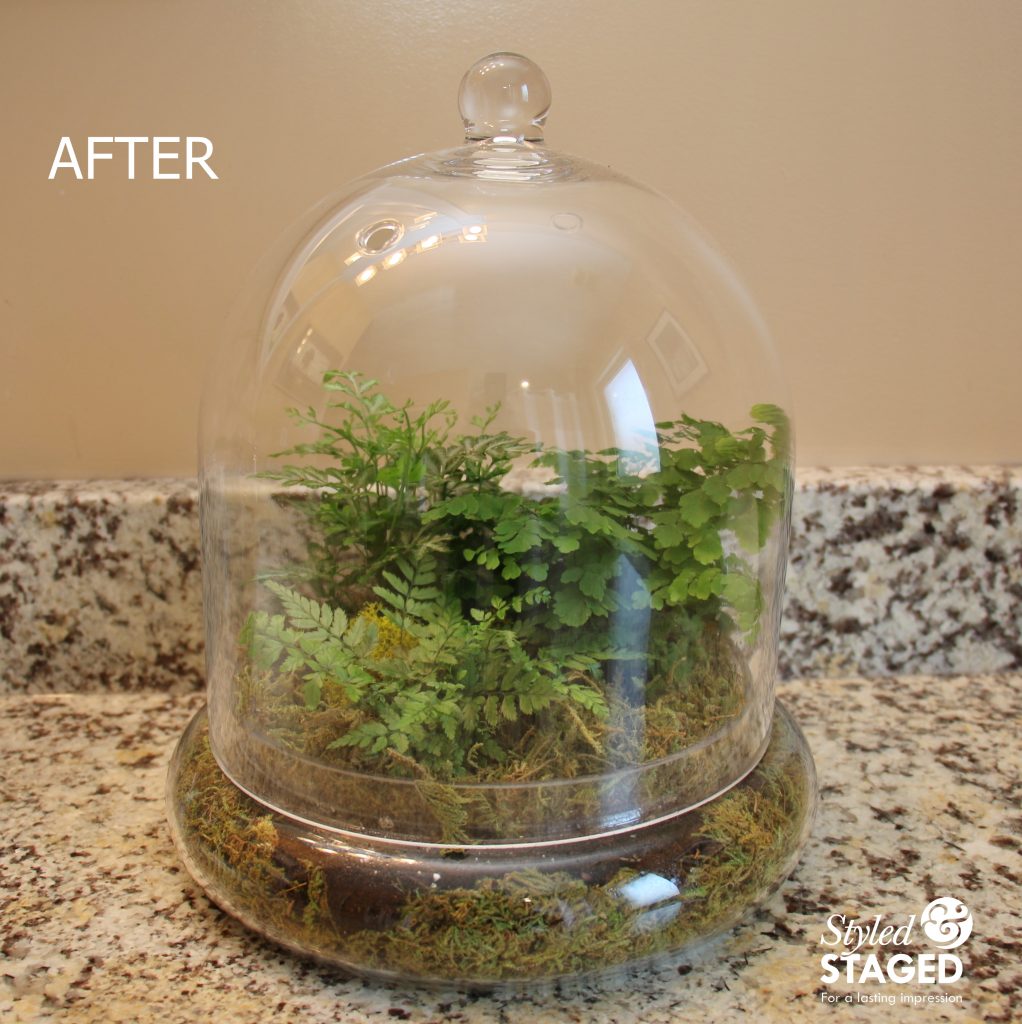 It's the personal unique accessories that make rooms memorable.  I thought the homeowner did an amazing job with her fresh flowers and greenery throughout the house.
Define A Room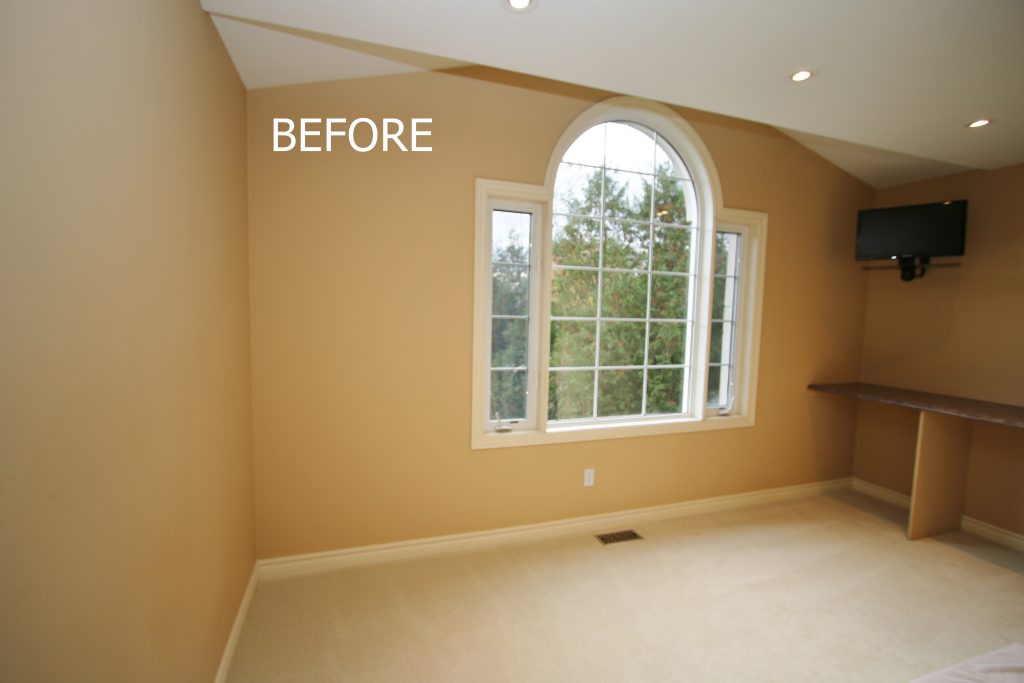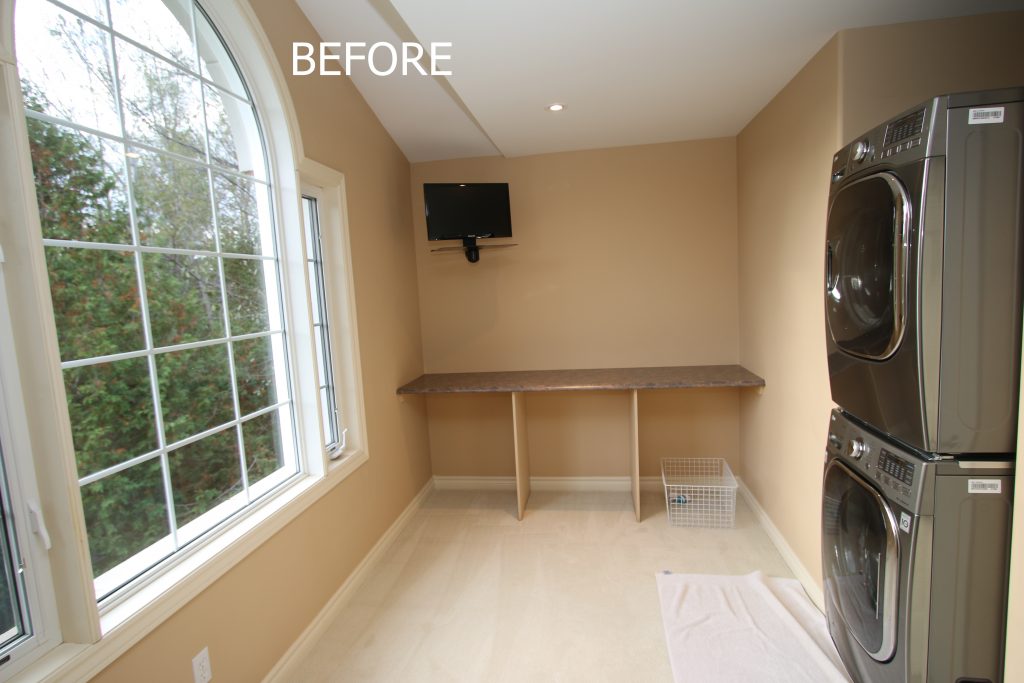 When I first walked into this large room, I didn't realize it was the laundry room until I turned the corner and saw the machines.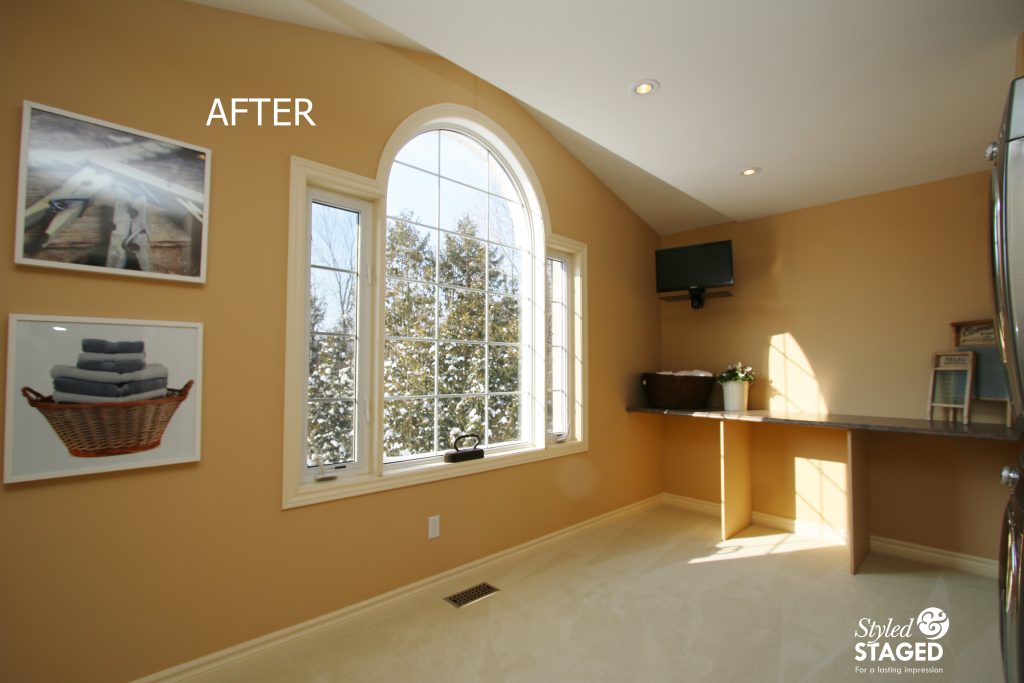 Seeing the 'laundry' artwork as soon as you enter the room tells buyers right away which space they are entering.  This long folding counter would also be an ideal craft desk since there is so much room for storage bins  or a stool underneath.  This really is a dream multi-purpose room.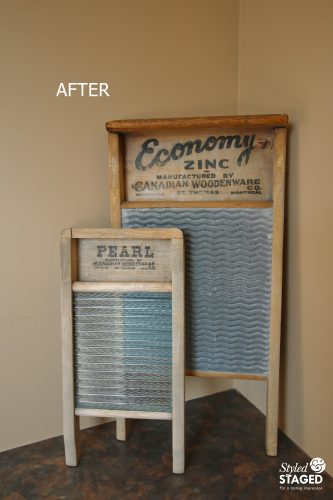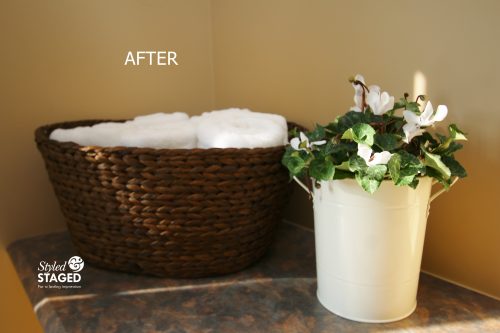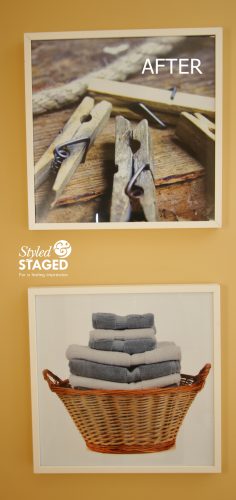 I was so happy to be able to use the homeowner's antique laundry room accessories. It's fun to mix the old and the new.  Since it can sometimes be hard to find appropriate artwork, I printed these photos and put them in large IKEA frames.
Working with these homeowners was a pleasure.   They knew that they were going to have to make several  purchases, but they chose items that they loved so they will be able to use everything in their next home as well.
Some family is going to be very lucky to move into this home.
To see the before and afters of the main floor of this stunning home click on Main Floor Transformations