Loving Bouclair's New Vignettes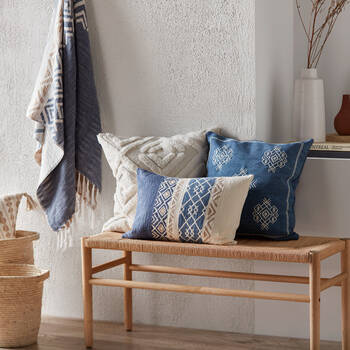 We are still in lockdown in Ontario for a few more weeks and I'm going stir crazy. I like to be in the stores to source products for my clients. To be honest, most people like to see and touch before they buy. Every computer monitor reads colour a bit differently and if they are buying furniture, they wan to sit on it.
Yes, there are still many things that can be purchased online without any trouble. All you have to do is see how many amazon boxes are being delivered each day to prove that :). I'm one of those shoppers. I just don't like to be limited to online shopping when it's also nice to shop locally and support small businesses for unique items.
Current Home Decor Styles
While looking through the Bouclair's website I was obsessed with their new products. These photos are taken directly form their website (until I can actually get in there :)). I absolutely love everything about these vignettes. I love the rattan, the cool colours and the airiness that the rooms have.
All the spaces have a relaxed and comfortable feel to them. I think this has become more important over the last year of the pandemic and we are spending so much more time at home.
New Colour Palettes
Notice how they are more on the cream/taupe colour palette than the gray palette? When you have all the light wood and organic elements together, I always suggest a touch of black somewhere t help ground the space. One of the key ingredients to making these spaces look amazing is all the different textures and sticking with a few colours. There is texture everywhere!!!!!
How To Blend With Your Decor?
Don't freak out if you have a house full of gray furniture, walls, floors and cabinets. You can easily incorporate these new items into your colour scheme. Your home will look completely different with just a few small changes. Cream and gray definitely look amazing together! The blue tones also help tie everything together.
What is the first thing you notice in these photos?