How To Create A Valentine Vignette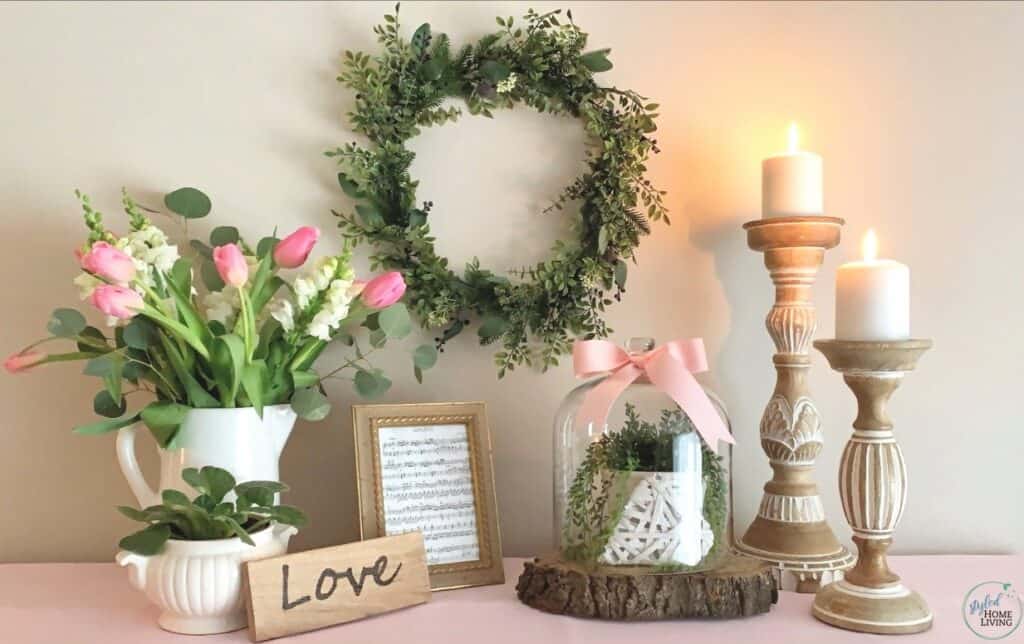 Creating vignettes is always a fun challenge since the possibilities are endless. Sometimes I drive myself crazy doing and undoing and then trying something completely different. However I have to admit, I love every second of it.
Start With Inspiration
I wanted to make a Valentine vignette that can be left up for a while so I wanted it to be neutral enough so that when I removed the 'pink' items it would still look pretty.
My inspirations was natural wood, lots of greenery and casual elements.
Notice how there is the same natural wood on both sides of the vignette for balance? As I said earlier, if I removed the pink flowers, the bow and the runner, it would no long look like it's for Valentines.
DIY Projects
Since this vignette is on top of my piano, I thought it would be fun to have sheet music printed and framed. I just sized the paper so it would fit my frame.
I used my wood burner for the first time to engrave the word 'love' on a piece of natural wood.
Mix Real And Faux
The key to making your faux greenery look good, is to add some real live plants and flowers into the same vignette. Studently everything look 'real'.
Even though we typically think of roses for Valentines, I wanted to keep this look feeling a little more casual and relaxed. I love the combination of white snapdragons and pink tulips together. When placed in a white milk jug, there is nothing fussy about it and that is just what I wanted.
Adding different heights to a vignette also make it interesting to look at. Your eyes roam the whole area instead of fixating on one spot.
Shop Your House
I had everything in my house already except for the flowers which I picked up doing groceries. I really urge people to shop their house to see what they can use in a different way or what simple DIY projects they can try.
Notice how the slab of wood is in a heart shape <3 This is actually a slab from my front Maple tree that had to be cut down.
I would love to see what you create