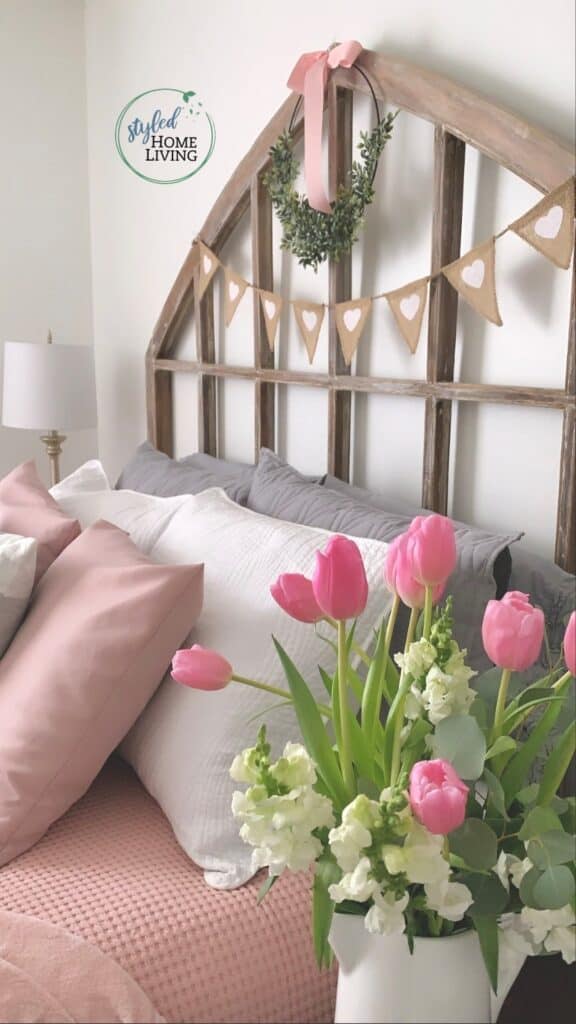 Unfortunately with the pandemic, no one will be staying in our guest room this year, but I still wanted to dress it up a little bit. Somehow the soft pink just makes me feel happy and calm. Even if it's for my own enjoyment, it's worth the effort.
Guest rooms are the perfect place to make little changes for special occasions since nothing is a big commitment and it doesn't' have to flow with the rest of the house.
Instead of the everyday white and gray coverlets, I just pulled up one of the pink blankets to show more colour.
I bought the heart and burlap banner on Amazon and I'll be able to use it for many upcoming events. 3M hooks are great to attach to the headboard so I don't need to add any nails or ruin the wood.
The wreath is actually one from the IKEA Christmas collections a few years back but it looks fine with a pink ribbon.
I think this little sign is a good reminder and the white wicker heart is enough of a statement on it's own.
Nothing makes me happier that fresh cut flowers and these pink ones are a sign of hope for the Sring.