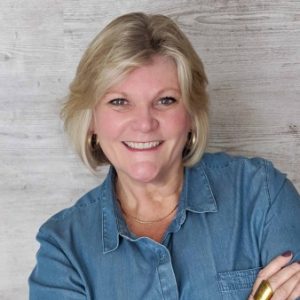 Introductions – Share Your Project
Join the Share Your Project Group  To See What Members Are Working On
Let's have some fun! Let the Styled... View more
Which Peel and Stick wallpaper should I use?
Hey guys I'm not loving the solid white wall behind my desk as a video and webinar background. I'm always trying to switch out artwork and props behind me but it's a nuisance and I don't want a wall of holes!

I thought it would be fun to try a peel and stick wallpaper just on the one small wall. I brought two different rolls home to see what they looked like in the space.

I had my heart set on the white and gold pattern but as soon as Jay held it up with the ring light shining on it, I saw that it was too reflective 😢. Then Jay held up the brick pattern and I think it looks better. Remember, it's just a backdrop. I would like your opinion. Do you like this concept? Does it go with my business branding?

#1. Gold and white?

#2. White and gray brick?

#3. Neither option

Can't wait to get your opinions. If you have others suggestions please let me know. Thanks!
Sorry, there were no replies found.