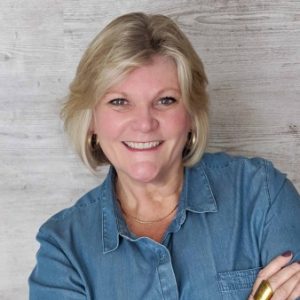 Introductions – Share Your Project
Join the Share Your Project Group  To See What Members Are Working On
Let's have some fun! Let the Styled... View more
Heather's Voice Was In My Head – I shopped my house.
I acquired a brand new umbrella and needed a stand and my MIL said she had one outside under her stairs buried in dirt so I took a look and said ugly but then I heard your voice saying, "shop at home", "Paint everything" "less stuff to landfill" so I decided to scrape the dirt of it and give it a wash which I did and took a picture. Then I did a quick sand and a spray paint with some BBQ paint I had and that is the second picture. Not bad eh? I know nothing like your amazing makeover projects but just to show even the smallest ugliest forgotten little things can be reborn into something acceptable…now if I can only do that to myself!

The second picture is the table top I sanded down as it was in rough shape and had my daughter's name carved into it in two places. Was going to throw it out but Lindsay said she wanted it for her place in Thunder Bay and after a little elbow grease I got it to where I was ready to stain and polyurethane and decided to apply it with a rag an voila. She loves it so life is good…now what to do with the cabinet and hutch but to put at the side of the road in hopes someone wants it!

I plan on taking photos of the UGLY bedroom set we have before I venture in to refinishing it but maybe wait to the warm weather!

You might remember I had my house painted top to bottom a few years ago…from every ceiling down to and including every baseboard. Now I have a blank wall and not sure what to hang there so maybe ask for your advice as to which piece of art I should hang. I will take a few pictures (remember I am a lousy photographer) over the weekend of what I have and rely on your expert advice and guidance as to what would work best. I do not want to buy anything for the wall just hang something I have in the basement!