When you combine barn board, burlap, berries, birch bark, and cedar branches you get shear country beauty!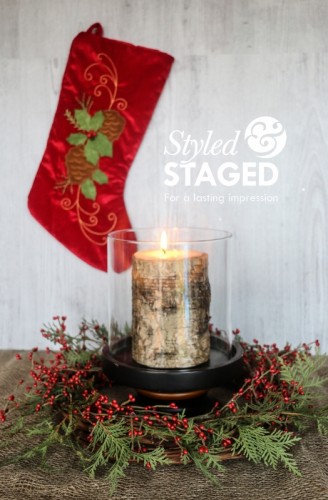 You can use a wreath around a candle holder to give it more presence.  I always use candle holders that have a glass surround for safety.  This candle holder is also elevated which makes it more noticeable since it's higher.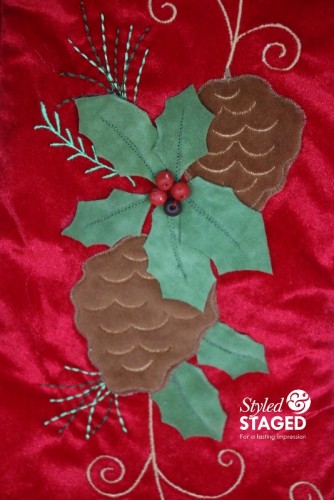 I used this stocking for my colour inspiration.  I wanted to combine the rustic elements for my centrepiece.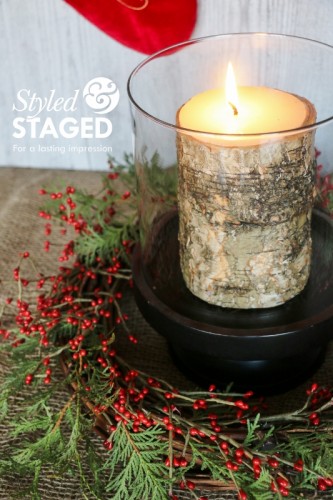 Burlap is a great material for a 'natural' feel. It can make a great runner, placemats or table covering. This was actually my burlap that I covered my outdoor trees in. Some people don't like the smell of burlap so it's a personal choice. I also added fresh cedar branches from my hedge to make the berry wreath more full. I made sure that they are no where near the glass of the candle holder. You can easily find birch candles this year.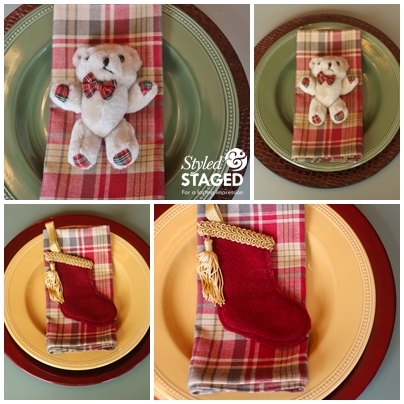 These table settings would really complement the centrepiece.  They have the same rustic country feel. For the young at heart its easy to add little adornments to capture their spirit. These cute little teddy bears were bought at a dollar store.  I sewed the stockings out of felt and added ribbon and a tassel.  I love the stockings since you can also put tiny little gifts or candies in them. Nothing says country chic like a plaid napkin.  Look how different it looks just with a different plate colour behind it.
Hug Your Home…