This townhouse had been vacant on the market for a few months so I was called in for a consultation and to decide how much to stage.  Yes, houses can sell empty.  However, as soon as you furnish an empty house, it completely transforms it into a home.  Buyers can see where/how they would use the spaces themselves. You immediately get a 'feeling' when you walk into a furnished house.
After my initial consultation, I went directly to the furniture rental company and ordered all the pieces that I needed for the main floor.  We didn't stage the bedrooms since they were all very large and buyers could easily see that. However, since there were 4 lovely bathrooms, I did stage them so they would be memorable.  It's amazing how easily shower curtains, artwork and towels can transform a bathroom.  I wanted each one unique from the other.
Renting furniture and accessories can add up quickly so it's important to keep the value of the house in mind when deciding on your budget and how many rooms you wan to stage.  The main floor is always important since that is the first impression. Buyers will have made up their minds before they get to the bedrooms.
Awkward Room: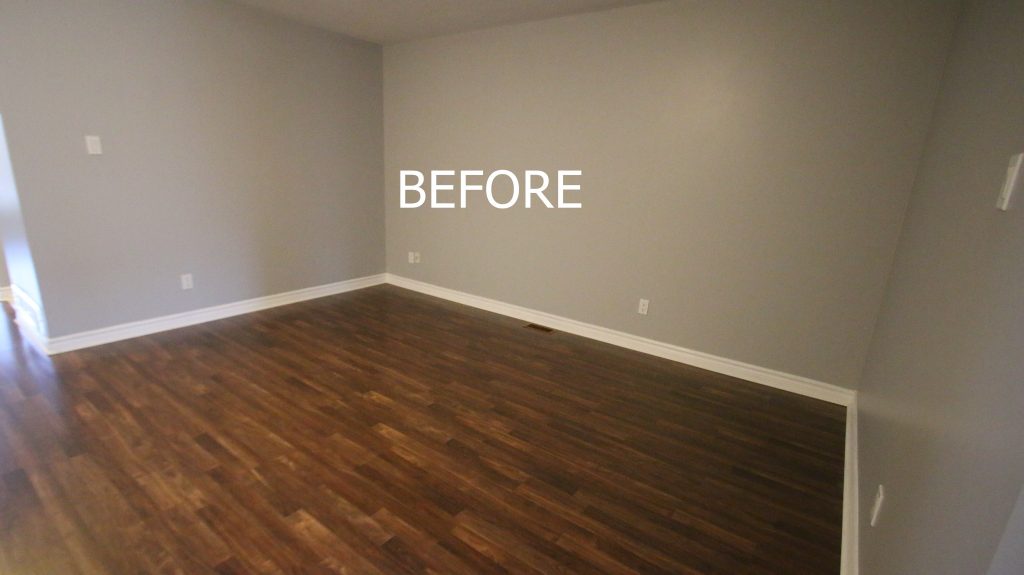 This was the first space you see as you enter the home.  It had no window and there was only a cap on the ceiling where a light fixture could be hung.  I could understand how buyers were confused as they walked in to this unfurnished room.
Things Go Wrong!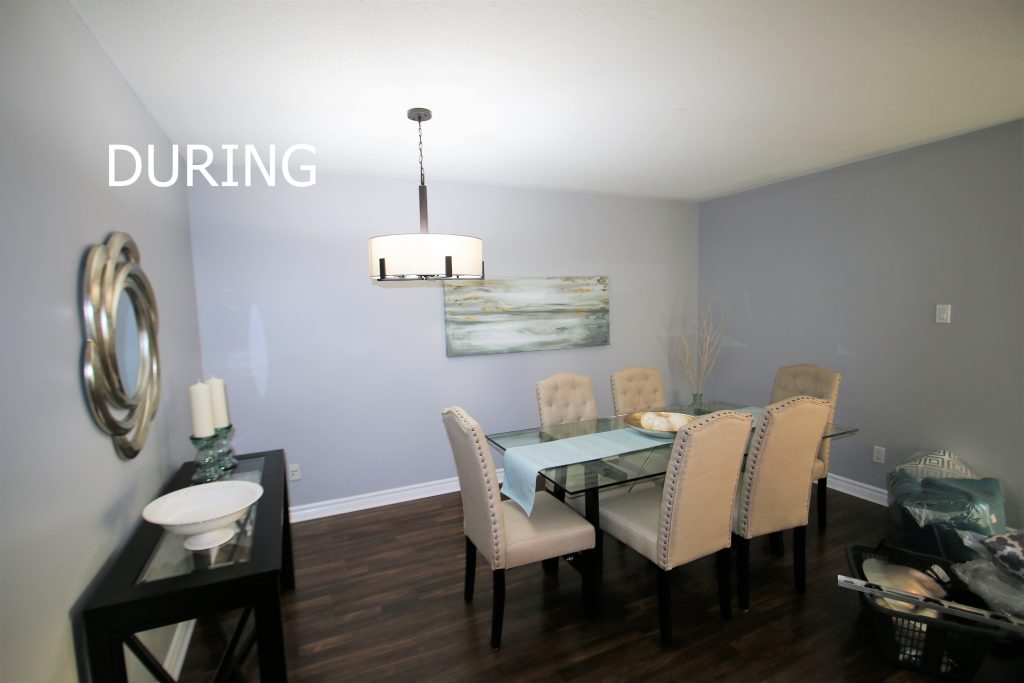 This room was meant to be the dining room.  I suggested which light for the homeowner to buy and gave explicit instructions where to hang it.  You can imagine how surprised I was when I arrived on staging day to see that the electrician hung the light in the wrong spot.  The furniture was being delivered and the photos were to be taken the next day.  No matter how I arranged the furniture under the light, it didn't work.  We scrambled for another electrician and was extremely lucky to find one who could come within a few hours to reinstall it for me.  Communication is key when so many people are involved and everything is done under tight deadlines.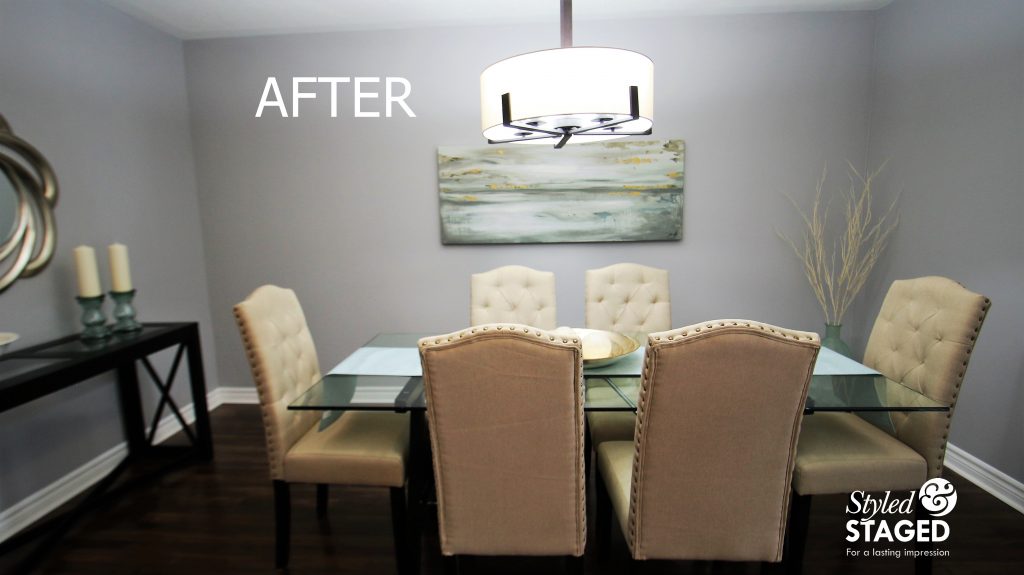 Much better!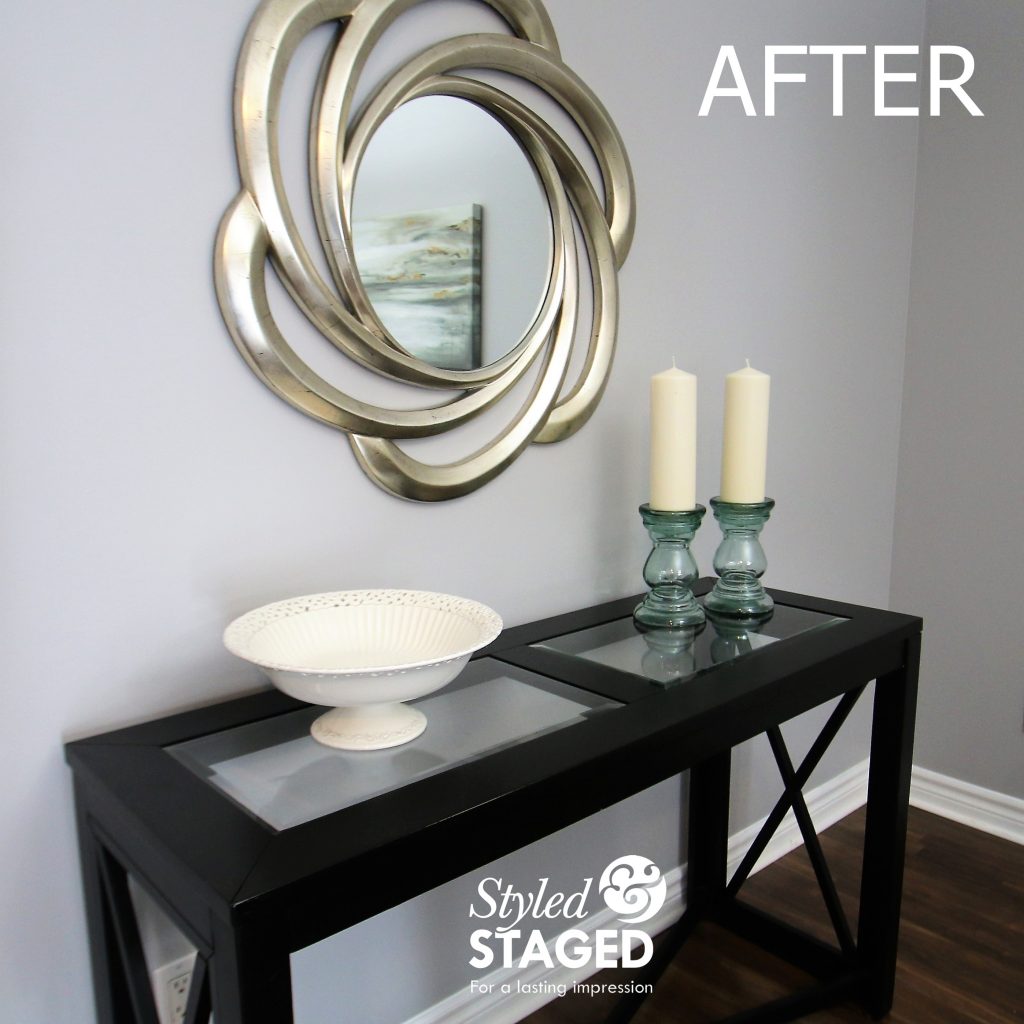 Since there is no window in this room, I added a large mirror to reflect the light from the front entrance.  I love creating little vignettes in large spaces to help give the room personality.  This shows buyers where they could put a side board/buffet.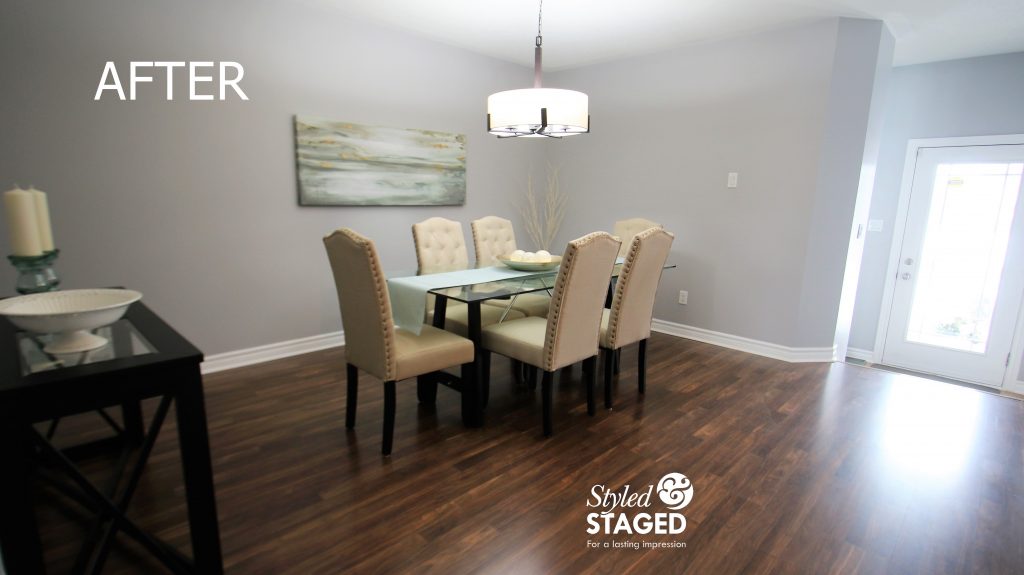 Now when you enter the house, this room has a purpose instead of being a 'walk-through'.
Furniture Placement: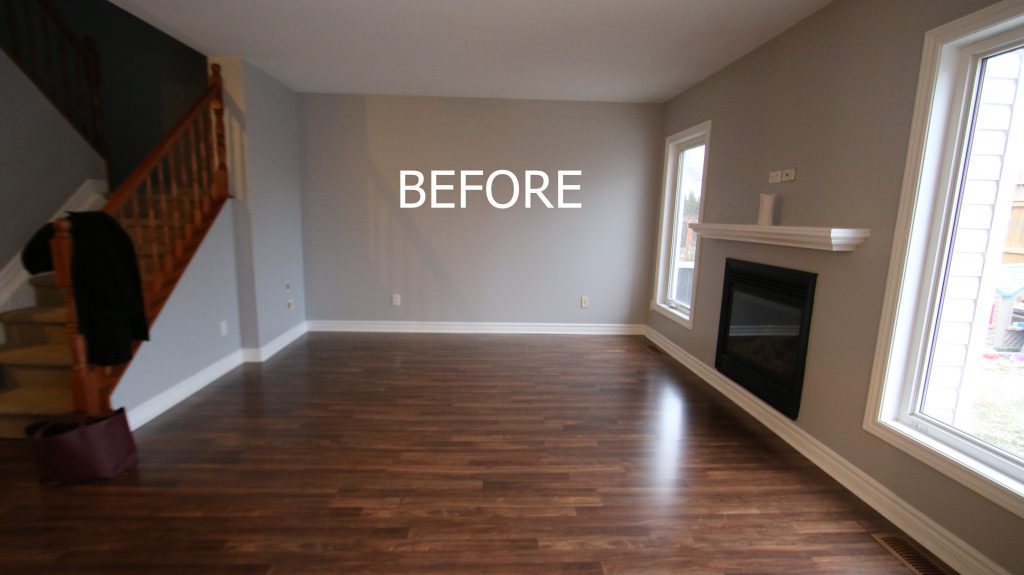 Everyone loves open-concept living, but it can be a challenge sometimes for furniture placement with no walls.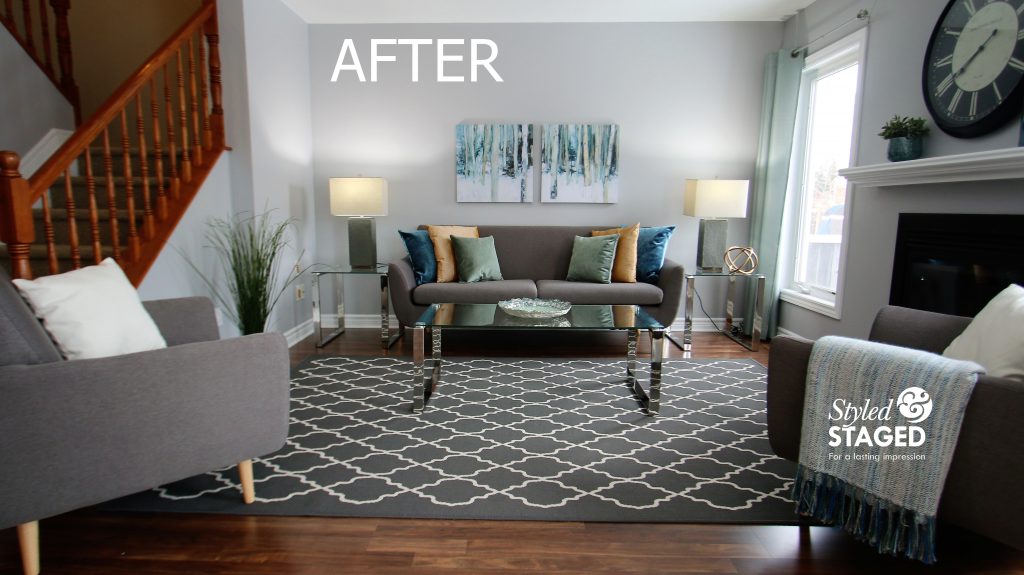 The first thing I brought in was an area rug to help define the space.  That way, chairs are not just 'floating' in a room.  The area rug anchors them.
I stayed with streamlined gray contemporary furniture since I knew that would appeal to the target market of this house.  Glass and chrome tables give me surfaces to place decorative accessories but they still feel light and airy.  Once the furniture is in the room, it looked more symmetrical.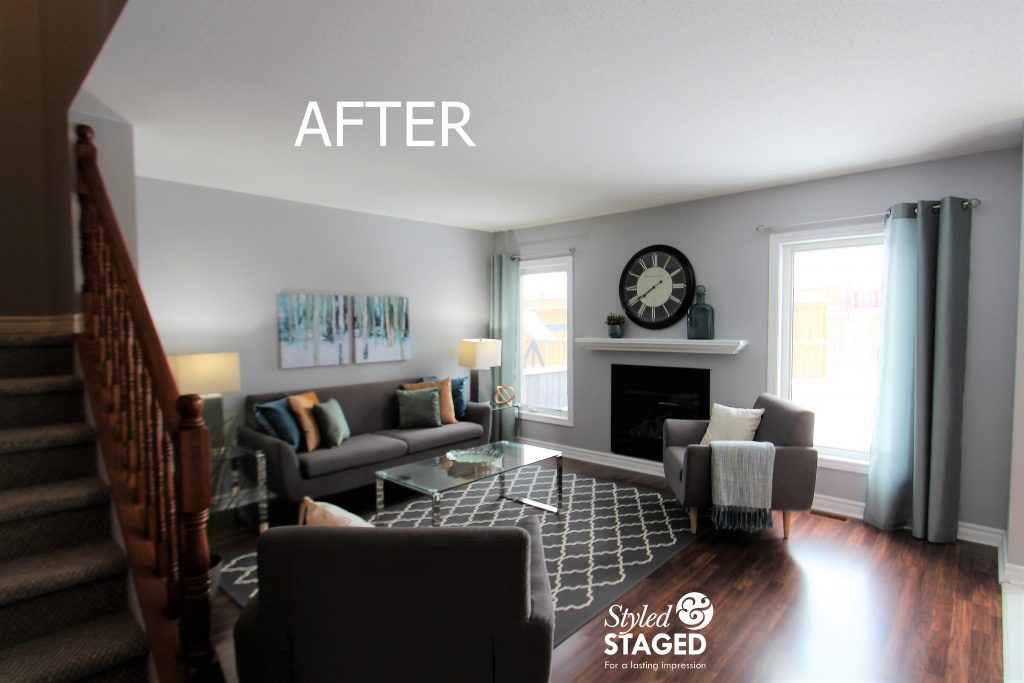 Adding side panel drapes instantly warm up the room and it's another way to add subtle colour.  I kept the colours soft so the room feels large.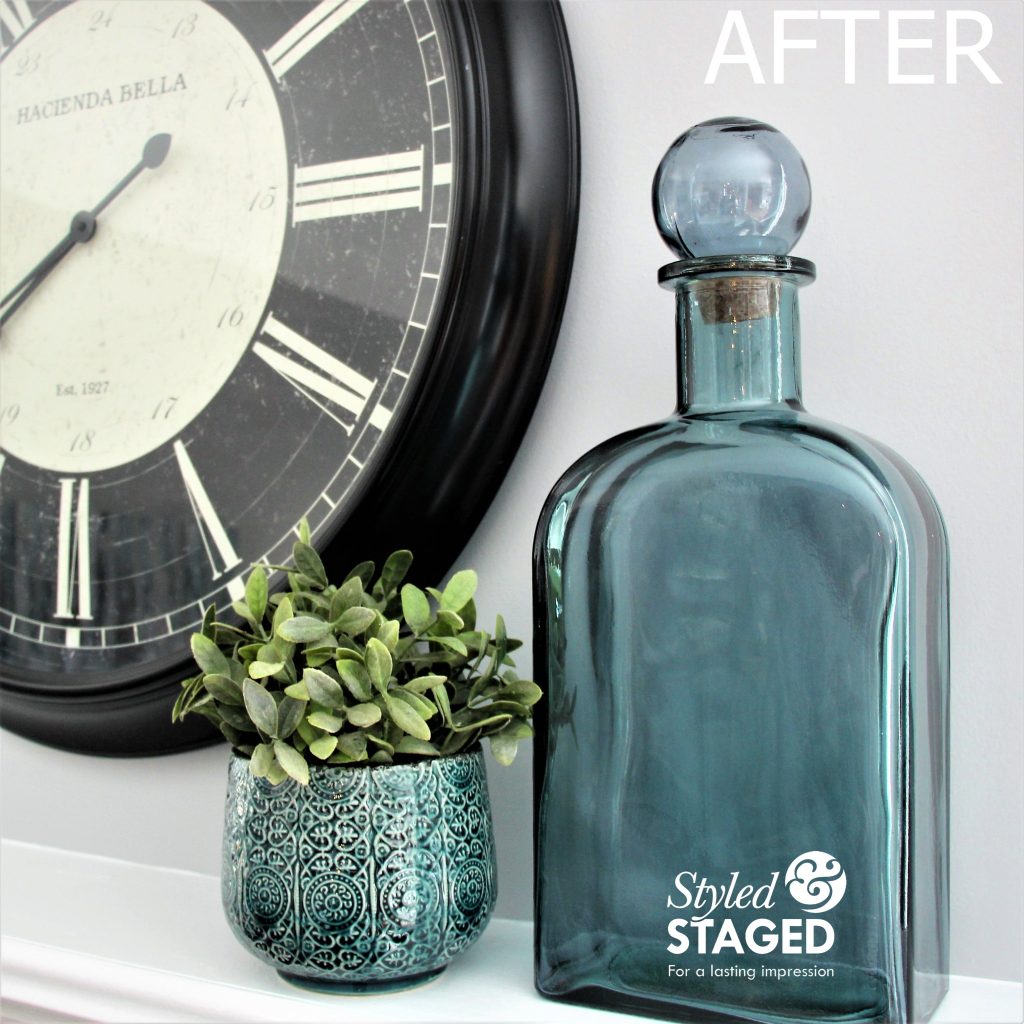 Behind the clock is an outlet for a TV if buyers wanted but for staging, I wanted to add accessories.  The black round clock ties in nicely with the black fireplace surround.  Simply, yet bold.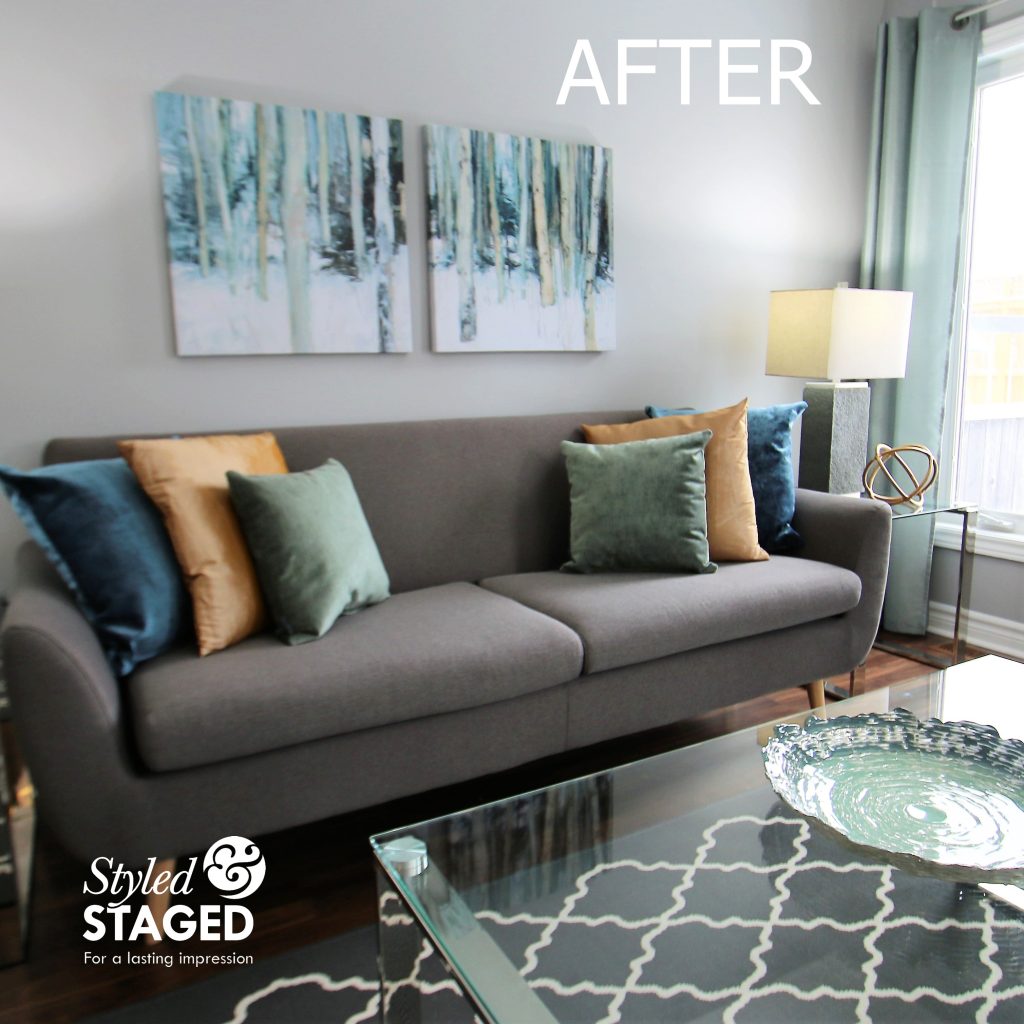 I get really excited when I can add all the accessories since to me, that is when a room comes alive and has a personality.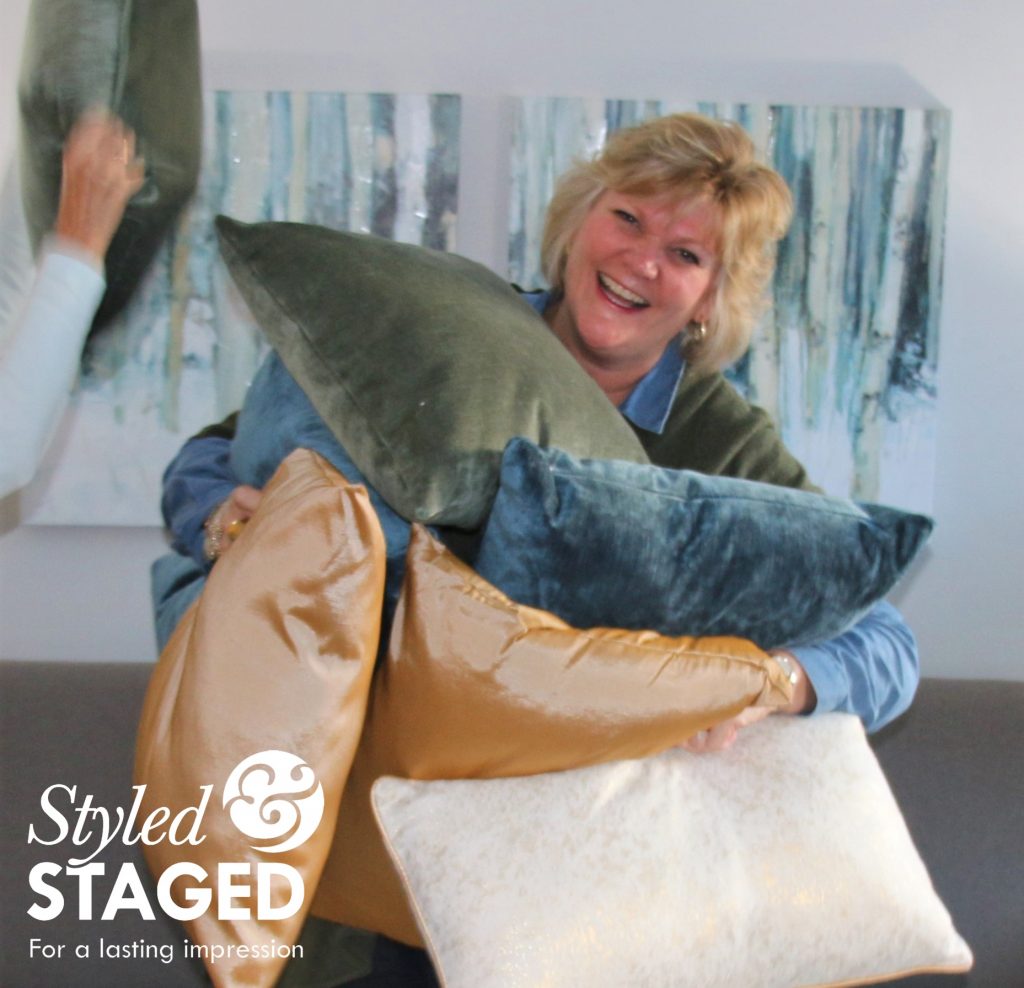 Staging can be stressful, so it's important to have fun and love what you do.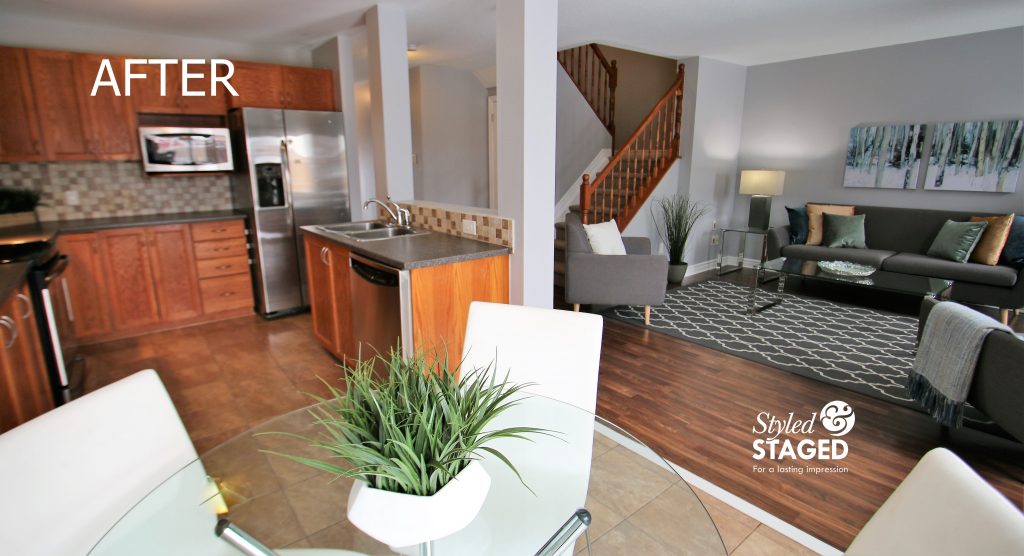 Notice how even the gold cushions (which complement the artwork) ties in with the kitchen.  It's important to make sure the fixed elements work with the décor so nothing jumps out.
Create Inviting Spaces: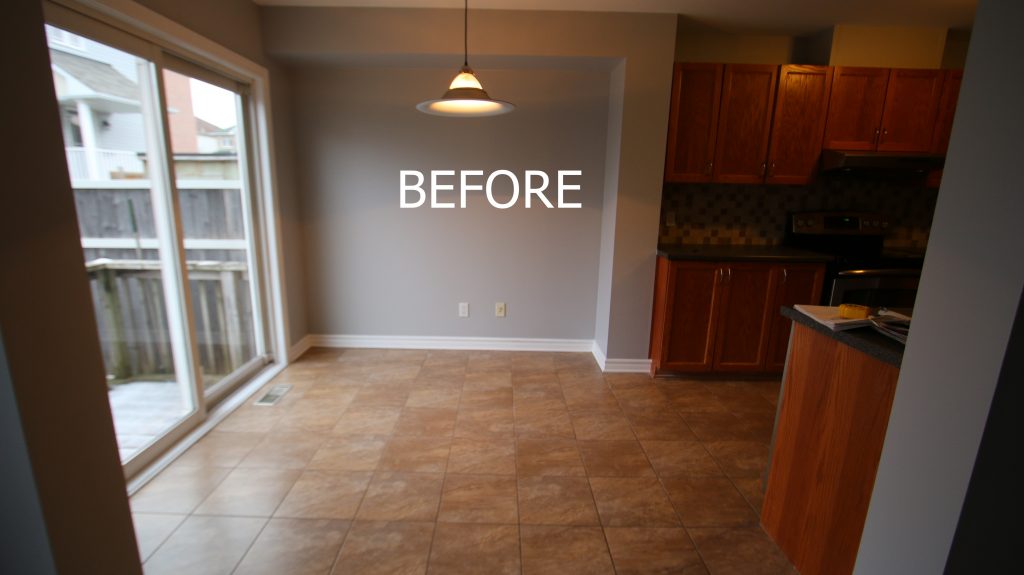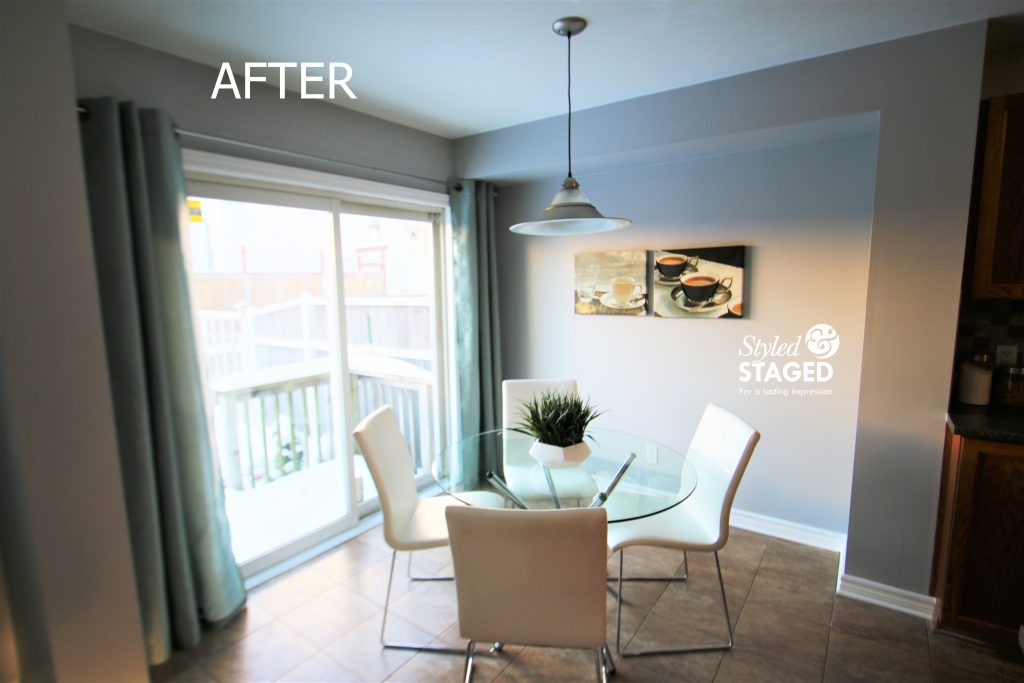 I used the same drapes in this eat-in kitchen to dress it up a bit.  The rented glass table and white leather chairs were the perfect fit for this space and my artwork tied everything together as well.
SOLD:
I was very happy to say that this townhouse sold immediately after it was staged for the price that the owner wanted.