Every wonder why the Christmas photos in magazines look so amazing? I approach decorating for the holidays the same way as I stage a house.  I remove everything off the surfaces and then start putting things back. Then I only put back the items that work with the holiday décor.  That way everything stands out more and you can really appreciate their beauty.  So many people just add their decorations to what is already there and then it just looks cluttered and messy.
Remember you are better to have fewer larger items than a lot of smaller ones.  However, it you do have smaller items, group them together for bigger impact.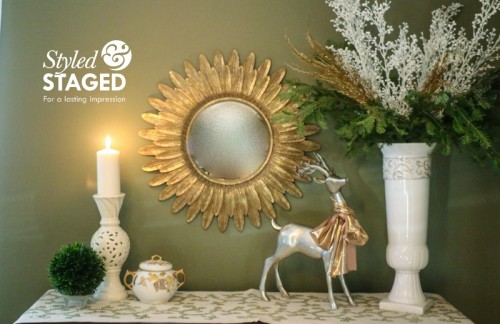 Just because it's the holidays doesn't mean that EVERYTHING has to be a Christmas decoration. The only holiday items here are the runner, the reindeer and the greenery in the vase. I use everything else all year long.
Hug Your Home…