Styled & Staged has an amazing reputation for Home Staging in the Ottawa area.  This business is all about giving 100% service to clients.   There are no projects too small or too large.  They can work within any budget and any time frame.  Styled & Staged are Real People working for Real People!
Styled & Staged does take on larger styling projects as well.
Here is an example of an executive Home Styling project.   The interesting thing about this project is that Styled & Staged bought everything for the homeowner's previous home.  Tasteful classic investment pieces never go out of style.  We were literally able to transfer everything from the old house to the new house.  We only needed to add a few new pieces and I'm sure more will be added since I don't think you are ever completely finished.  It's amazing how the same furniture can look completely different in different homes.  When you buy versatile pieces they can function for different purposes in different rooms.
These pictures don't do the rooms justice!!!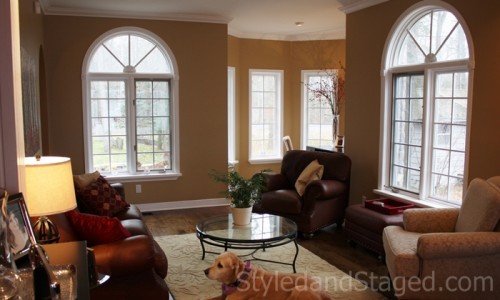 This formal living room still has all the comforts for family living. Lots of textures and layers make the space interesting and inviting.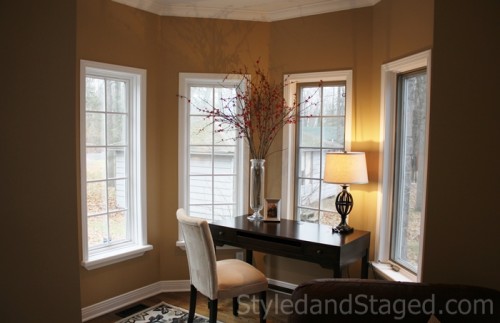 This turret was the perfect spot for this writing desk.  The tall red floral arrangement gives a hit of colour plus it accentuates the height of the ceilings without blocking the spectacular views of the river.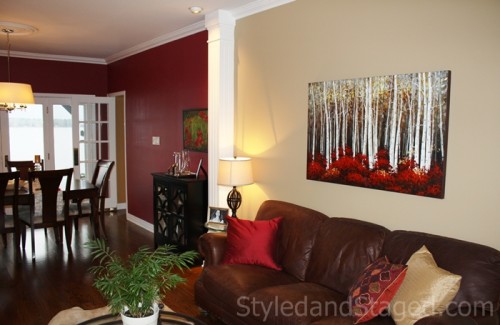 It's important to have artwork that works with the outside elements.  This birch tree artwork is perfect for the country setting.  Red is the homeowner's favourite colour so we needed to make sure that there was a good balance of the colour throughout the entire space.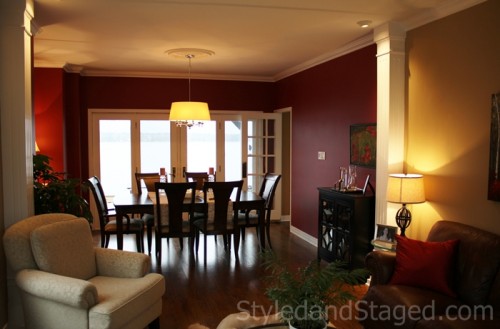 Nothing adds drama to a dining room more than deep red walls. The red isn't overpowering since there are really only two walls in this huge room.   This formal dining room is perfect for executive dining but it can easily be toned down for more casual gatherings as well.  The views are the breath taking.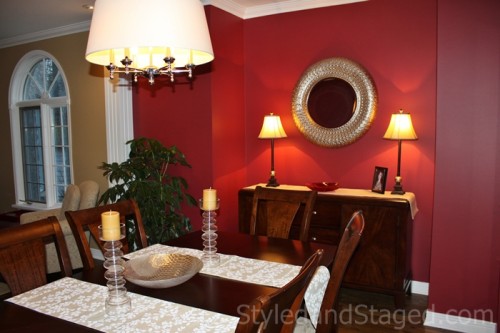 Lighting is so important in these large rooms.  You want to make sure you have light sources at different heights to create different moods.
Home Staging is about taking the personality out of the house but Home Styling is all about putting the homeowner's personality into the home.  Your home should feel like your sanctuary no matter how large or small it is.  It's your place to enjoy family and friends.  Home is where memories are created.  ENJOY!