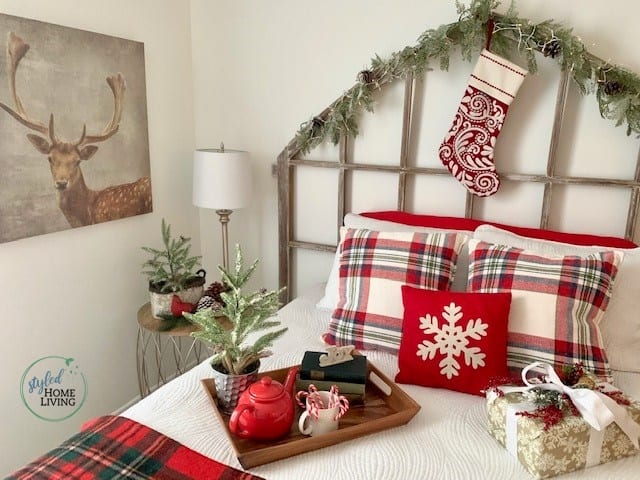 This is a very unusual holiday due to the pandemic. No one knows what to expect since the rules change every day.
I was really looking forward to our kids coming from Montreal for Christmas and had big plans for their guest room.
I wondered if it was even worth it to decorate it at all but somehow I felt it was even more important. I wanted to 'feel' my loved ones around me even in spirit.
I decided to create a 'vintage' guest room using all of my parents, my in-laws and my grandparents things. I love how it all came together and the best part was, I only had to 'shop my home'.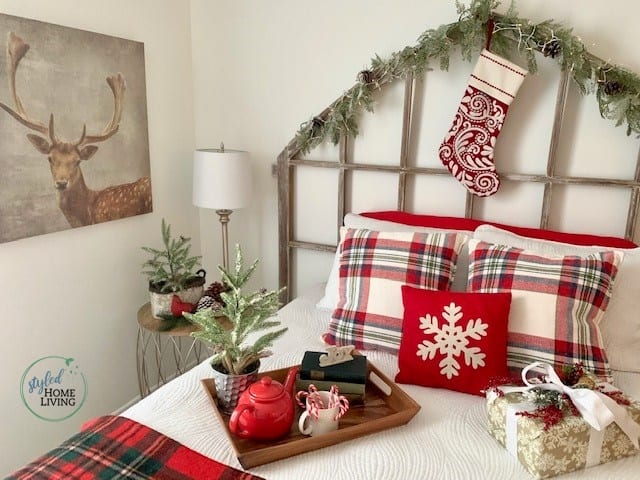 As usual, I always start with something that inspires me for a jumping off point. In this case, it was my grandfather's heavy wool plaid blanket. That thing has been around for over 100 years and it's always in my car 'just in case'. He always told me to be 'prepared for anything'. It brings back so many great memories of him and I love the colour combination. I would like to say that the blanket is soft, but it's very rough lol. I used my soft everyday white coverlet set as a base since I didn't have any more suitable linens.
The headboard also really helps create the atmosphere. It's an old vintage window frame from a church in Quebec that I refinished. Every time I look at it, I think of my parents who used to work at the church after they retired. We used to tease my mom by calling her the 'Church Lady' since she was always singing and rushing around helping everyone who needed it.
The red tea pot and ivory mug belonged to my mother-in-law. She loved her tea so I am happy that I have them. This tea pot was always full! She usually had a ginger cookie on a plate beside it too.
I try to include the word 'JOY' in my decor as much as possible in a subtle way, since I think it's one of the most important words in our vocabulary. There is joy everywhere. Sometimes we just need a little reminder to look for it.
The antique books belonged to my other grandparents. Some of them date back to 1886 and have their hand writing in the covers. I never got to meet this set of grandparents (on my mom's side) but somehow I feel connected to them when I touch these books. The pages are so yellow and brittle that they are definitely handled with care.
The red cardinal is older than me. It was always sitting on the mantle growing up. It has faded over the years since it's made out of straw. I associate my parents with cardinals so I find it comforting having this little guy watching over me.
To be honest, I can't remember where the birch covered basket came from since it's been around forever. I use it all year around for different floral arrangmements.
The snowflake cushion made out of felt, belonged to my mom which she kept on 'her' chair at Christmas since it fit the small of her back. It's quite 'pilley' now but that's o.k. by me.
The two plaid cushions were a new purchase from HomeSense this year. I just felt the room needed more plaid to tie in with the wool blanket. I like how things aren't too 'matchy-matchy' but the colours all work together.
I enjoy wrapping gifts since you can make them so personal with your embellishments. Somehow the gift always feels more special when the presentation looks pretty. I reuse my embellishments and ribbons year after year.
At night the twinkle lights in the garland around the headboard look so festive. and cozy. This stocking is only about 10 years old but it has the 'vintage' look to it with all of it's embroidery. You can certainly combine the old with the new.
The miniature trees were bought at Walmart this year. I like that they are 'wintery' without being too 'Christmassy' so they can be kept out all winter or used elsewhere in the house.
I spray painted the old lamp with a pearlized soft gold paint which I think fits in nicely with the room. Always try to repurpose when possible.
The final touch on this room was the deer artwork. It has an 'old fashioned' look to it even though it was only bought 3 years ago at HomeSense. I especially like how the brown in the artwork and the headboard soften and tone down the bright red. And no Christmas decor would be complete without a few pinecones!
I love being in this room but I'm very sad that my kids won't be able to stay here. Hopefully next year things will be back to 'normal'. Until then, find ways that bring you comfort and makes you feel JOY.
Merry Christmas!