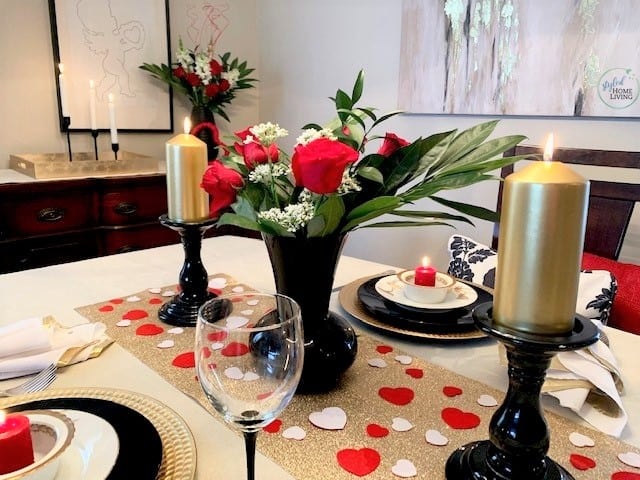 Let's face it, Valentines is only one day so we don't want to spend a fortune on decor but we still want to make if feel special.
Right now, line drawing is a very much on trend when it comes to artwork so that was my inspiration. Problem is…I can't draw! At all!!!!
Inspiration
I had a paper cupid from the dollar store last year. I simply traced around it with a black sharpie and then put it in an old IKEA picture frame that I already had. This artwork didn't cost me a penny! After I traced around the cupid, I realized I needed to add the curve of his thigh and bottom 🙂
Time Set The TAble
I continued with the black, white and gold from the buffet decor and the side artwork. Nothing says romance more than fresh red roses.
The gold glitter runner is actually just craft paper. Little pops of gold were also incorporated into the table setting with the gold charger plates, the gold and white vintage dishes and the gold napkins and rings.
Pull It All Together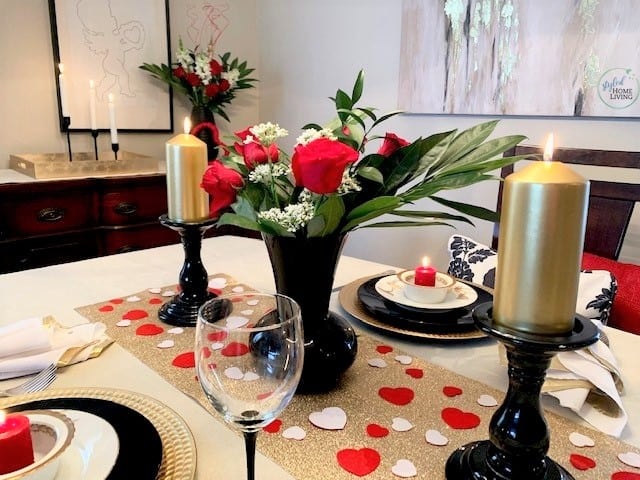 Black vases, plates and candle stick holders help ground the space. Even the wine glasses had black stems. All the black accents were inspired by the black cupid artwork.
Shop your to see what you have on hand and find different ways to use them. You might just surprise yourself. I would to see your creations as well.