My clients bought a 120 year old house and have completely gutted every room to suit their lifestyle. Styled & Staged has been working and consulting with them for 5 months to help keep the projects on track. The homeowners have their own strong décor taste which makes it fun and exciting to mesh all our styles together.
Here is one of the first rooms that was finished. There are still a few minor touch-ups to do in this room and we still need to buy accessories for the vanity. When you are renovating every single room you have to really prioritize what to buy and what you need to do to finish projects so you can move in and actually live in the house.
Once the colour palette was chosen for the entire house everything else just flowed.
This room was originally a formal sitting room. I can just imagine what it looked like over a 100 years ago with velvet settees and velvet drapes 🙂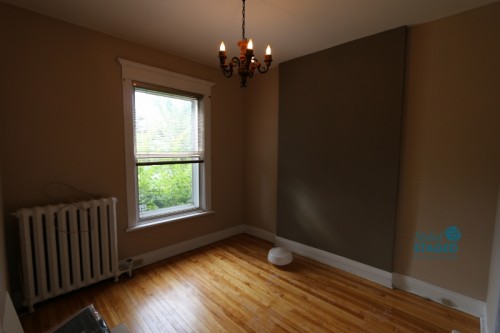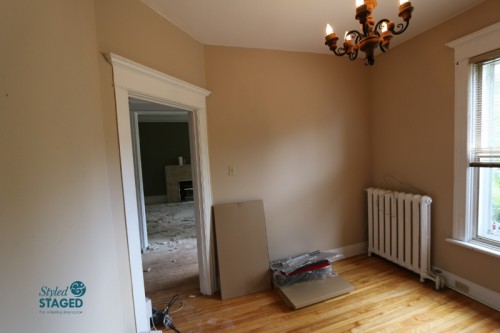 My clients decided that they wanted transform this room into a large powder room. They do a lot of entertaining and wanted a show-stopper room for their guests.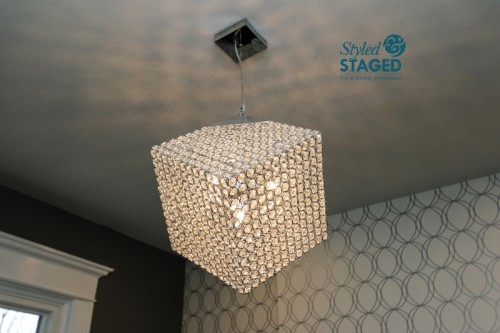 This chandelier was the inspiration for the room. It had the modern cube shape but it also had the circular crystals for the sparkle and glam factor.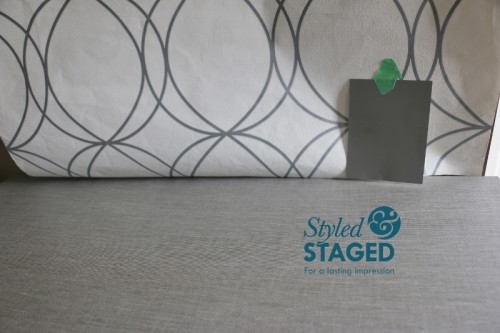 These oversize linen looking tiles set the colour tone. Since the room is so large I felt we needed a darker gray for impact but I thought it would look boring if it was all the same colour. Since we couldn't remove the brick wall behind the drywall it made it cumbersome for décor and the plumbing for the vanity. As soon as I saw this wallpaper I knew I wanted to make it a feature wall behind the vanity. We couldn't install wall sconces over the sink because of the brick so pot lights were installed for extra lighting.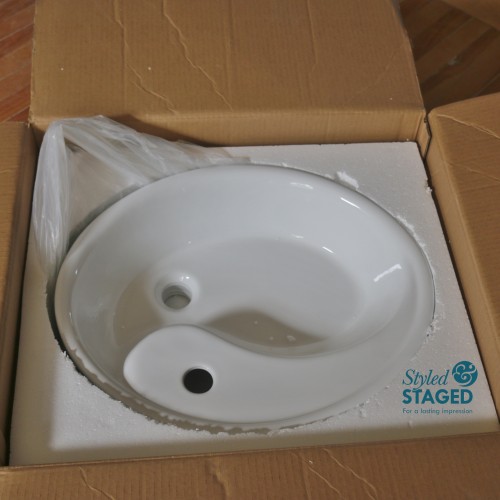 The homeowner fell in love with this vessel sink so it had to be incorporated with the vanity. I love how unique it is and it also keeps with the circular theme.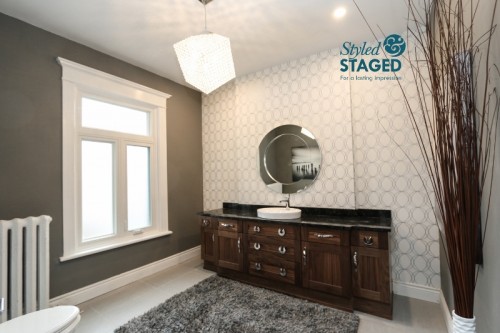 Replacing the window was a huge help as well. The bottom portion was frosted for privacy. The vanity had to be extra long to hide the pipes beside the brick. I would never put an are rug (especially one this large) in a bathroom but they already had this one and when we tried it, it just worked and took away some of the echo of the large room. Eventually they will buy accessories for the vanity. I Iike how the vessel sink doesn't sit too high off the counter. After months of looking for the perfect mirror I was so happy with this one.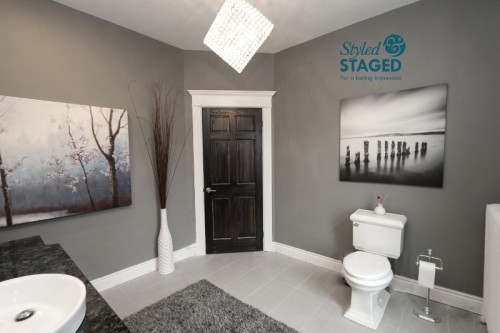 I loved how we were able to use artwork and accessories that they already had. The homeowner worked very hard at distressing an old door since there was only an archway before. I think it all came together nicely. Stay tuned for further rooms.  This is a 4 story house!!!