When decorating or staging a house you always need to start with a source of inspiration.
As soon as I walked into this house I noticed the new tiled floor since it was a dominate feature of the whole main floor (other than the hardwood). I knew if I wanted to create a cohesive look in this open concept living space I would need to work with the colours from it.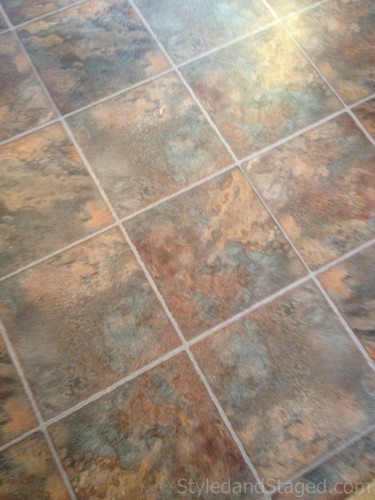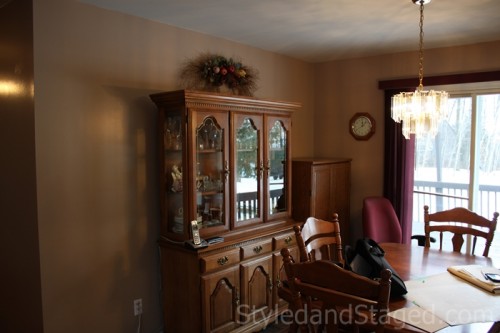 I felt really bad that the homeowners had freshly painted the wall before I met them but unfortunately it had a semi gloss finish with a pink undertone to it.  The semi gloss shows every imperfection and the pink undertone fought with the new floor.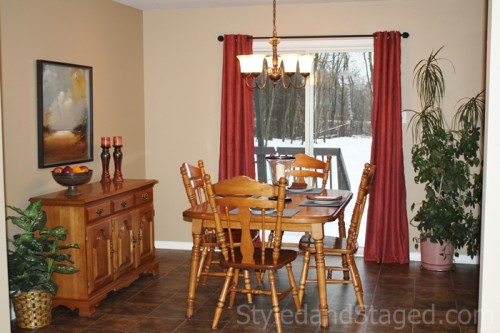 Repainting the walls was a lot of work for the homeowners but it was a huge improvement!  Removing the buffet hutch really expanded the room visually and it also allowed a place to hang artwork and a surface to display decorative items.  Once again we used the floor colouring in all the accessories and table settings. Replacing the dated brass chandelier with a neutral dark brown one updated the look which was important since it was the first thing you saw when you entered the house.  Drapes instead of blinds made the large patio door a focal point.   Removing the desk cabinet also opened up the room.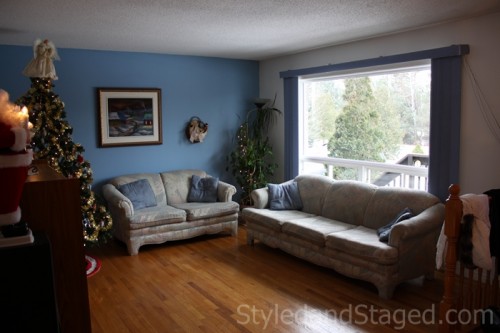 The adjoining living room didn't blend with the dining/kitchen area.  The homeowners have already bought a new house and they wanted to buy new furniture for it.  I suggested that if they buy new furniture now (there are awesome Christmas sales) this house would look more updated for resale and then they can just take it to their next house.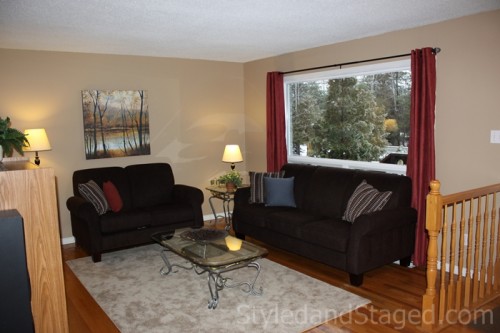 You would never know that this is the same room!!!  The homeowners painted the entire main living space the same warm tan for a contemporary feel.  They were so excited to get their new brown sofas 🙂  I hung the same drapes in this room for a nice flow.  I chose artwork that was inspired by the country living and the colours were pulled from the tile in the adjoining room.  An area rug warmed up the space for the upcoming cold month.  The homeowners can simply take everything to their new house once this house is sold so they are very happy.
Having Christmas decorations or any other religious/seasonal decorations on display is never a good idea in photos when you are listing you house.  Keep things neutral for the masses.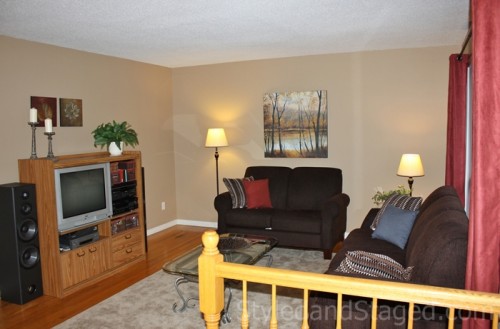 We literally put the Christmas tree in another room for the photos and put it back afterwards.  Trees really make a room appear smaller which is not what we wanted to achieve. Buyers want to see what the room looks like for all the other months of the year.
You would hardly know that this is the same house.  Every room had a complete transformation resulting in an updated and improved version.  I have no doubt that it will be sold very soon!