My client absolutely loves her solid wood wall unit that housed her huge TV and couldn't imagine her living room without it.  When selling your home it's important to be able to remove your sentimental attachments to 'things and furniture' for the SHORT term. Potential buyers need to be able to see where they could place 'their' furniture.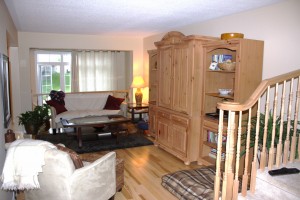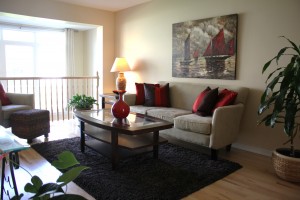 Removing the wall unit allowed us to move the couch to the long wall and it completely opened up the view of the large window.  Now we also have a space to hang artwork.  Pops of red, cream and brown were added to compliment the artwork. All the other furniture on the main floor including all the kitchen cabinets have a dark ebony finish.  Removing the pine wall unit kept a nice contemporary flow throughout the whole main floor.
We simply stored the 3 piece unit to the garage during the selling process.  Since I've seen the house that the homeowners are moving to,  I was able to suggested that they use the two book cases in the office of their next home and the middle unit could be used as an armoire in a bedroom since they also have a pine four posted bed.  Adding shelves inside gives the out dated TV unit a whole new purpose. The new bedrooms are much larger and will certainly be able to handle the furniture.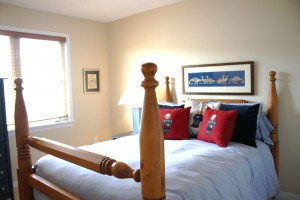 When people move they tend to just duplicate how their furniture was grouped in their previous house.  Think of new ways to reuse your favourite pieces for a new look.  You'll fall in love with your furniture all over again 🙂