As a Home Stager, I'm always asked "how much work is really necessary before putting a house on the market?"  Just remember you only get ONE first impression so make sure it's a good one.  I always give clients my 'wish list' and then we prioritize  depending on the client's schedule, budget and abilities. It's also important to know what you are going to get a good return on your money from. Some renovations/modifications are not worth it financially.
It's very important for Realtors and home owners to give themselves enough time to prepare a house properly for sale.
Here is an example of the different stages it takes to pull a room together.  The results speak for themselves.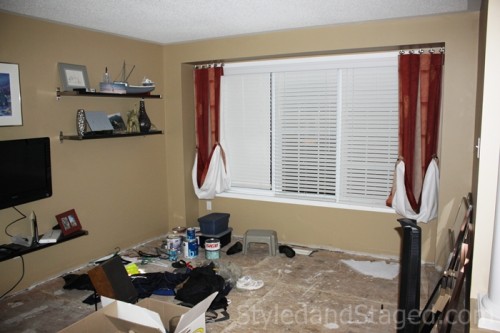 When I arrived to my first appointment the homeowners had already ripped up their carpet and were going to lay hardwood floors.  All their furniture had been stored in the basement so it was like walking into a construction site 🙂
As soon as I saw all the shelves and mounted TV I suggested that they remove them and paint the wall before they laid the wood floor.  Buyers don't like walking into a room and worry that they have to remove large bolts and brackets.  They want a house that is move-in-ready.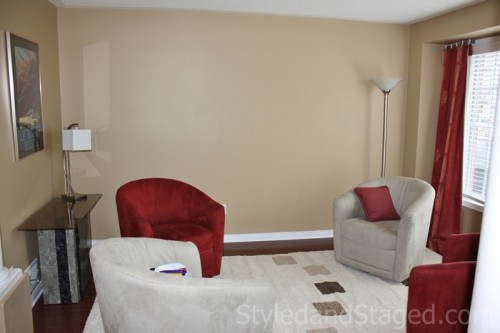 When I went for my second visit the wood floor was down and they had moved all their furniture back in the room.  It gave me the opportunity to see what Styled & Staged needed to bring in for the 'wow' factor.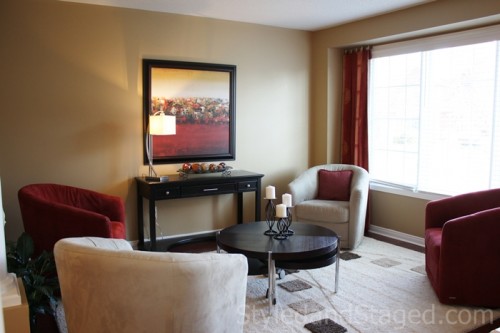 Fortunately Styled & Staged has a huge inventory of rental artwork and accessories that compliment any style and decor.  It's amazing how adding a few key items completely transformed this room.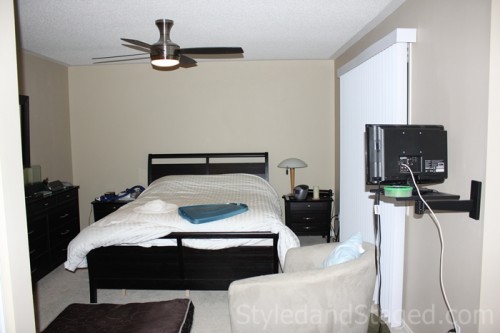 Master bedrooms need to feel as luxurious as possible.  Once again I suggested removing the TV and the mount since they didn't want to sell it with the house. You don't want to have hassles in the negotiating phase.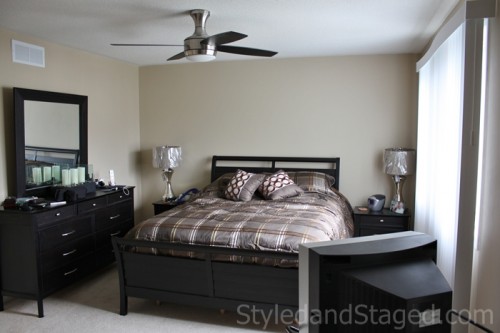 The homeowners bought new linens and lamps that they wanted for their new house but it still lacked the details.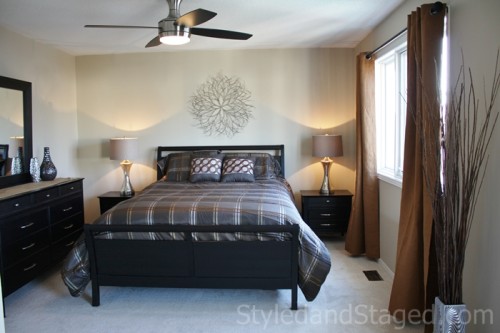 It's amazing how a few details makes all the difference.  Replacing the white vertical blinds with rich warm copper drapes instantly added more drama and warmth.  Adding a few more props finishes the room perfectly.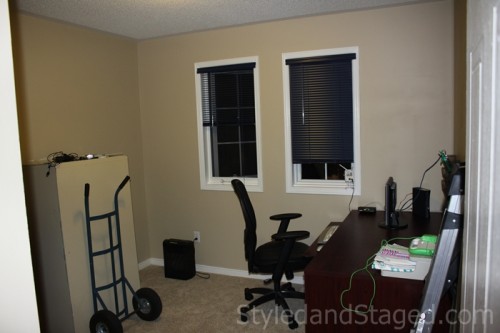 Home offices are huge selling features in a house and luckily the are also the easiest to give a transformation.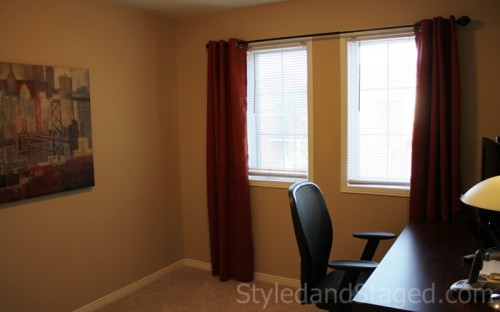 All we did was add strong artwork and side panel drapes.  The drapes not only give softness to room that doesn't have any other linens but they also widened the two small window for a dramatic look. Buyers can easily see that this room can be an office or another bedroom.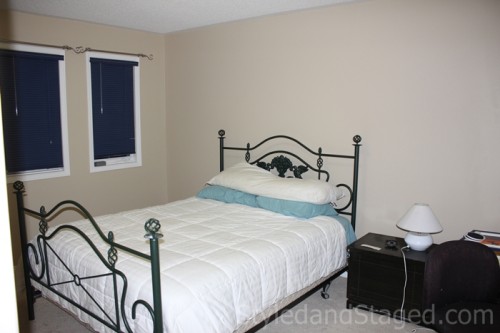 Yes, you want to keep rooms looking neutral for the masses but neutral does NOT mean boring!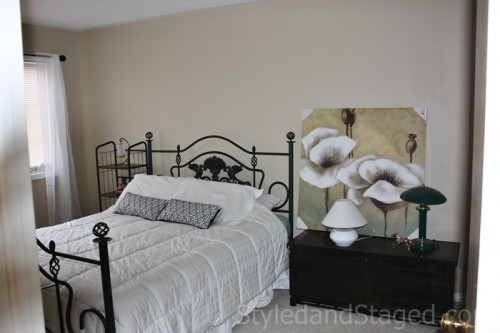 I used the homeowners artwork from another room as the inspiration for this room.  The white in the flowers tied in well with their existing bed linens.  Remember it's all about keeping costs down but still have a great look.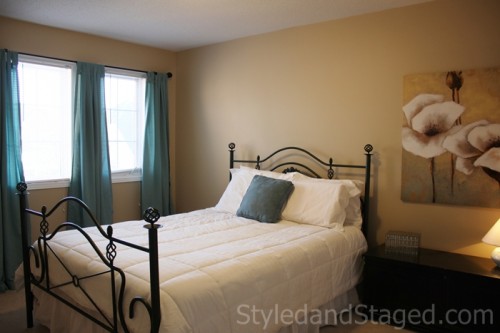 The rental drapes and toss cushion from Styled & Staged give the instant colour that the room needed.  The aqua colour was pulled from the artwork.  Inexpensive drape panels are the quickest way to transform a room.
This neutral house is perfect for anyone to move in and add their own personal taste and colour choice.
Good team work everyone!