One little $20 item can have so much impact in the photos for the MLS!
The biggest reason we stage a home is draw attention to potential buyers with the beautiful MLS photos.  So many homes have attractive black or dark brown couches.  Unfortunately the just look like cold dark holes in the photos with no depth.  I also often see huge sectionals in a solid colour and it just looks likes a sea of 'sameness' in photos.
A simple fix is to add a few toss cushions.  Pull the colours from the artwork and accessories for a cohesive look.  Not only does it add interest but it also adds texture.  A home that is inviting to buyers sells faster.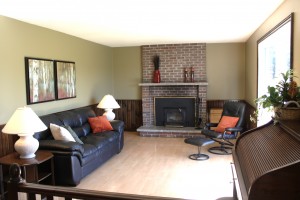 In the warmer months never forget about the 'outside living'.  Even upholstered couches or patio furniture look more inviting and vibrant with some decorative pillows.