The Hardest Part of Christmas Day 2020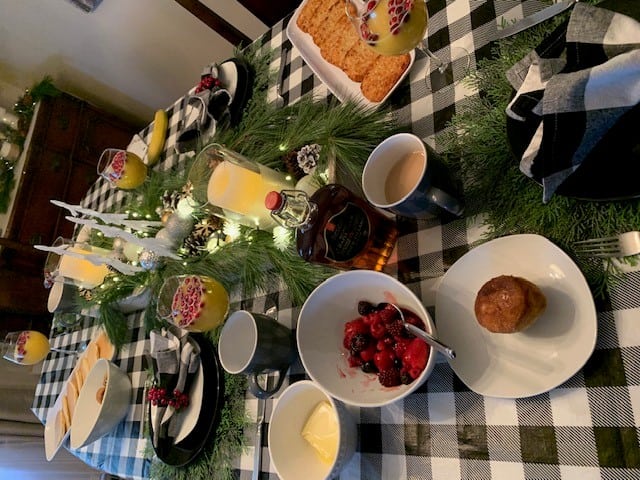 This post is not really decor related but I just felt like writing my thoughts down of this holiday since it was so different from any other year.
Overall, I was very happy with Christmas 2020. Most traditions were thrown out the window, but we adapted to find a new ways to celebrate. I definitely missed my family and friends. I never realized how much I loved their hugs and just the comfort of their presence and chitchat. I missed the energy in the house. I tried really hard and went overboard with the decorating to try to make it 'feel' like Christmas. The truth is, it 'looked' like Christmas, but it's the loved ones that make it 'feel' like Christmas. It's not the shiny bobbles. However, I have to admit I was happy that I did decorate since I didn't want yet another special occasion this year be forgotten.
Although we had many facetime chats and even family zoom calls, sometimes you like just being with someone in silence. Their closeness is all that you need and that is not achieved on a call. Don't get me wrong it was still better than nothing!!!
Christmas Eve
Christmas Eve is normally a really big deal in our house with at least 20+ people, lots of music, food and laughter, but this year it was just me an my husband. I decided to make a nice Raclette dinner so it would take more time just enjoying some conversation without any rush since we had nothing else to do. What a foreign concept. lol
Yes, the table cloth is plastic SHHH! 🙂 We always end up spilling the dips and dropping the veggies etc. on the table with this meal so I figured a nice buffalo plaid would be just fine 🙂 Besides, it was just me and hubby. However, I did use my cloth buffalo print napkins with the little cranberry napkin rings. I find my white serving platters perfect for displaying all the food so we can easily see and reach for what we want. With this type of meal, there isn't any real table setting since it's all just platters of food and of course the raclette is in the center of the table. Doesn't get better than that!
Christmas Day
I was sad that I couldn't be with our daughter and partner since they just moved into their first new house in Montreal. They are also in lockdown. It would have been so much fun sharing some baking time and just hanging out. They also have more holiday time this year and we can't be together.
We placed a laptop in the living room Christmas morning and opened a zoom call so we all opened our gifts together. We just tried to pretend they were in the room with us. I'm not going to lie, my heart was hurting a bit. Kayla always added so much 'activity' to the house. I miss her friends coming over too since they are like my extended children.
Our son and fiancé were able to be with us Chirstmas morning since they had just had negative COVID tests and didn't see anyone afterwards, but we still social distanced on opposite sides of the room. Their whole family was tested since a close family member is in the hospital and we were hoping he was coming out for Christmas and everyone wanted to make sure he was safe when he did.
We had a nice breakfast together before opening gifts which is always a treat. Greg always appreciates a tasty spread. I just kept the same table cloth from Christmas Eve but added my wooden centrepiece which is full of fresh greenery and twinkle lights. I just love how all the greenery looks (even on a plastic table cloth). Adding fresh cranberries to orange juice, champagne or anything else you're drinking is a simple way to make a drink look that much more festive.
Unfortunately our family member is still in the hospital and with the COVID rules, only one (the same) family member can visit for 2 hours a day even if he is not in for COVID. His gifts were taken to the hospital so he could open them there while zooming with the family during Christmas dinner. As I said, there were lots of zoom calls over the holidays. Somehow just making a poster and a cute little gnome for him helped us feel a bit better. I really liked his little lit Christmas tree too.
It makes you realize how many other people who are alone in the hospital or in a long term facility without family allowed to visit this year with the new rules. I think the loneliness is the worst part of this Christmas for everyone.
We also weren't able to visit our older Aunt so we met her in her condo lobby to pass on some gifts. I was happy that her daughter was able to be with her so she wasn't alone. They would normally have been with us for every occasion.
We spent the rest of the day enjoying a walk in the trails feeding all the birds and squirrels. This is something that I always love to do. This little squirrel put a smile on my face as I thought to myself "he is all ready for another lockdown".
This holiday truly made us all reflect on who and what was important to us. That is not necessarily a bad thing. We can learn from all the lessons that were taught in 2020 and we can focus on what we can do better in 2021. We are all more resilient that we think and we will prevail in the new year!