This house had been on the market for a quite a while without offers so when the Realtor called Styled & Staged in for recommendations the homowners were more than willing to follow through.  We used the feedback that we had received from previous showings as our guide.  Now that the entire house and attached appartment have been updated I'm sure this property won't stay on the market for long!  It's gorgeous.
As you enter this grand country home you get a full view of both the upstairs formal living room and the family room below.  The fireplace goes from top to bottom so it was important that they matched.  The homeowners were very willing to reface the fireplace since the ceramic tile not only dated the house but it was very limiting for buyers.
Here are just a couple rooms that were transformed…..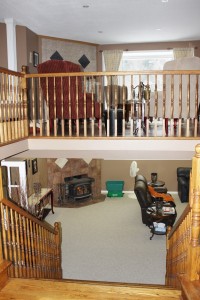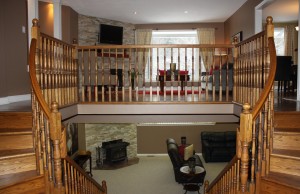 After both fireplaces were refaced it looked spectaclar!!!!  Since this is a country home the stone really worked with the exterior environment.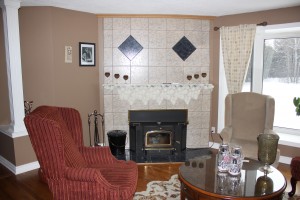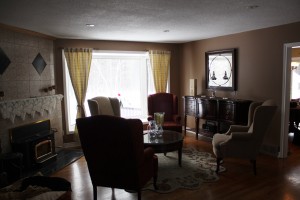 Because there was a huge sideboard taking up the only solid wall in the room, it was very difficult to place furniture.  The homeowner had 4 large wing back chairs around a circle for conversation but it felt more like a lobby and the chairs obstructed the beautiful country views.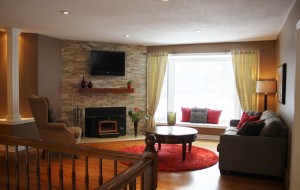 Once we moved the sideboard to another room, the homeowners bought a new sofa and hung their TV on the fireplace so the room is not only more open but it's more functional and a great room for entertaining.  Adding hits of colour pulled from the new artwork gives the room interest and style.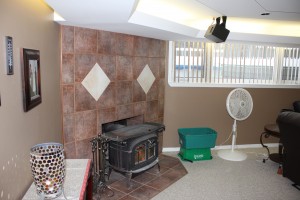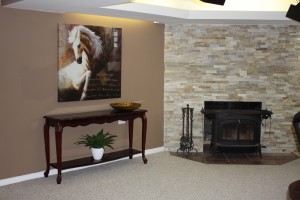 It was so important to have the downstairs look just as good as the upstairs since they are both completely visible when you enter the front door.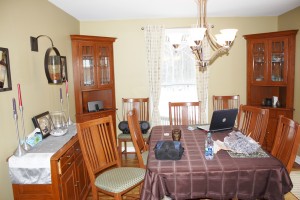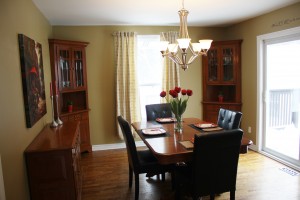 This room has to serve as both the eat-in kitchen and the formal dining room so it's important to get the right balance of formality and comfort.  The same pops of red flow into this room since they are right beside each other.  Nothing says Spring more than tulips.