Styled & Staged was called in to Stage a newly renovated but empty house. Everything had just been painted when I arrived. All the rooms were painted in 3 similar colours and all the flooring was consistent throughout the house for a nice flow.
Since I don't rent out large furniture pieces, I wasn't sure how much I was going to be able to help them. Fortunately I work with the best Realtors in Ottawa! This realtor was able to provide some basic pieces for me to build on. It's so much fun working together as a team.
Defining Bedrooms Through Props
When all the rooms are painted the same colour it's almost impossible to know which room you're looking at on the MLS photos without really thinking about it. I want buyers to know exactly which room is which.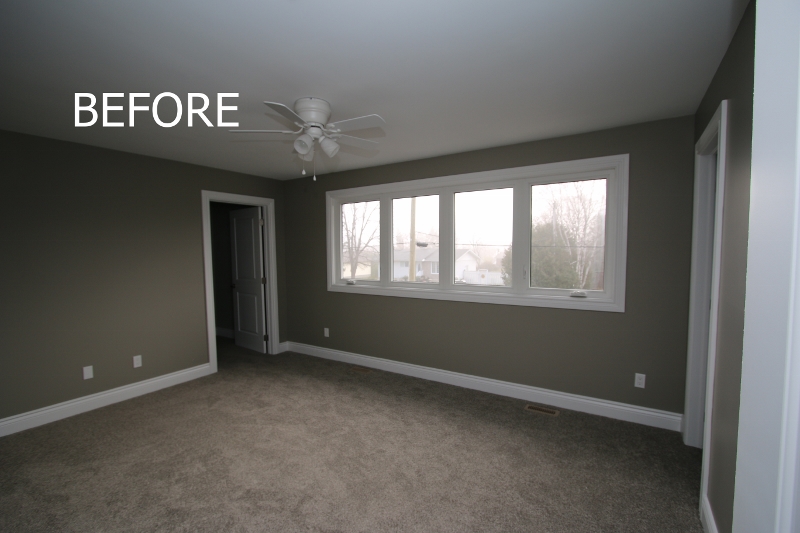 The master bedroom is so important to buyers.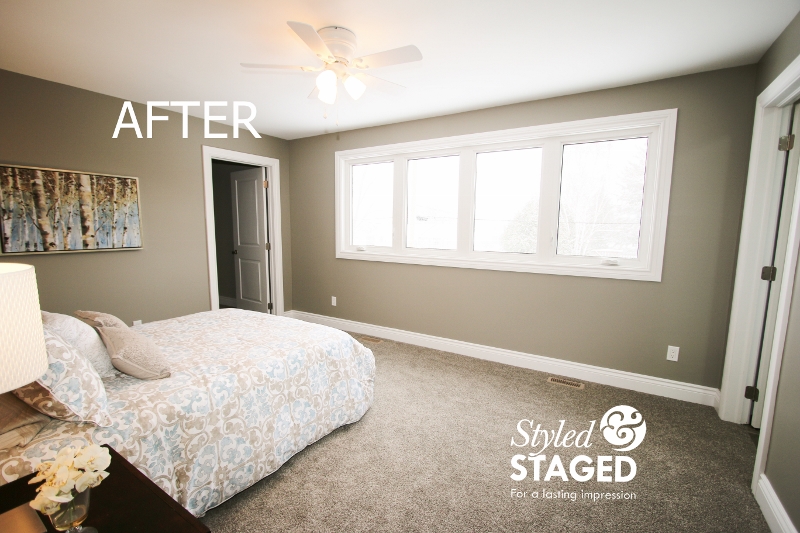 I was very lucky that the realtor provided me with the furniture for this room. Adding a few lamps and artwork and accessories were all that was needed. I would have loved to hang drapes in every room but since the walls were all freshly painted, we hated to add more holes. We also wanted to showcase the new windows.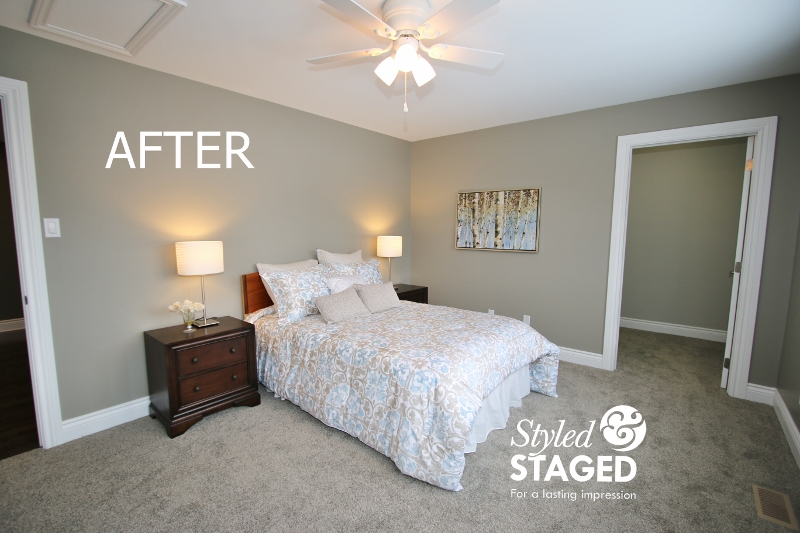 The walk-in closet is so large, there is no need to have dressers in the main room. This room looks elegant and inviting.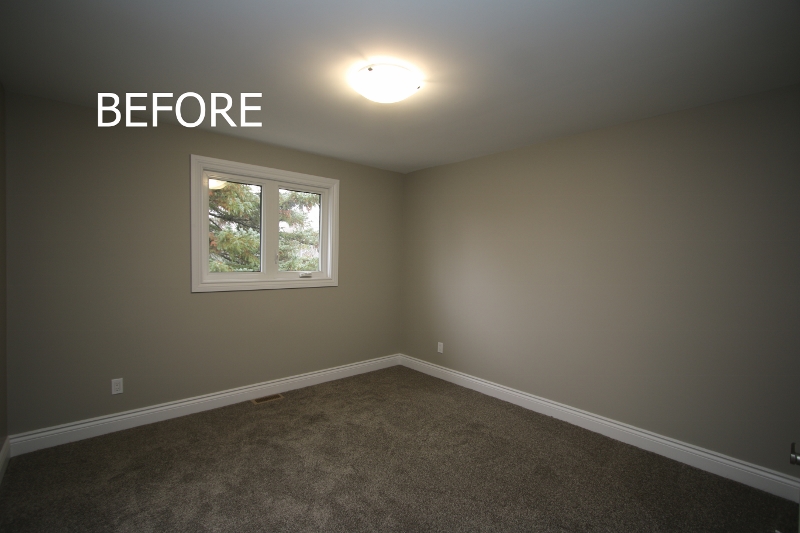 This is the first child's room.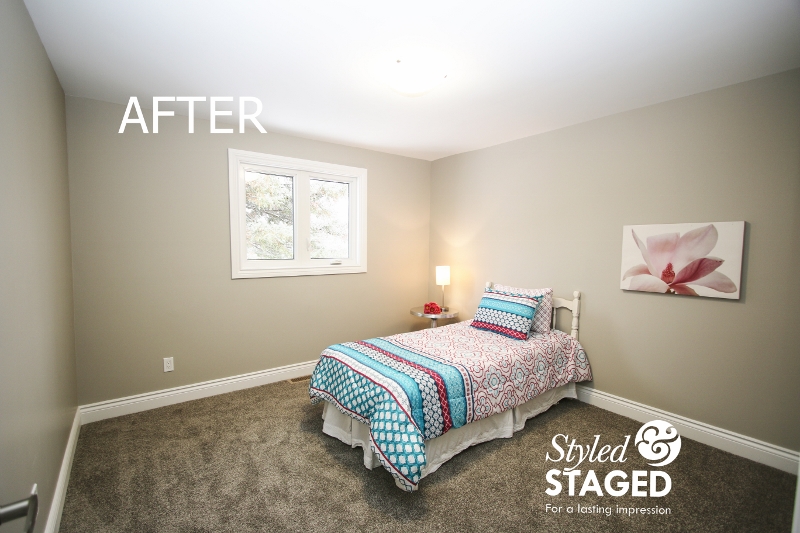 The realtor brought in this furniture so buyers could visualize the scale of the room. I added artwork beside the bed so you could see the approximate width of what a dresser or desk would be. I wanted to expand the eye of the room so you could looked at the entire space. It's amazing what a difference fresh, fun and bright linens can make. I wanted to make the two children's rooms more vibrant.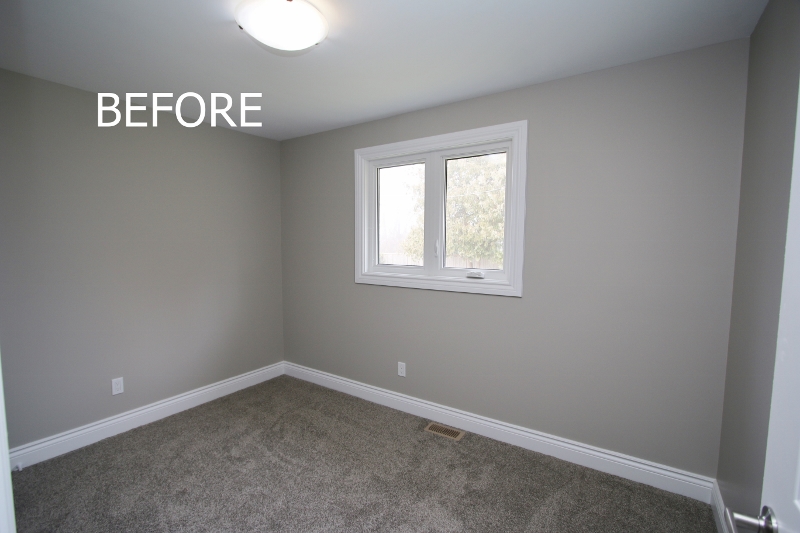 This is the second child's room.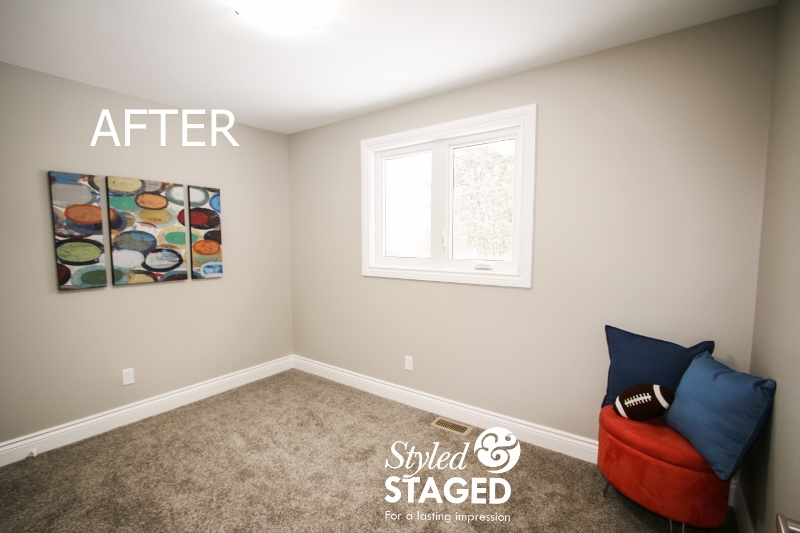 Although we didn't have furniture for this room, it is still memorable and different from the other bedrooms because of the artwork and props. I also wanted to show how this neutral paint colour can still be fun with a youthful.
Bathrooms
Since the two bathrooms are brand new with high end tile, faucets, flooring and vanity etc. I really didn't feel the need to do too much.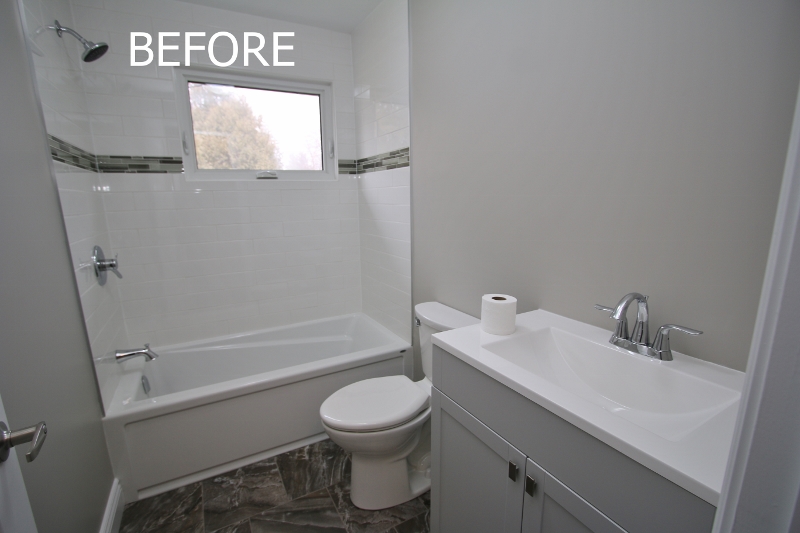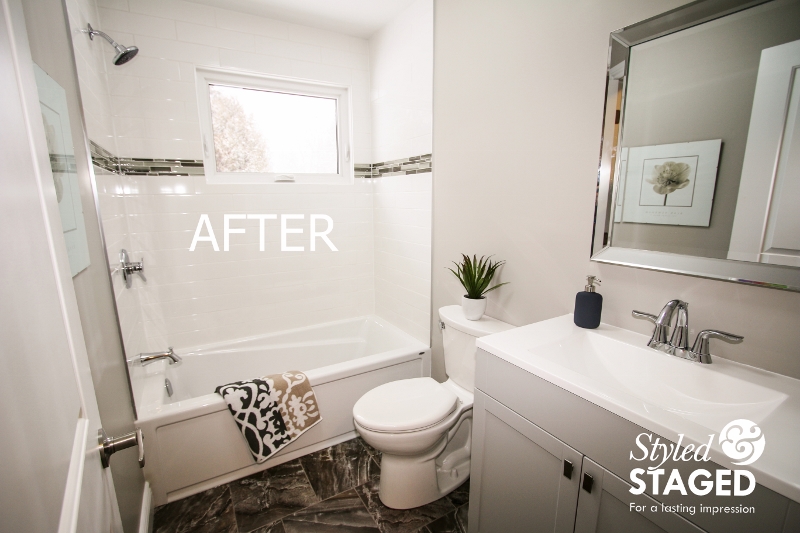 The biggest thing for this room was to just add a large decorative mirror over the vanity. Since the tile is so beautiful I didn't want to cover it with a shower curtain. Adding a towel that tied all the colours together, gave it softness. The neutral artwork keeps it interesting without competing with anything.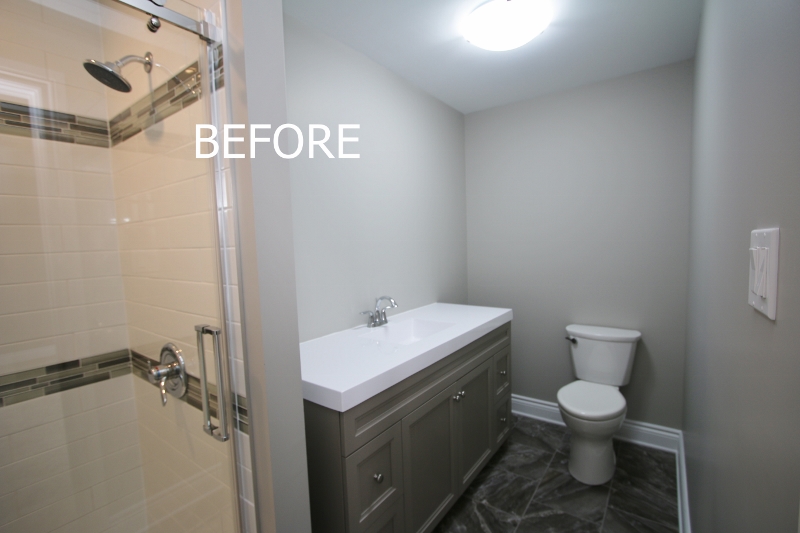 This en-suite has similar features as the main bathroom so I wanted it to look different.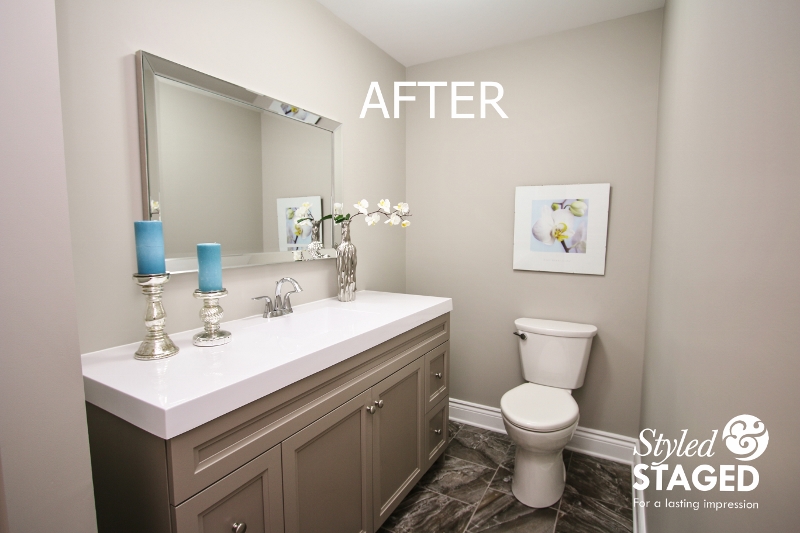 The same mirror (but larger) was added to this bathroom. I used the same blue accent colour as the adjoining master bedroom.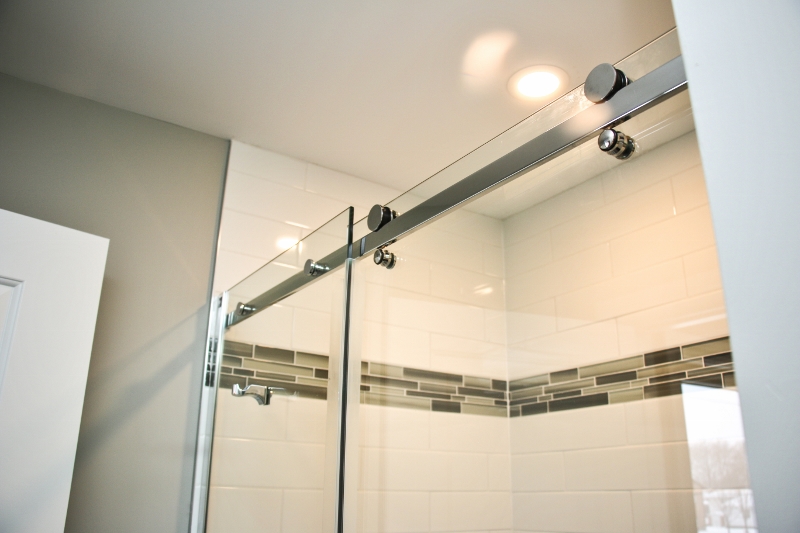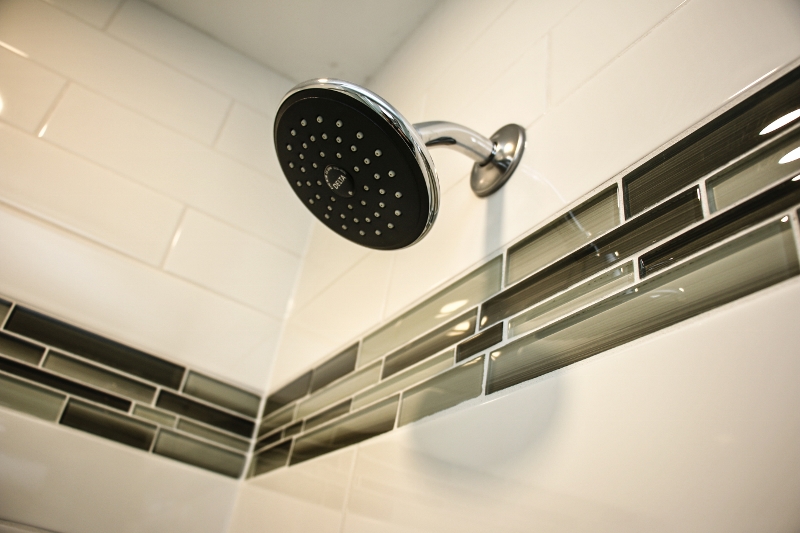 The homeowner chose really nice faucets, tile and glass shower doors. When a house is this nice, you don't need to add many props. Let the features speak for themselves.
Give the Room a Purpose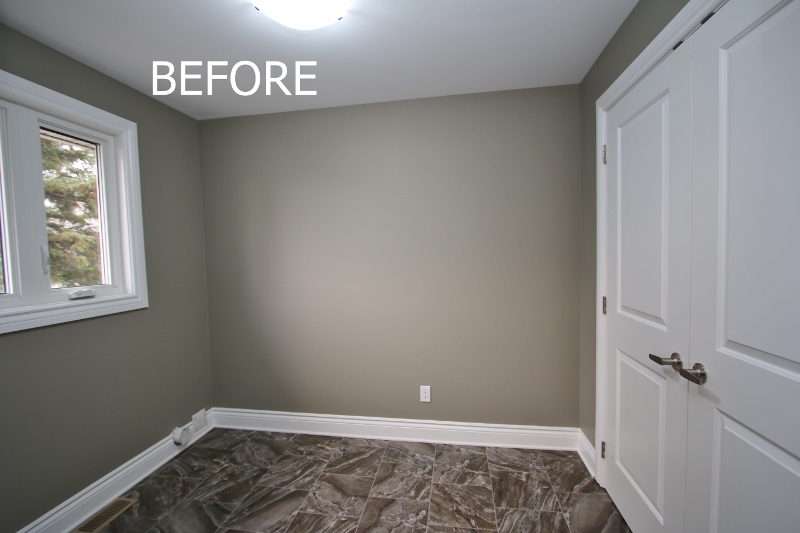 To be honest, when I first walked into this room, I had no idea what it was for. I thought it was a home office. Then I saw the plug-ins for a washer and dryer.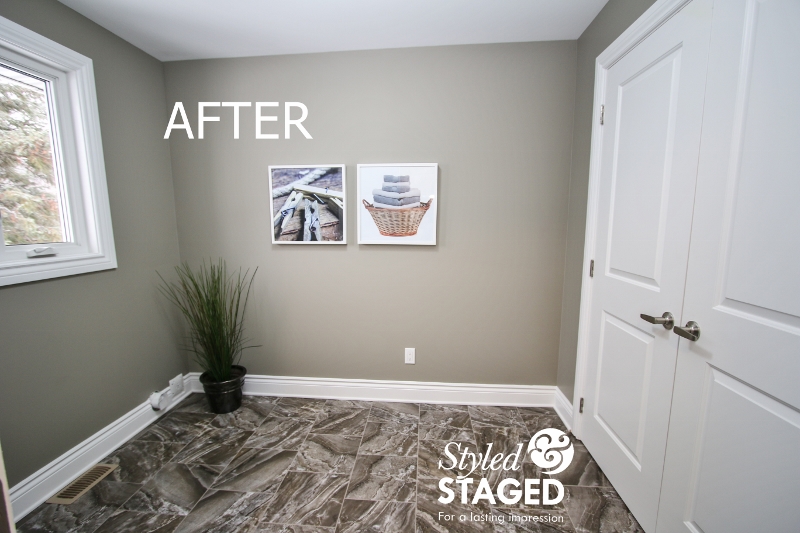 Since there are no appliances sold with this house, I needed to make sure that buyers knew this was the laundry room in a 'not-so-subtle way'.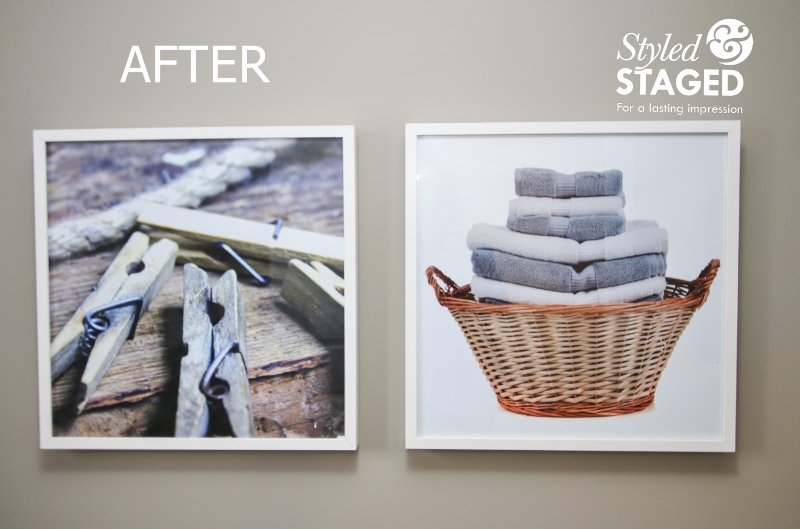 I was pretty pleased to find this artwork. I actually printed the photos and put them in my IKEA frames. I'm always trying to find ways to repurpose what I already have. I liked how the colours also blended with the tile floor.
Using Props Strategically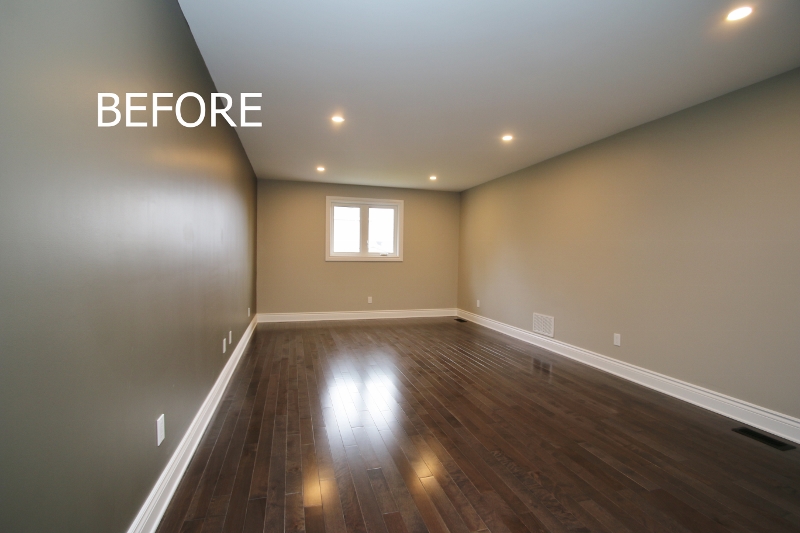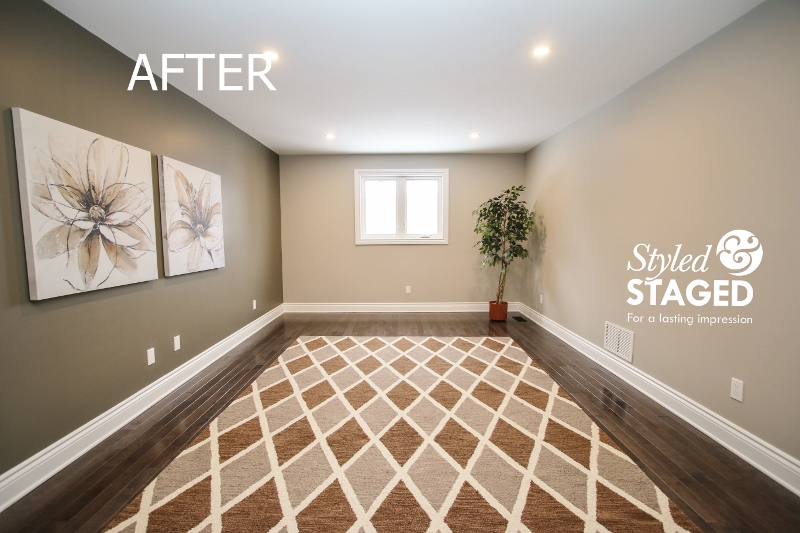 We didn't have any furniture for this living room but adding a huge area rug helped define the space as well as give it interest. The tree in the opposite corner expands the eye.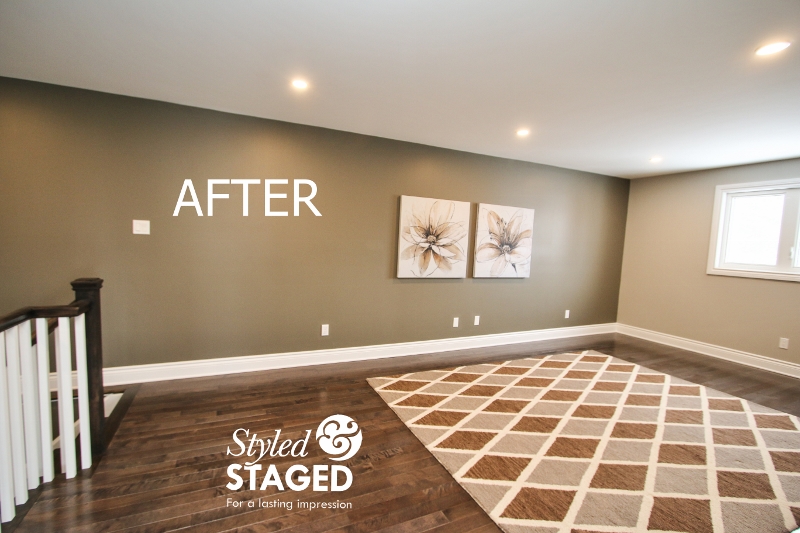 I strategically hung large artwork between the two outlets on the wall so buyers could see that a sofa would fit under the pictures and tables with lamps would fit on either side of that.
Showcase the Beauty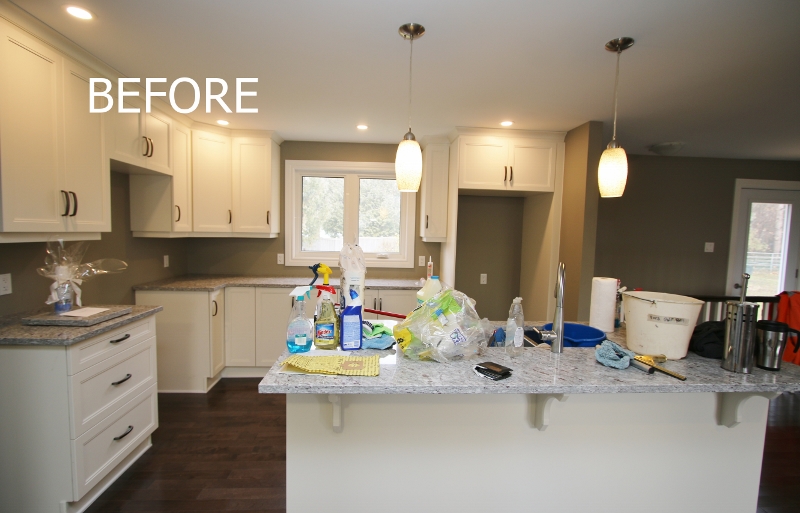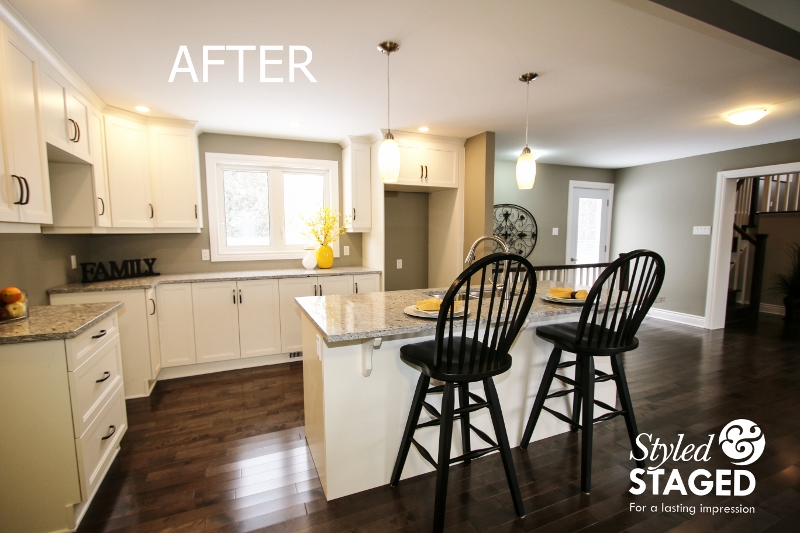 This stunning kitchen is the first thing you see when you enter the home. We showcased it with bar stools to emphasis the luxurious island. The pops of yellow were pulled from the artwork in the adjoining room. I really wanted to make the window a focal point to draw your eye into the space. A few decorative accessories helped with that.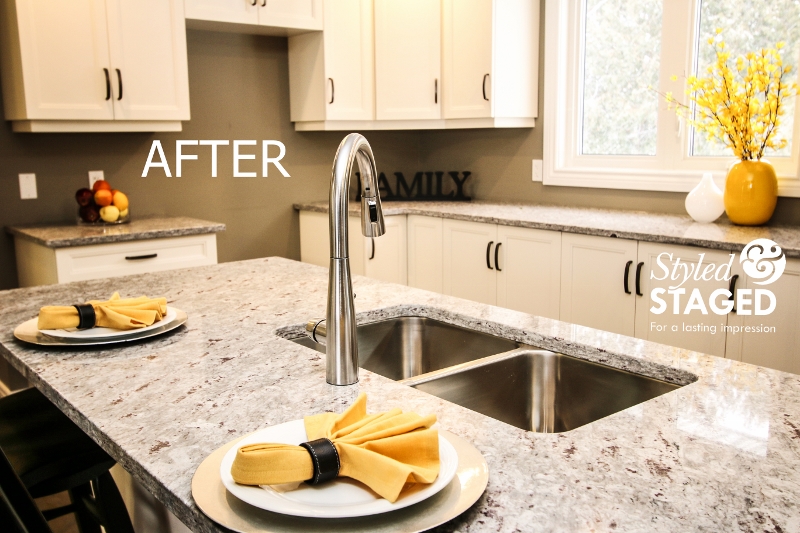 Since we didn't have a dining table, I wanted to show buyers a place where they could eat as well. It just makes it feel a bit more like 'home'. I could certainly visualize myself having a cup of coffee there.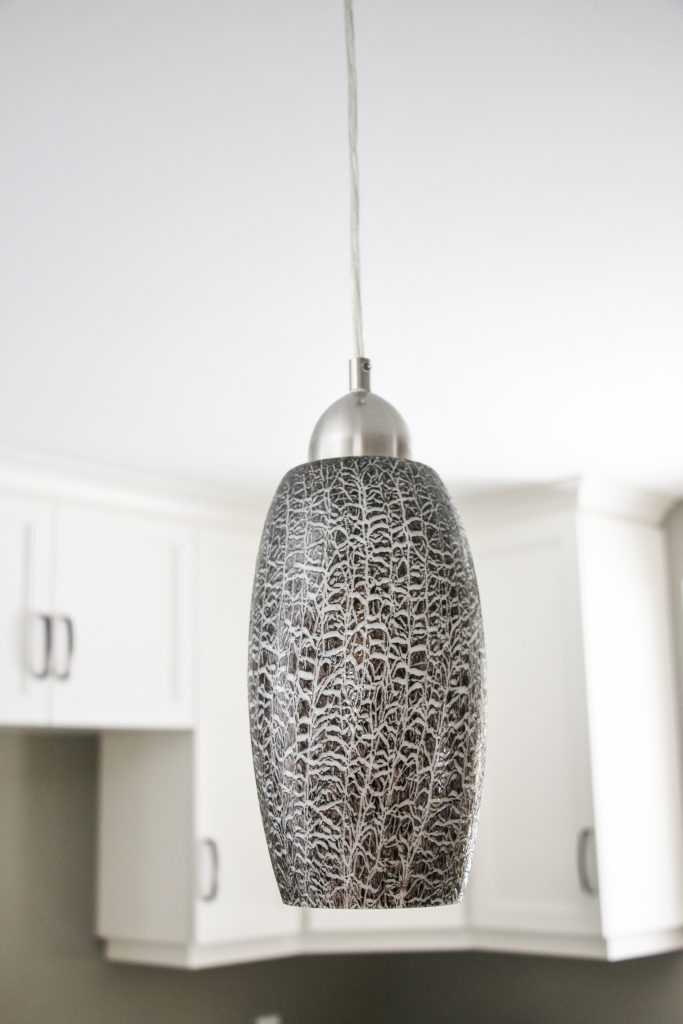 The homeowner really took a special interest in all the finishing details. Lights are like the 'jewelry of an outfit'. It's these little details that make a home stand out.
Great Room
This large space with the kitchen could have so many different purposes. It could either be a dining room with a family room or just one really big dining room.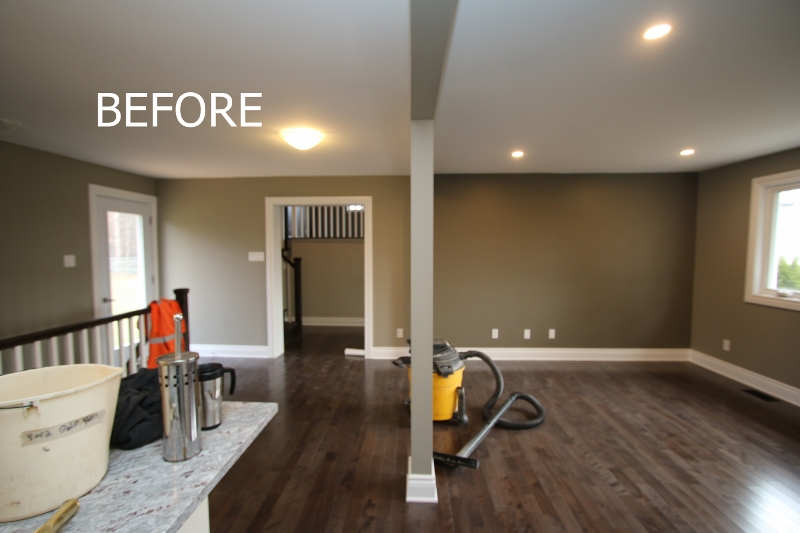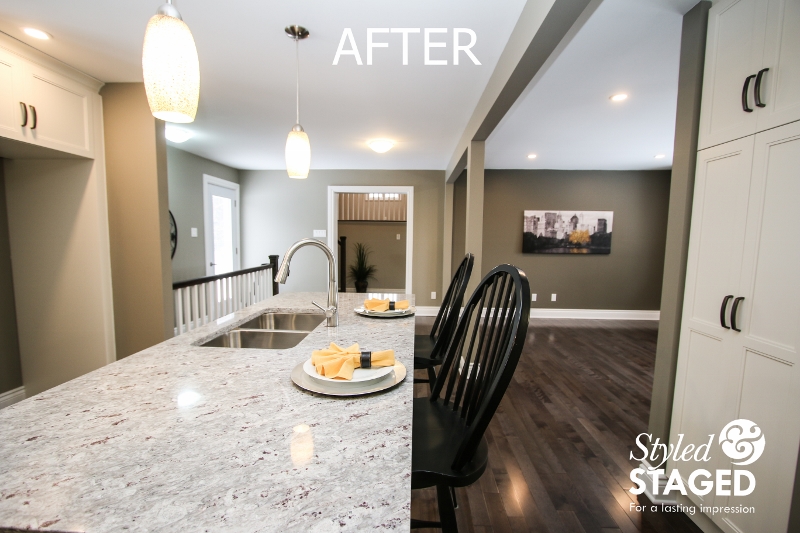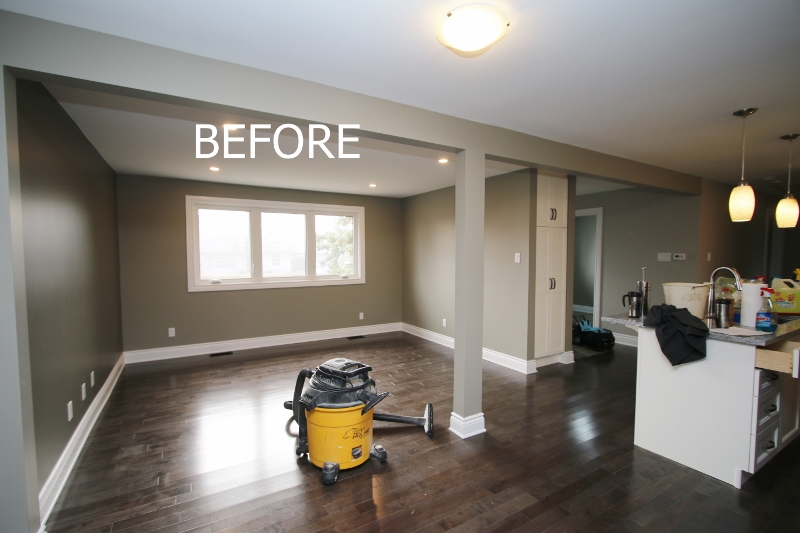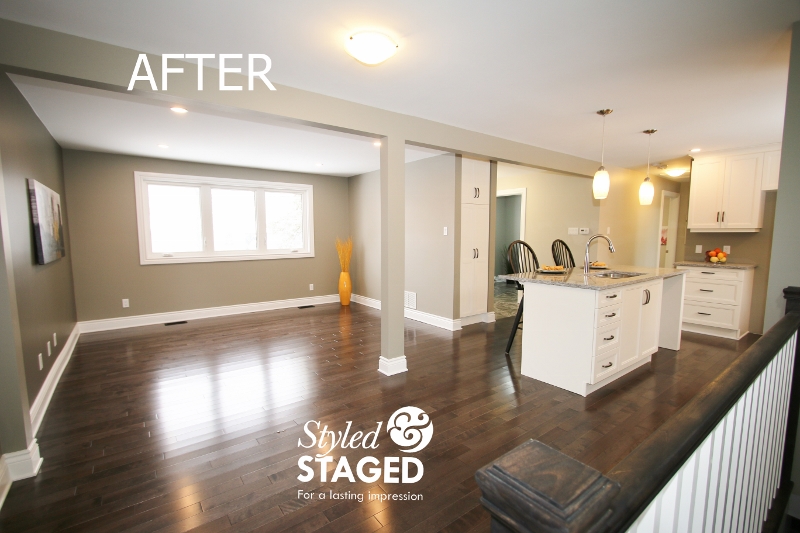 This whole area is a blank canvas for buyers. The important thing is that there are a few pops of colours for a cohesive look. I'm sure this beauty will be sold quickly. Cars were constantly slowly down to take a peak as I was in the house staging.
Although we didn't have furniture for every room, there was definitely enough furniture and props to make each room memorable.