Staging is all about putting money in YOUR pocket with the sale of YOUR house!  This is the time to beg and borrow from family and friends if you don't have the furniture that gives the 'wow' first impression.  It's a hard concept for homeowners to grasp sometimes.  They aren't buying the furniture so why does it matter?  Trust me….it does!  Buyers are buying a 'perceived' lifestyle.
Before – These homeowners knew that this furniture had been 'well loved' for many many years but they didn't want to buy any new furniture until they knew what they were going to need for their new house.  This is very understandable.  Time to get resourceful and creative 🙂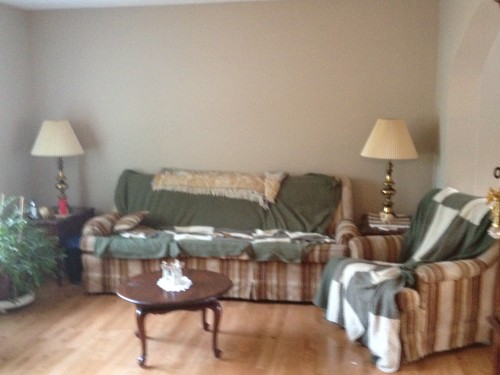 They were so willing to to do whatever it takes so they actually called a sister to borrow one of her couches and we brought up a chair from downstairs.  Moving the big TV out of the formal living room also helped with the furniture placement.  The TV belongs in the family room!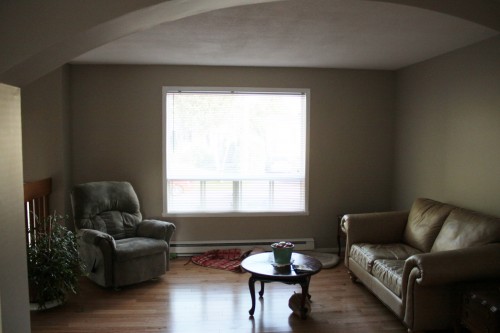 The layout was much better with this furniture but it didn't the any Style.  Renting accessories from Styled & Staged is quick, simple and inexpensive way to in ject colour and interest.  Remember you always want the pictures on the MLS to attract buyers to your home.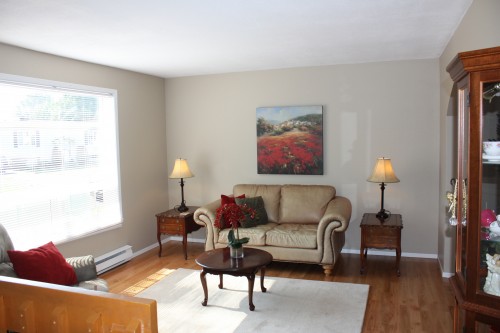 What a difference adding artwork, lamps, cushions and an area rug can do!  Renting from Styled & Staged is definetly the way to go when it comes to accessories 🙂
The adjoining room has to serve as the formal dining room plus their eat-in kitchen so it's important to find the right level of formality.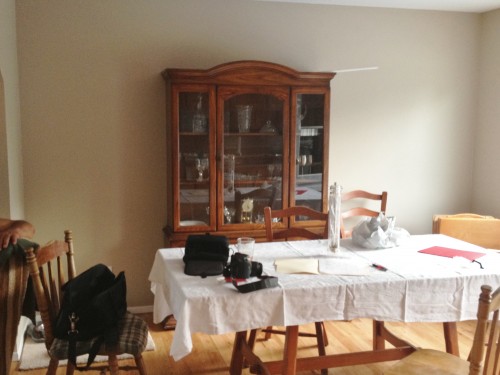 The mix and match chairs was not helping create an entertaining feeling.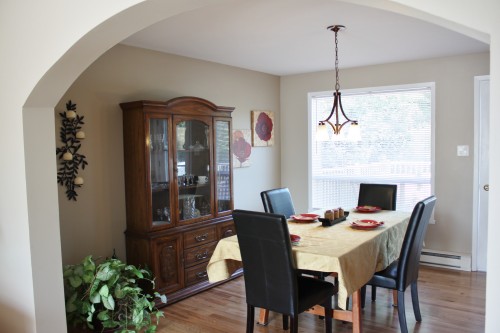 The homeowners did buy  faux leather parson chairs ($38 each Walmart) and it completely transformed the room with a more contemporary look.  It's  important to think of who your buyers are and try to appeal to their tastes.  Renting artwork and accessories in the same colours as the adjoining living room gives the illusion of a larger space.  Adding the hanging chandelier also adds to the atmosphere.  Always put your chandeliers on dimmers!
Every single room in this house had a complete transformation at a fraction of the price from renting accessories from Styled & Staged!  Happy Selling.