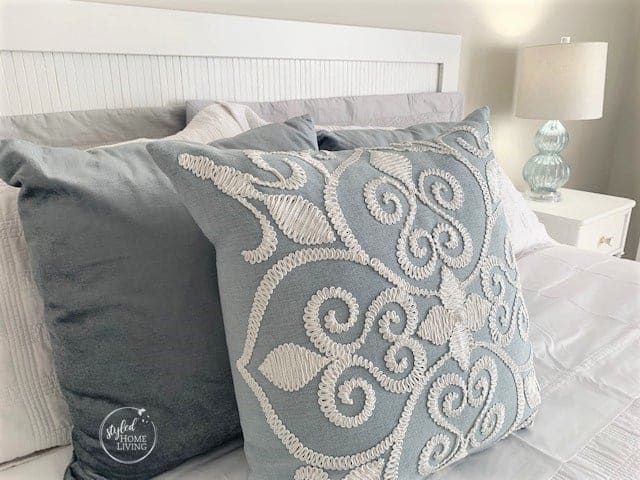 Like so many of us during the COVID pandemic, I looked around my house and noticed all the things that were bothering me! I took advantage of this time while we were all in 'shut down' and tackled one room at a time.
Time For a Quick Refresh
Our master bedroom was looking very tired and forgotten. We inherited my mother-my-in-laws antique mahogany bedroom furniture almost 10 years ago and it was just placed in the room without any planning. It was a super busy time in our lives, and decorating this room went to the bottom of our priority list. This furniture was never intended to go with the existing headboard (which matched the previous decor) or paint colour etc. It needed help badly!
I spend all my time making everyone else's home look beautiful but I run out of steam by the time it's my house. This was my opportunity to give it a refresh using things I already had. My goal was to make the whole room to feel lighter and serene. We are having hardwood floors installed throughout the entire house so please ignore the ugly carpet. Remember, this is a 'refresh' not a renovate.
It's O.K. To Paint Antiques
Some of you may totally cringe when I say I wanted to paint antiques like this, but to be honest I wanted to make the room feel like 'ours' but still keep the sentimental value. I had no interest in selling it but I wanted to update the room. The furniture was also in pretty bad condition as well with old water marks, missing details and chipped wood. I did quite a bit of TLC on it.
Prep Work Is Key But Not Fun
Since I did this project back in April, it was still cold outside. I had to prep the furniture in the bedroom. I sanded lightly and then cleaned thoroughly with TSP. The prep can take as long as the painting.
It was easier to clear out the room and just leave the furniture in middle of the floor. Real wood furniture is HEAVY! At the same time, I also prepped the walls for paining since I only wanted the sanding done once in the room. I didn't want to sand the walls with freshly painted furniture. Let's make a mess once instead of twice.
I primed all the furniture with 2 coats for Bulls Eye 1-2-3 and then 2 coats of the Enamel paint in Benjamin Moore Oxford White. The key is to success is really letting the paint dry between coats. FYI patience is not my specialty when I'm living in a mess! When you have drawers, you don't want too much paint build up or they won't close properly. I didn't paint inside the drawers but I did paint a few inches on the sides of the drawers so if they weren't closed properly you would see white and not wood.
Before and After
Once the furniture was all painted, it was time to paint the walls and put the room back together. I used Benjamin Moore Edgecombe Gray on the walls. I like using a Matte finish in a master bedroom. For the trim I used Benjamin Moore Oxford White in a semi-gloss.
Putting the Room Back Together
Once the walls were painted and all the furniture was dry, I was very excited to put it all together again. I can't believe how different it looks.
I added new drapes that went from floor to ceiling, switched to new white and gray coverlets and added some cushions. I have to admit, it's easy for me to go through my Staging inventory to find anything I want even when the stores are all closed.
Since I took these photos, I have added a few more personal accessories that bring us comfort and make the room 'ours'. Treat yourself to a room where you can look forward to relaxing in.
DIY Artwork
Since all the stores were still in lock down, when I finished this room, I couldn't go shopping for anything but I really wanted something unique to put on top of the tall dresser. I did find something online, but it was over $500 so I figured I could make something similar with items that I already had at home. What do you think? I think it turned out very well.
If you want to learn how to how create this simple yet stunning artwork click on this link for more instructions.
It's amazing how much this room changed primarily with a lot of light paint. I wake up every morning with a smile on my face as the sun shines in.
I hope this blog has inspired you to take a look at your rooms with fresh eyes. A room should always evolve to your needs and not be stagnant.
Enjoy your home!