Time to Purge Your House
As the weather here in Canada is getting colder, one of my favourite things to do is to put away the summer clothes and pull out the winter clothes.  I'm sure many of you don't join me in this pleasure lol.
In the last few months for some reason this book "The Life-Changing Magic of Tidying Up" kept being brought up in conversations with friends and even clients so I figured I should read it.  Everyone was surprised that I hadn't even heard of it. I went to Chapters and bought it right away and I'm glad I did 🙂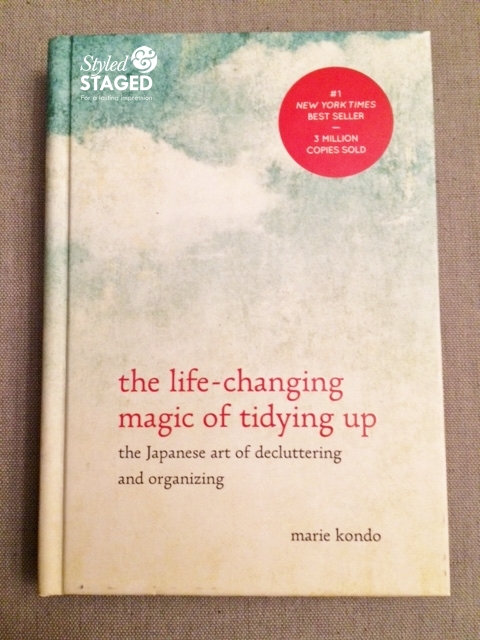 Every single day when I go into homes, clients say that they need to move since they don't have enough storage or they want me to help them create more storage so they don't 'have' to move.
I always brace myself when I open closets in their homes since things tend to overflow and fall out.  It amazes me how much "stuff" we accumulate over the years.
We accumulate 'stuff' for so many different reasons:
I might need it someday.
Someday I will fit back into those clothes.
It has sentimental value from my late mom, dad, grandma etc.
It cost me a fortune.
I can't afford to replace it.
etc.  I've heard it all.
Personally, I love to de-clutter and I know I always sleep better in a clean room.  I am more relaxed in a clutter free house and I enjoy cooking more in a clean kitchen!
Lack of Storage is NOT the Problem
Even though I was already doing most of what is in the book, it made me see things from a different perspective and if nothing else and it reassured me that I am doing the right thing. I love learning from other people.
When I sort through my things, I always ask myself "if I was in a store today, would I buy this?  If the answer is "yes", I keep it.  If the answer is "no" I discard it.  There is no better feeling than walking into your closet and everything that is in there fits well and you like it.  I also enjoy sitting in a room and looking at everything that I LOVE.  I would rather have a blank space than something that I don't like there.
Personal Story
Years ago, back in 1986, I learned about the "Law of Attraction".  I really wanted a new sofa since I hated my old one. All I kept thinking about was a hunter green leather sofa (yes I said it was 1987).  We actually got rid of our old sofa and we had an empty living room. I needed to create a 'space' for a new one.  Amazingly enough, shortly after that, a neighbour asked me out of the blue if I knew anyone who wanted a green leather sofa for a really good price.  They had just bought one but couldn't keep it since their cat was scratching it.  The cat had only scratched the back where you couldn't see.  Needless to say, I had my new green leather sofa at a fraction of the cost. It was exactly what I had been envisioning for so long.
I got rid of that sofa years ago, but funny enough, Hunter green is coming back in style!
Main Lessons From the Book Are:
"Take each item in one's hand and ask: "Does this spark joy?"  If it does, keep it.  If not, dispose of it.

"Keep only those things that speak to your heart.  Then take the plunge and discard al the rest."

"To Truly cherish the things that are important to you, you must first discard those that have outlived their purpose."
Obviously Marie Kondo gives step-by-step actions to help you with each process.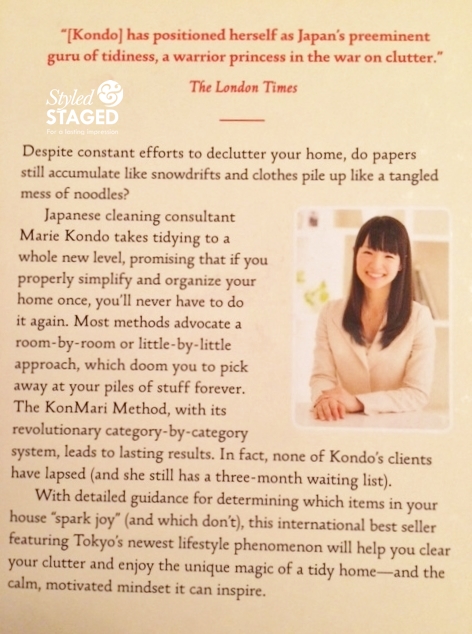 This book is an easy read and I hope you can learn from it.  This is the perfect time of year to get your home (life) in order!  Don't put it off anymore!