Never underestimate what you have right in your own back yard to create a quick and beautiful centrepiece that's completely FREE!
For our Thanksgiving dinner I just cut a Hydrangea ball and a couple vines of Virginia creepers and literally threw them in a festive pedestal bowl.  All the seasonal colours looked festive and fresh.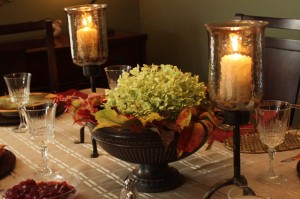 Have fun setting your table.  Somehow the  food always tastes better when the table looks pretty.  All the rich sumptuous colours triggers the appetite.  The evening becomes an 'experience', not just meal.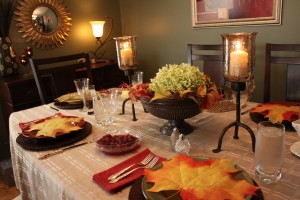 Styled & Staged always sets the dining room or kitchen table when staging a house to sell.  Not only does it make the dining room more appealing with textures and colours, but it's also a symbol of where people gather to share food and their stories of the day.  Another good selling feature of a house. Remember, people are buying a 'perceived' lifestyle!