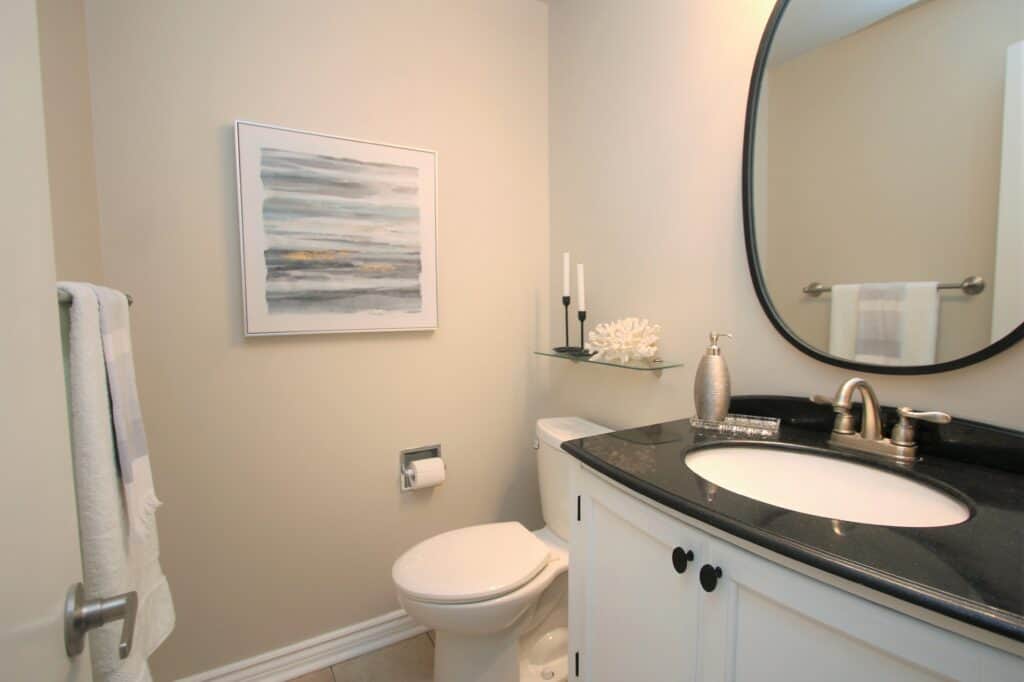 A few weeks ago one member asked a brilliant question…"Can I paint my powder room blue even if I don't have any blue in any other rooms?"
Yes, You Can Break the Rules (Sometimes)
Typically I always say "have fun with your powder room decor since it's a small room all by itself". It can be like a little suprise jewelry box when your guests open the door. Have fun and do what you want. 🙂
However, this may not apply for resale purposes. I have seen some pretty wild and personal powder rooms that didn't increase the value of their home.
Also, if your powder room is visible from the other adjoining rooms then I do suggest keeping it in the colour palette that you have going on elsewhere unless the door is always closed. The beauty of a small powder room is that you can add personality and style with artwork, towels and accessories. It really doesn't take much. Personally I like to have neutral walls so I can constantly switch up my accessories (even for the seasons). Trust me, I have had floral wallpaper, navy, red, gray, light blue and white walls in my powder rooms over the years. I'm not afraid of colour. I also noticed certain colours were a better backdrop when I looked at myself inthe mirror (especially when I was applying makeup).
You also want to keep in mind the colour of the floor. It can be a completely different but if it's similar, then make sure it's in the same tone. Most tile floors have a few similar shades to pull from.
Here is an example of how easy it was to completely transform a very small powder room with paint!
Time to Change Paint Colour
This paint colour was way too dark compared to the lighter colours elsewere in the house. A quick coat of paint fixed that easily. Keep in mind, the floor tile was not being replaced so it was important that the new paint colour also enhanced the floor.
The dark mahogony vanity made the room feel closed-in and it was pretty warn in some areas over the years. The matching mirror that came with the vanity also needed an update. The black granite countertop, sink and faucet were all staying. Remember, this is a 'refresh' not a 'reno'.
Paint Does Wonders
The walls had a fresh coat of paint (Benjamin Moore, Edgecomb Gray). The ceiling was also painted in the same colour.
The vanity was painted with Fusion Mineral paint (Picket Fence). It's similar to chalk paint but you don't need to seal it afterwards. There were no drips with this paint and small synthetic rollers were used so there were no brush strokes.
The new black oval mirror with the thin frame is a much more current look than the thick dark wood one. It was ordered online from Lowes.
You know I always promote painting things to make them look new, but even if the wood mirror was painted black it would not have had the same affect because of the shape. It's important to know when to paint and when to replace. Make sure you like the lines and the quality before you invest your time to paint. That doesn't mean that the old mirror can't be repurposed for another room 🙂
The hinges were spray painted with black matte paint but the black knobs are new. The previous pewter ones looked lost on the white doors.
The inside of the vanity was also painted white. Adding new baskets for supplies keeps the cabinet organized. It's helpful to have baskets with plastic bottoms in case anything drips or spills. Shelf-paper is also a good protector.
In our last webinar, we talked about having little 'guest baskets' for when our kids or grandkids stay overnight unexpectedly. It's alwasy nice to have everything that they might need. It makes them feel special and I always like to be prepared.
I keep a basket with:
their own labelled toothbrush
toothpaste
deodorants
creams
makeup remover
dental floss
wipes
faceclothes
drinking glasses
soap
and any of their favourite toilettries
I even keep their own pair of p.j.'s in the guest room 🙂
This transformation goes to show just how much impact a coat of paint can have on a small space.
I hope this blog post makes you look at some of your 'forgetten' rooms with a fresh pair of eyes and motivates you to make some simple changes for large results.