The homeowner had moved out of this stunning large home but left me a few pieces of furniture to work with.  I had the challenge of creating a plan to figure out which furniture I needed to rent from the furniture rental store, and which accessories I needed to bring in from my (Styled & Staged) inventory to make it feel like a home.
Huge Rooms: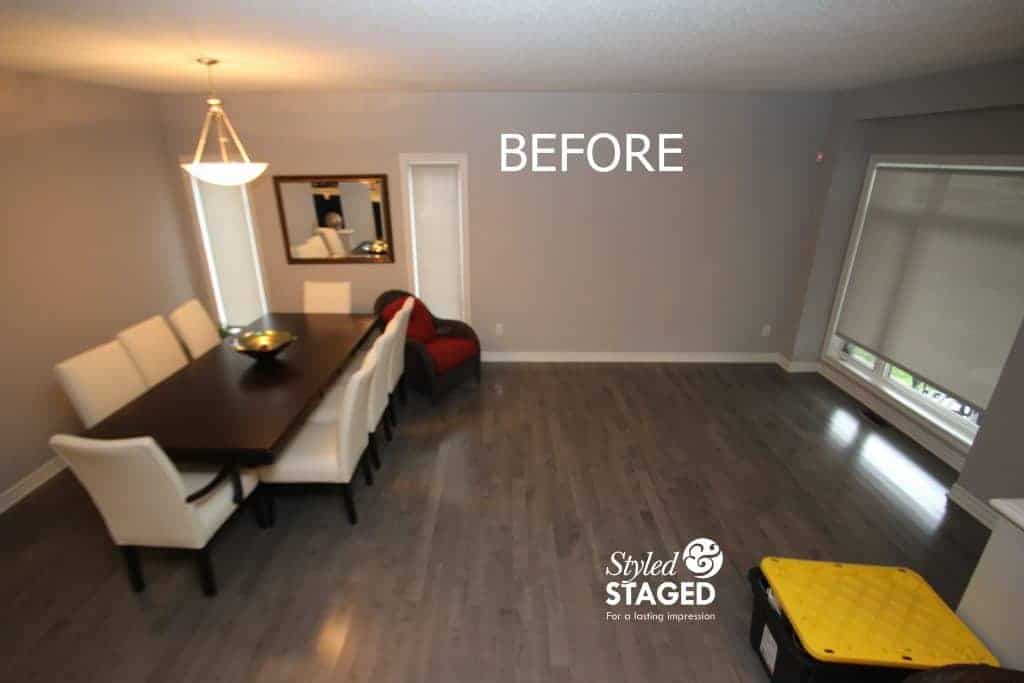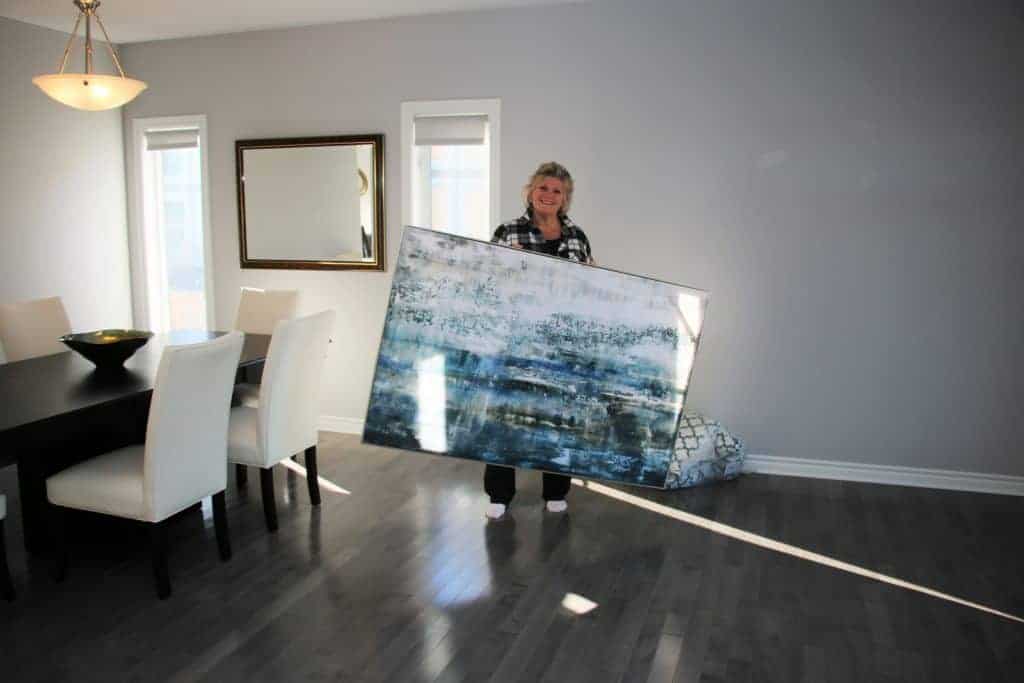 To put things in perspective, I can hardly hold this piece of artwork, yet it looked small in the room.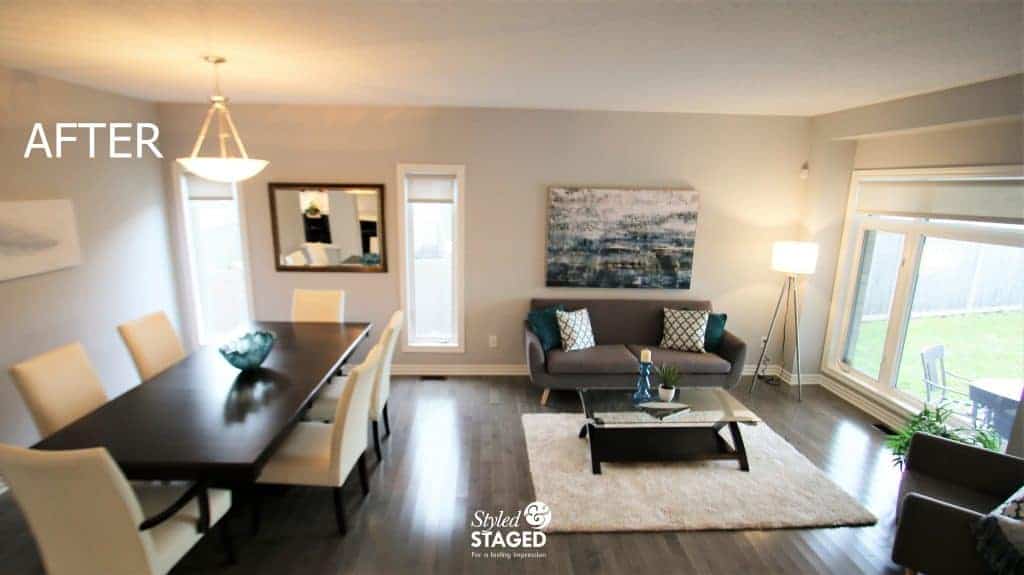 One of the hardest thing about renting furniture is that you don't always get exactly what you want since their inventory is constantly changing.  I completely understand that since my inventory is constantly rotating as well. It's just the nature of the business but homeowners and Realtors need to be aware of that as well since it can mean delays in the listing.  Last minute changes in the rentals also means that your perfect plan can completely change your entire concept in a few moments.  I always take extra inventory with me for that very reason.  Always be prepared!!!  I wanted to keep a modern yet elegant feel to the house to keep it's integrity.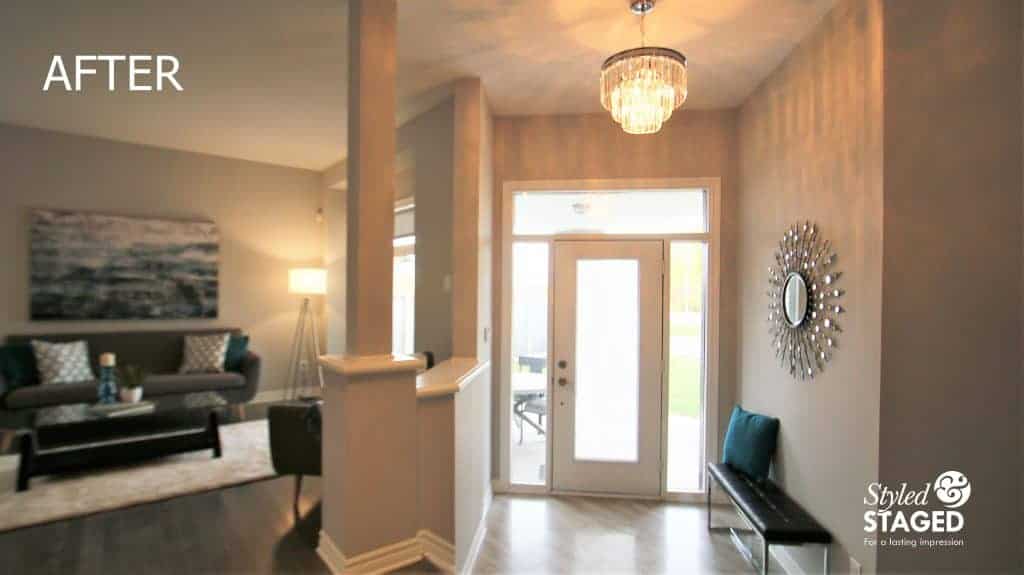 It was important to carry the same colour through to the entrance to make the room look wider.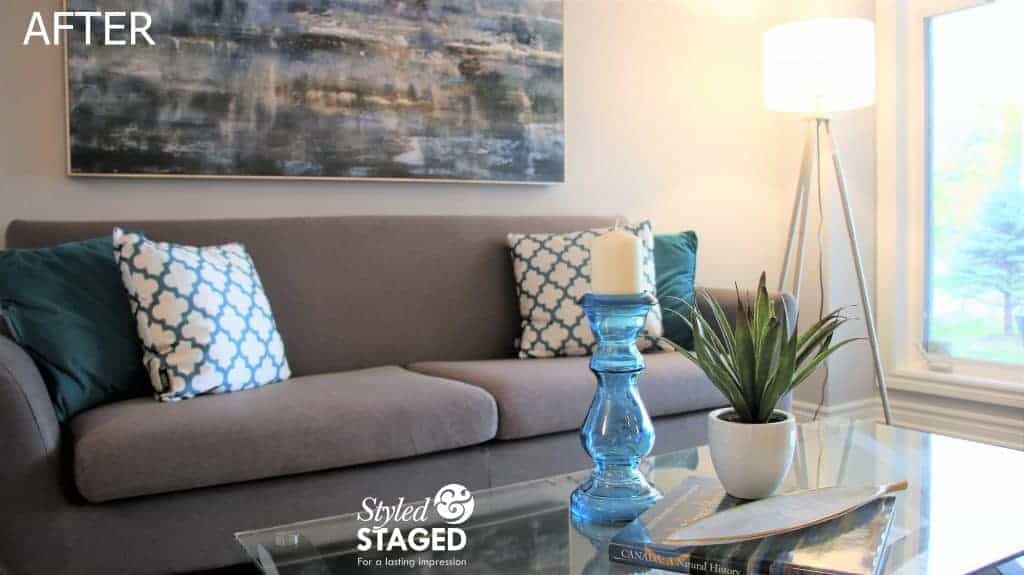 The pops of teal give the gray and white rooms a nice pop of colour.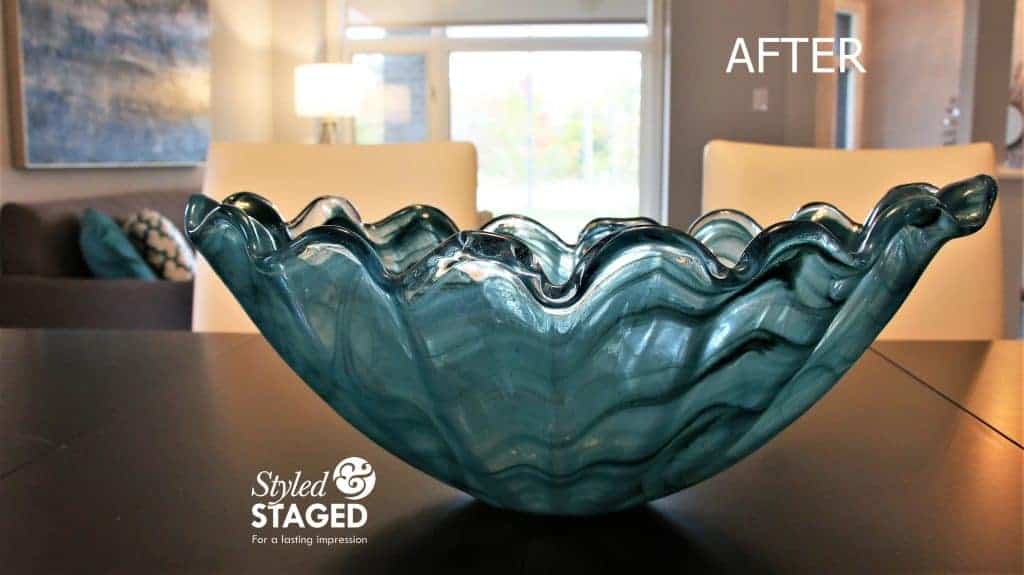 Less and bigger has more impact when it comes to Staging a modern space. This glass bowl makes a statement all on its own.
A View From Above: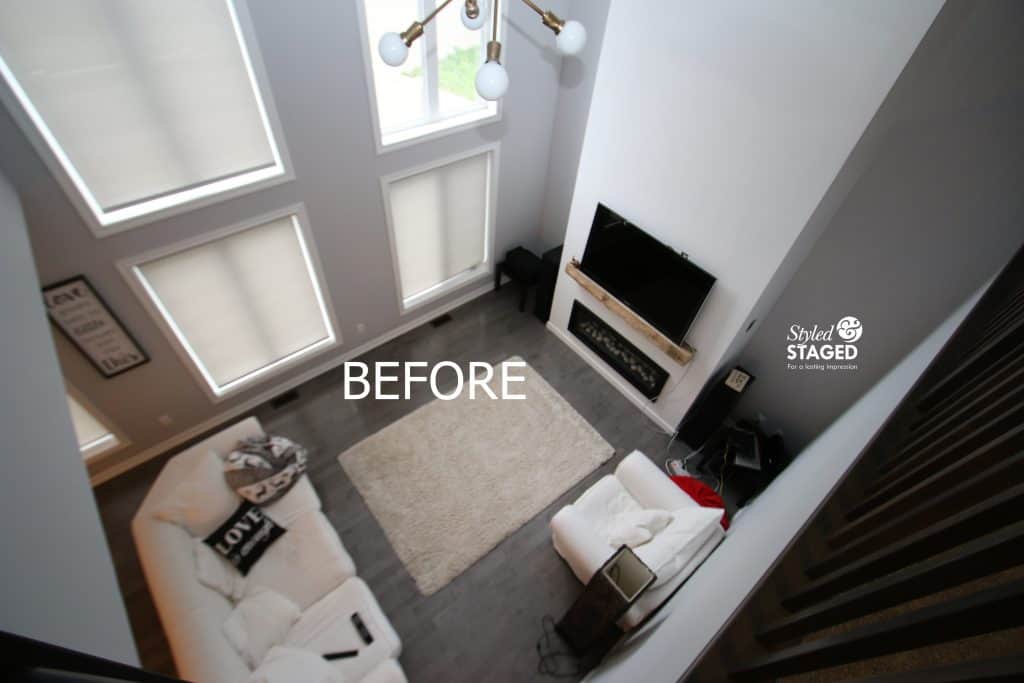 The best way to view this family room is from above standing in the loft.  I could really see how I wanted to place furniture from this viewpoint. It was like at 3D software of a floor plan. The white chair was brought up to the loft since I wanted two matching chairs in this room.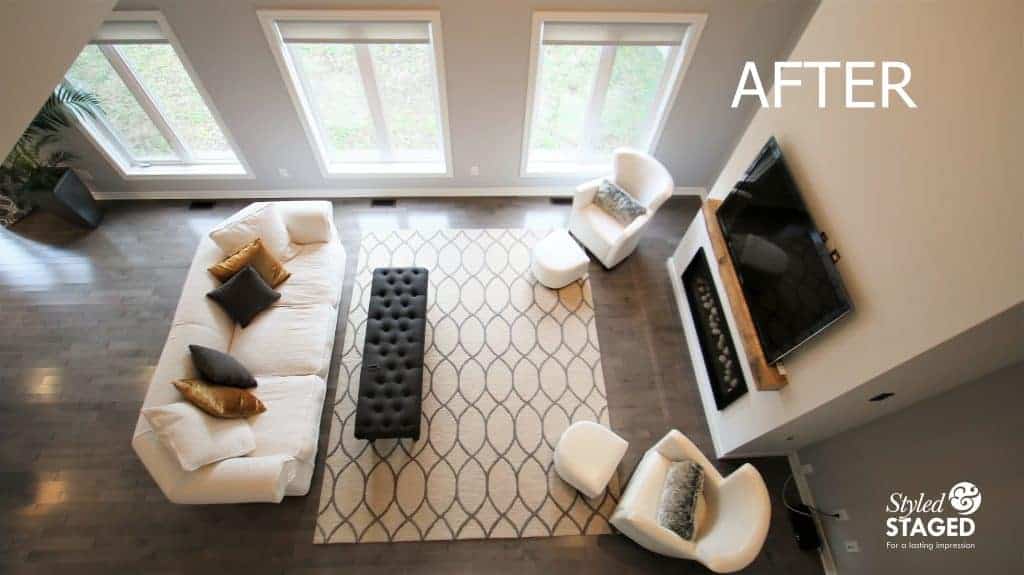 I knew I wanted to create symmetry and balance.  I ordered two gray chairs since I didn't want the room to be all white.  At the last minute they had to bring me two white chairs instead.   I understand, these things happen and the store always takes care of me and my clients.  The white chairs worked out just fine because we brought down the gray bench from the master bedroom to use as a coffee table.  The gray anchored the room.  The larger area rug helped to define the space. Now the oversized and overstuffed sofa isn't the dominating feature in the room.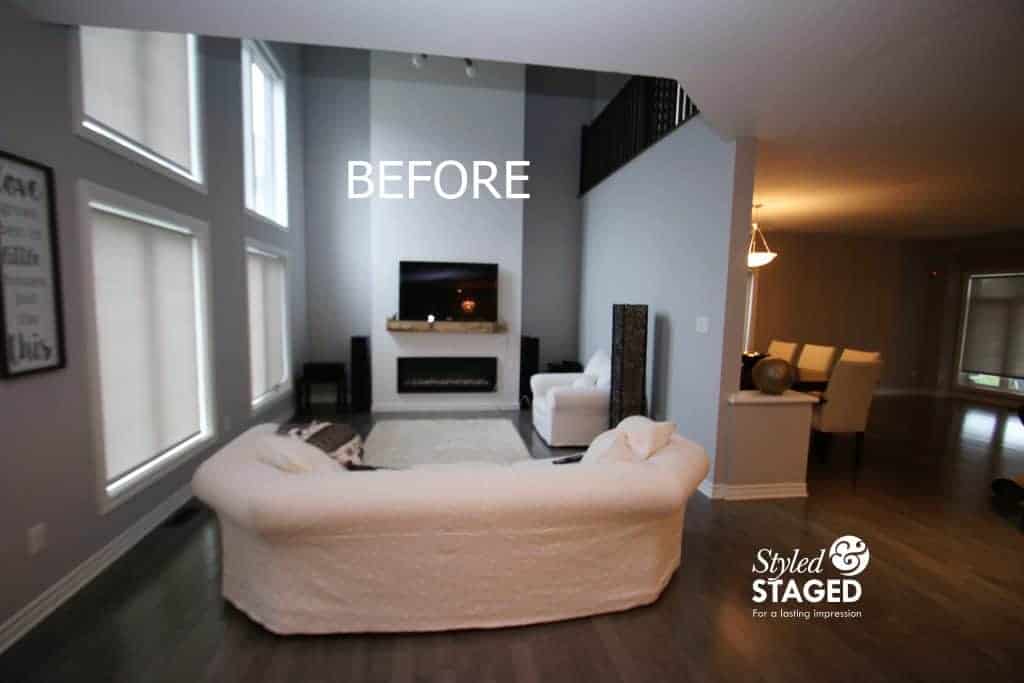 Right away I noticed the wood beam mantle on the fireplace and I wanted to showcase it since it was so beautiful.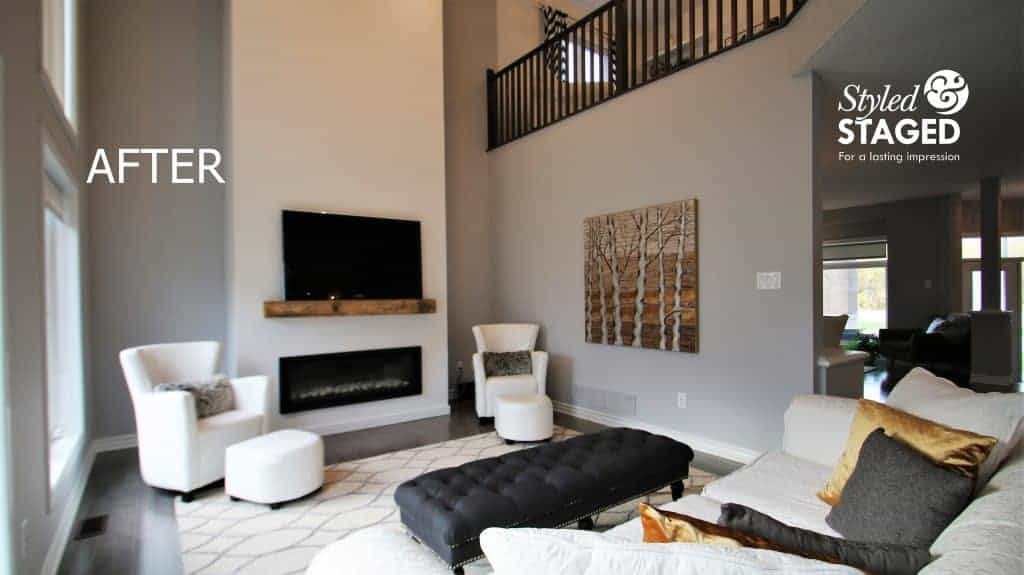 My artwork tied the wood element into the room as well as the warmth from the gold velvet cushions.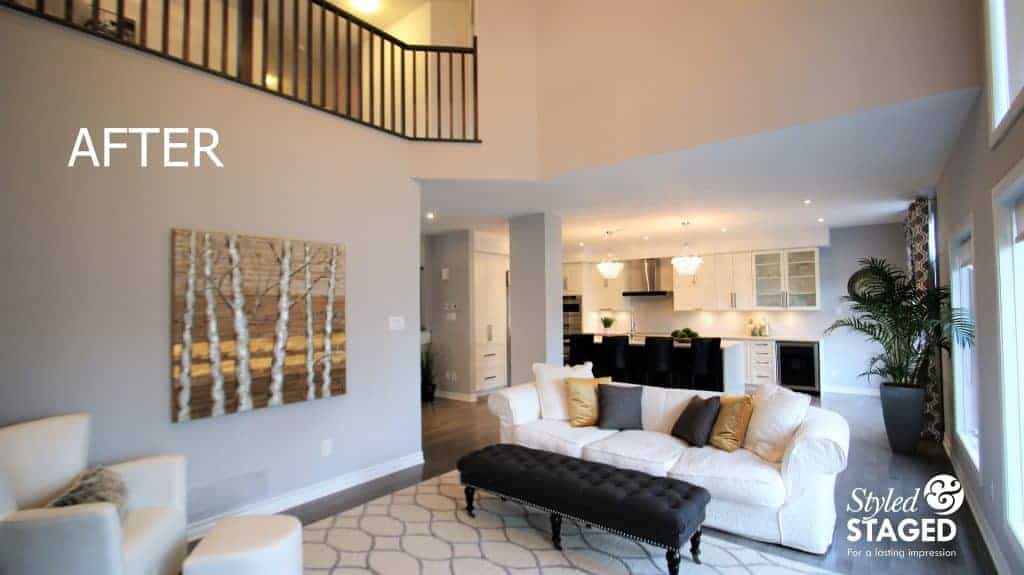 The gold and silver metallic foil in the artwork helps keep the room looking luxurious.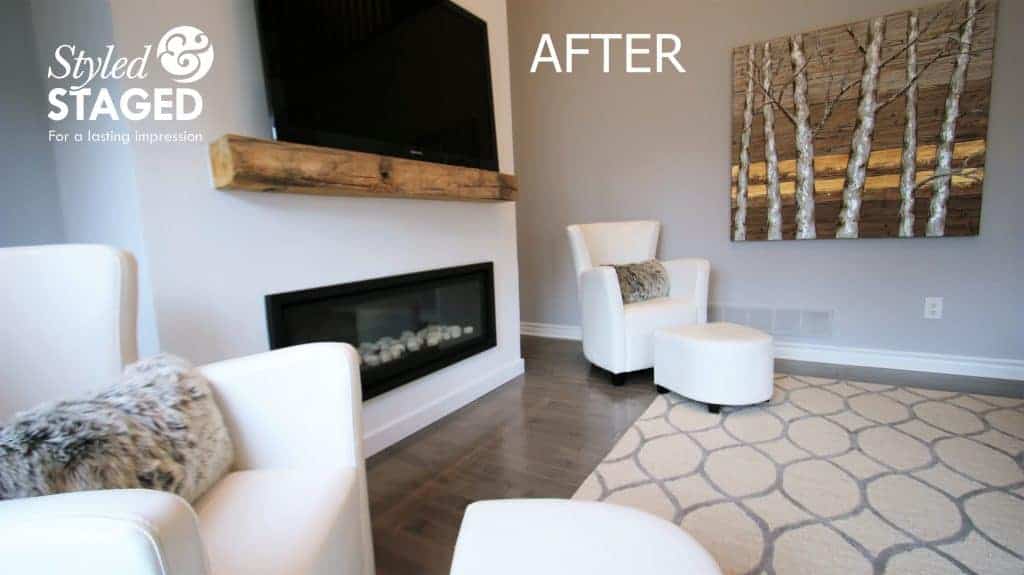 The faux fur cushions keep the room feeling cozy and comfortable but still elegant.  The white leather chairs would have looked too cold without something on them.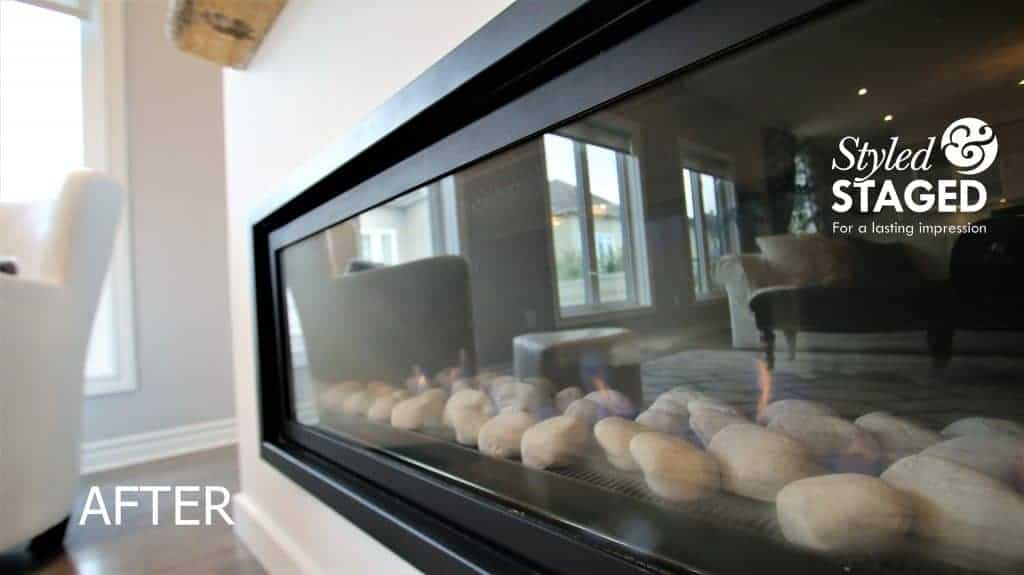 Just imagine sitting by this modern fireplace on a cold winter day/night.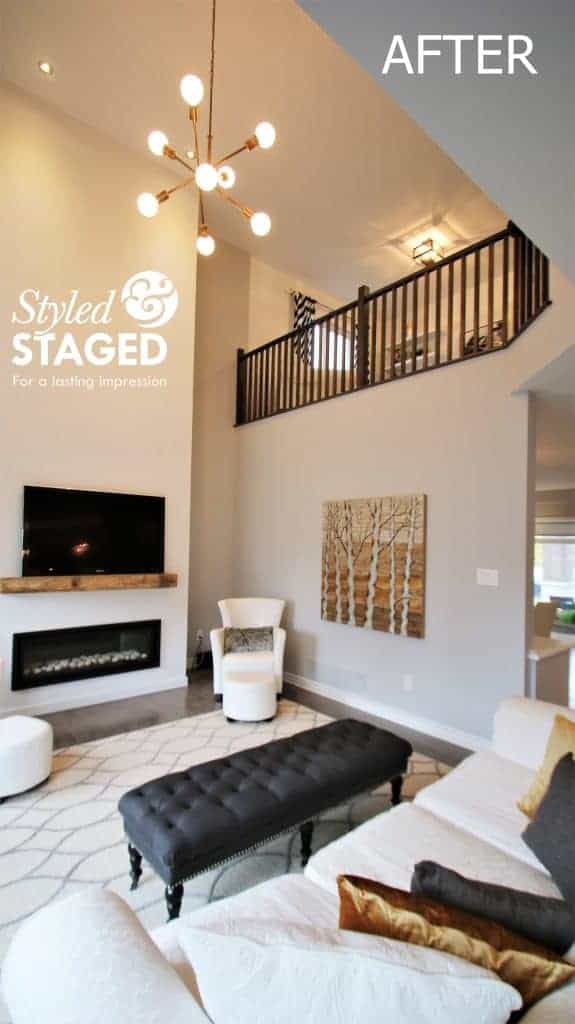 The sculptural gold pendant above is a show stopper and it helps warm up the gray and white.
Gourmet Kitchen: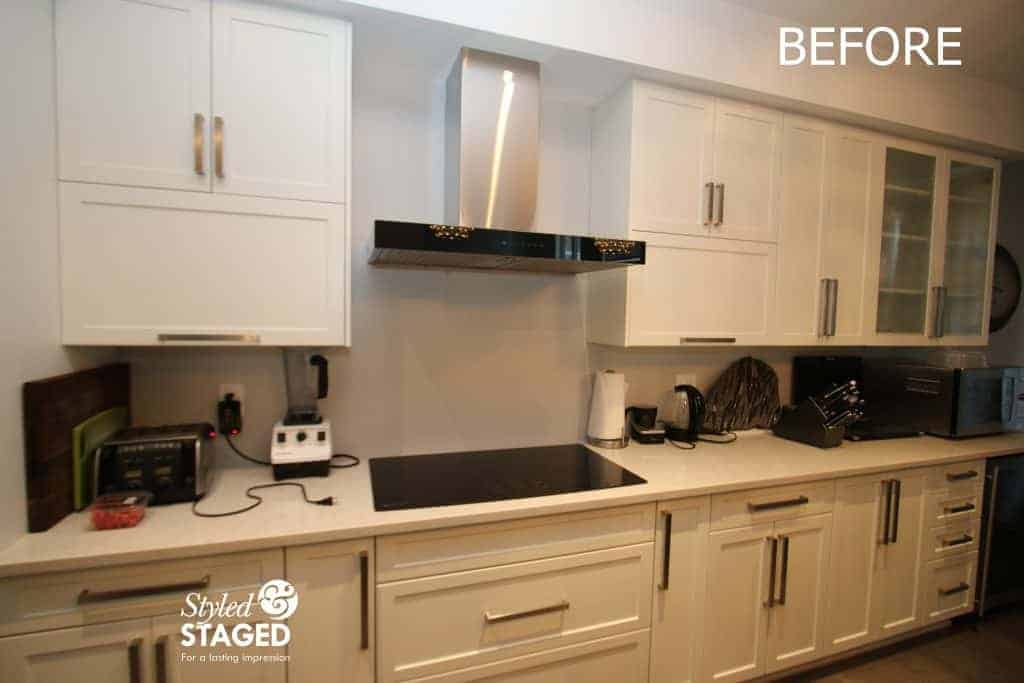 When your kitchen is visible from all angles of the house, it's very important to remove items from the counter and display pretty accessories.  This house has a huge pantry, so storage is NOT an issue.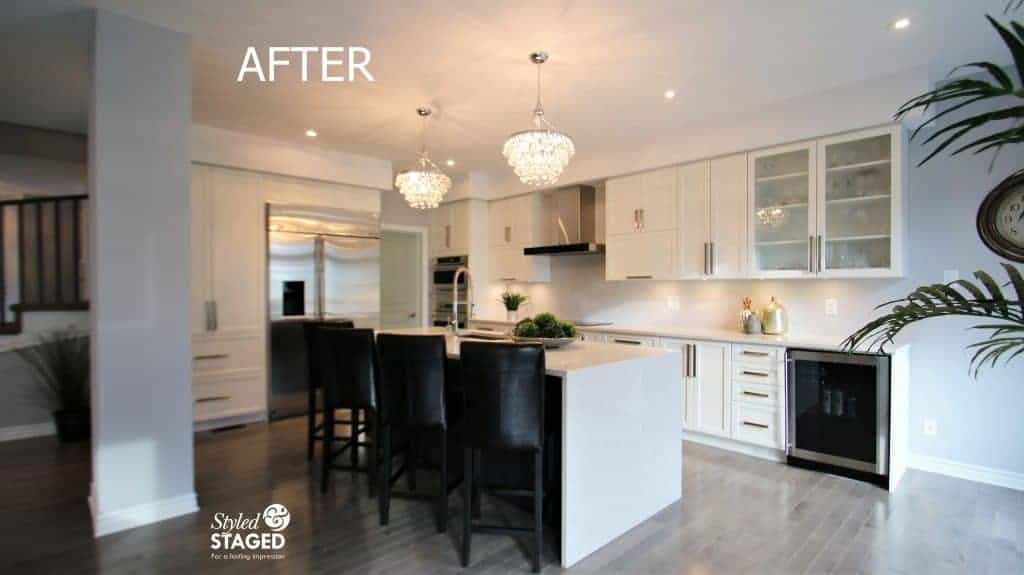 We brought in a lot of greenery for life and texture.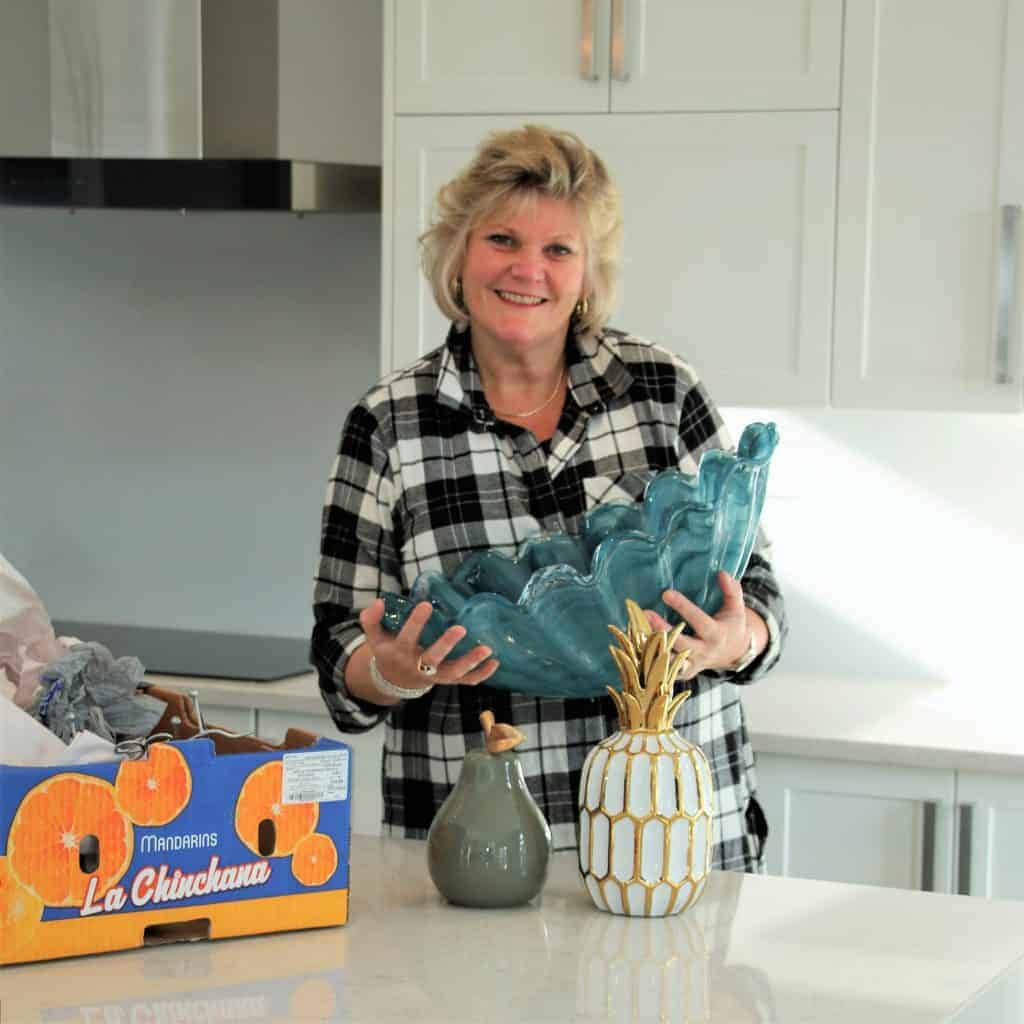 I get so excited on Staging day.  It's like Christmas morning unwrapping all my inventory since it looks new in every single house.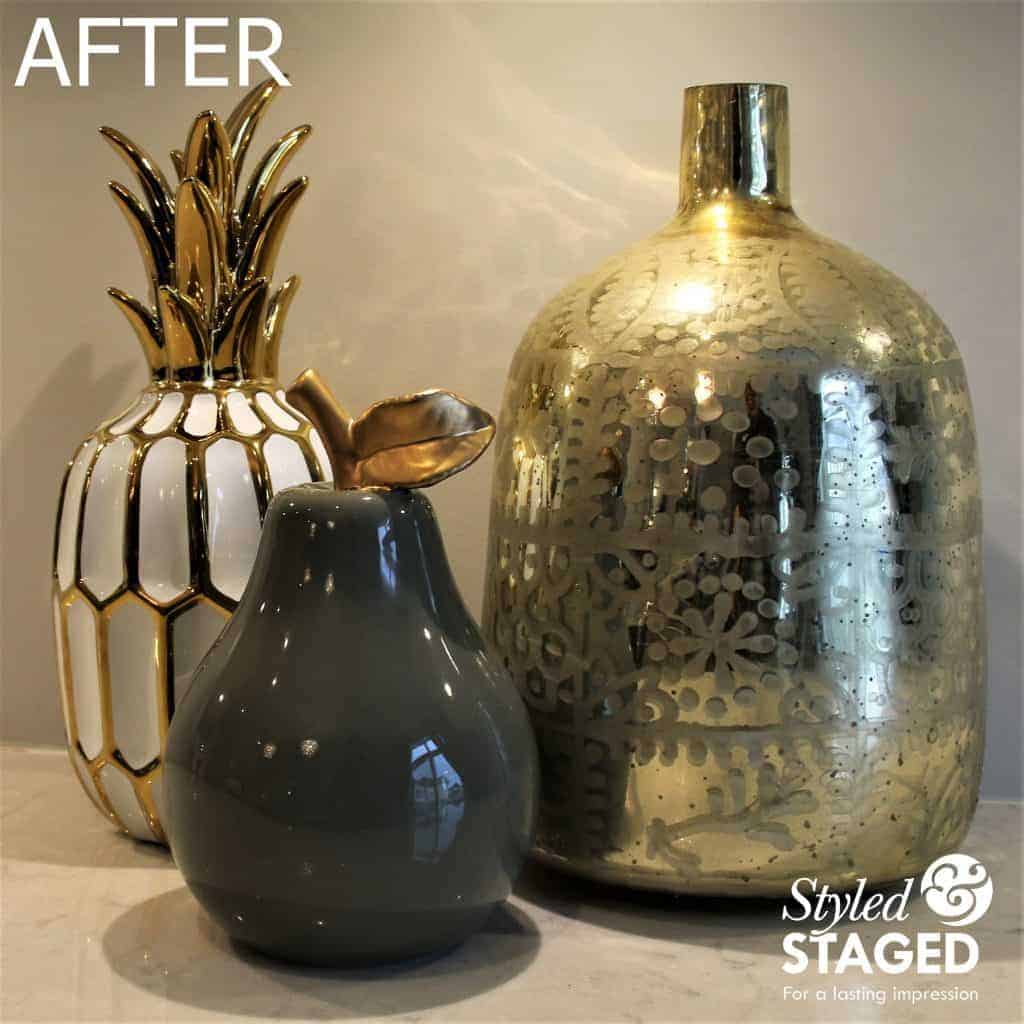 Mixing all the metals and subtle tones is what makes this décor work.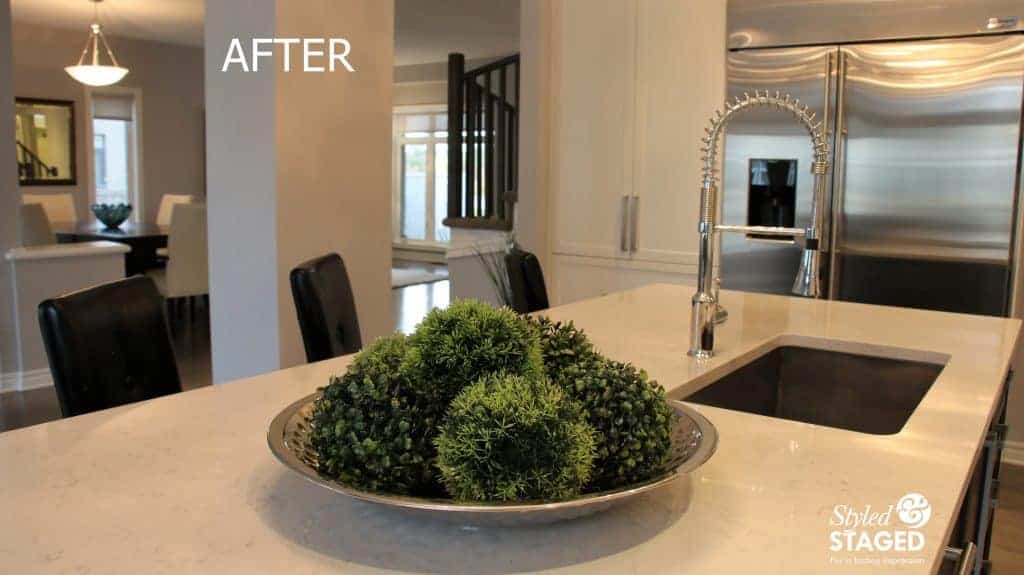 Again, keep things simple but oversized for more impact.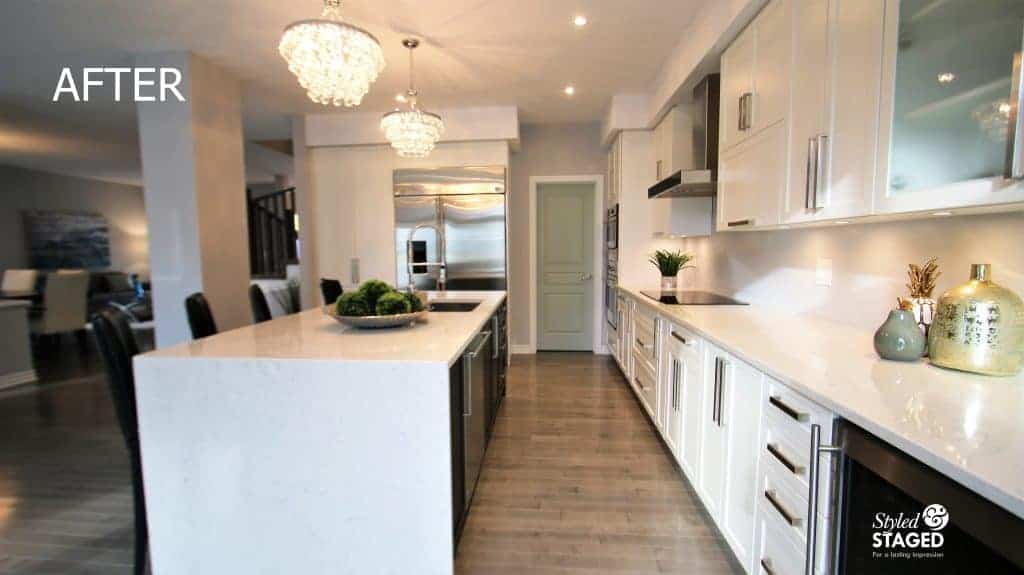 Once the 'clutter' is removed you really notice the two sparkly crystal light pendants above the island.
Lofty Ideas: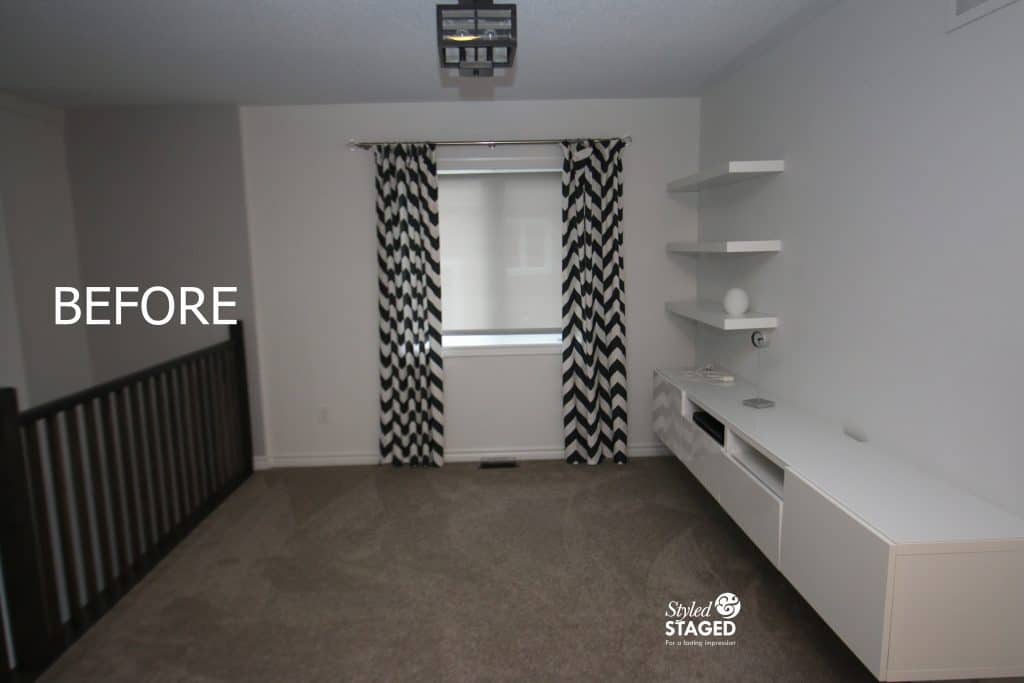 I was so excited seeing this empty space since it had so many possibilities for buyers.  It's right outside the master bedroom but it also overlooks the family room.  It could be used as a sitting room, a TV lounge or a play area for the kids before bed.  I always have to consider what I have to work with to showcase it the best way possible.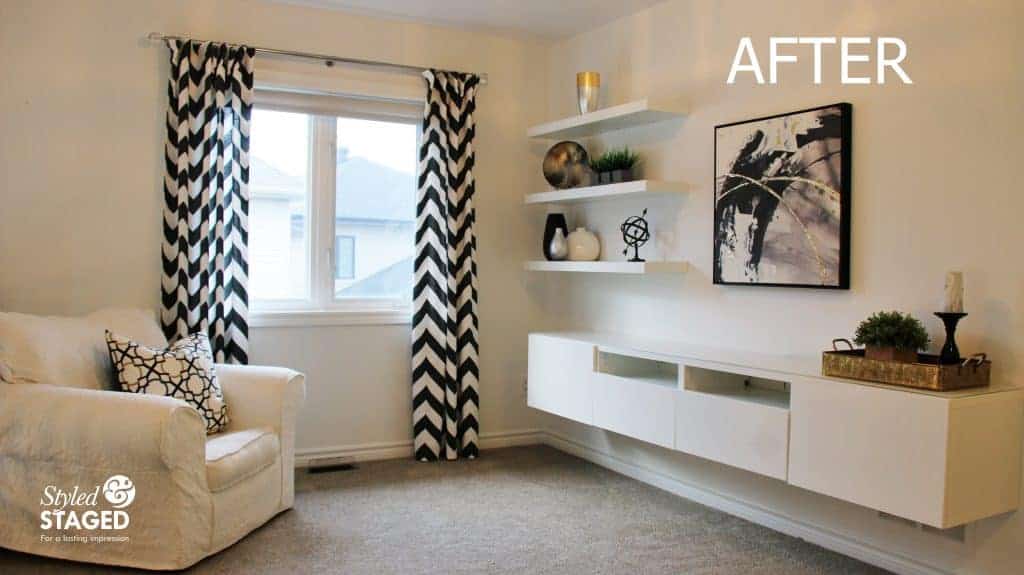 Remember the chair from the family room?  By bringing it upstairs, we didn't need to rent furniture for this area and it looks great since it's so oversized.  I didn't have a TV but hanging artwork showed that you could put one there and it gives you a focal point.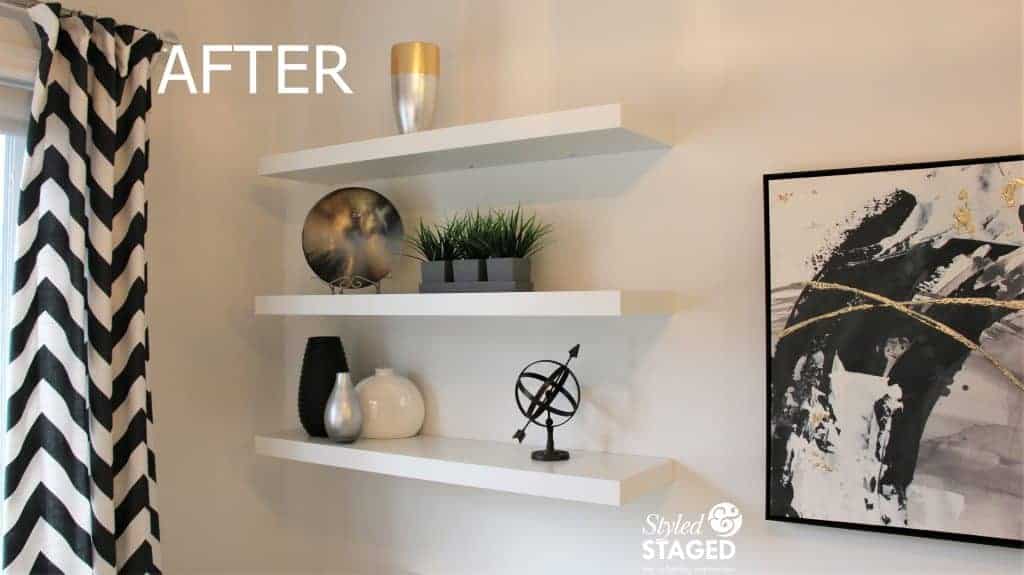 Using their drapes was a huge saver and they were perfect.  I just brought in accessories to tie everything together.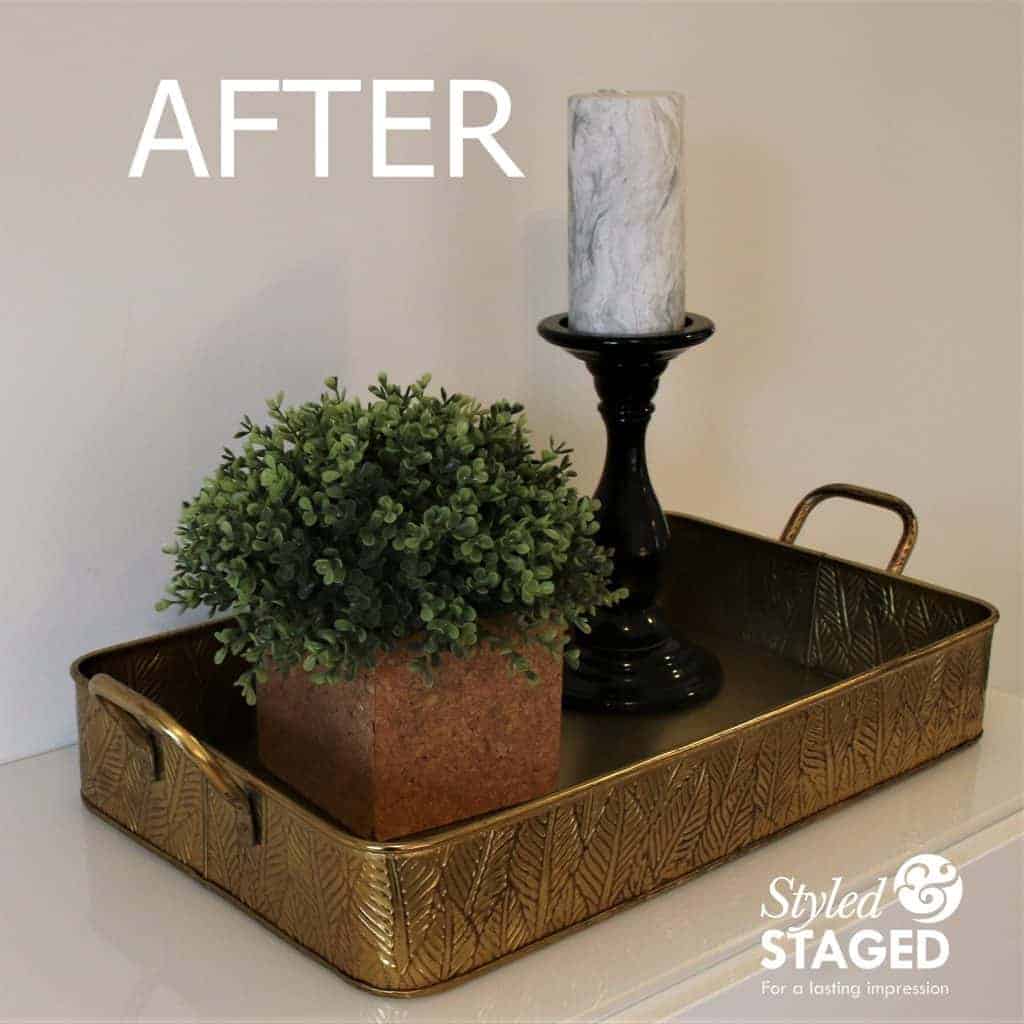 Grouping smaller items on a tray is a great way to give everything more impact and presence.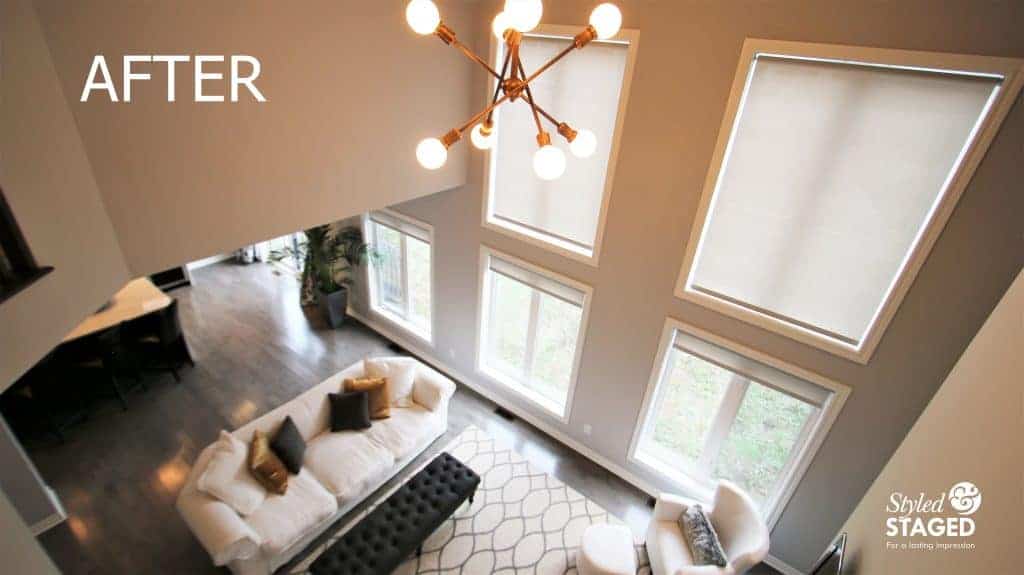 Since both rooms are so visible from each other, it was important to continue with the same colour flow.
Make sure you stay tuned for the next post showing the bedrooms and other staging/décor tips from this dream staging.
Thank you to my colleague Joanne Mack for putting in so many hours with me on this project.