This was a dream project for me.  I was called in by a client who had this investment property that she was just in middle of renovating and she wanted me to stage it.  Keep in mind this was a completely empty house and all under construction.
The client was not asking for reno advice since most of those decisions had been made.  My job was to bring her vision to life so there was a lot of pressure since I had only met her for a few minutes. Her main request was that she didn't want colour ad she wanted it clean looking.  I needed to make sure I chose the right furniture pieces and all the perfect accessories to bring in. It can also be a challenge when you have limited rental furniture selections that are available at that time.
Living Room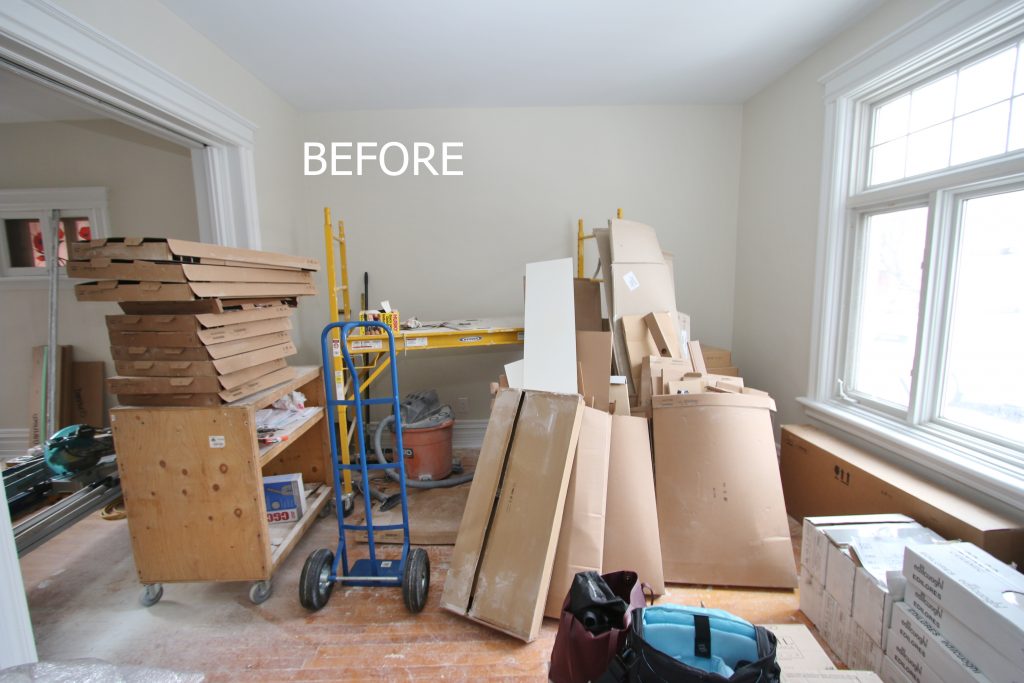 It was hard to imagine the scale of this room with all the scaffolding and boxes of wood in the room.   I knew I had to keep clean and simple lines that went with the style of the house and I had to consider who the buyers in this downtown area would be.  I also knew that I would not be hanging too much artwork or curtain rods in the plaster walls in case something went wrong a few hours before the photographer arrived.  I was going for a contemporary but elegant, classic look.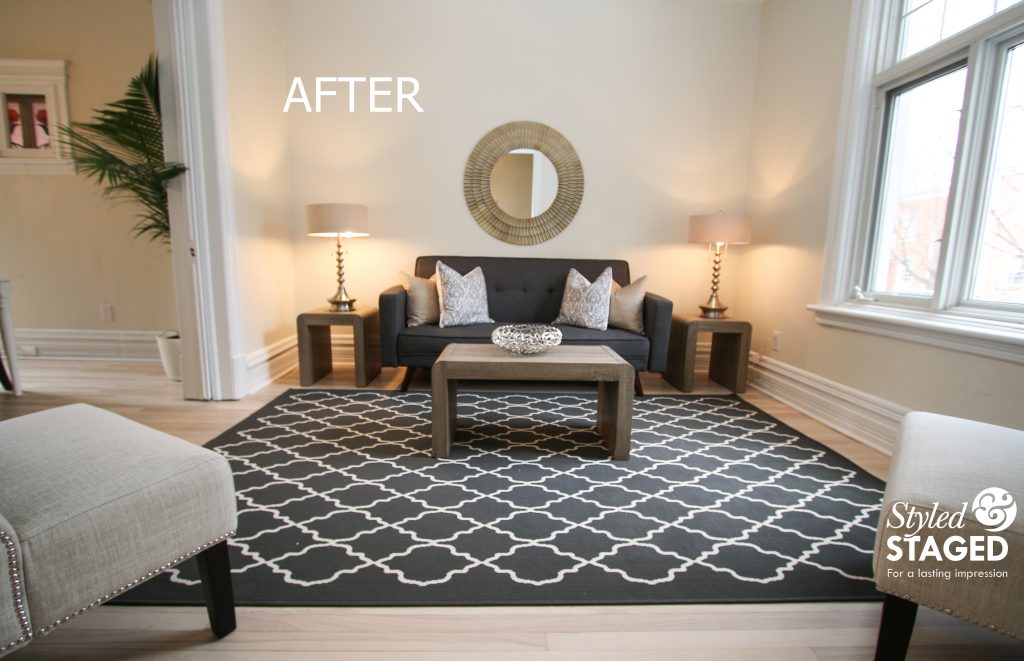 Since the walls and the wood floors were very light, I knew I needed to anchor it a bit with different shades of grays.  The large area rug is modern and expands the eye in the relatively small room.  Since almost the entire house has the same wood floors, it was o.k. to cover some of it up.  The contemporary furniutre was perfect for the space.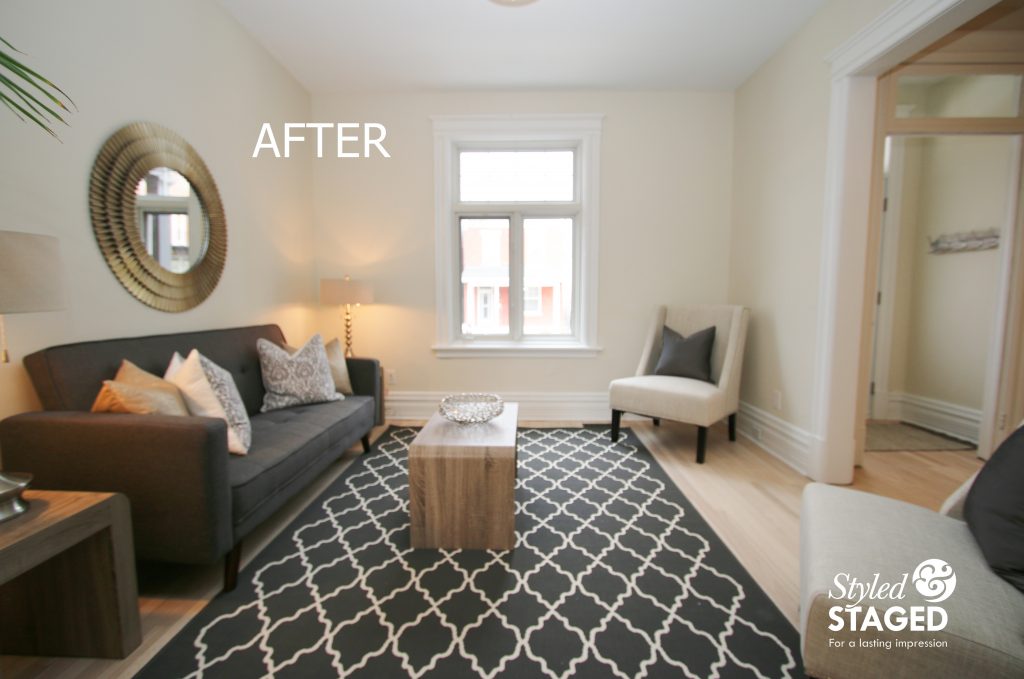 The room was too narrow to put a love seat under the window but the two chairs flanking the entrance were ideal.  The fact that they are armless also keep the room light and airy.  The driftwood end and coffee table added the perfect vibe to the house.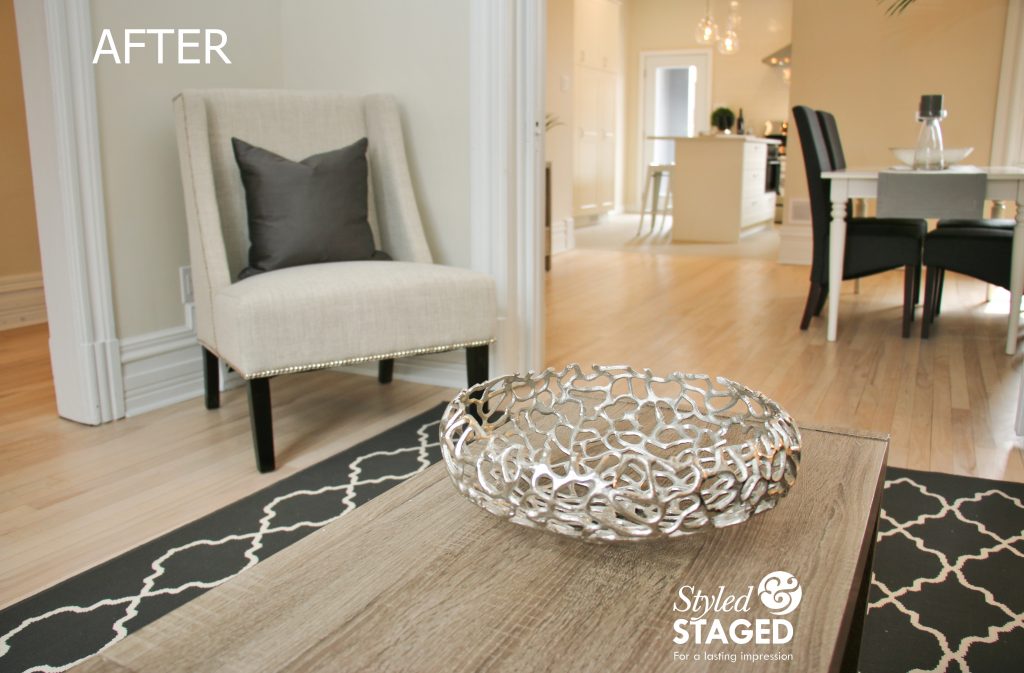 It was important to carry the same colour palette through the entire main floor.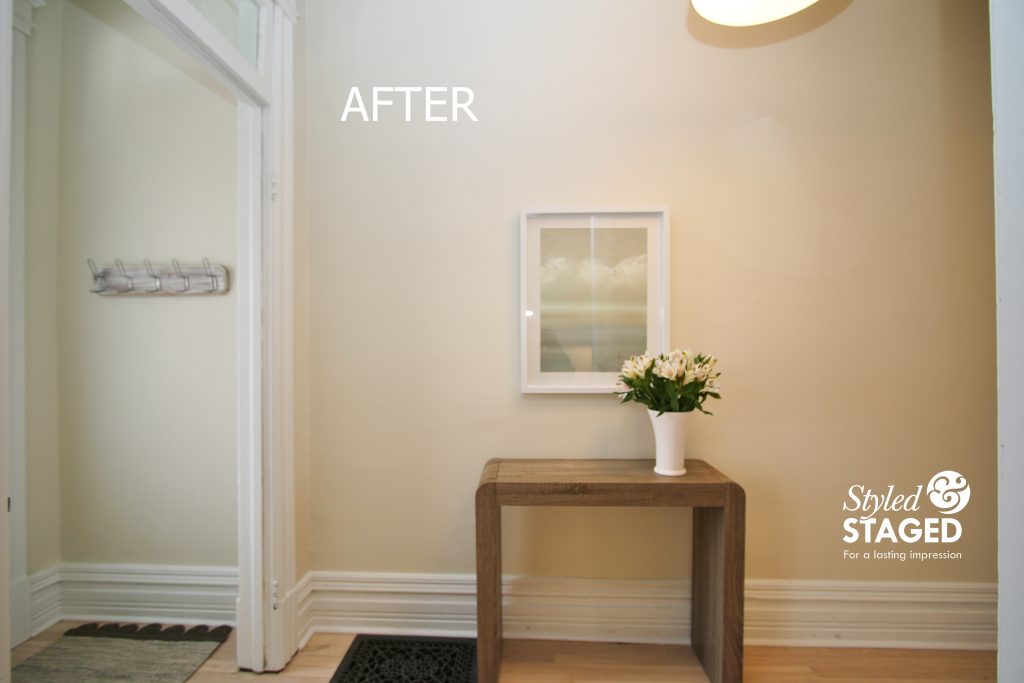 Adding the hall table just outside the living room actually draws your eye out to it so it makes the whole room feel wider.  It's nice to have something pretty to look at when you're sitting on the sofa.  Nothing is more inviting than fresh flowers.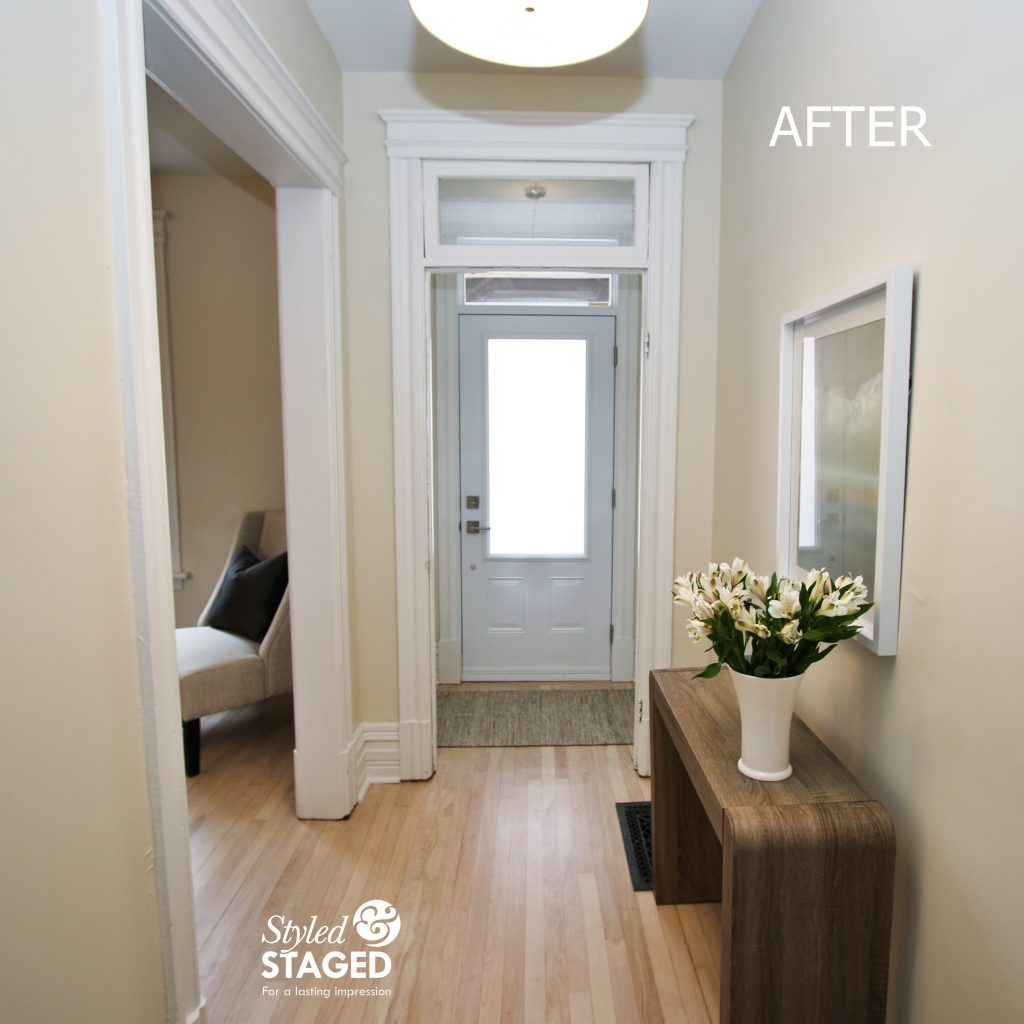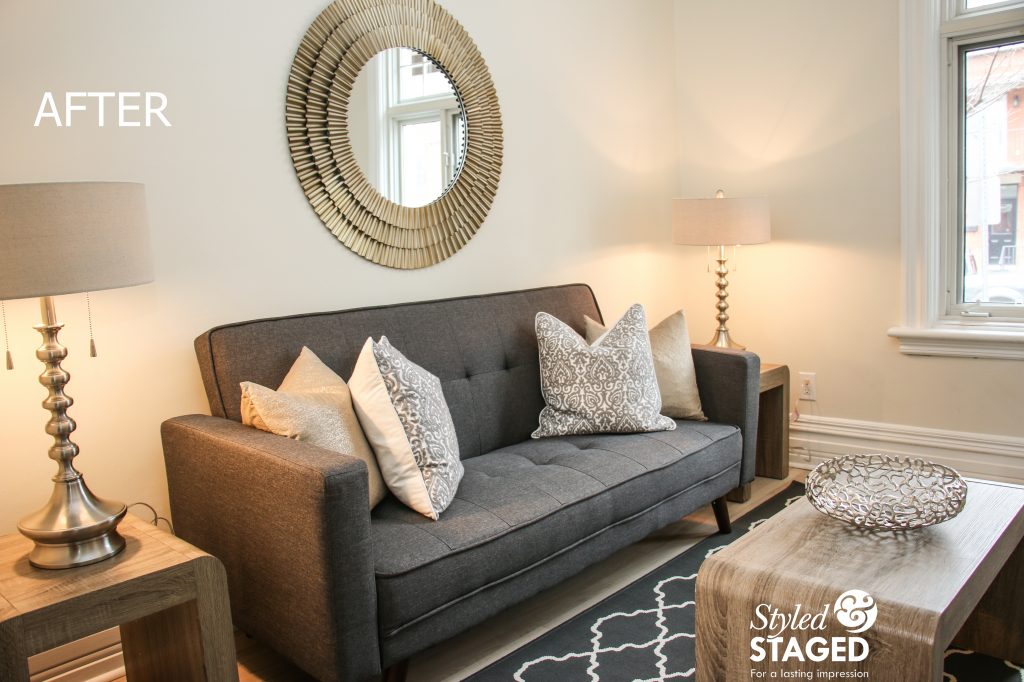 Although there really isn't any 'colour' in the house, I brought in lots of textures and different shades to keep it interesting.  I love mixing the metals.  The three tiered round mirror adds a sculptural element and the pewter bowl on the coffee table looks very organic.
Dining Room: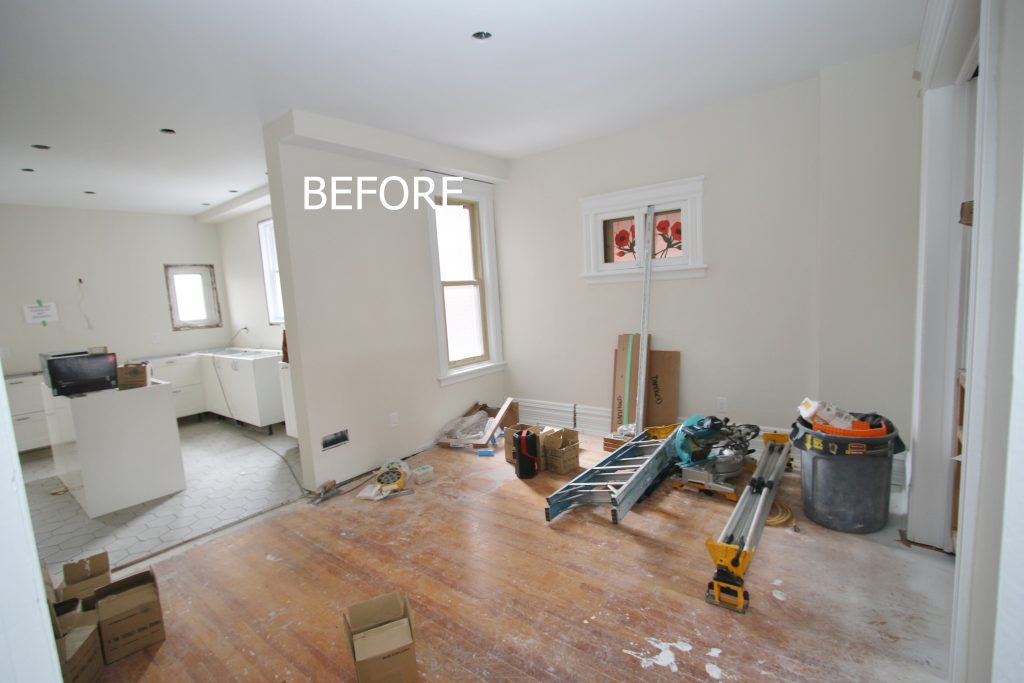 Again, it was hard to imagine what the new floors were going to look like since I only saw one little strip of a board in it's box. I just new they were going to be light in colour.  I also knew that the client was bringing in her own white wood dining table.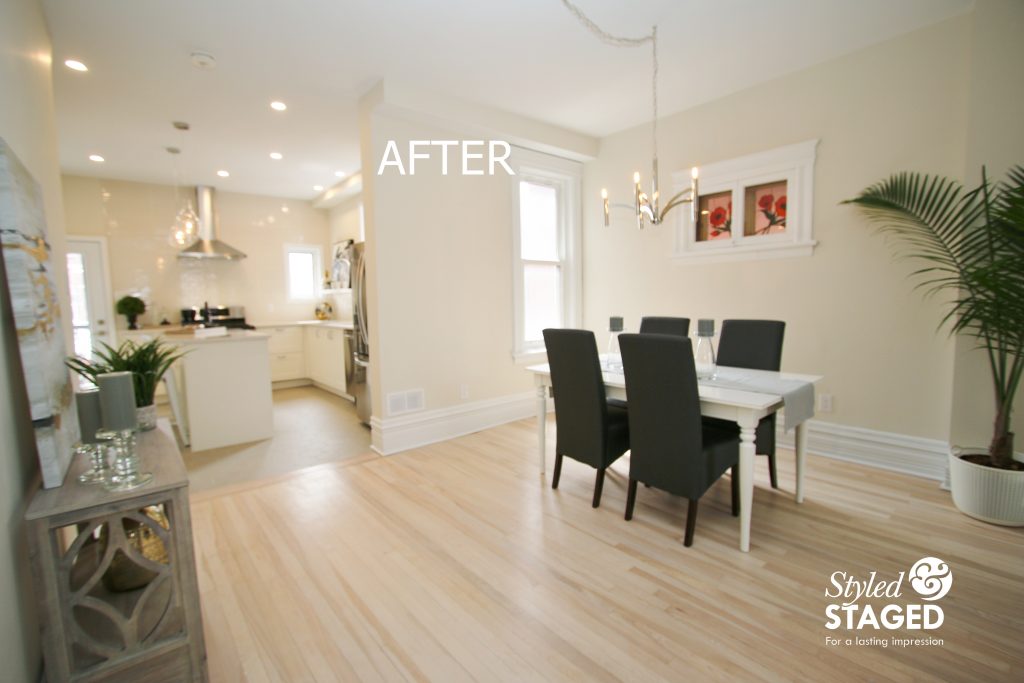 I felt it was very important to bring in dark gray upholstered chairs to dress up the dining room and to carry the colour from the living room.  The table was centred under the new light fixture.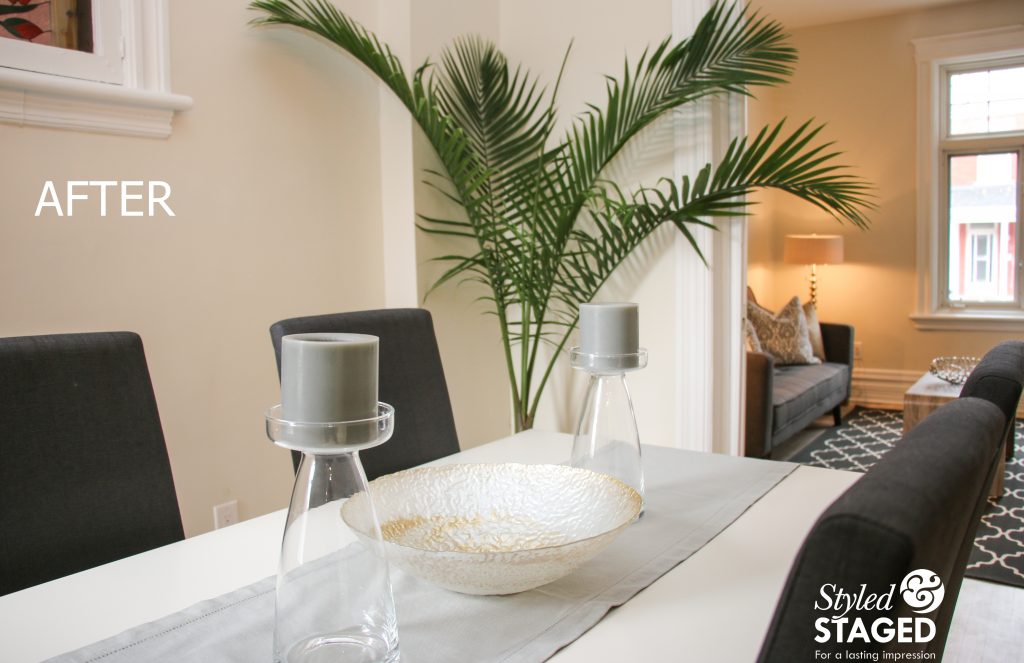 With so many hard surfaces, the huge palm tree add height, life and texture.  When you are selling a vacant home, it's nice to have live plants to make it feel more 'homey'. Simple, yet elegant accessories were added to the table.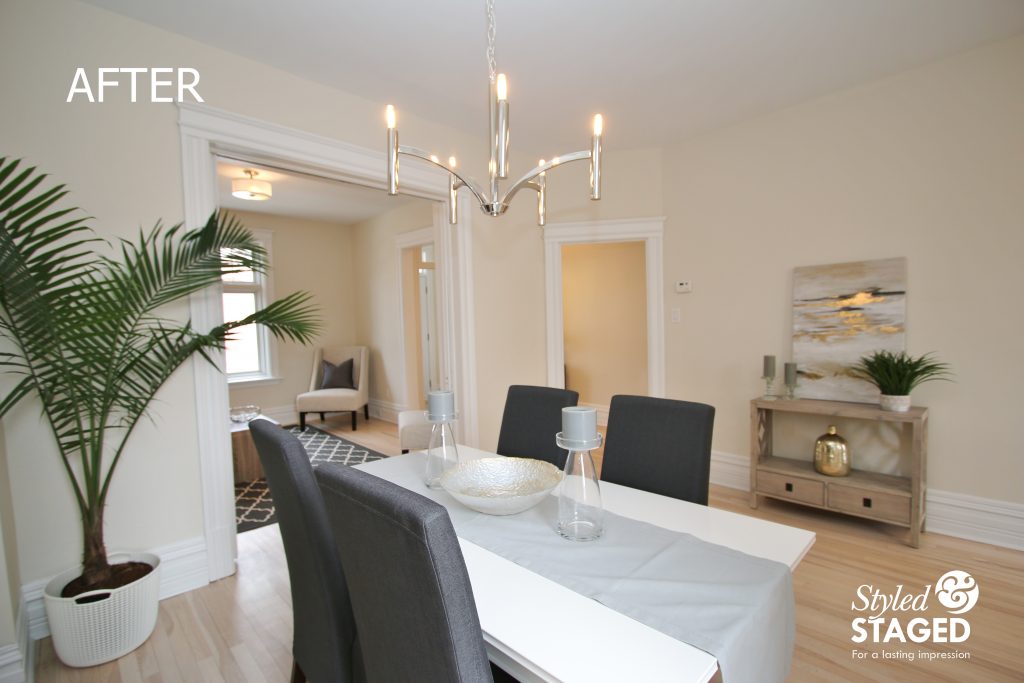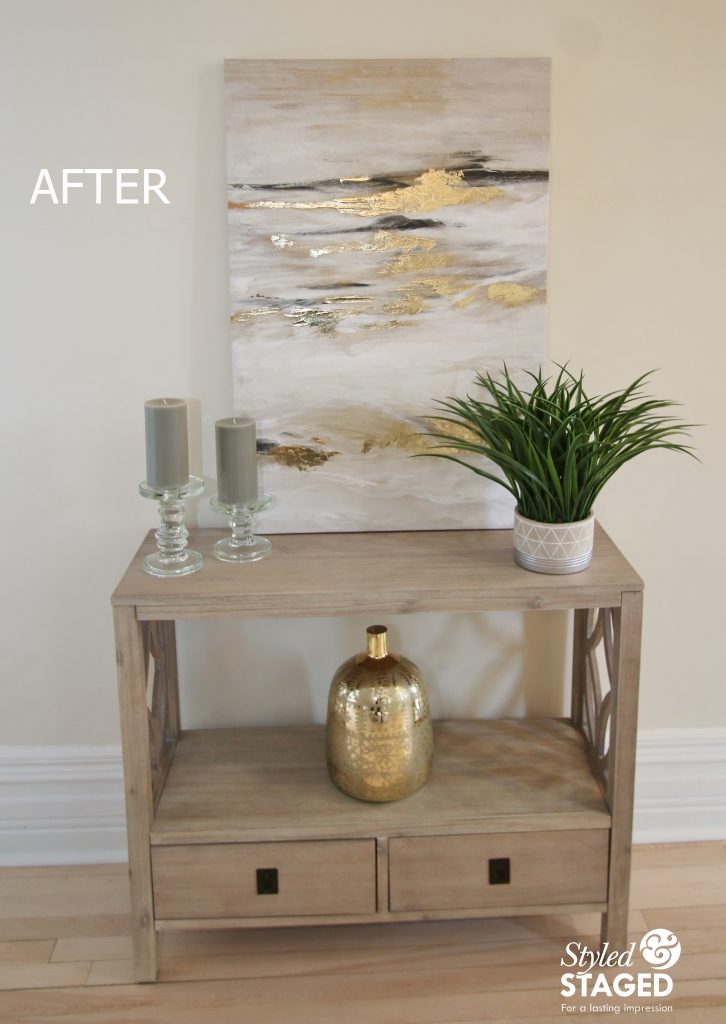 The opposite side of the dining room looked lost until we put this beautiful piece of furniutre there.  It completely went with all the other furniture. I just leaned the artwork and added a few more accessories.  Again, I love mixing all the metals together in the artwork, lamps, accessories and hardware etc. Creating little vignettes is an easy way to break up a long empty wall. Always make sure your artwork is not wider than the table under it!
Kitchen: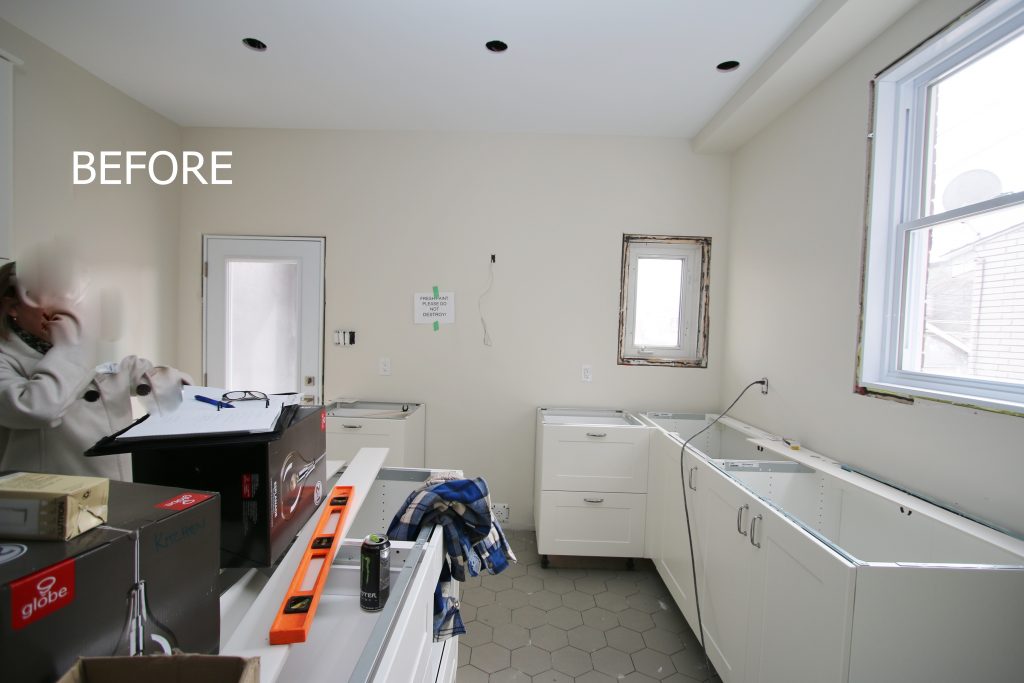 It was really hard to imagine what this room was going to look like just by going by her description.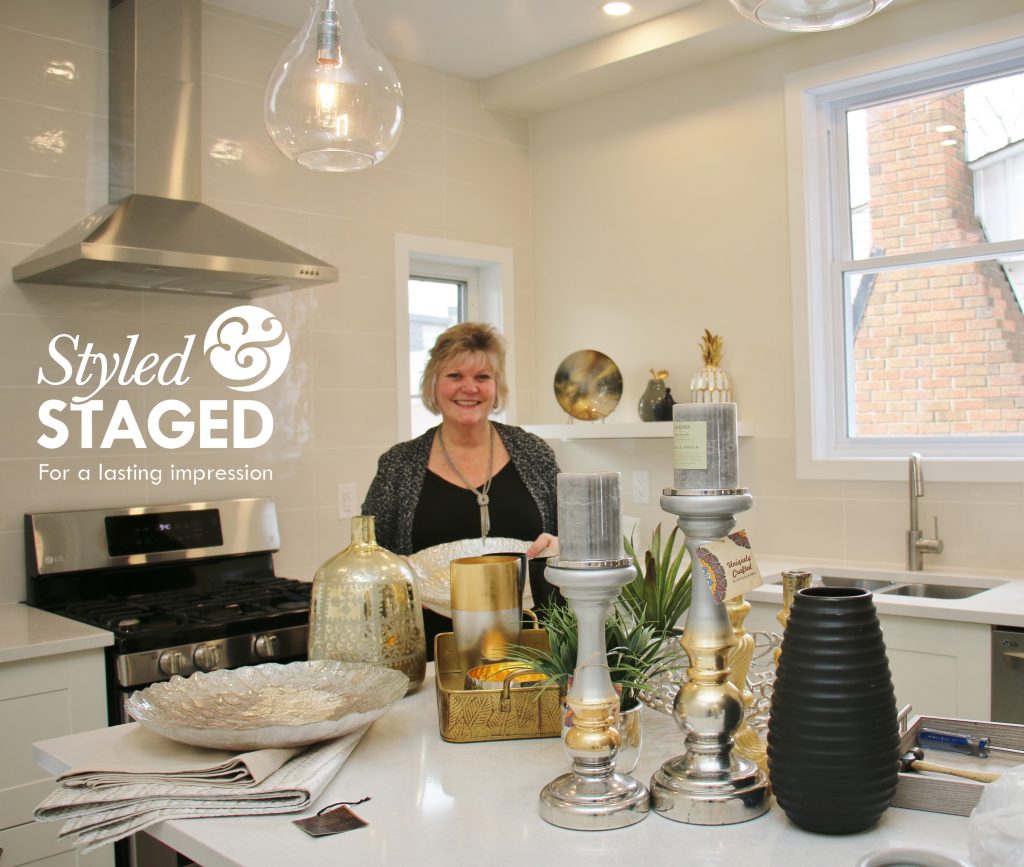 I always bring in more accessories than I need so I can experiment on site. The biggest challenge is bringing in every single accessory, artwork, linen, lamp, piece of furniture etc. for an entire empty house just hours before the photos are taken. I would rather be over prepared than underprepared.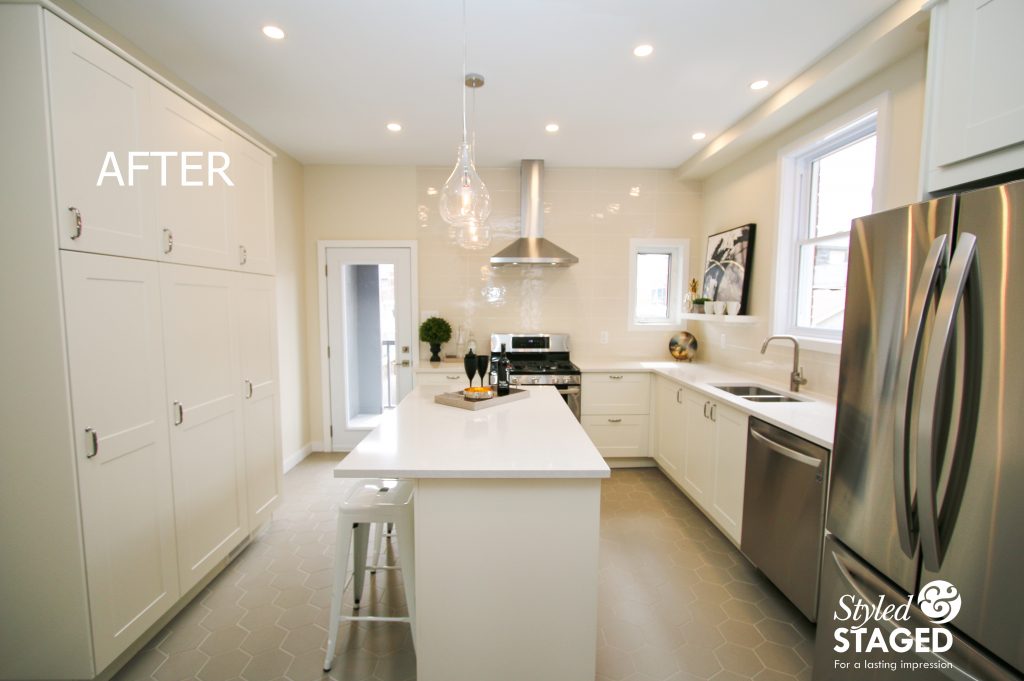 The ktichen is a show shopper.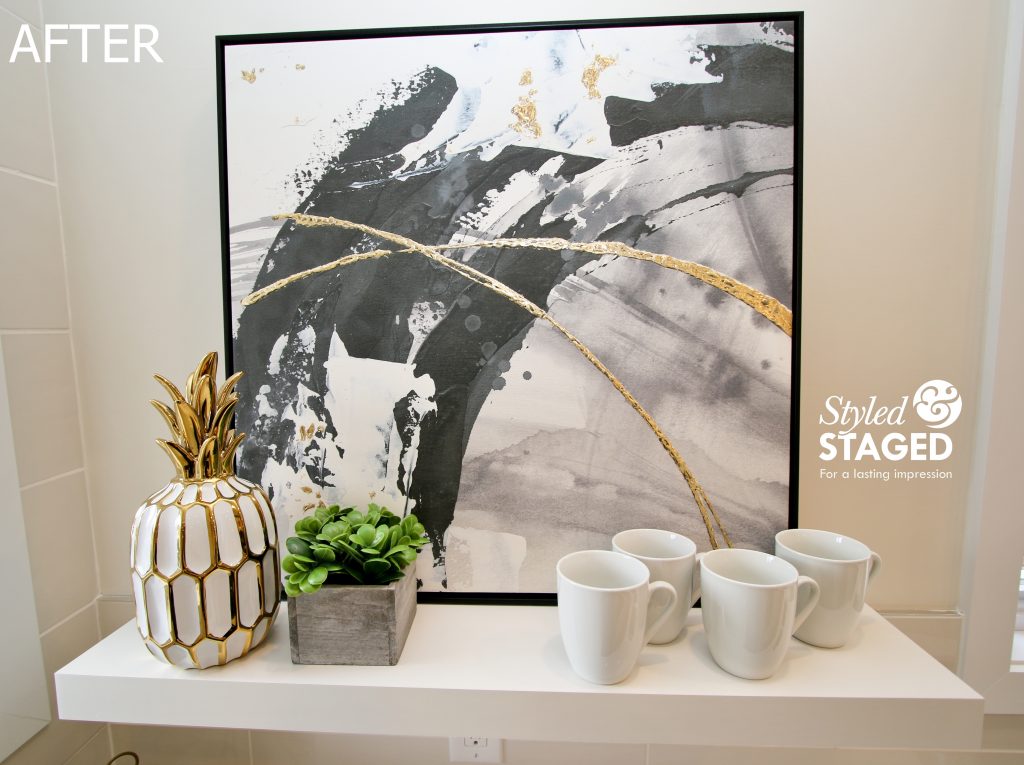 The floating shelves allowed me to lean some modern artwork and add a few accessories to show buyers their potential.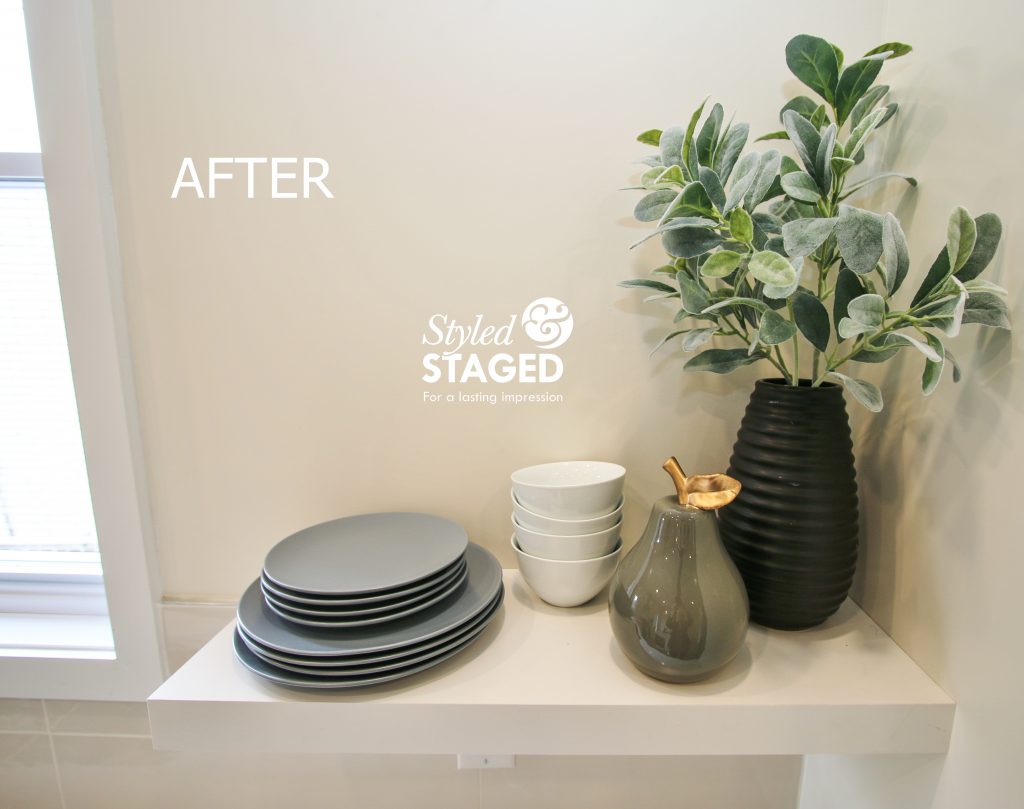 Open shelves are very much on trend.  It's fun to showcase colour coordinated dishes but also adding a few decorative elements.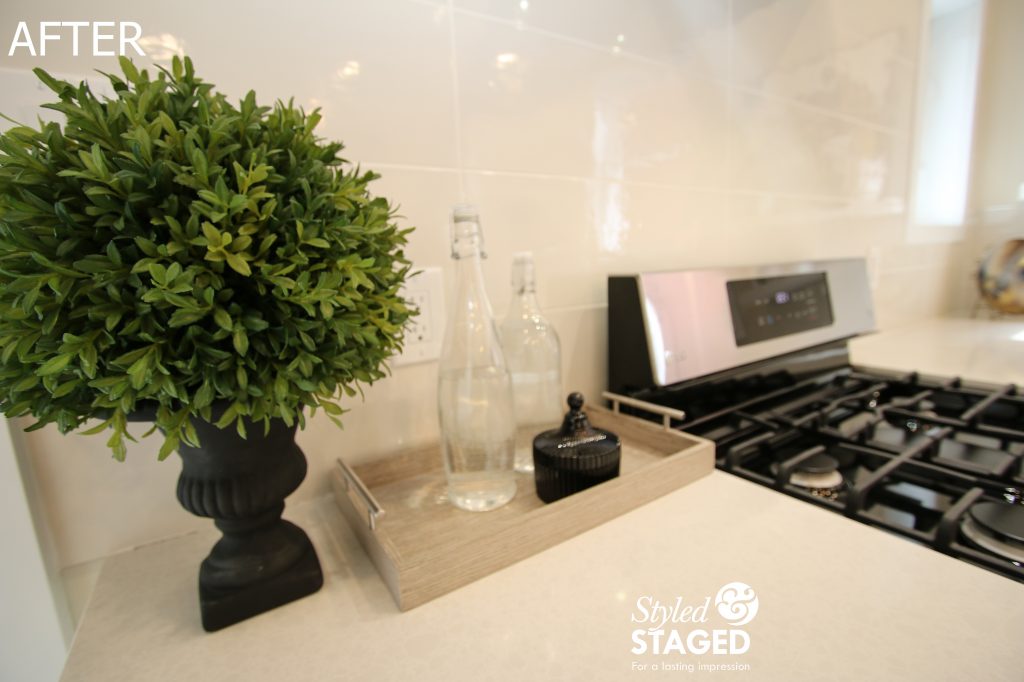 In order to draw buyer's eyes to the high end appliances, I strategically placed decorative items beside them.  Staging is all about controlling where you want buyers to look through accessories.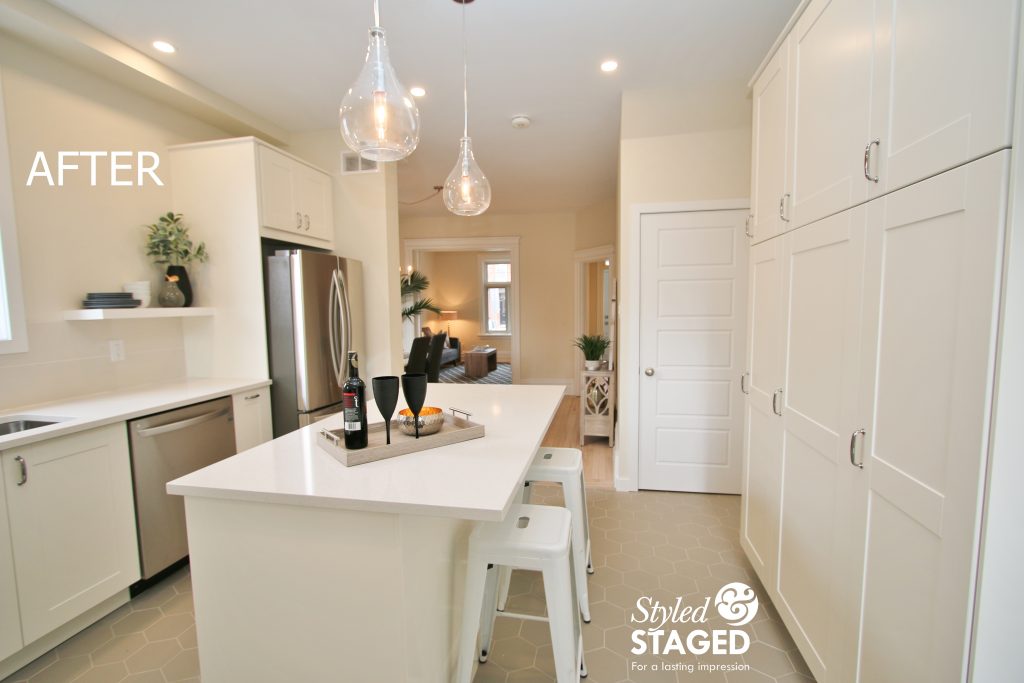 The white bar stools invite you to sit up at the island and enjoy a nice glass of wine.  It's amazing how much storage the client packed into this kitchen.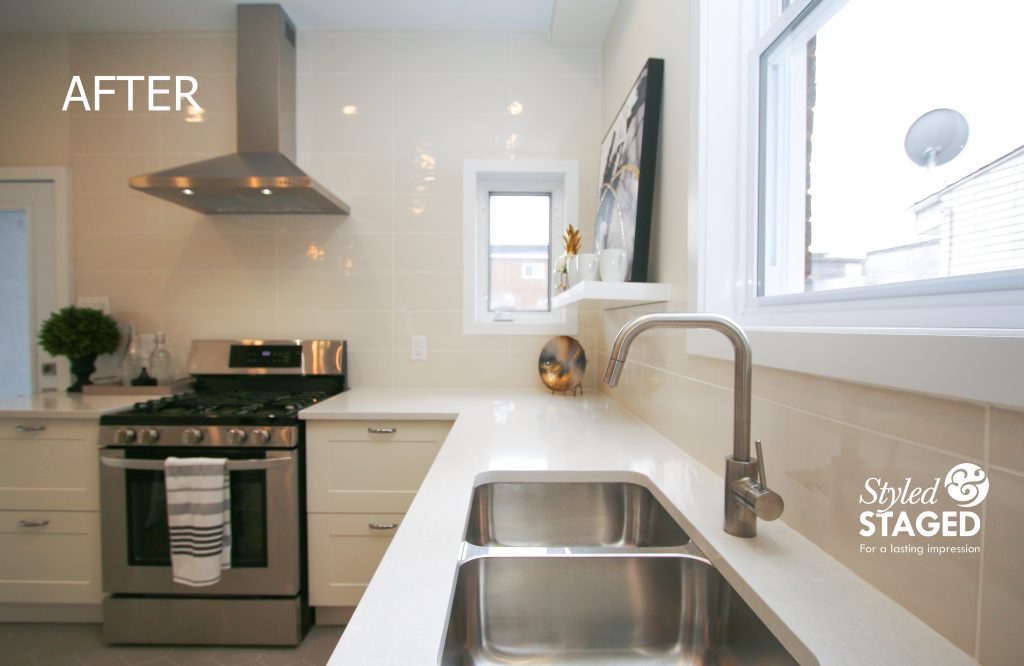 Every square inch of this main floor was showcased and highlighted.
Make sure you look at all the transformations of the bedrooms