Looking For A Fun And Easy Pumpkin DIY?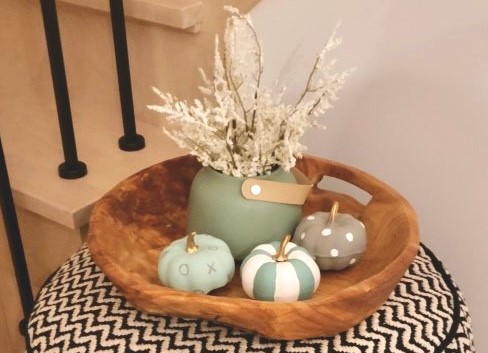 Last weekend I wanted to make an Autumn craft with the girls that they could take home. Trust me, they are not crafty so I had to find something quick and simple. Turns out they loved doing it and really enjoyed themselves.
I picked up packages of plastic orange pumpkins at the dollar store (3 pumpkins for $2).
I covered the table well with plastic and then brought out all my craft paint brushes and different kinds of paint.
The Rule Was – There Are No Rules
They wanted to stay with more muted colours that they have in their home decor at their house which was great. They experimented mixing colours to get just the right shade.
We found that the chalk paint worked the best but you can certainly use any acrylic craft paint as well. You just might need a bit more paint since it didn't cover as well. The key is to hold the stems while they dry. It's also a good time for a sip of wine while you wait :). We left the stems gold they way they came.
Before we knew it, the night was over and we ran out of pumpkins.
Great For Kids
This is such an fun craft to do with kids since they can let their imagination go wild. They can paint faces on them or mix any colours that they want.