Home Staging Tip
Just imagine walking into a hotel room and the linens looked soiled, torn and worn out.
Would you want to stay there?  No.
The same rules apply to selling your house.
I always tell homeowners to replace their bed linens if necessary.   It's a small investment towards the sale of their house.  It's also something that they can take to their new home so it's not a waste of money.  Choosing something simple also gives homeowners lots of decorating options down the road.
Through my several years of Staging, I have noticed one very important secret.  Bed linens that are a solid colour look better on the MLS pictures than linens that have a busy pattern. For some reason narrow stripes just look like a blurry zigzag in the pictures. Floral converters can look like a big garden and don't always appeal to the masculine taste. Solid linens always look fresh and clean.  Buyers will notice the room instead of the bedding. Solid linens also appeal to the masses.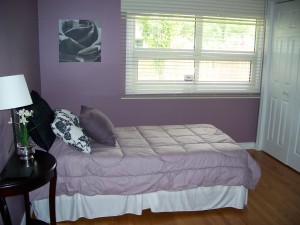 This small room appears larger than it is because the new linens blend with the walls.  Adding a few throw pillows and artwork kept the room from being boring.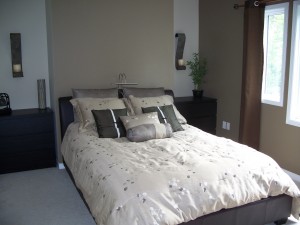 These new Zen linens give this Master Bedroom a quiet, calm and serene feel.  The subtle pattern really enhances the existing different shades of paint.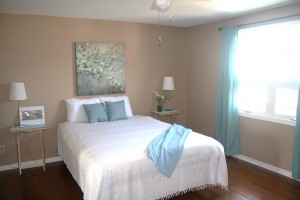 Fresh white linens make this room appear large and airy.  The soft accent colours create a 'spa' atmosphere. The white wouldn't have nearly the same impact if it was up against a white wall.  There needs to be some sort of contrast.  Notice how the canvas artwork also serves as a headboard.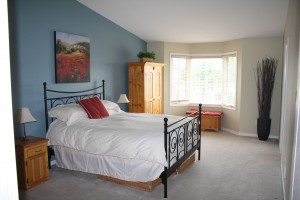 New crisp white linens break up the large bold blue wall. Since there is white trim, white lamp shades and some artwork with a bit of white, it all works together. It wouldn't look right if the white linens were the only white in the room.
Here is an example of what you DON'T want to do:
Before: These linens looked worn out and faded. This master bedroom had no pizzazz.  The clutter on the night tables and the different lamps just create chaos.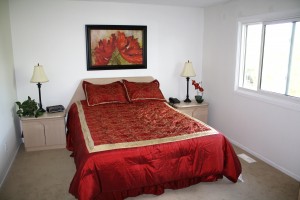 How we fixed it: We bought new linens since there wasn't enough time to paint the room.  Since the wall colour was so boring we chose a bold Sienna Red comforter to give the room some 'style' and interest.   It was also the homeowner`s favourite colour and she wanted it for her next home.  Bright complementary artwork, accessories and lamps were rented from Styled & Staged.  Suddenly their bedroom set even looked new.  We often have to stage a whole house in a very short period of time so we don`t have the luxury of making it perfect but this certainly sets the stage for buyers to see the potential.