When staging your home you want your kitchen to be as functional and inviting as possible.  You want it to feel special and still practical.  This is a very neutral kitchen that will appeal to the masses.  Keep it simple so buyers can put their own personality and style in the room.  You also don't want to confuse buyers of what is staying and what is leaving.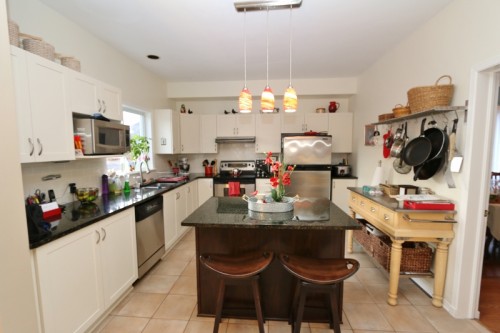 BEFORE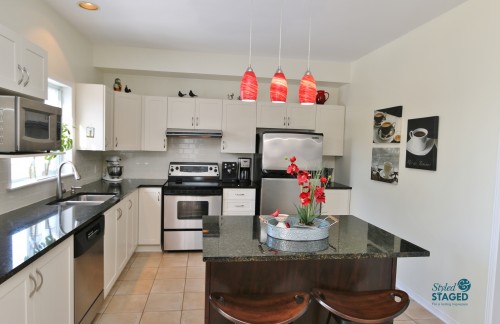 AFTER – I love how the kitchen looks now that the homeowners removed the hanging pot rack and the work station underneath it. I felt bad asking them to remove it since it also meant painting the wall once the rack was down, and they were already under a tight time line.  I'm thankful they trusted me. This is a large kitchen with loads of cupboard and counter space so they didn't really need it for storage but they liked the way it looked with the pots. When I was standing in the room, the pot holder and table did give the room lots of character and it also matched the large table in the adjoining room but buyers are not keeping the furniture so they want to see what the space looks like once those things are gone. By removing the table there is also more space for traffic flow which is important in a busy family home. I think the kitchen shows better in photos for the MLS without the additional pieces.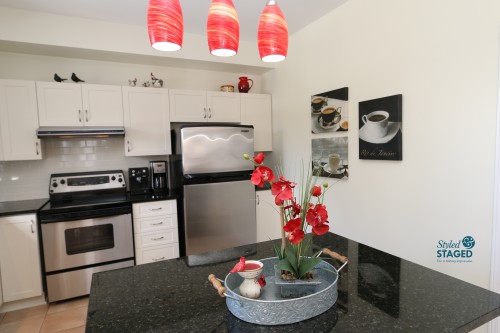 The homeowners have great taste with their pendant lights and accessories. I brought in the neutral kitchen artwork that pulled the granite countertops, white subway tile, appliances and cabinetry colours together. Showcase the things that add value to the sale of your home.