It's All About The Presentation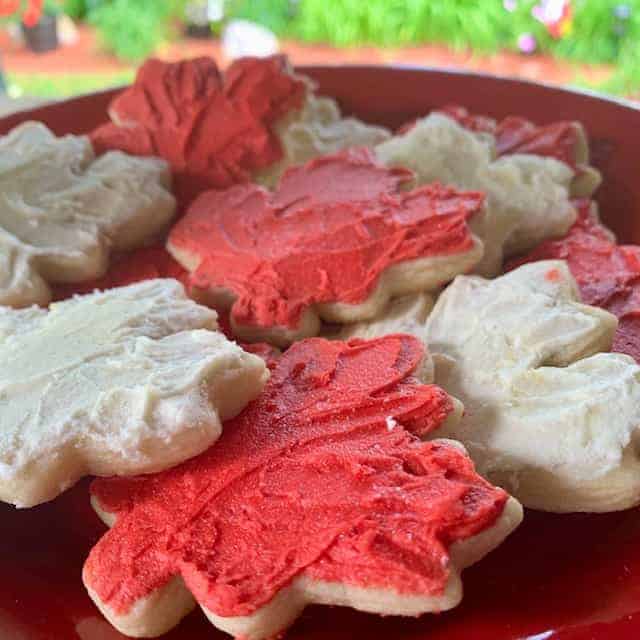 Whenever I go shopping for dishes/platters for entertaining, I always ask myself "how many different ways can I make this look? "and "what different occasions can I use it for?" You know me, I only like to buy things that I know I can use over and over.
I bought this hammered aluminum two tiered serving platter for $14.99 a few years back at HomeSense and I've definitely got my money's worth out of it. I personally find tiered trays helpful for entertaining since they don't take up as much room on the table.
This hammered aluminum with jute handle is perfect for a rustic or casual setting.
It looked just as amazing for Thanksgiving with burlap, leaves and pinecones and pumpkin/apple pies as it did at Christmas with evergreen garnishes, berries and festive cookies. YUMMY!
Okay, now back to Canada Day! My son's fiancé made the most beautiful maple leaf sugar cookies and iced them with red and white icing.
I instantly knew how I could decorate my tiered tray to display them. When you have pretty food, you want to make sure it is showcased.
I pulled out my red burlap ribbon (that I had from Christmas) and I cut two strands of maple leaves and beads from a wind chime that I had last year from dollar store. Since they were already all stung together I just secured them at the top with the red ribbon. It really couldn't be any easier than that.
I added the red plates for more colour and I also didn't want the cookies directly on the aluminum in case any of the red icing stained it. I started off with just parchment paper cut in circles but the red plates were the finishing touch.
I wonder how I'll revamp this tray next time?!
Happy Canada Day Everyone!!!!