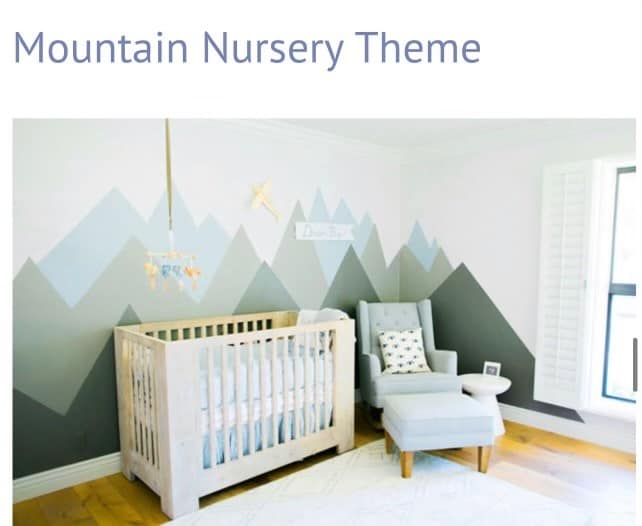 The members had a new experience on the last webinar when a young couple was looking for some decor ideas for their nursery. Since they didn't know if they were having a boy or a girl yet, I gave them suggestions for each. To keep things simple, I will just talk about the option that they chose. They had their gender reveal and they are having a boy.
What They Started With:
They wanted to upcycle this furniture. I was so pleased since I'm always saying to upcycle and repurpose as much as possible.
The wardrobe and change table look brand new after a coat of Fusion Mineral Paint. You often hear me talk about how much I love this type of paint. They also bought a new birch wood crib. The chair has been removed from the room since they didn't like the way it looked there.
A Plan In Process:
Decorating an entire room needs to be done in stages so you know how much colour and texture you want to add.
After spending some time chatting with them, they decided that they wanted to a 'Mountain" feel to the room. Once that was decided the rest was easy. They loved the inspiration photo (bottom left) so we just carried on from there.
The first thing they needed to do was paint the entire room with a couple fresh coats of Benjamin Moore's Chantilly Lace for a crisp white background. The white paint made the gray furniture and floors look nice and fresh.
I selected colours that looked similar to their inspiration photo (can be tricky since true colours online are not always accurate), for the mountains.
I just copied a birch gray rocking chair with a little table and lamp beside the crib onto the photo for function.
Other elements that we talked about was having a nice cozy rug for the floor. I liked the gray and white polka dot rug from IKEA. I also think a round rug would be nice in this space.
They are lucky that Grandpa is very handy. I suggested that he cuts some ash wood shelves for the wardrobe to tie in with their crib and to also provide more storage. He is also going to make a 'mountain' shelf like this one to go with the 'theme'. I just got an update that the wood has already been bought and everything is in the works.
I suggested light wicker basks for the shelves would also tie everything together and would be very functional. I love the ones they picked up since they also have cloth liners. This is helpful so you don't snag your baby's clothes etc.
I knew they like doing some DIY crafts so I'm giving them a 'previously loved' photo frame collage. The colours are a bit off, but they can paint the frames with the left-over coloured paint that they have. Parents always love their baby photos and little keepsakes. Again, always recycle when you can.
Painting The Mountains:
These guys were very excited and anxious to get going with the paint once the baby reveal party. When they asked me for more step-by-step advice, I sent them 5 different 'how-to' videos that I found on-line since I think it's often more valuable to 'see' it being done. It was good that they learned a bit from each video but weren't overwhelmed by the hundreds of videos out there!
They are just in the final decision of should they paint in the white tape lines or leave them white. The verdict is still out on that one. But look at what an amazing job they did!!!!
To the left of the crib is the closet with large mirrored doors. If they felt it was too busy with the reflection of the mountains, they could also cover the mirror with frosted peel and stick paper that you normally use on windows for privacy.
Final Details:
The fun really happens when you can add personal items to your room to make it a special bonding place for you and your baby.
Member's Joined In:
I loved how our members were excited and sent in their kid's /grandkids nurseries too as well as some helpful tips. This is the best group ever!
Stay Tuned For The Reveal:
They have promised to keep sending me photos as they progress and I will share them in this post. Isn't this fun????