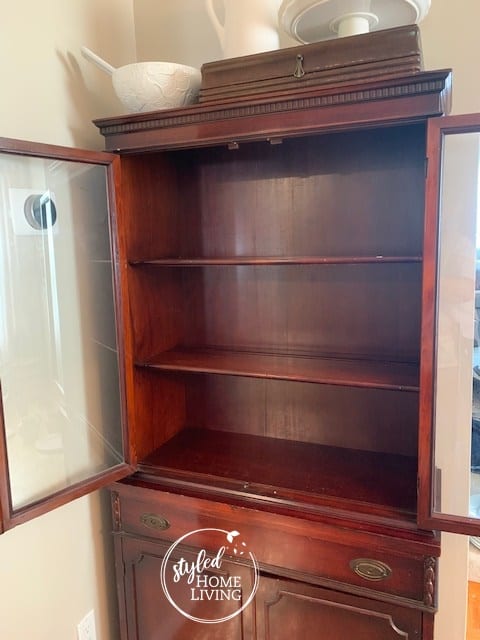 Ever notice how we don't always 'see' our home the way others do? We are so busy with our daily lives, we don't realize that things 'somehow' get cluttered and messy without even noticing lol.
It wasn't until I recently painted my diningroom that I actually looked at my china cabinet objectively. I am in and out of it all the time. Yes, I do use my good dishes all the time. I don't believe in saving things for an 'important day'. Every day is important and I always want to enjoy them. However, I never took the time to stand back and really look at the inside.
Wow what a mess! How embarrassing!! Colours were all over the place and it's no wonder I struggled finding things.
I took the opportunity to empty everything out so I could see what I really wanted to keep and what could be donated.
I have always found this piece of furntiure too dark and I'm trying to decide if I want to paint it or not. I figured this would be a good temporary fix to at least brighten the inside and showcase my favourite dishes that have sentimental value to me.
I attached some shelf liner paper with the removable mounting putty so it wouldn't damage the wood. I wrapped the paper around to the sides, not just the back since I really wanted it brighter. I originally thought of wallpapering the back or using a peel and stick paper but they all had busy patterns and I didn't want it to compete with the dishes. I like how this shelf paper is very thick and has a linen look to it with some texture. I did paint the paper in a soft gray so it wasn't too stark. I wanted the white dishes to pop and the gray is also the accent colour in my dining room.
I only placed the white and gold dishes as well as the glass stemware. It definitely made the whole cabinet look much more organized and now you can see the beauty of the dishes.
I still kept my favourite coloured dishes, but they were placed on the bottom behind the doors so I could get at them easily. I like to keep things simple.
Now the next question is…what colour should I paint my curio and the matching buffet?
I