How To Add Seasonal Decor In A Small Space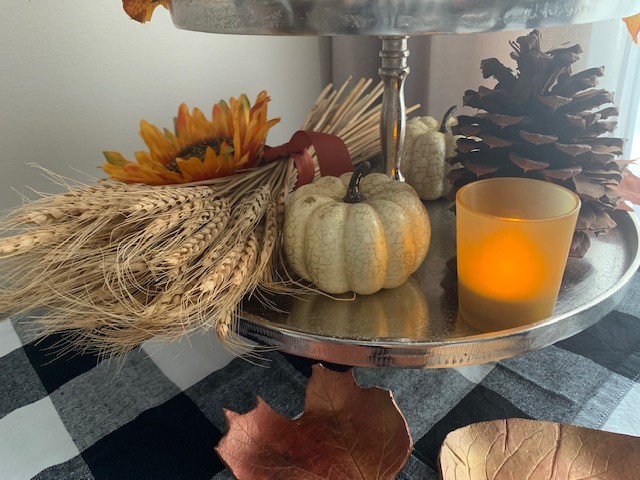 Do you feel that you don't have enough room to decorate for the seasons? I suggest you decorate vertically since it takes up less space and you can achieve just as much impact!
3 Tiered Serving Trays
I love these types of trays since they are not only for food. They are wonderful for creating little vignettes for any season or special occasion. They do take some experimenting to get the right size of items that fit on the different tray,
Tips:
gather all your items first
balance the textures and similar items
make sure each tier is interesting and cohesive
Keep standing back to see if it's pretty from all angles
I used battery tea lights for safety
don't be afraid to experiment by adding and removing items until you like it
Make sure you also consider what the tray is sitting on. At first I just had it sitting on a hall table but something wasn't right. It wasn't until I put it on the black and white buffalo fabric that it came to life. It needed the contrast. I also added a few hand made clay baked leaves at the base to give it more presence. Do you see the difference?
The hardest part of creating these vignettes is finding items that actually fit on the trays. When you're buying a similar tray take the measurement's into consideration.
I would love to see your vignettes as well. Feel free to post you photos on the chat forum.