How I Created A Vintage Inspired Easter Table Setting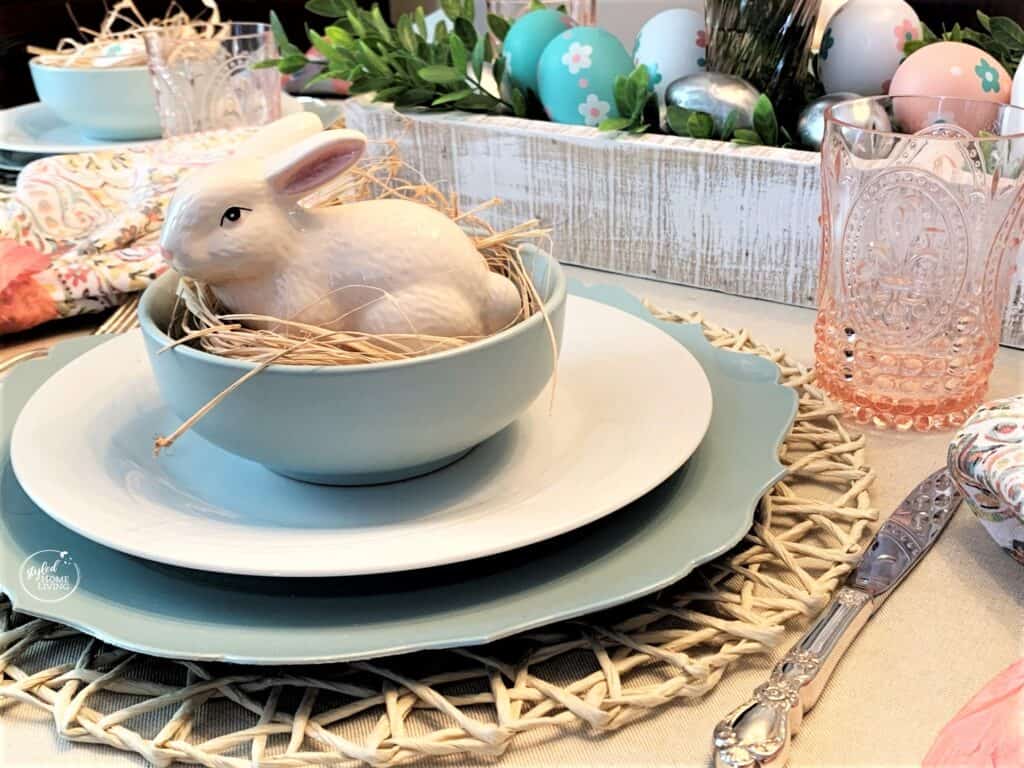 Are you as excited for Spring as I am? This tutorial will show you how I decorated a vintage inspired Easter table setting. Obviously you won't have the same items to use, but I want to show some of the basic principals I follow when I set ANY table scape.
… and the buffet
What is your inspiration?
In this case my coral and blue paisley napkins were my inspiration. However, I also wanted to use my centerpiece wooden box that I made for my Christmas displays. I just like how I can fill it up with accessories to make things look very festive but everything is still contained (great for clean up).
What is your colour combination?
I always repeat the same colours over and over for more impact. In this case it was the coral, blue, white .
What other elements other than colour can your repeat?
In this example, I repeated the use of the bunnies and the eggs throughout the entire table setting. Don't worry if you're not crafty or artistic (which I don't believe), you can always buy attractive decorated eggs. FYI both the floral eggs and the bunnies are from the Dollar Store so it's definitely a budget friendly table setting.
I also repeated raffia ribbon. I used it in the wooden box and to create little 'nests' in the bowls. The large placemats are also made out of the raffia. The wooden box also has the same tones as the raffia ribbon.
Silver was another material that was repeated. I spray painted some plastic eggs silver to tie in with the bunnies on the buffet and the silver mirror. It's little details like that take it to the next level. You might not notice those details at first, but before they were added, something was missing. I spend many hours trying new configurations before I'm happy with the result.
The greenery is faux separated branches from the dollar store. They just help fill in the centrepiece and break up the colours.
I tried adding coloured flowers to the vases, but they took away from the decor so real white flowers in the coral vases was the finishing touch. Fresh flowers are always special.
What 'style' do you want to create?
Since I felt the bunnies had a vintage vibe to them, I added vintage inspired coral drinking glasses and my antique silverware. This is not a formal table setting but it's full of whimsy right down to the gardening tools in the large bunnies basket.
Let's face it, any time you add bunnies, it's can't be too formal or fancy so just enjoy the playfulness of the season.
I hope you find this post inspirational for you to create your own festive table settings.