Curb appeal is so important when you're Staging older homes since buyers are buying a 'lifestyle'.  You want them to be able to see themselves enjoying their glass of lemonade on the porch visiting with all the neighbours.  It's a very sociable yet relaxing atmosphere.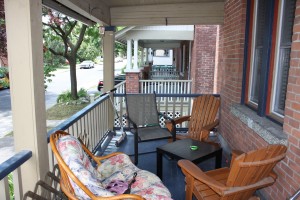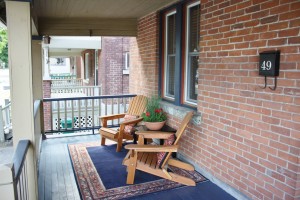 When you buy a home over 100 years old, you know it's not going to be perfect.  It's the charm of the aged wooden floors, the character of the unique shaped rooms and the architectural details that makes it appealing. Make sure to highlight the character of the home.
Scale is very important when buyers are looking at the MLS pictures.  They want to know if their furniture is going to fit in the space so you should always arrange furniture to appeal to the masses.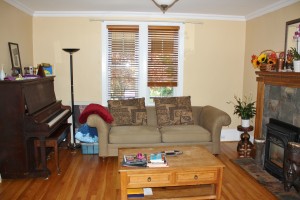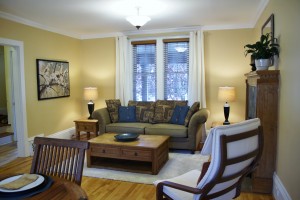 Removing the piano allowed the sofa to be centred under the window.  Adding the tall ivory drapes not only brightened the room but it widened the window so the sofa was the right scale.  Adding the ivory area rug also defined the living room from the dining room.  The light colours also broke up the warm yellow from the walls and floors. Adding end tables and lamps give balance and simplicity to the room.  We pulled the colours from the fireplace stone as an accent colour.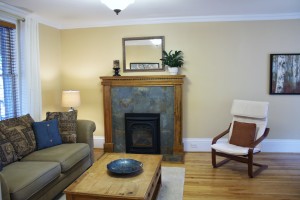 The fireplae should be the focal point of the room since that is what buyers actually buy (not the furniture).  Showcase features like the extra high baseboards.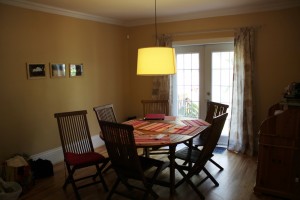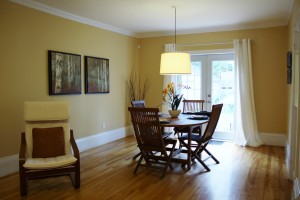 Replacing the drapes with the same ones as the living room is important in an open concept.  Removing the large desk also shows buyers that it's a true dining room with lots of space.  Continuing the same accent colours with artwork and table settings expands the space of the two room adjoining room. Notice how much bigger the rental artwork is too.
I'm sure this house won't be on the market for long!
.