As mentioned in the previous post Part 1, I love the challenge of walking into a house and visualizing some of their furniture/accessories used in other ways that will enhance their home. Click here for Part 1.
This is a perfect example of a house that had all the necessary furniture but it was in all the wrong rooms. We often use rooms differently for 'living', since we find it more functional, however, it's important to consider how the masses will use the rooms.
Give a Room a Purpose: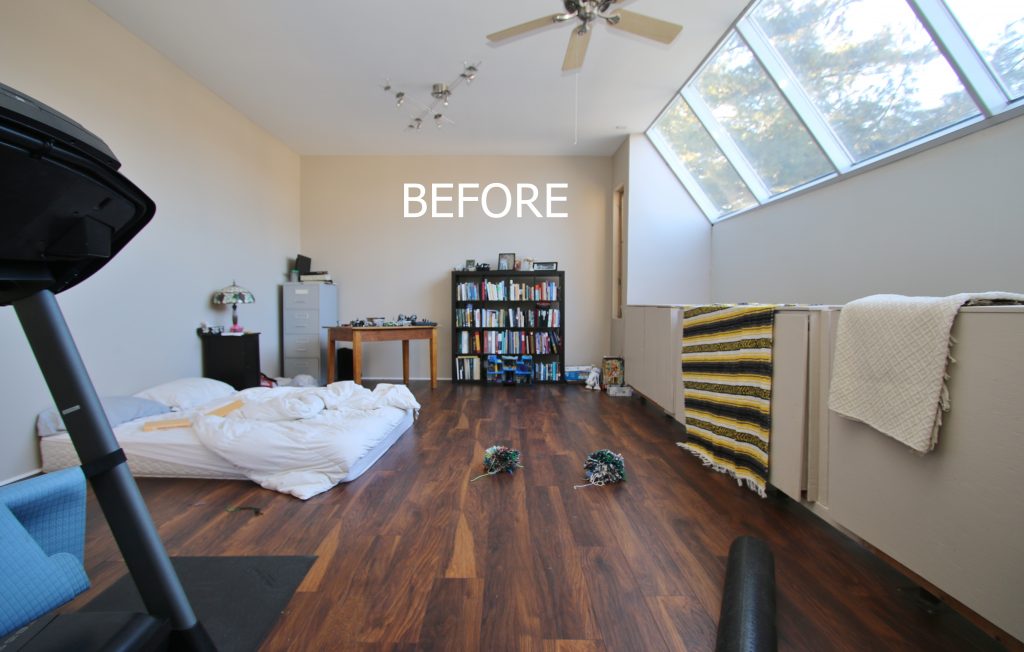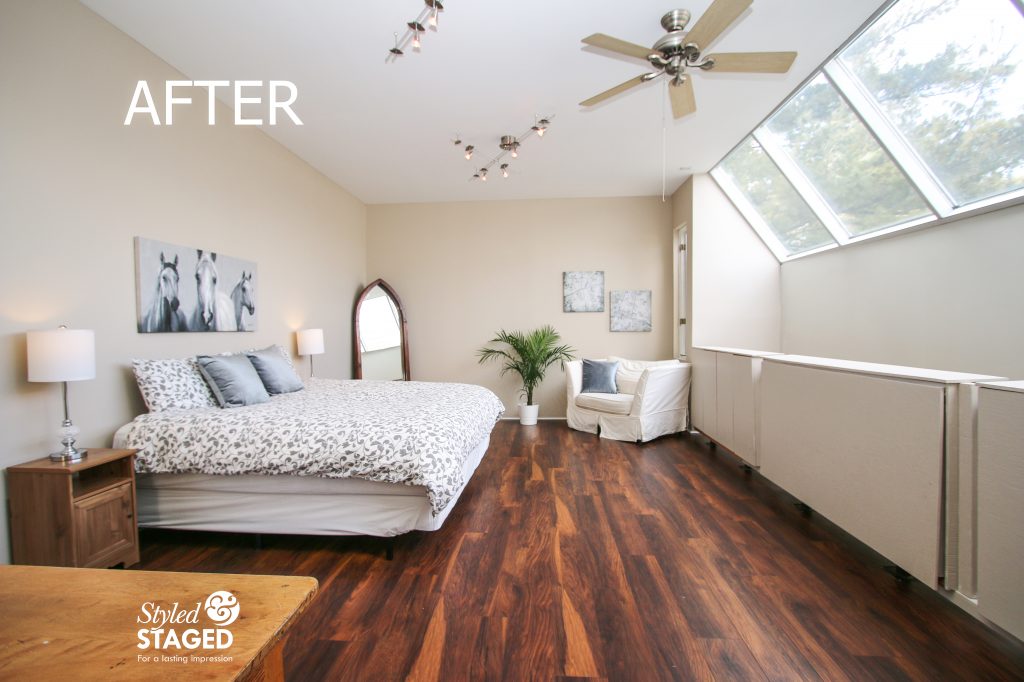 My jaw dropped to the floor when I walked up to this loft and saw it's potential and beauty.  Since there are so many other rooms in the house, the homeowners were using it as a catch-all.  I knew I had to give the room a purpose. for buyers.  Since this was a separate loft from the rest of the house, I thought it would make an incredible guest retreat.  Fortunately, they had all of this furniture already.  It was just in different rooms.  They had this king size bed in their master bedroom but since that room is much smaller, we switched them around so each room had a bed in proper proportions.
Notice this amazing mirror that used to be in the living room in Part 1 of the blog post?  The chair helped fill in the huge space.  It was from the kid's play room.  Removing the dark bookcase also lightened up the room.  Who wouldn't want to lie in bed and watch the rain or snow land on these windows?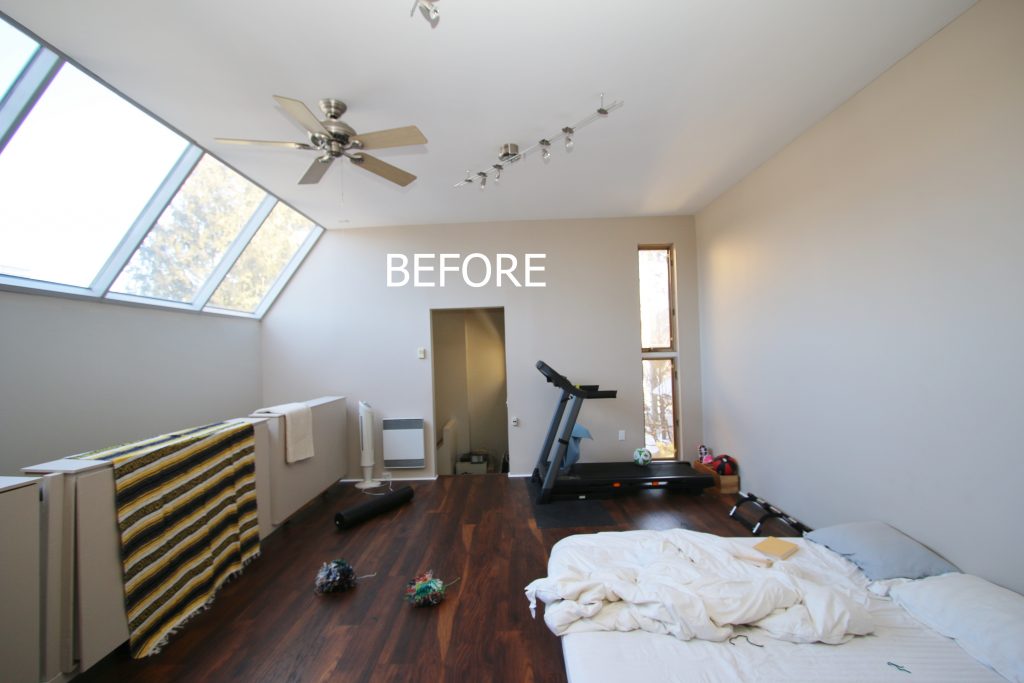 By the time I got home, they had already put the treadmill on Kijiji for sale since they knew they weren't taking it with them.  It's so amazing to have eager clients who are open to your suggestions.  Once the treadmill was gone, we could really turn it into a restful retreat.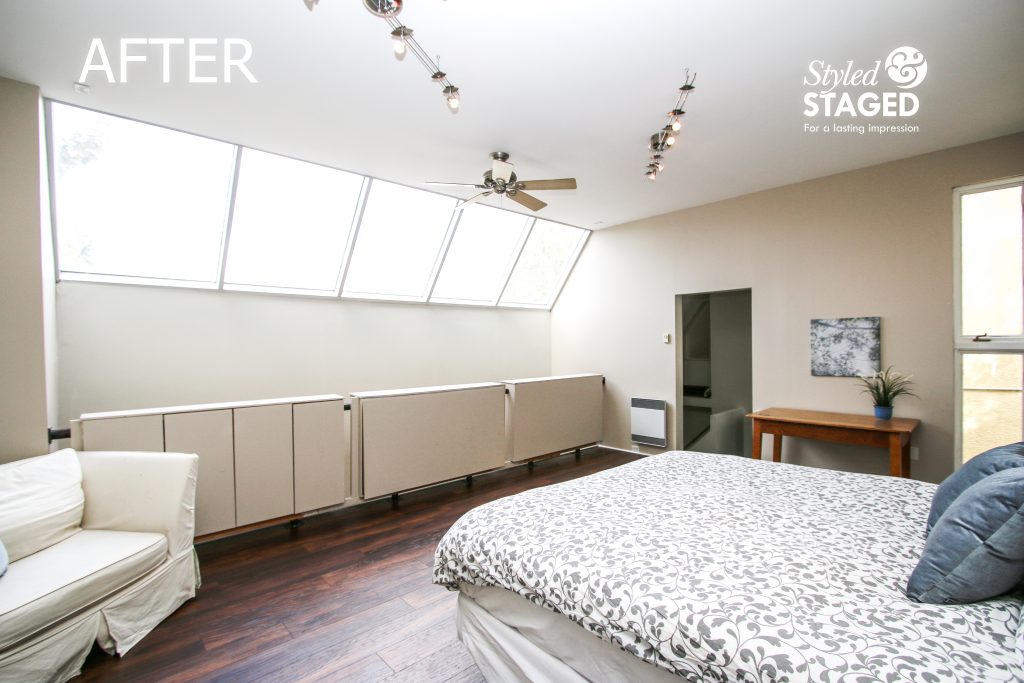 We didn't have a dresser, but one of their tables works perfectly to show the scale of either a desk or a dresser. Remember, Staging isn't decorating – it's giving just 'enough' to let buyers visualize themselves living there.
Collections: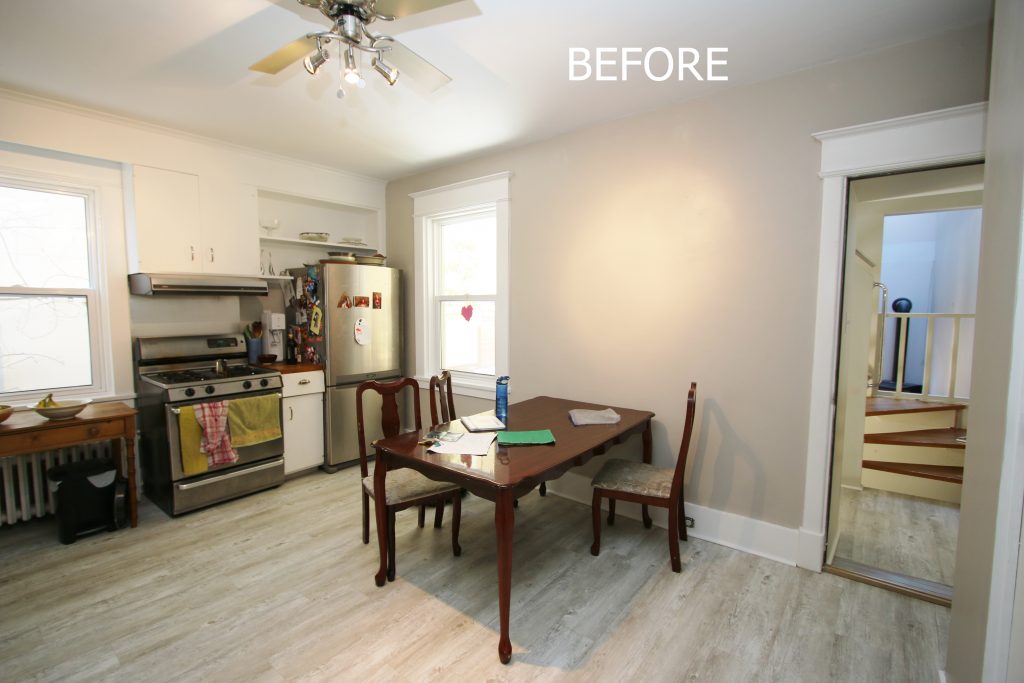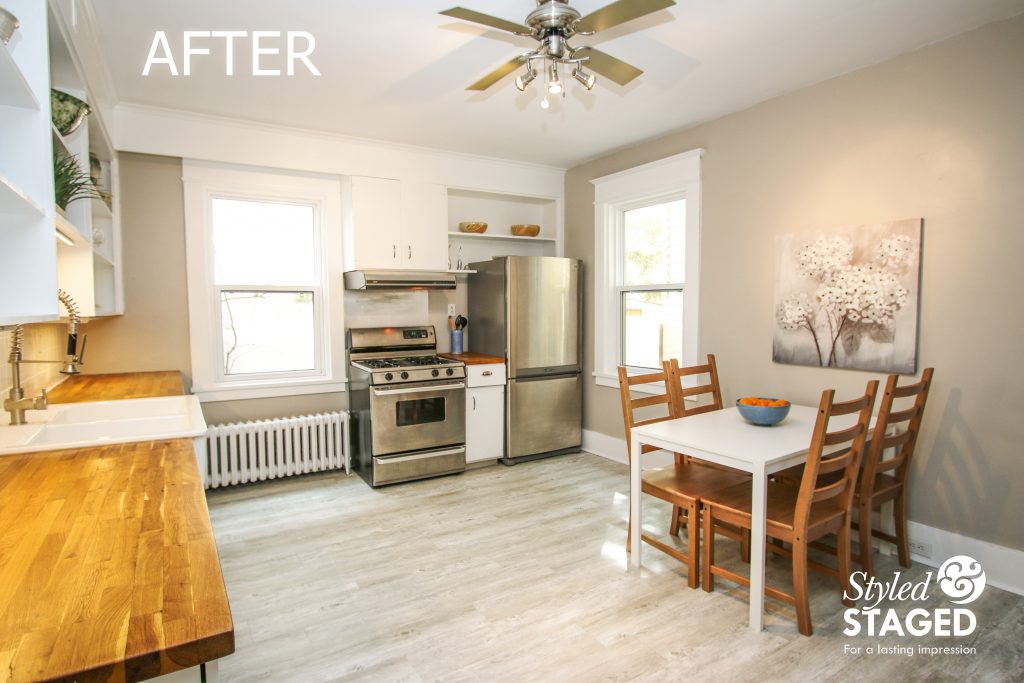 The homeowners hated their ktichen table and wanted to buy a new one to take to their next home as well. I suggested something white to complement their cabinets, and wood chairs to anchor that side of the room.  We try to use as much of the homeowner's furnishings as possible to keep costs down, but if they know they are buying something new for their new house, buy it now if it helps sell this house.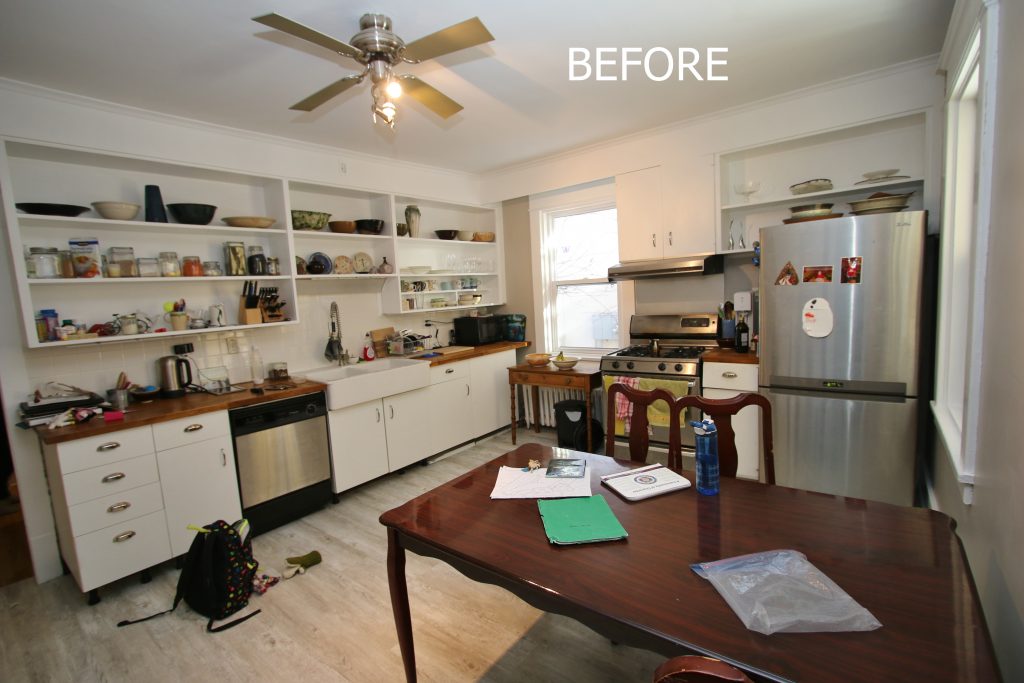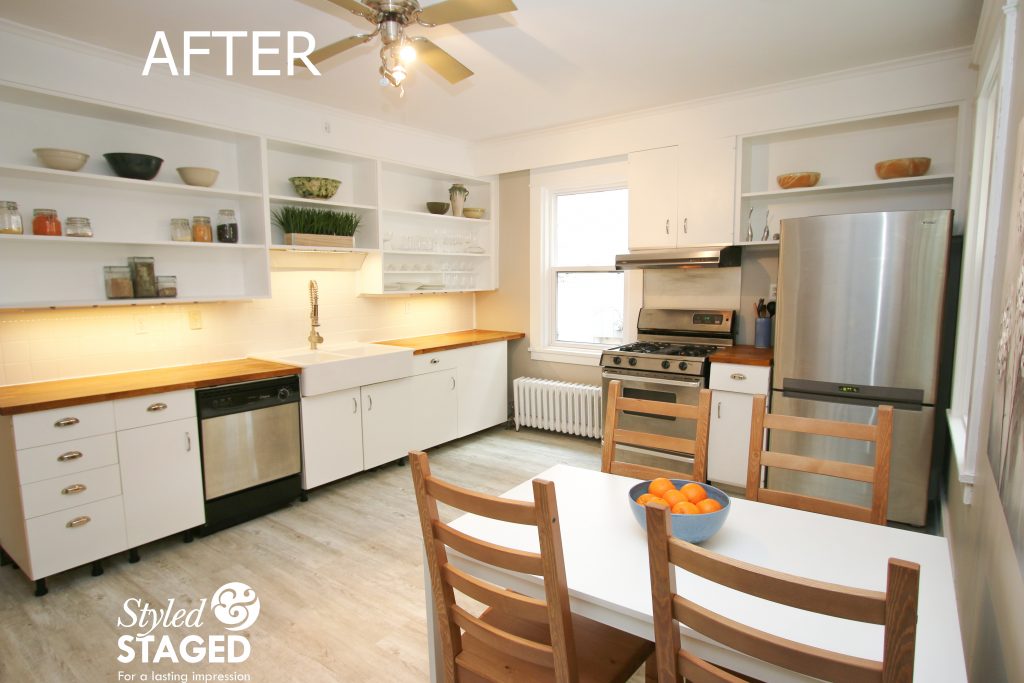 I was so happy to use all their pottery collection throughout the house.  It went with the style of the house and gave it character.  Just remember, less is more when it comes to staging.  We displayed a few decorative pieces to showcase the open shelves, but didn't clutter them.
Notice the little table that was under the window?  That is the table that we put in the loft as the desk.
By the time we finished staging this house, I think every single piece of furniture had been moved.
Make sure you  look at the previous blog for more photos on this house.