This week Styled & Staged had a big challenge of giving a spacious town home a make-over for a quick sale.  This transformation was done in 4 short days. Home staging is all about tight time lines and a tighter budget!!  With a bit of creativity you would be amazed what can be done.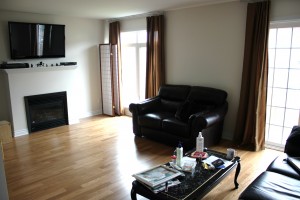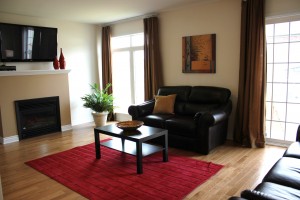 A $15 can of paint gave the fireplace an instant boost and created a focal point.  Adding the splash of colour through the artwork and the dramatic red area rug gave the room warmth and personality.  All the accessories, artwork, linens, lamps, small tables and area rugs are part of Styled & Staged rental inventory.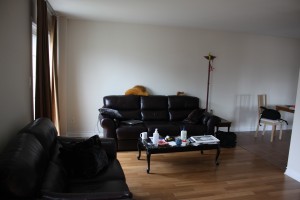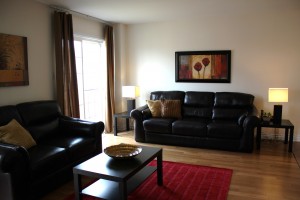 Adding end table and lamps help define the space and gave to balance the room.  Continuing the same colour scheme throughout the whole main floor enhances the flow.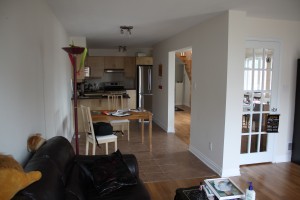 Adding artwork really helped brighten the kitchen and continuing the same colours keep everything looking spacious. Adding some black accessories beaks up all wood.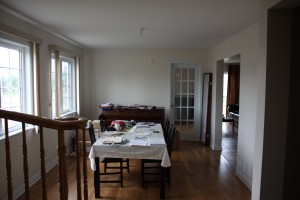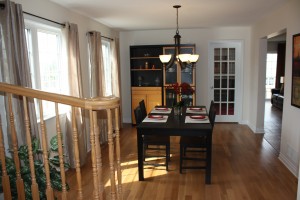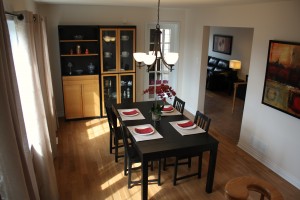 This room was instantly transformed by adding a $100 chandelier and replacing the vertical blinds with soft drapes and rods for only $60.  I brought the wall unit down from an upstairs bedroom to show just how large the room is.  Placing the units on the far way not only creates a focal point but it expands the width of the room.  The wood also adds warmth. Now it feels more like a formal dining room.  The artwork and table settings also adds interest with colour and texture.  Adding plants in a room always brings good energy.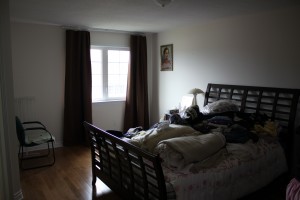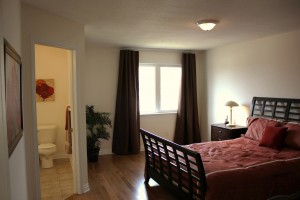 This beautiful bedroom set was not being shown to it's fullest potential.  Adding some lush linens (on sale for only $49) and a few decorative accessories and artwork make this room a true master bedroom. Continuing the same colours in the en-suite enlarges the space as well.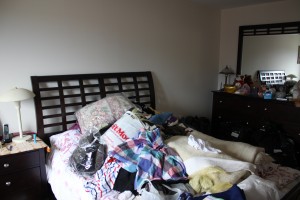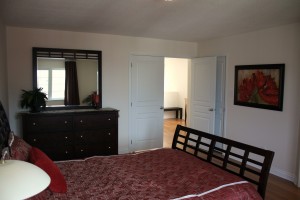 Candles and plants always make a room feel relaxed.  A bold piece of artwork helps tie everything together.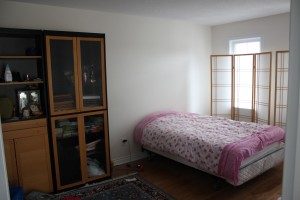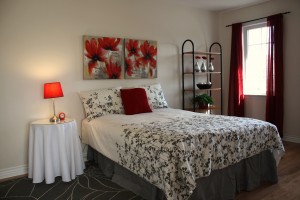 The wall unit was put to much better use in the dining room.  Adding drapes and new linens give this room a complete make-over.  I was able to use the existing shelving unit to give the room some proportion since there was no real bedroom furniture.  Canvas artwork makes a great illusion of a headboard.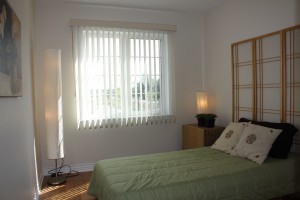 I don't have any 'before' pictures of this room since it was empty.  I brought in one of the Japanese screens from another room to use as a headboard.  It also adds colour to the white walls.  The screen gave the direction for a peaceful zen bedroom.  Paper lamps and simple linens help create the mood.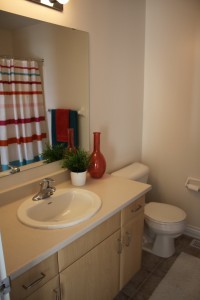 This basic white bathroom was give a jolt of energy by adding playful shower curtain, towels and bold accessories.  Much easier and faster than painting!
Call Styled & Staged for your Home Staging or Decorating needs 613-302-4020.