When I first walked into this bold red empty bedroom I immediately wanted to paint it.  However, when I stage a house I always have to prioritize what needs to be done in a very short period of time and usually on a very limited budget. There were way too many other rooms that needed to be painted and jobs that needed to be finished so this room had to stay red!!!  Kids bedrooms are very personal so it's hard to predict what the new homeowners are going to want anyway.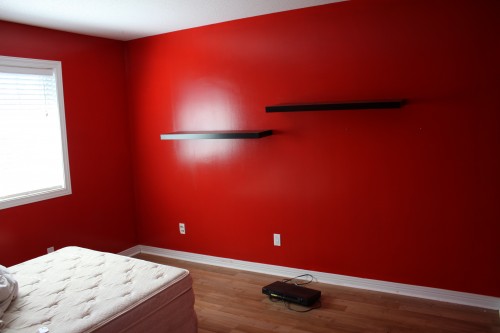 Styled & Staged worked it's magic once again by bringing in rental linens, artwork and accessories for an instant transformation.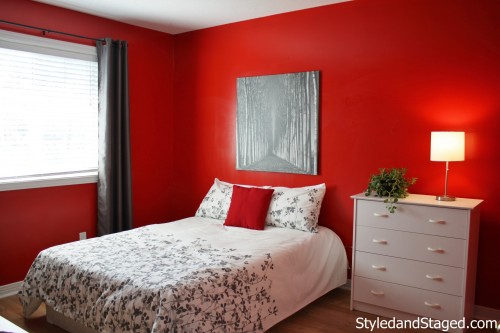 Adding soft shades of gray in the drapes and linens diffused the saturated red.  If I had added black or navy the red would have looked even more intense.  Using a white dresser from their storage helped break up the red wall. I removed the floating shelves and fixed the holes since the homeowners wanted them for their next home.  When you know something is not staying with the house and it's attached to the walls it's always better to remove it so it's not part of the negotiating process.  I brought in a huge picture to help cover as much red as possible.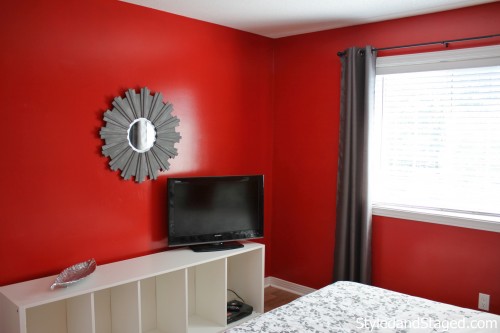 The main reason to stage your home is so buyers can get a perspective of scale for furniture.  We didn't have any more white furniture but turning this bookcase on it's side shows buyers the potential for either a desk or another dresser.  It also covers more of the red walls.  Sometimes you just have to be creative to find solutions.
Now this room is bold and beautiful.  Who knows, the next buyers might be huge Senator fans and will love the red walls! 🙂