It can be very effective to paint a feature wall to create interest.  The key is to make sure you choose the correct wall to do it.  If you don't choose the correct  wall, it can actually backfire on you.  When staging your house, accent walls can draw attention if you are trying to showcase a certain architectural detail or to add more colour but you need to be careful not to choose a colour that might not appeal to the masses.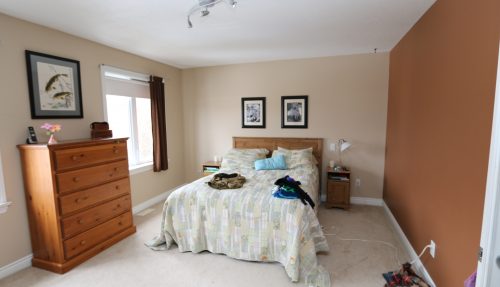 In my opinion, if there was going to be a feature wall in this room it should have been the wall with the headboard.  Since it wasn't the proper wall, I asked them to paint all the walls the same neutral colour for staging purposes. That way, it's just a blank canvas for the buyers. Their furniture was in the right placement.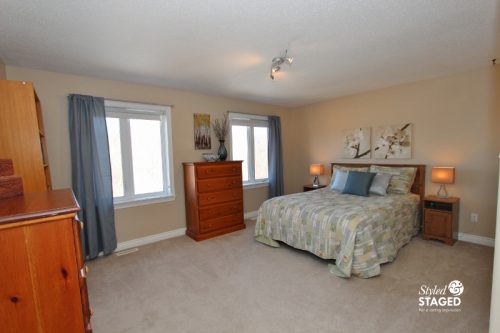 Since we were using the homeowners linens, I really wanted to pull out the blue shades of the quilt instead of the browns.  They also bought matching night table lamps for symmetry and they can enjoy them in their next home.  We brought in nature inspired artwork and accessories since this is a country home and I always like to bring the outdoors in.  The blue drapes also go to the floor instead of the window sill to create a more elegant look.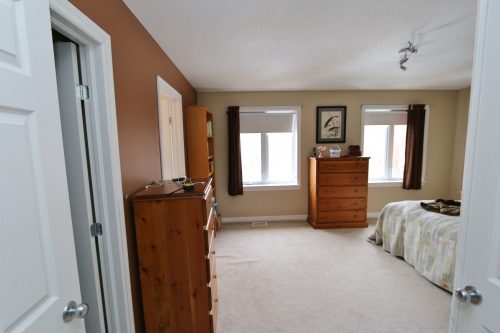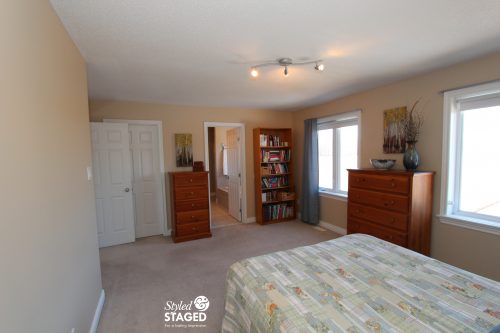 The rooms feels so much larger and brighter now that all the walls are painted the same colour. Another quick and inexpensive tip is to have your carpets stretched if they are buckled.  It's very affordable and  it makes the carpets look like new.  Notice how the ripples were removed by the dresser leading in the en-suite.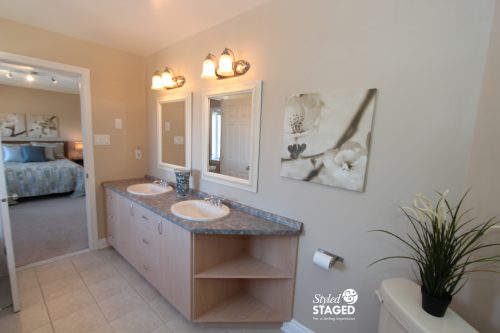 The blue countertop in this en-suite now works better with the master bedroom because of the blue drapes and accent pillows.  It's important to have a nice flow between the two rooms. Work with the elements that are staying so buyers can see how they can make them looks attractive.