Everyone's Christmas tree tells it's own story.  Some families use the same ornaments every year because they like the tradition and some change it up every year to stay on trend with colours and style.
Each year I buy a couple ornaments (always in gold or silver) that symbolizes important events that happened during the year.   Special holidays, graduations, or life milestones etc.
This is the first year that I didn't include red in the colour scheme and my family didn't like it at first.  It's amazing how the holidays trigger different emotions and associations. I bought the Mother of Pearl dove 5 years ago when my mom died as a way to keep her memory alive.  Ten months ago my dad also passed away so I chose this wreath with his initial and the year (in the star) to adorn the tree.  I feel good looking up and feeling like they are both with us.
This tree is almost 10 feet tall so it needed a lot of decorations!  Adding gold shear bows helped fill in the space and also added a warm glow over the white lights.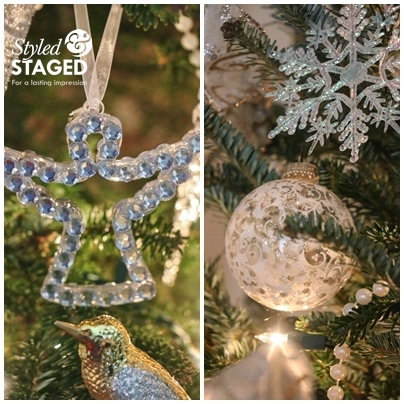 It doesn't have to be the most expensive or even the most beautiful ornament that is the most special to you.  My very best friend from childhood and I buy each other the same ornaments so their is a link and history between the trees.  When I look at the angel and this glass lace ornament I think of her and that puts a smile on my face.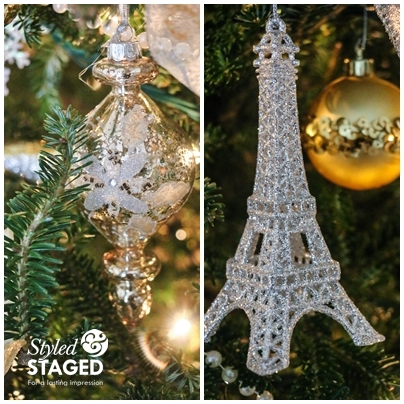 Going to Paris was a definite highlight in my life and it will always be my most favourite city in the world so I had to have this Eiffel Tower as a reminder. Mercury glass is very popular in home décor this year so I bought this ornament as a keepsake of the time period.
My tree is a like a time capsule.  Every year we open the box of ornaments and have special reminders of our life as a family and everything we've been through.
Hug your home….