Having one wall painted in an accent colour is a great way to make a statement without being over powering.  However, it has to be the right colour.  This feature wall was originally an indigo blue which is fine in the summer months.  We are now entering the colder months so for resale purposes it's important to draw buyers into a cozy space so they can picture themselves enjoying a night by the fire.
Staging is all about creating a mood!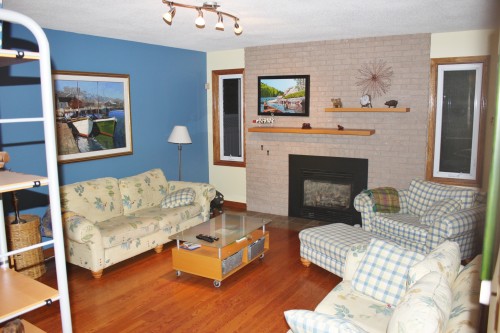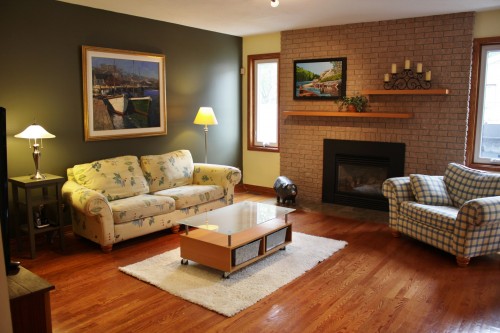 Simply painting the accent wall the same colour as the adjoining room tied everything together and made this room feel very inviting. It's important to carry the same colours throughout the main floor for a cohesive look.  Notice how the floors look richer and the stone fireplace looks warmer.  Replacing the smaller items on the fireplace with larger accessories also created a dramatic focal point.  Removing some  furniture and adding an area rug help define the space.  I would have ideally liked a larger area rug but Staging is all about keeping the costs down and using what you have 🙂  I love the way this room turned out.
Thanks to the homeowners for trusting me and following through with all my recommendations.  The whole house looks incredible!!!