DIY Vintage Cathedral Window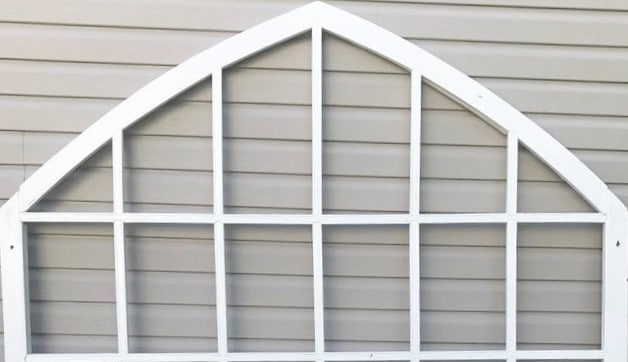 Every now and then you come across something and it just pulls at your heart strings. That's what happened to me last week. I saw this old cathedral window frame that was from a church in Luskville, Quebec and I knew I had to have it.
I thought it would make the perfect headboard in my guest room. It would also make a great decor piece at our kid's weddings (if they want it of course) and it would also be a great branding prop for my business since it's in the shape of a house. So many possibilities.
Safety First
Before I could let myself too emotionally invested (too late), I knew I had to do a lead paint test, based on the age of the window. If there was lead in the paint, I was NOT buying it. Lead paint was only banned in 1978.
Not all painted furniture from the past was created with lead-based paint, but much of it was, so you do need to be careful, especially with small children in the house. The danger lies in ingesting paint chips and inhaling paint dust, not in touching, so chipping surfaces pose the greatest threat. Country Living columnist Helaine Fendelman, who raised two sons in a home filled with painted furniture from the 18th and 19th centuries, reports that the very old pieces most likely do not contain lead. The bigger worry is furniture from the early- to mid-20th century.
Please watch the great video below from 3M on how the lead test works.
We always check for lead and asbestos etc. in home inspections or before home renovations but it's as equally important to check the safety when buying antique painted furniture. It's great to recycle and upcycle but you need to know what you're dealing with.
After doing the lead test in two separate places just to be extra sure, I was thrilled that both results were lead free. If the swab test turned red it meant there was lead. Yellow is safe. I also confirmed it with the paper swatch test that is included in the kit.
Summer Fun
I'm not 100% sure what I'm going to do with my treasure yet, but I will start to strip it first to see what the wood looks like. I may leave it natural. I might also give it a white wash for a softer look or I might chalk paint it white and distress it.
This will just be my fun relaxing summer project and I'm sure IT will determine the way IT wants to look 🙂
Let me know if you find articles like this helpful. I would also love to hear your ideas of what I could do with this gem.