Decorating With a Mid-Century Modern Vibe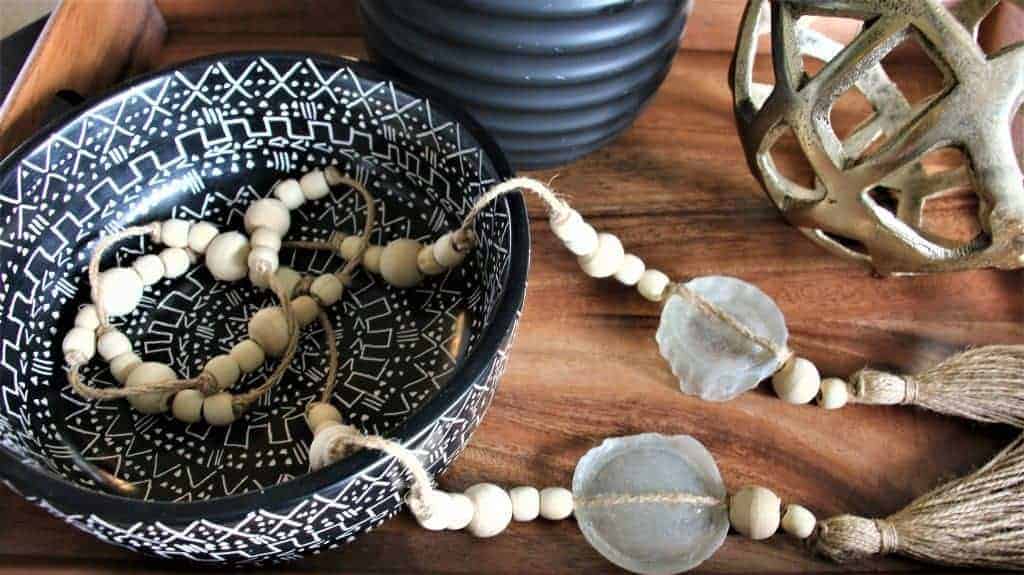 I had the privilege to Stage a home that belongs to the sweetest couple who have lived in this house for 52 years!!!!!  It was interesting to see how well the homeowner had decorated the home back in the 70's. According to the family, the house really hasn't changed that much over time.  It's always hard not to offend homeowners since Staging and decorating for your own personal taste can be very different.  So many people still don't really understand the Staging process if they haven't sold a house within the last 15 years.
Where To Begin:
When I first walked in there was so much for me to take-in.  Not only did I have to get the trust of the whole family (3 generations were there in the meeting with me), I also had to figure out in a hurry which furniture needed to be removed and what accessories I could bring in from my inventory. They had already started to pack up boxes and put things in piles which made it a bit harder to see what I had to work with.  I needed to consider what they were realistically going to be able to do in a very quick timeline. In this type of situation, we are not just moving furniture, but we are moving people with a huge history and attachment to a home.  It's about preparing for the next phase of your life. Their grandson literally moved mountains to get things done on time.
Inspiration: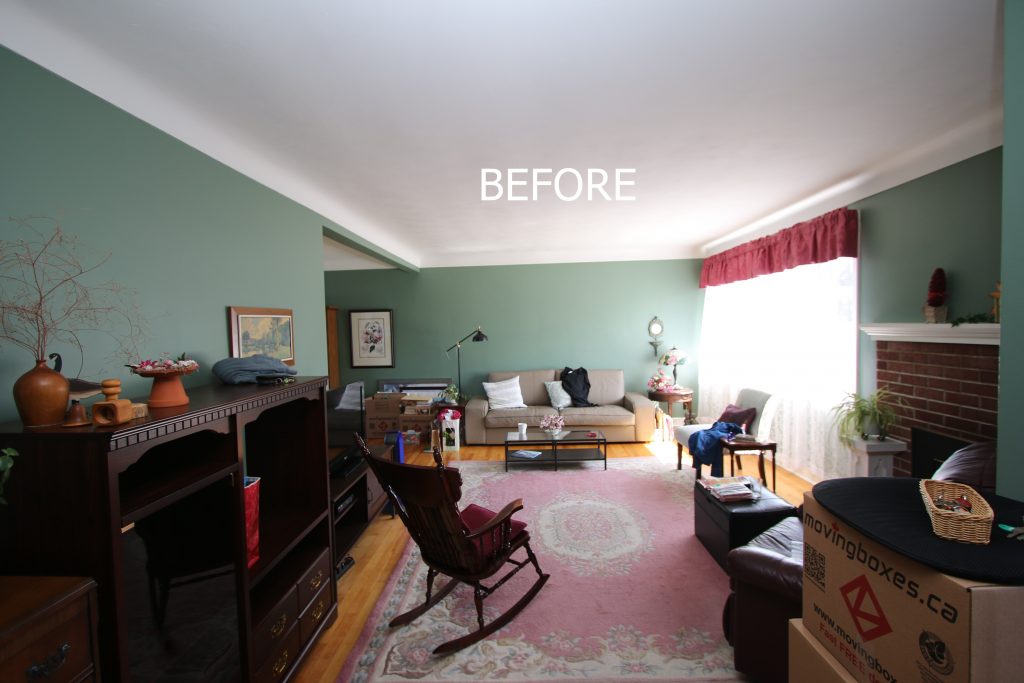 They thought that I would ask them to remove most of the furniture because to them it was 'old'. I was personally very excited since I could see that they had some great pieces to work with. It was just a matter of peeling back all the extra stuff so I could see what I was really dealing with. This house required a few more visits than normal to make sure we were on track.
I loved their leather sofa their one black and gold floor lamp.  I knew by removing the pink area rug, the pink valances and the lace drapes I would have a clean palette to work with. My goal was to make the green walls look amazing without having to paint them.  The room has been this colour for well over 20 years and it was still in amazing shape.
Extra Help:
The homeowner agreed to buy an area rug but since it was soooo big I picked it up in my van.  Never forget about Home Depot when looking for an inexpensive large area rug for Staging purposes on a tight budget.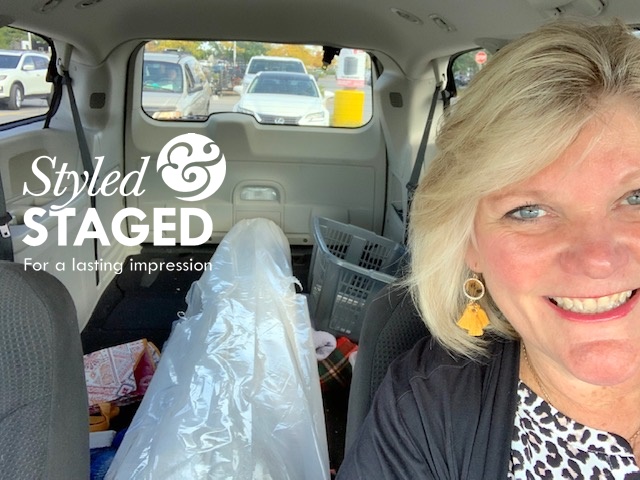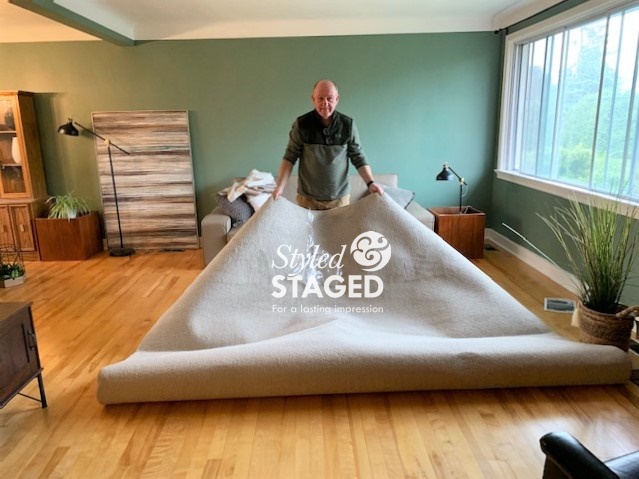 The rug was the perfect piece to neutralize the room. The floors are stunning but since the entire house has the wood floors, it's O.K. to use one rug to help define the space.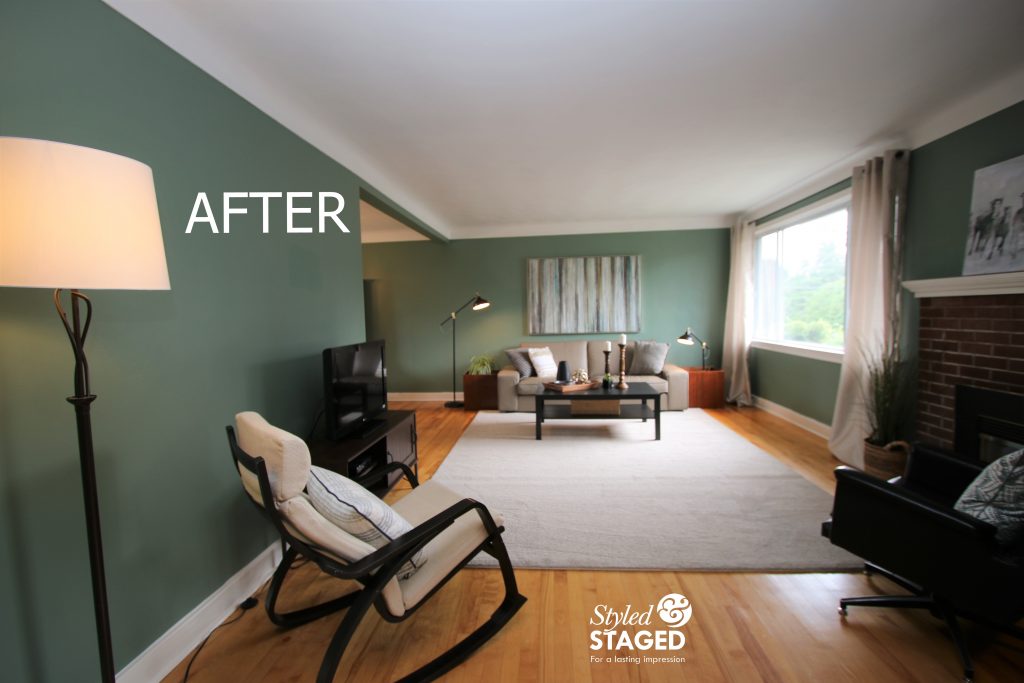 I decided on a black, white and gold colour scheme for an update.  We were lucky that their Realtor brought in his white rocker.  He also bought the larger coffee table which was a better proportion for the room.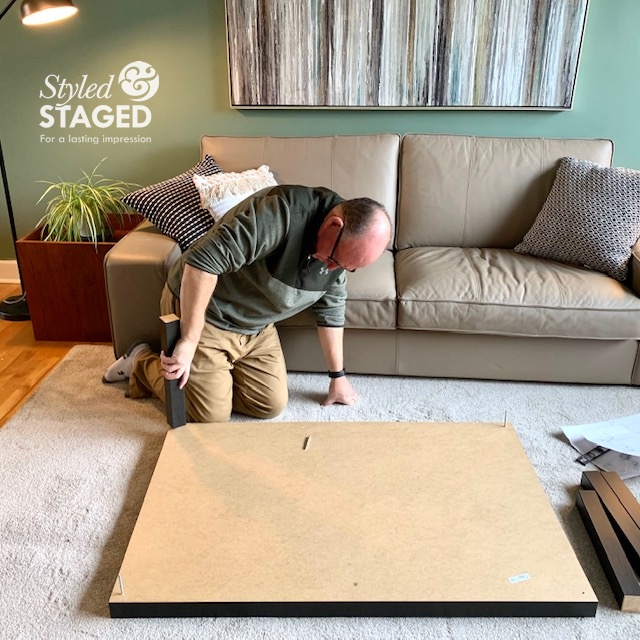 Thank you Jay for putting the table together for me and for all the extra help you did on this big project! I owe you 🙂
Focal Points: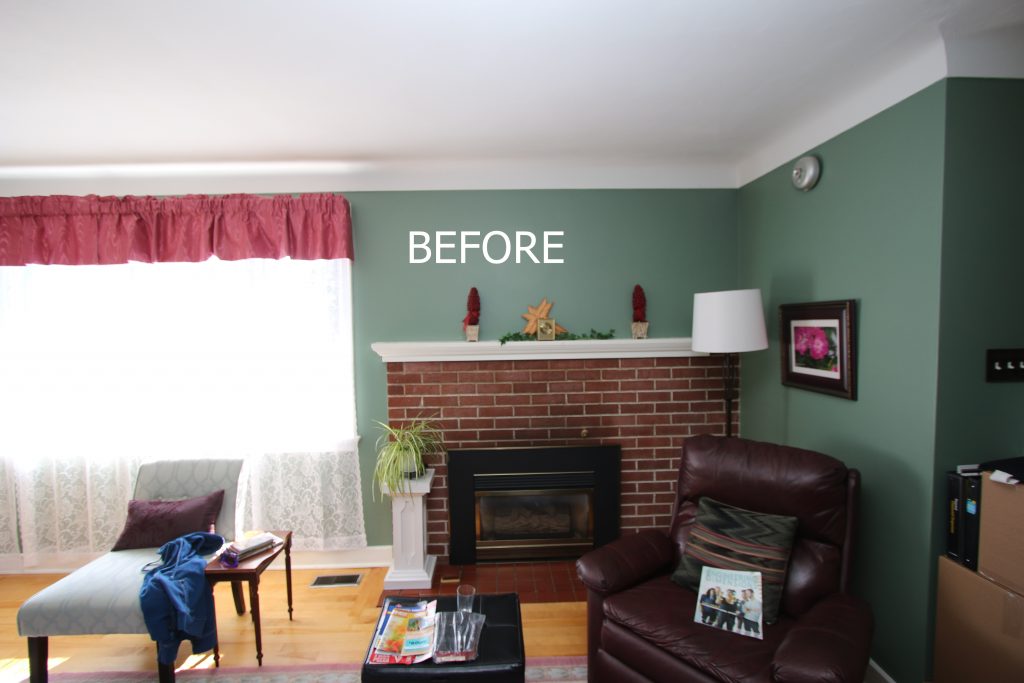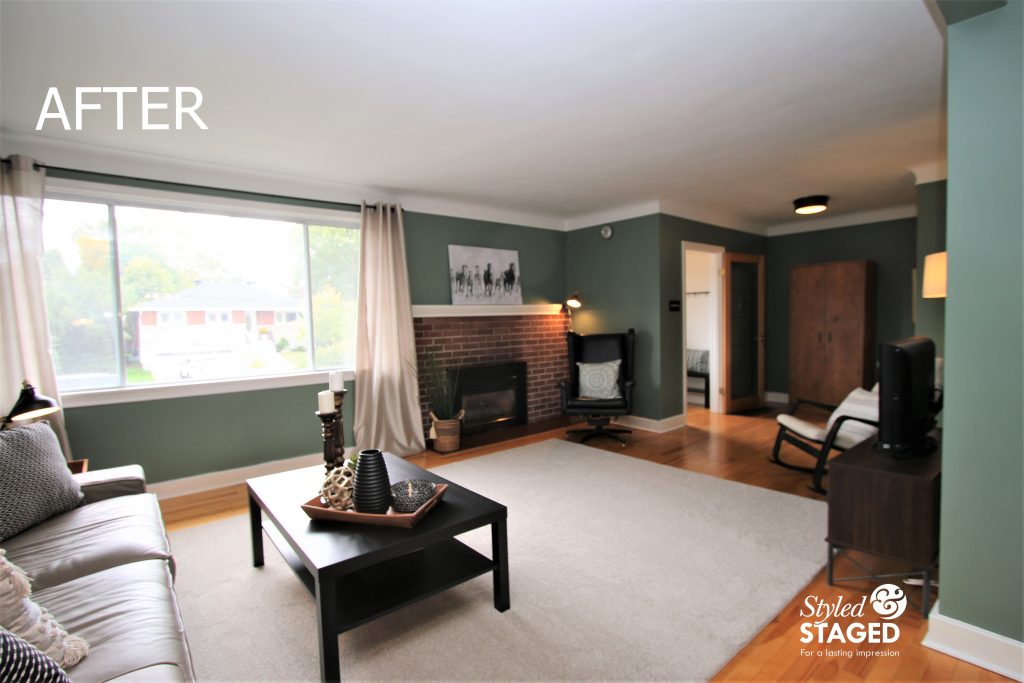 It's always important to have the focal points (windows, fireplaces etc.) look their best.  It's all the little details that update the house without changing it too much. They had this very cool black leather chair so we switched it with their recliner.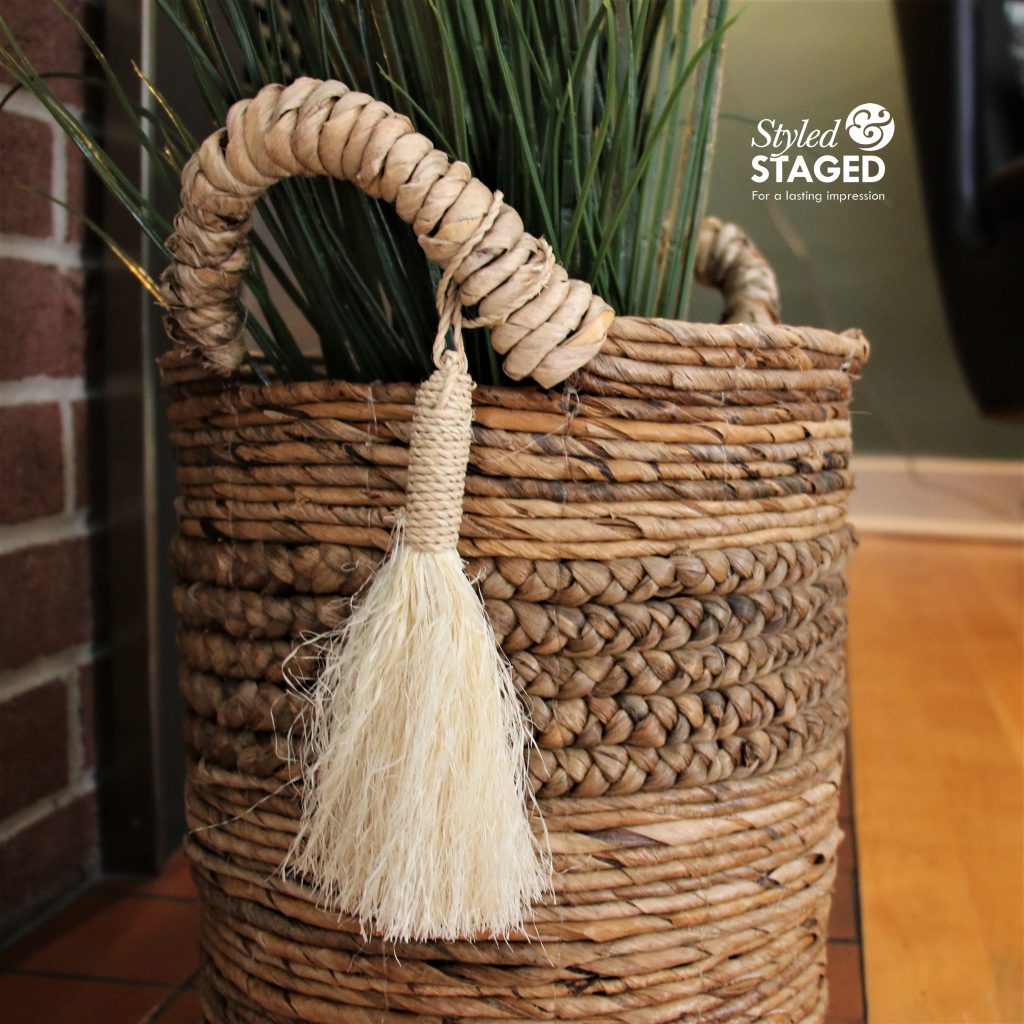 Wicker baskets are very much on trend for plants. They add warmth and texture with an organic feel to them.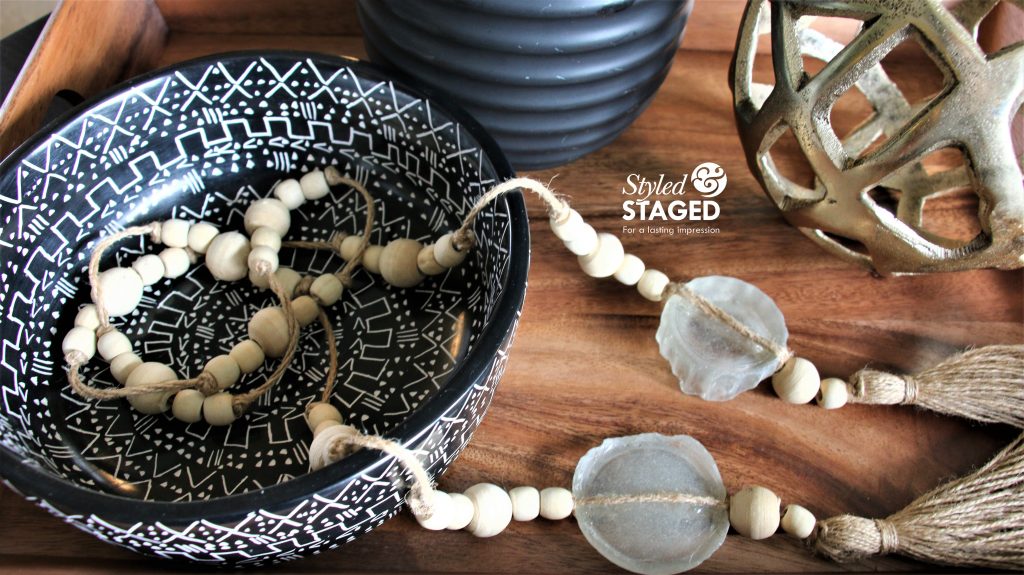 Modern accessories look amazing on the wood tray.  I love how trays unify collections of items and then it shows up better against the black table.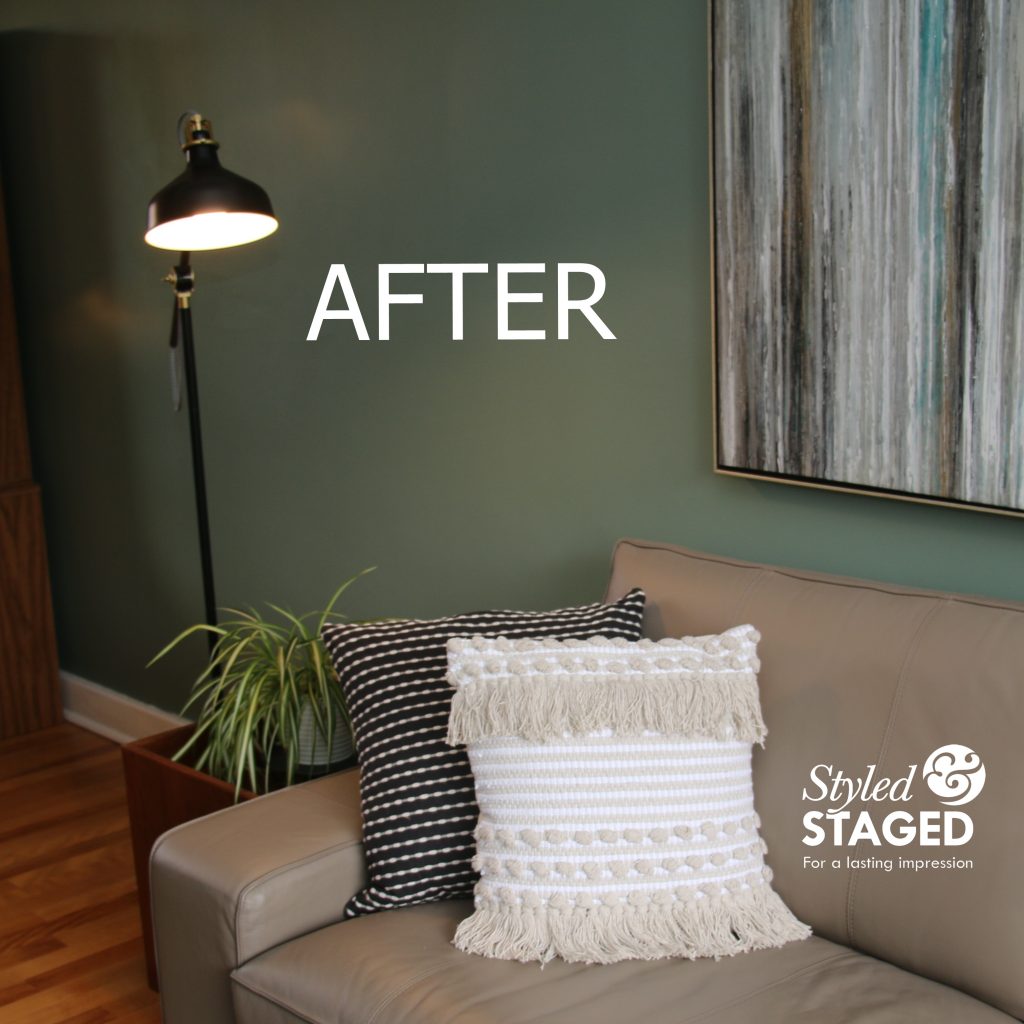 This look is all about natural, organic looking accessories.  Adding layers and textures is what makes a space interesting.  My artwork instantly changed the feel of the room.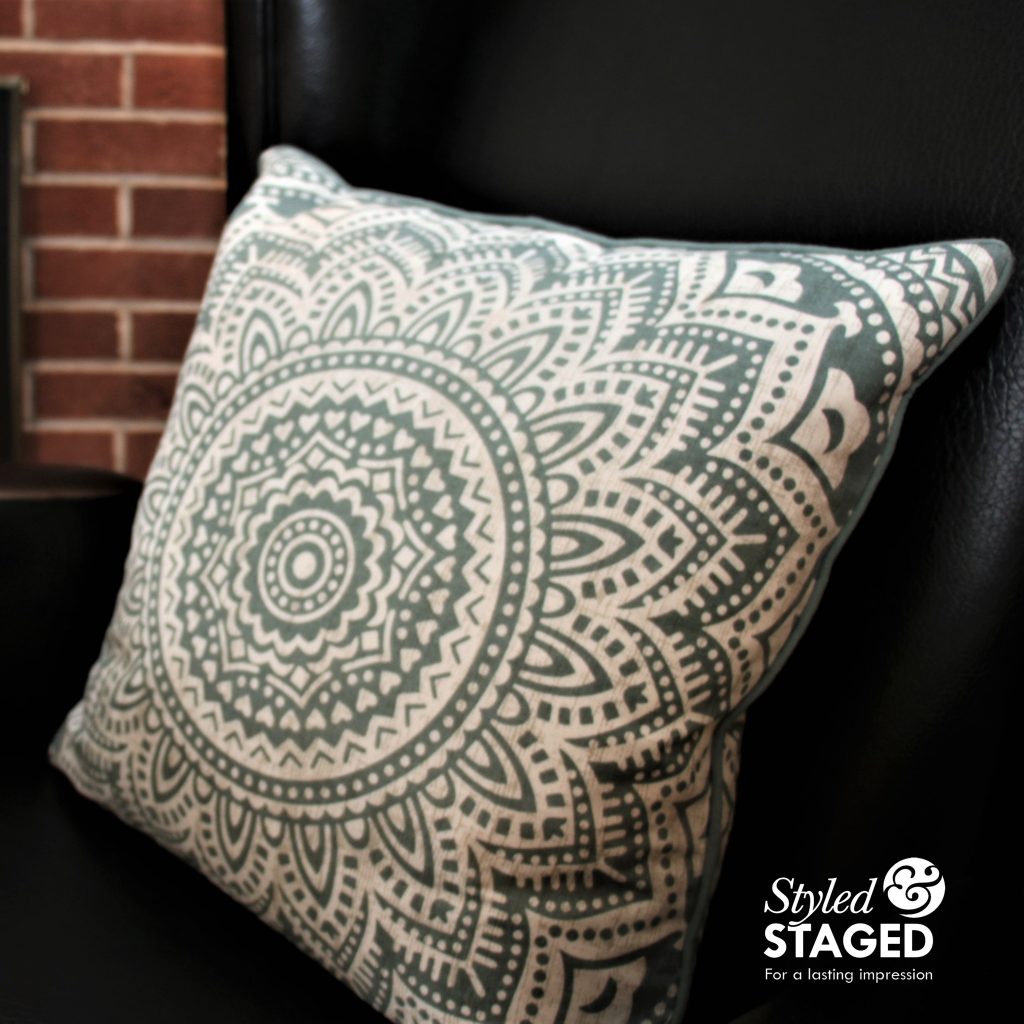 They already had this cushion (which I love), so that was also part of the décor inspiration. It was actually the first thing I noticed in the room. Since it's the same colour as the wall, it made me think that they had recently painted the walls this soothing green colour.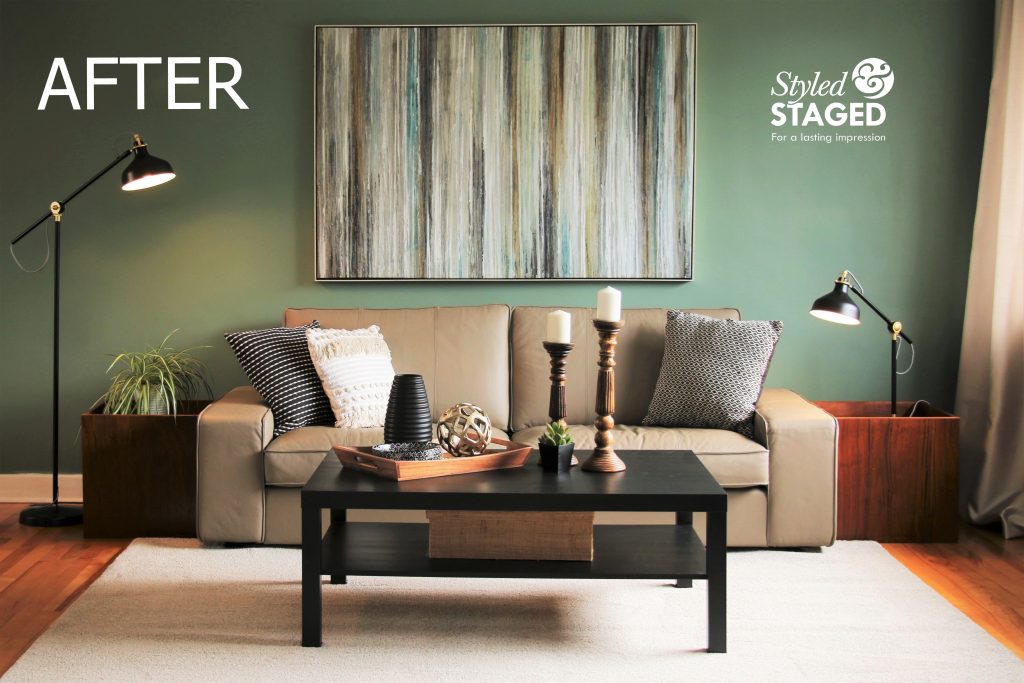 These teak cube end tables were my favourite find in the house.  They were going to get rid of them but they are true Mid-Century Modern pieces and were perfect.  The new black coffee table helped anchor the room.  Not all the pieces need to match.  In fact it's better when they don't but the accessories on the table bring in more wood elements. Even the wicker basket on the lower shelf helps break up all the black and adds more texture. I often have to use faux greenery in Staging, but when you add some live plants around as well, they all look better. Live plants in a room is always a good thing (as long as someone is there to water them).
Continue With The Flow: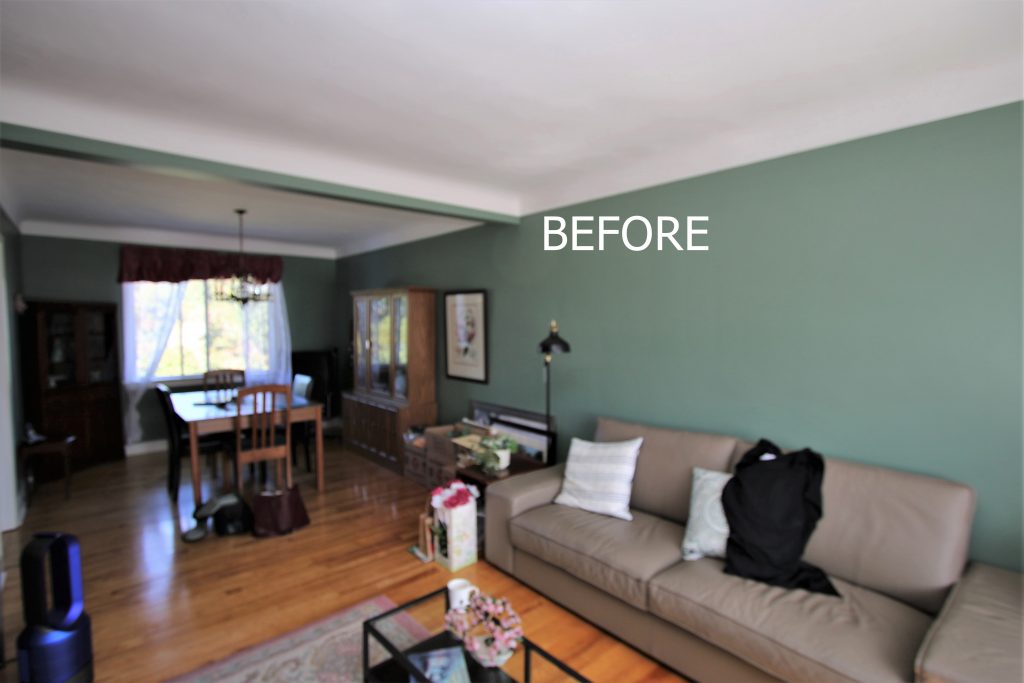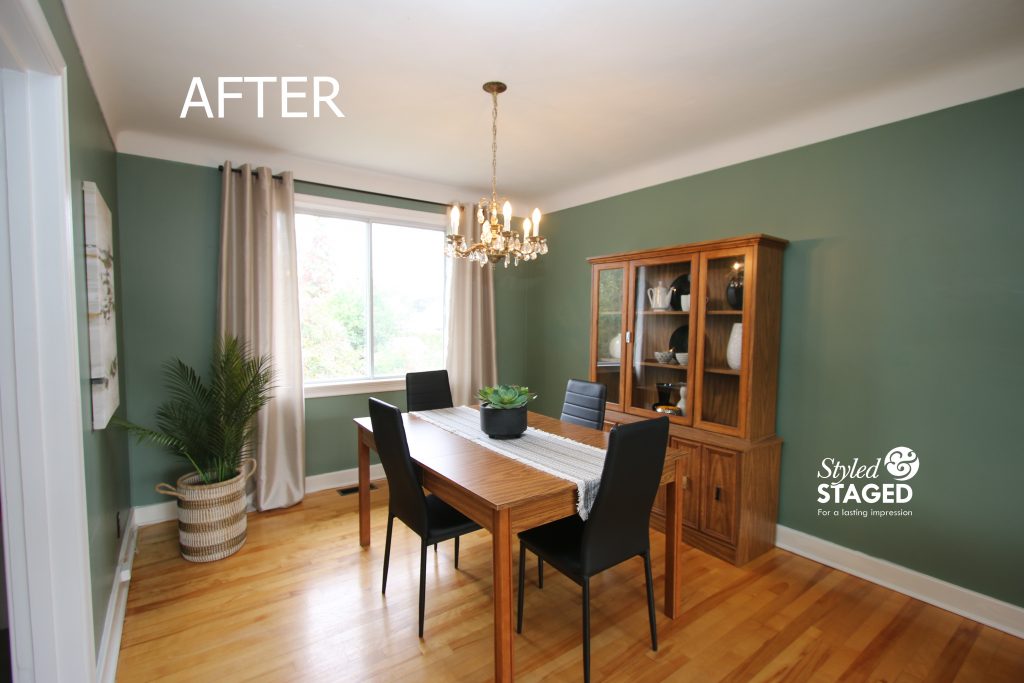 Removing their corner cabinet and drapes really opened-up the room.  Their daughter brought the chairs from her house and that helped carry the black accents from the living room.  The large floor plant in the basket add softness without being overpowering. Notice how the drapes match the ones in the living room.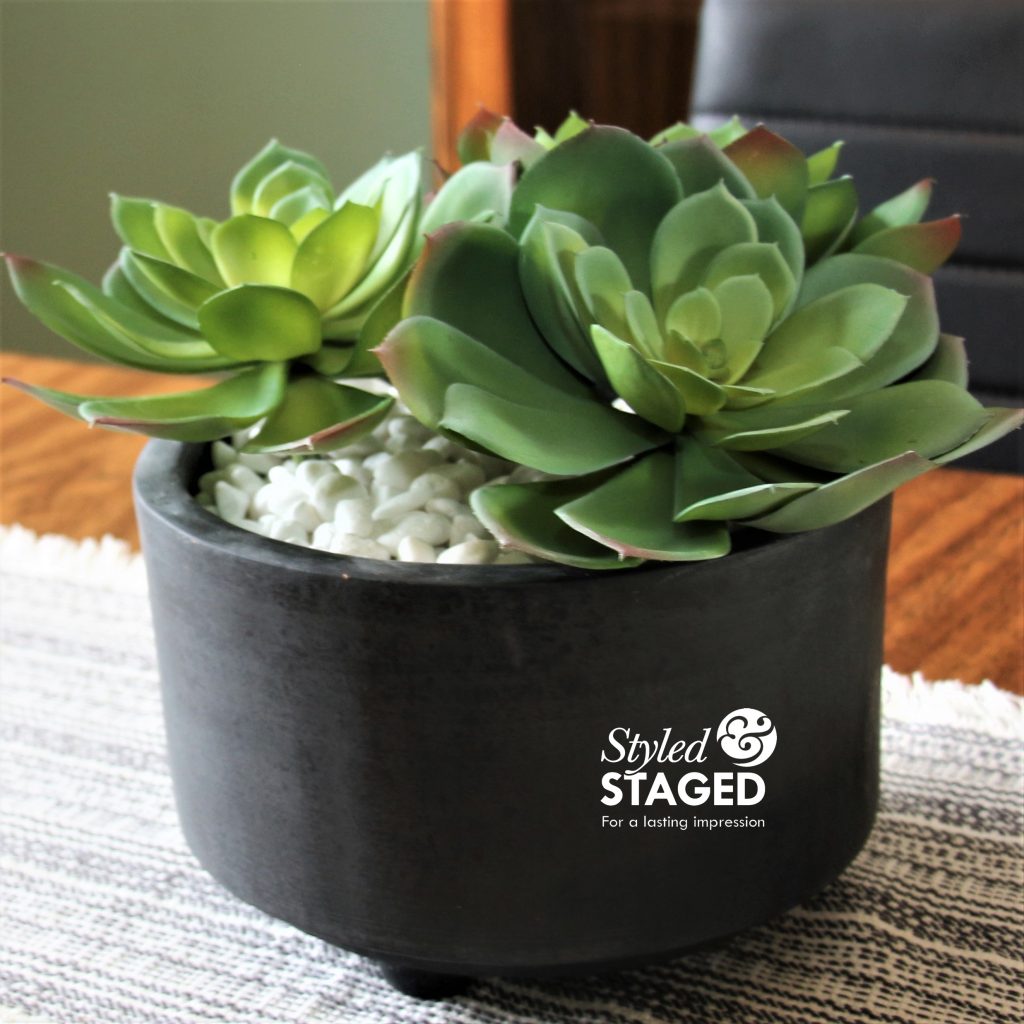 Simple oversized accessories keep it modern and fresh looking. I was happy with this DIY project.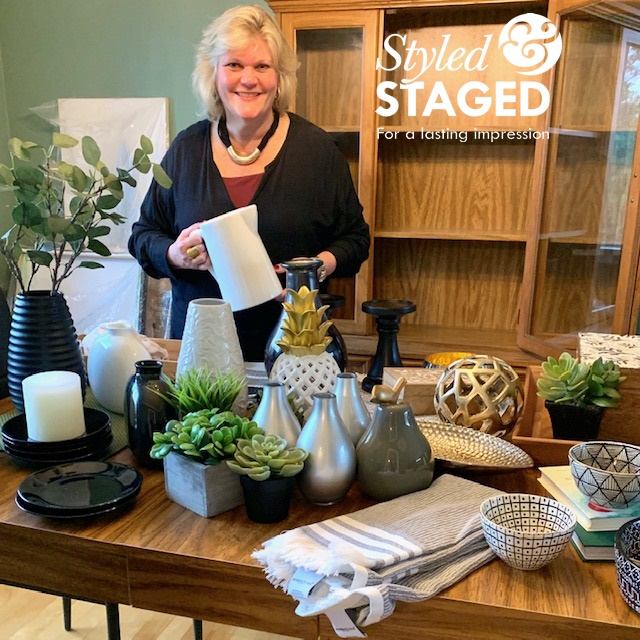 I always bring in more inventory than I need so I can experiment on site. It is a challenge to bring every single thing you need for an entire house in one visit!!!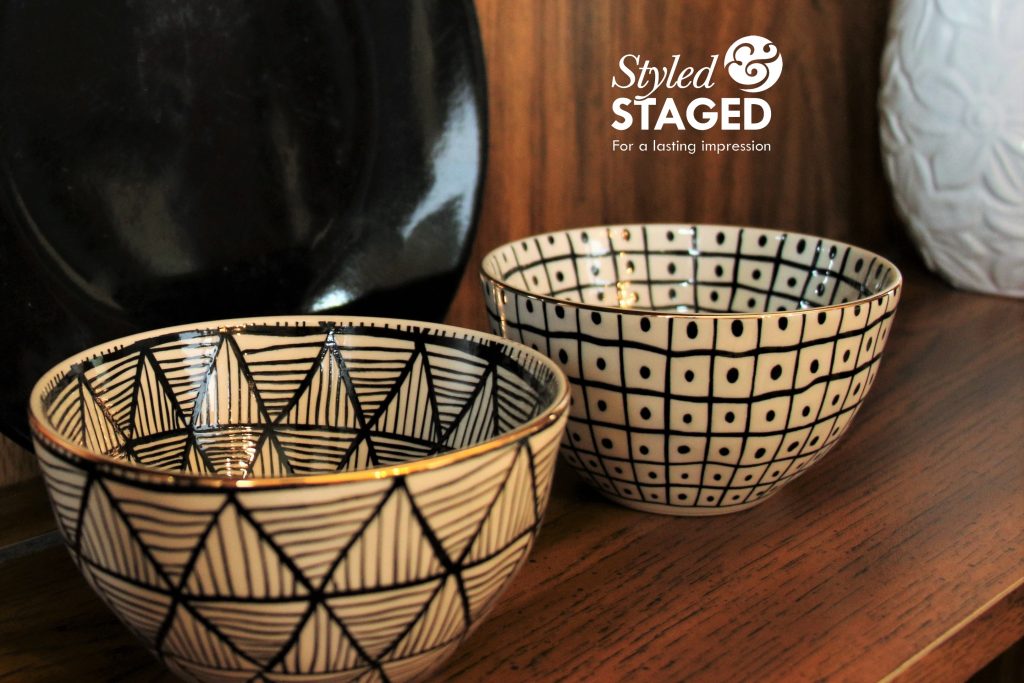 We removed all their pretty crystal dishes and glasses in the hutch and replaced them with organic and graphic dishes.  They look great against the wood and they show up well behind the glass doors.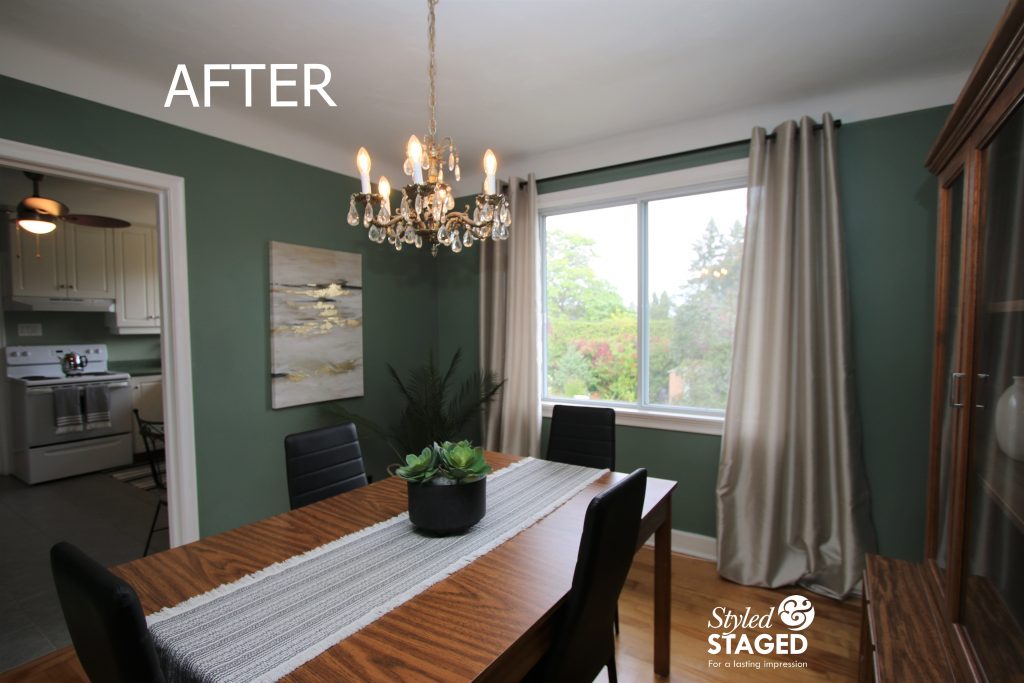 Since you can see through to the kitchen, it was important to carry the same type of décor into that room as well.
Make Colours Work: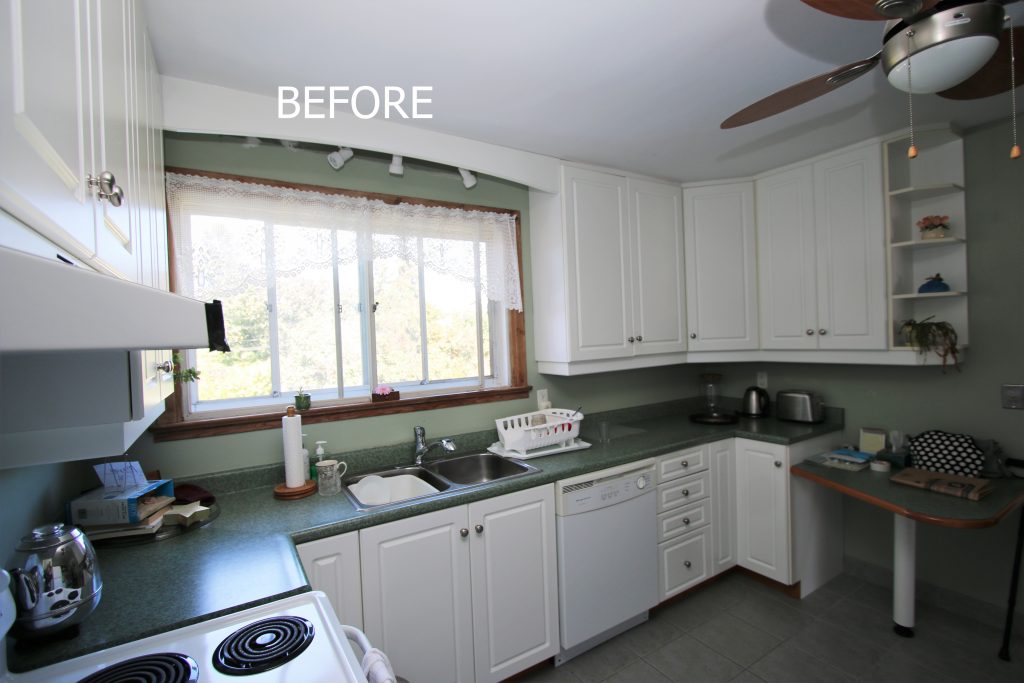 Simple things like painting the trim white around the window and removing the lace valance made a huge difference.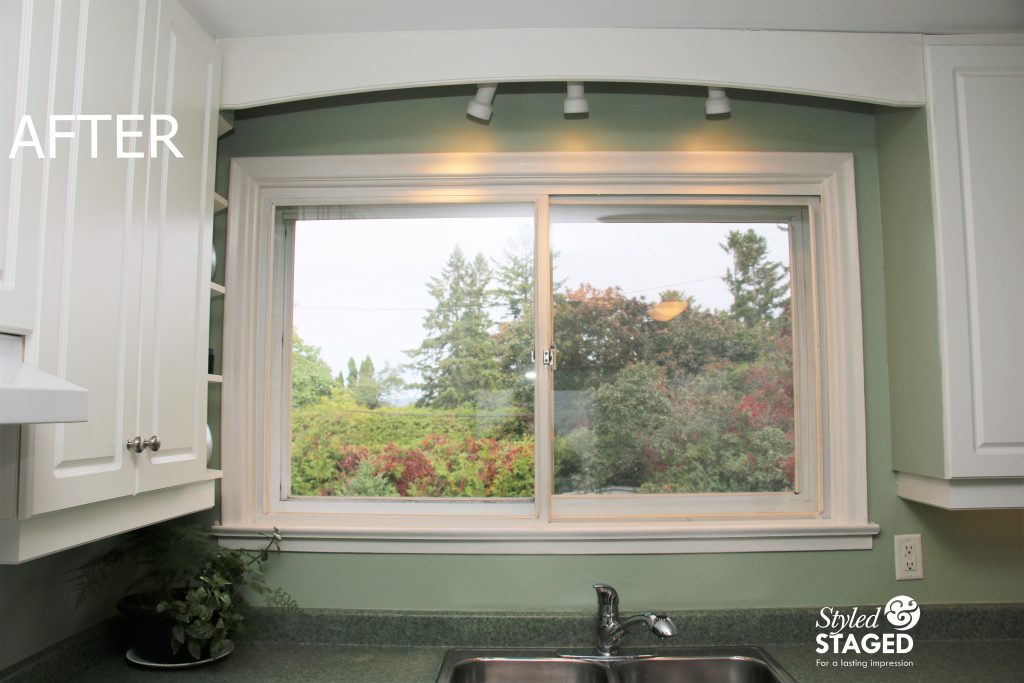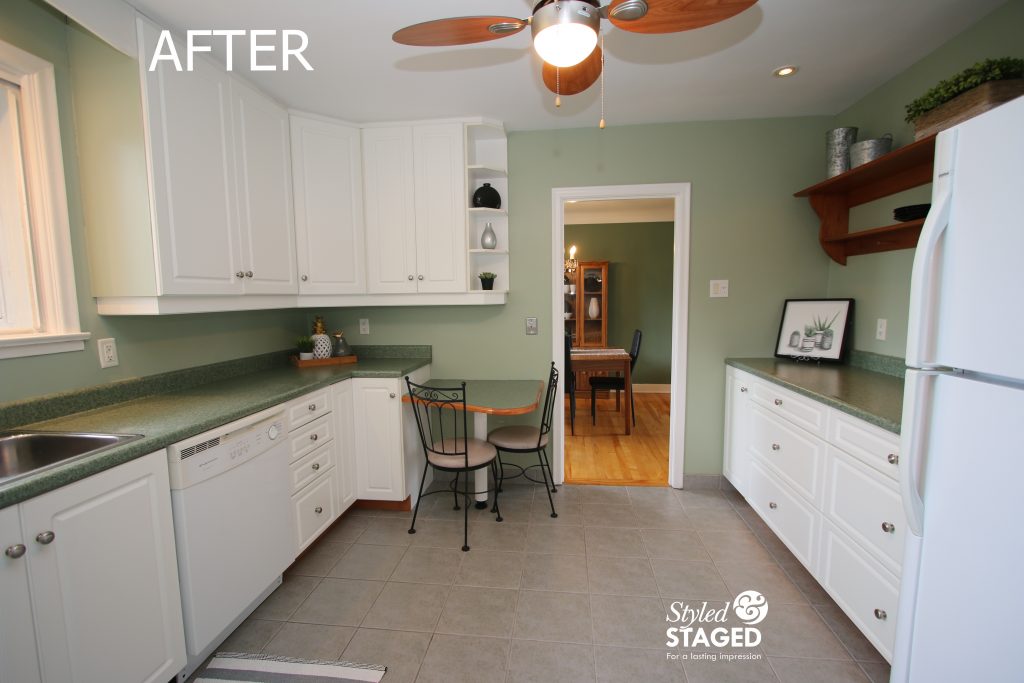 You always want to showcase any benefits of the house so adding the bistro chairs helps buyers visualize themselves having their morning cup of coffee.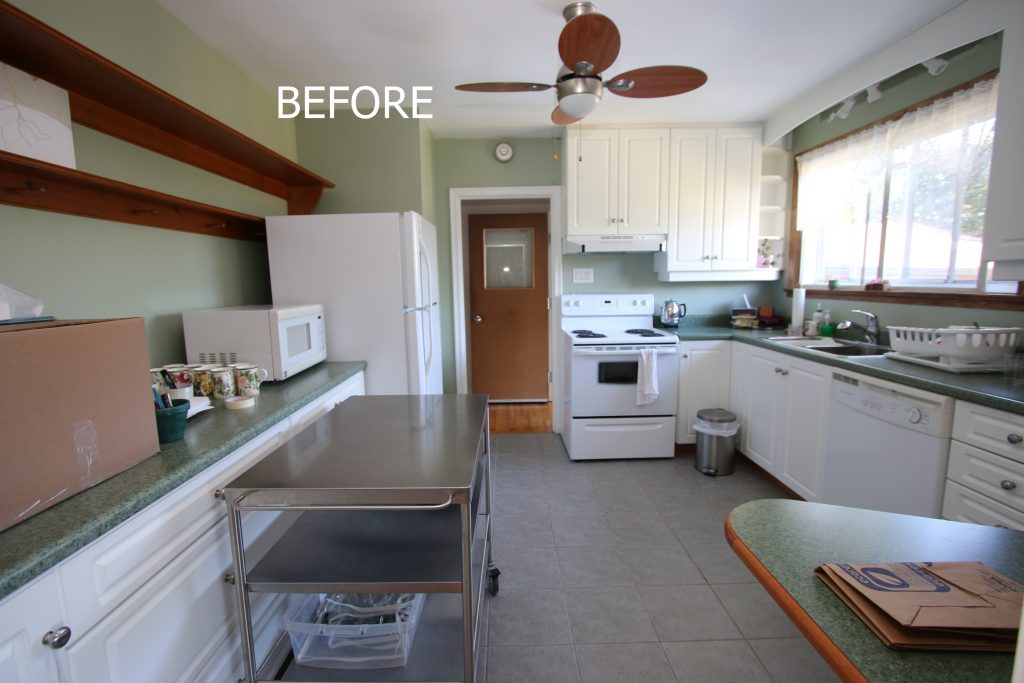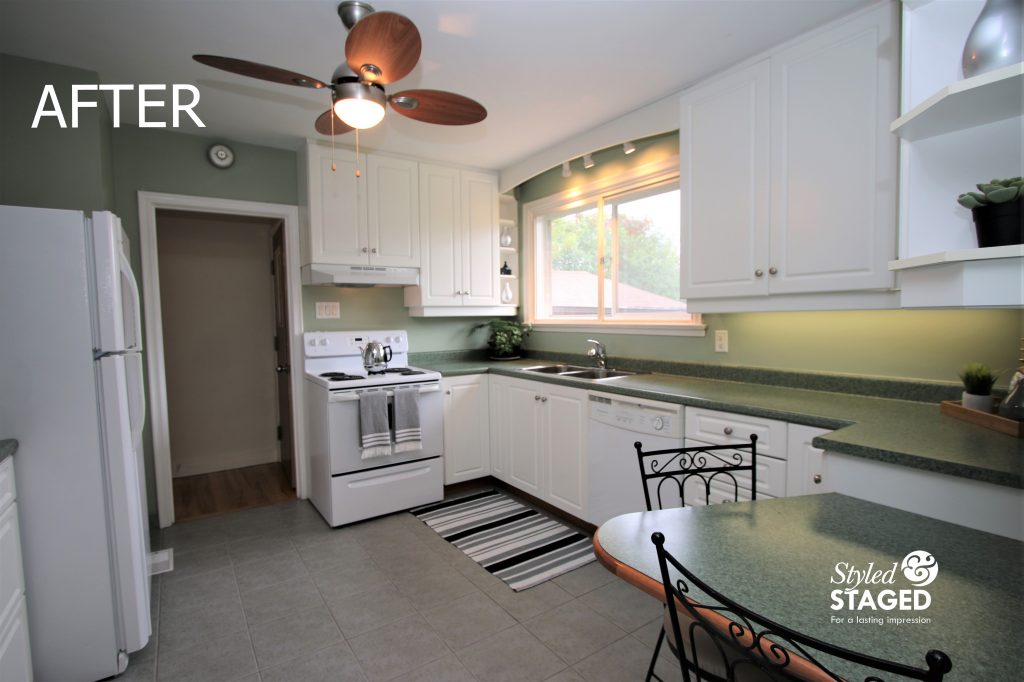 Adding the same black and white accents added more contrast to the room.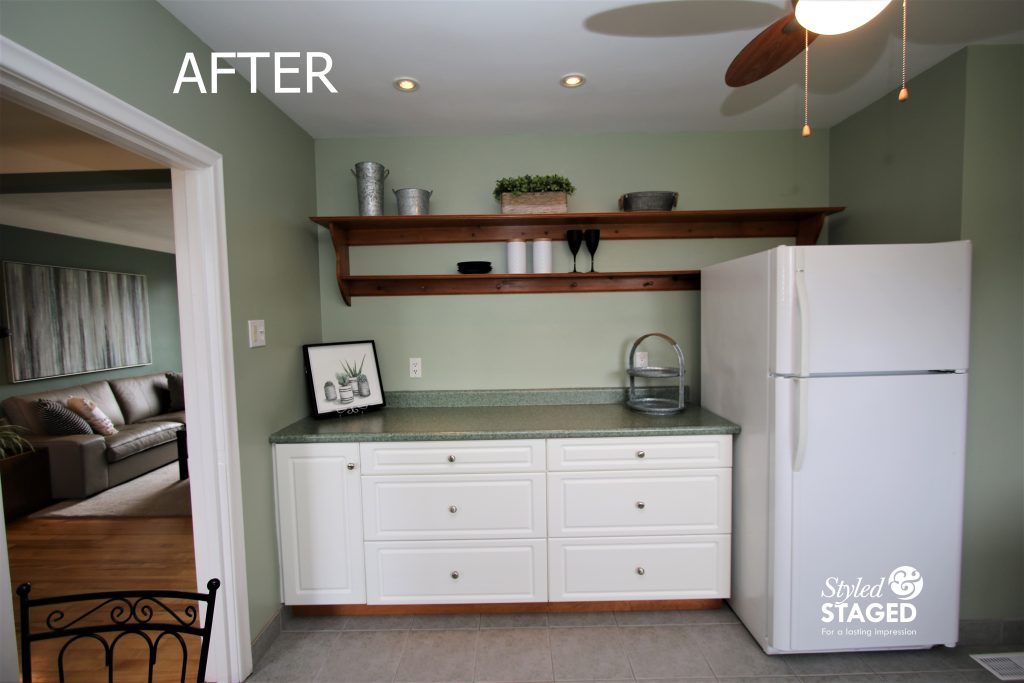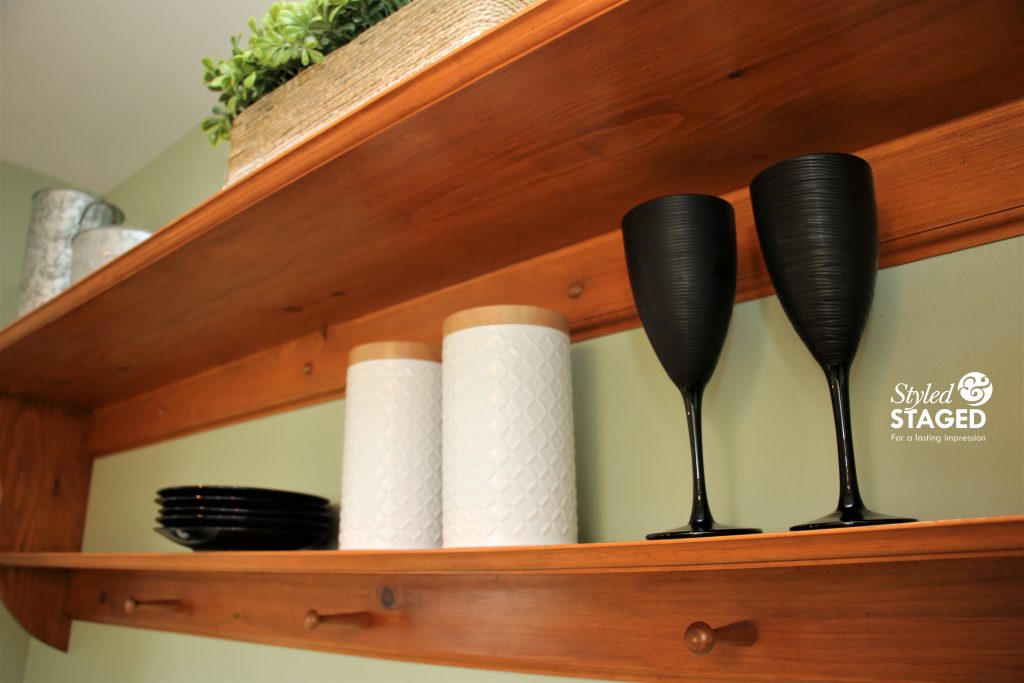 You only need a few accessories to get buyers thinking of how they would use the space.
Sometimes You Really Need to Paint: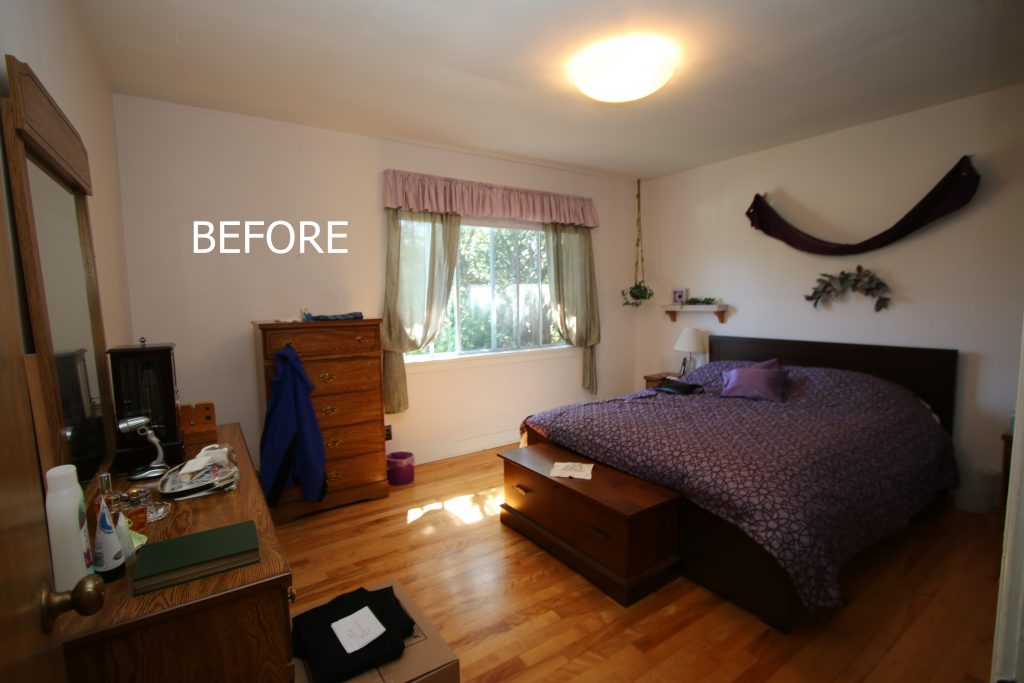 It was obvious that purple was a special colour to the homeowner so I wanted to incorporate it.  Unfortunately since we were removing the shelf and large hooks etc. I really felt it was important to paint this room.  We went with a light neutral colour for all the bedrooms and hallway to keep it bright.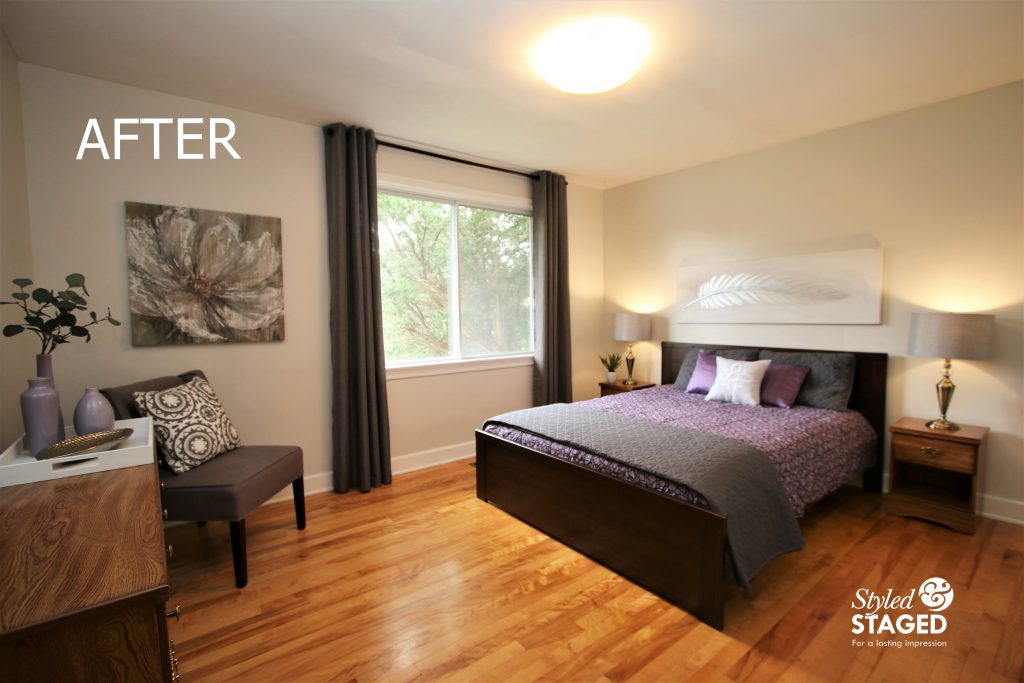 She was thrilled with her new room. Notice the symmetry with the matching lamps on the night tables. Adding the gray drapes and extra gray linens took this master bedroom to another whole level.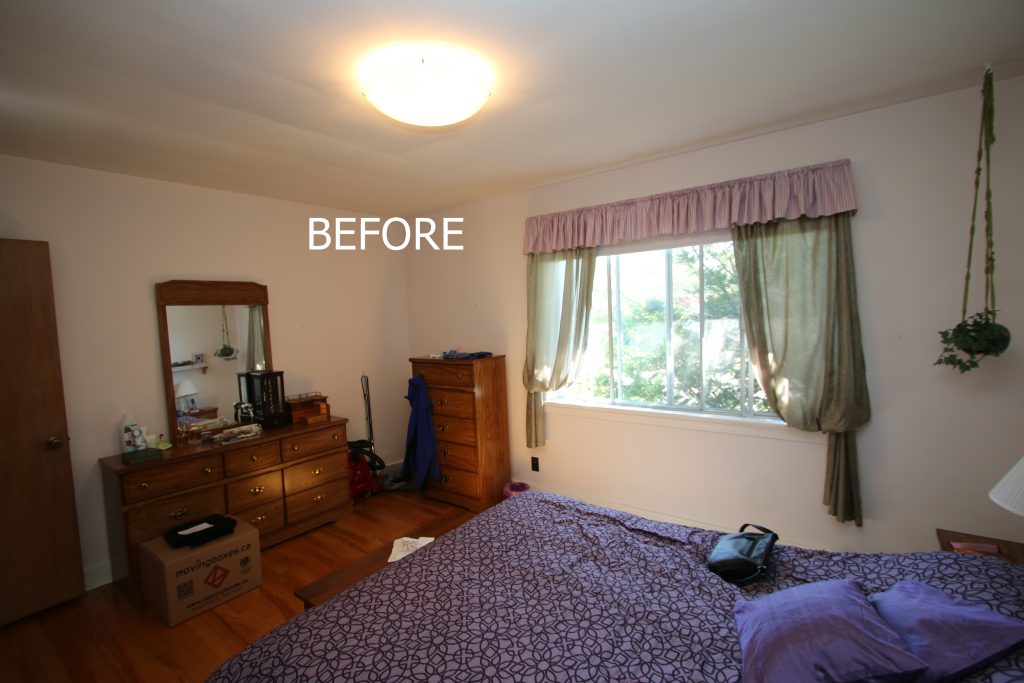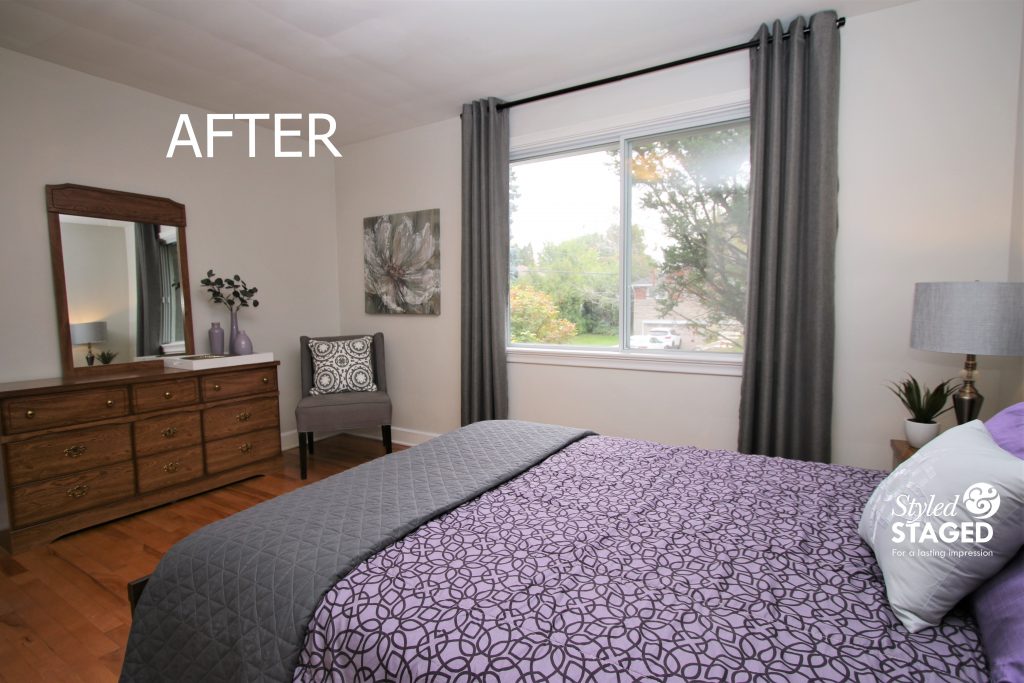 Removing the tall dresser and adding a chair made a huge difference.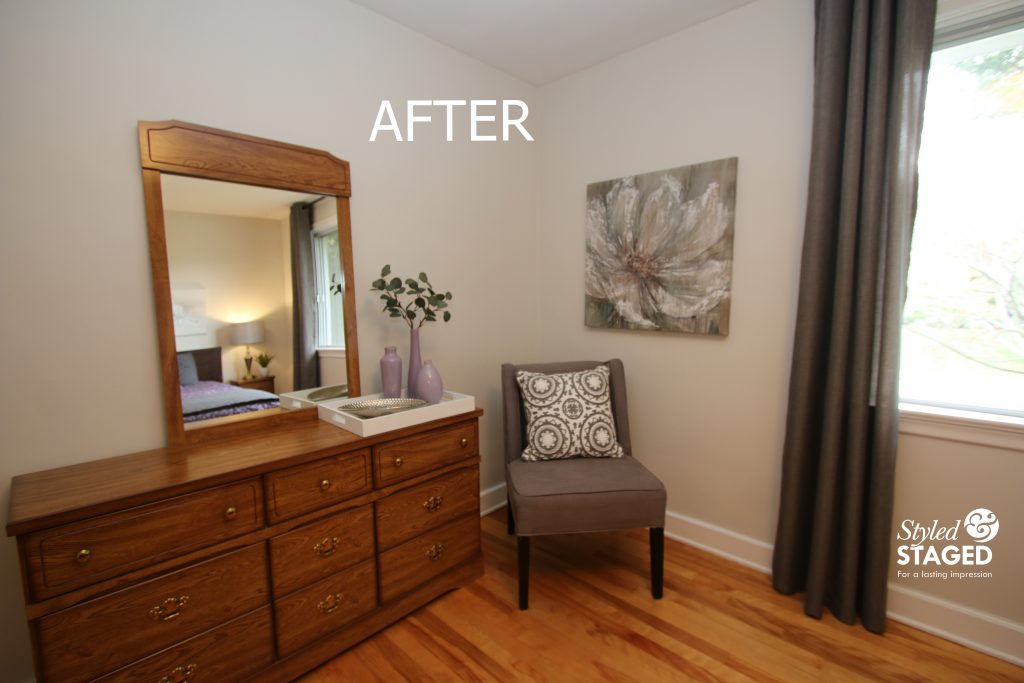 I love adding my own personal touch with the accessories.
Removing Wallpaper: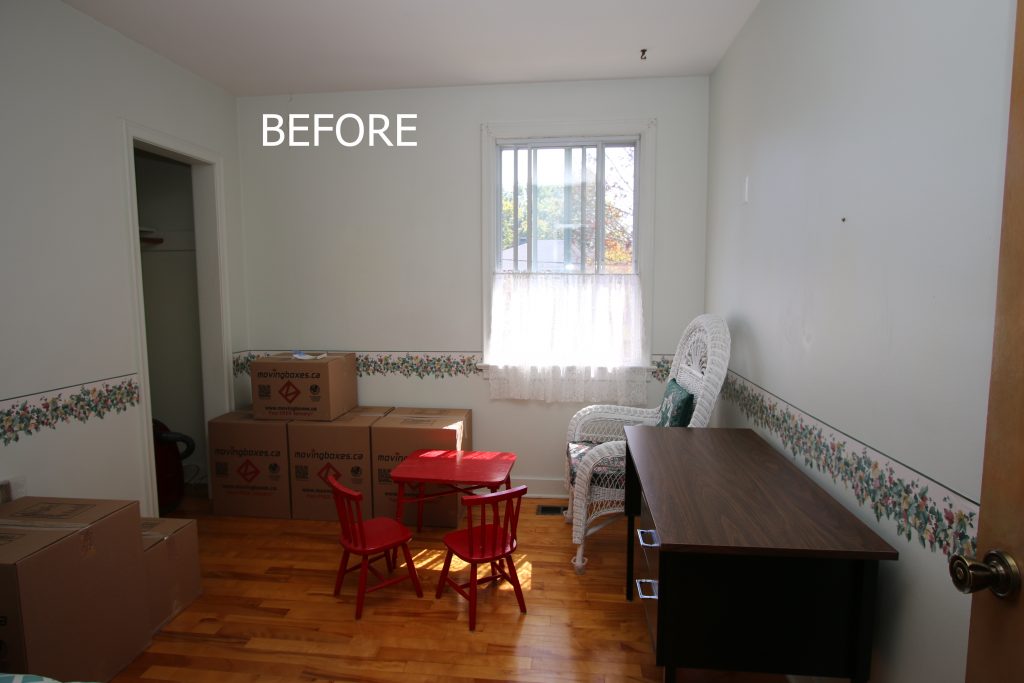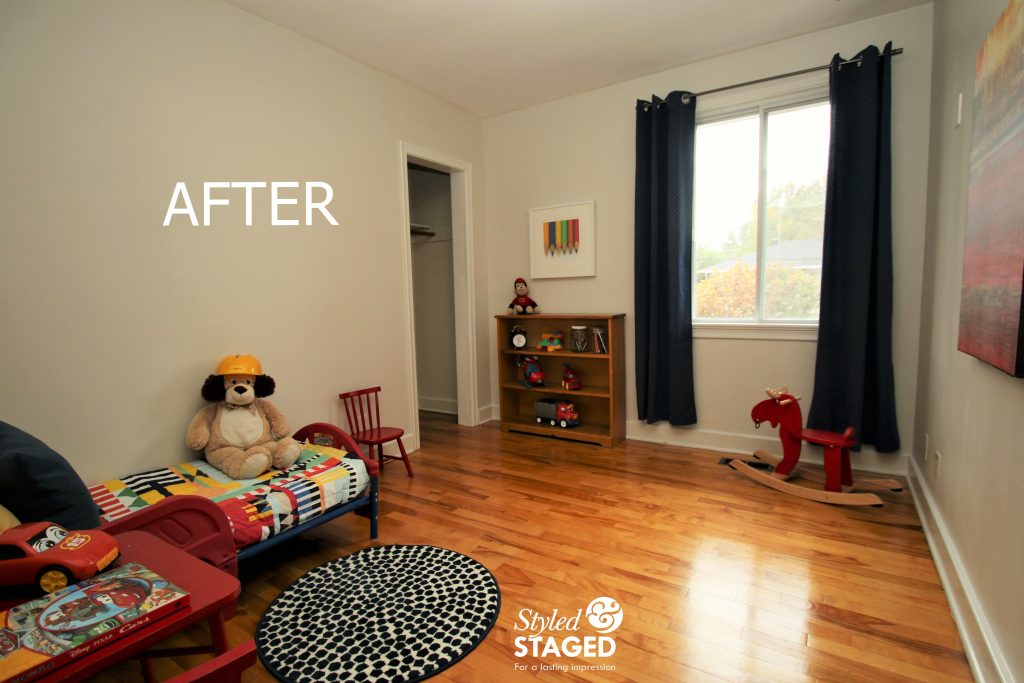 When your remove wallpaper that has been on the wall for years, you see the discoloration so this room needed to be painted as well.  I felt that since this is a family house, I wanted to stage this room to appeal to the children.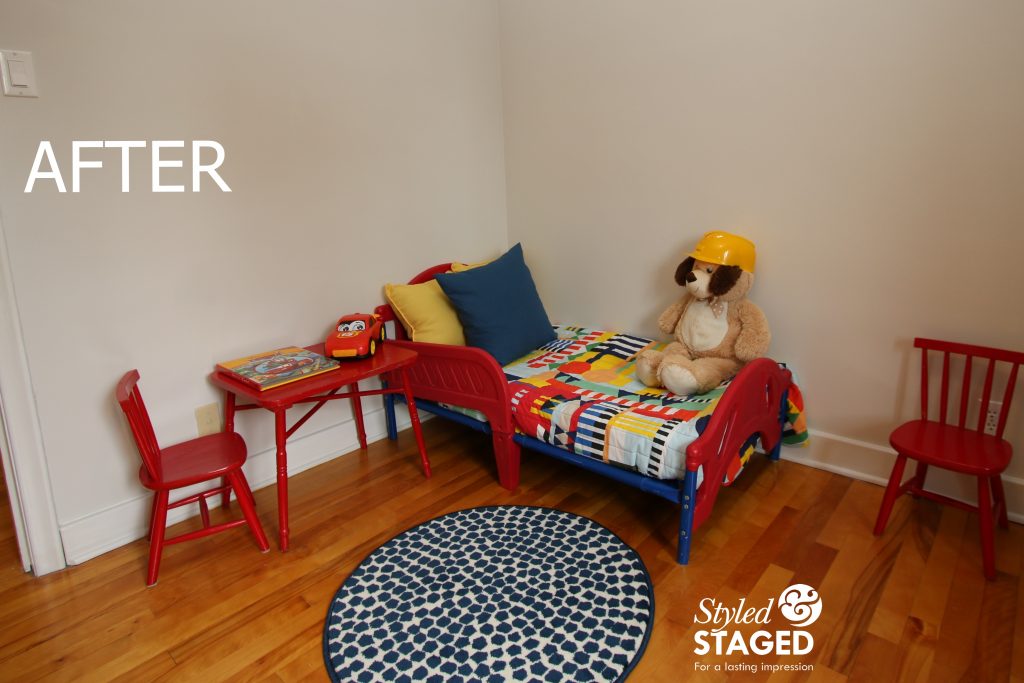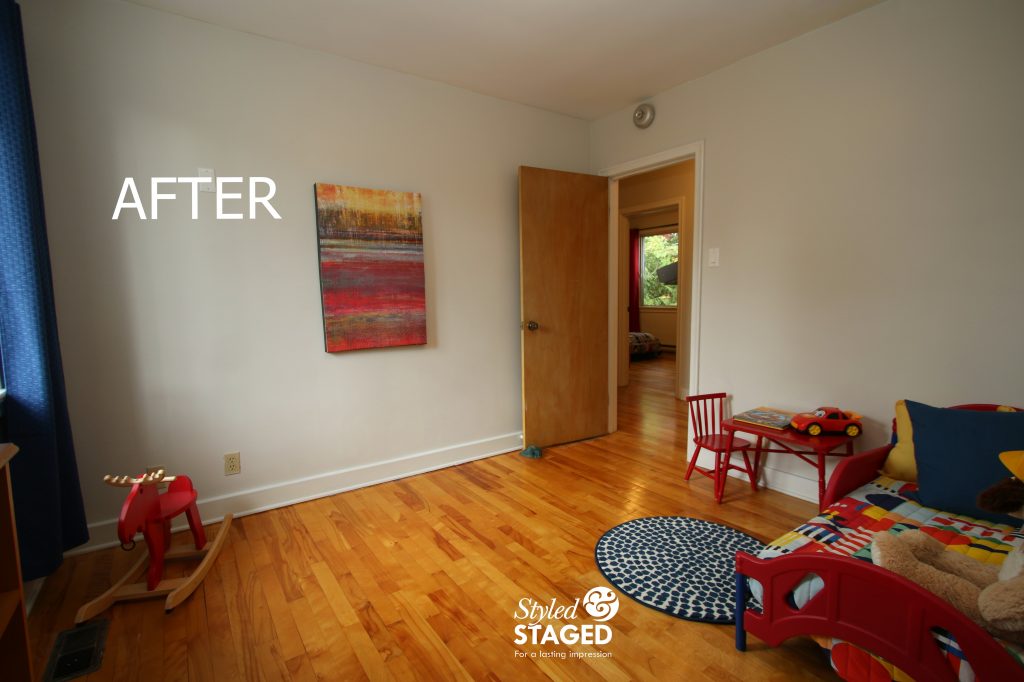 You can see this is another very large bedroom. Notice what great condition the floors are in!
Give Each Room A Purpose: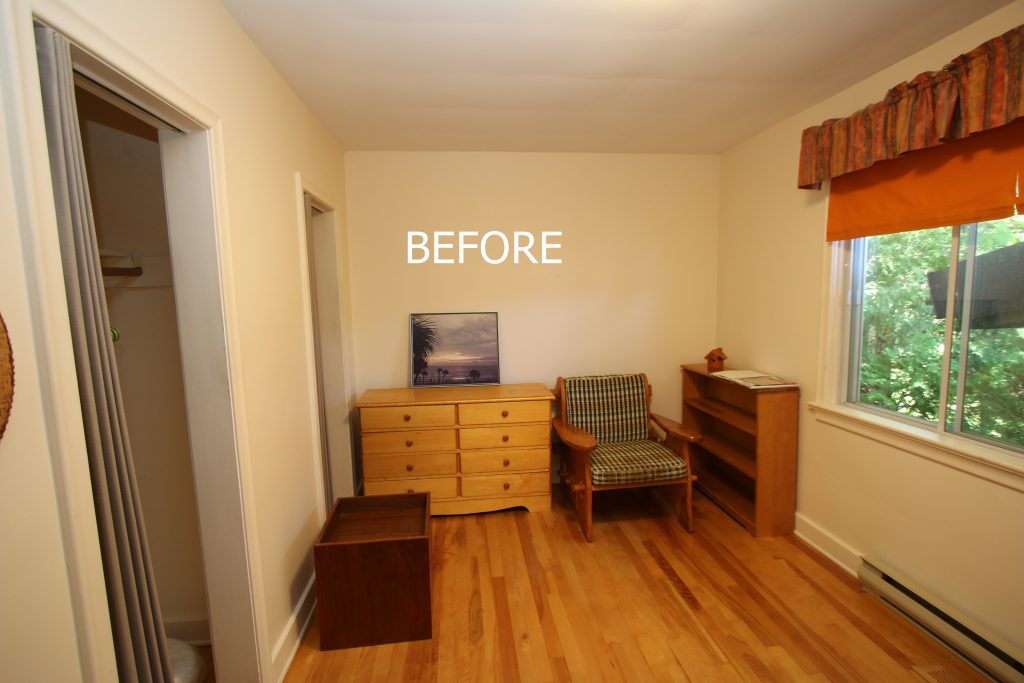 I was able to use their bookcase, their dresser and their lovely teak end tables ( just in different rooms). Using homeowner's furniture is the best way to keep costs down.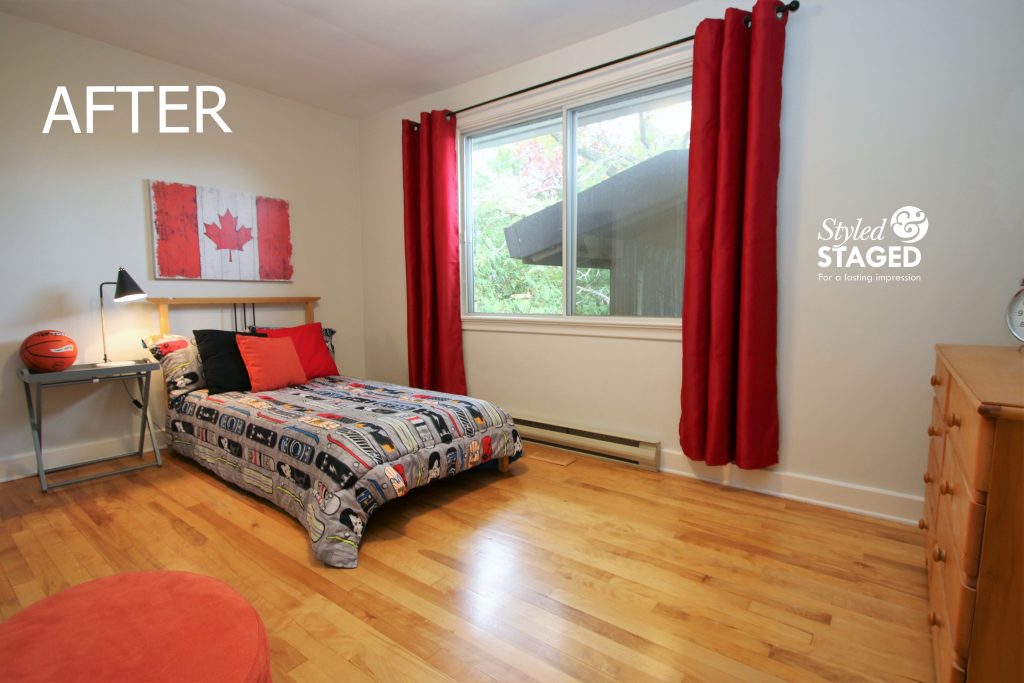 The homeowners were not using this room for anything but now it makes another perfect child's room. I was lucky that they had this spare bed for me to use.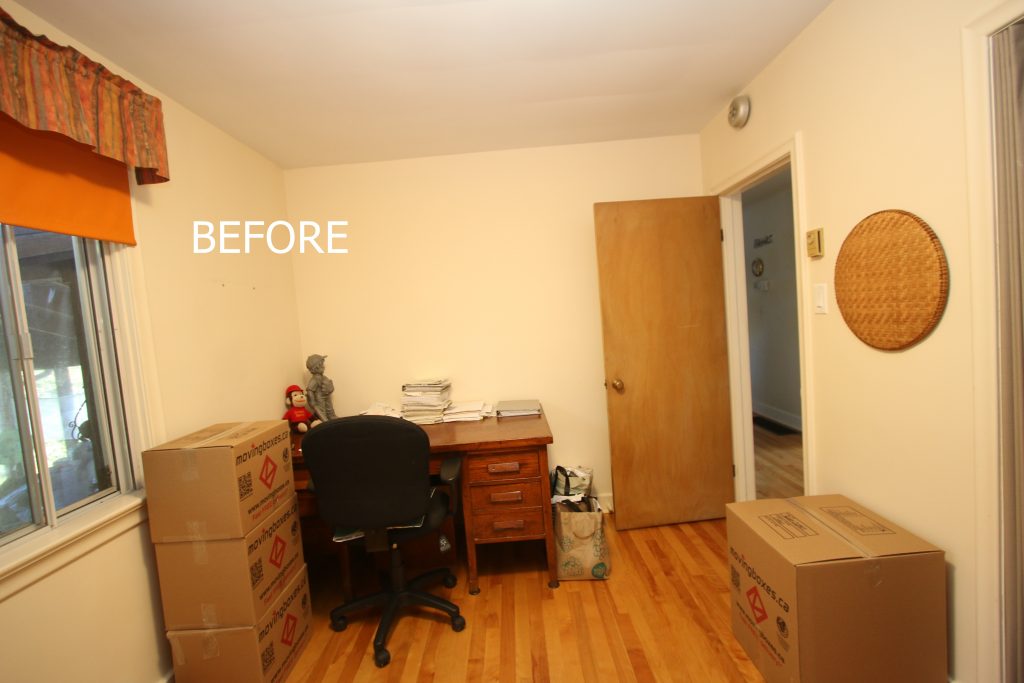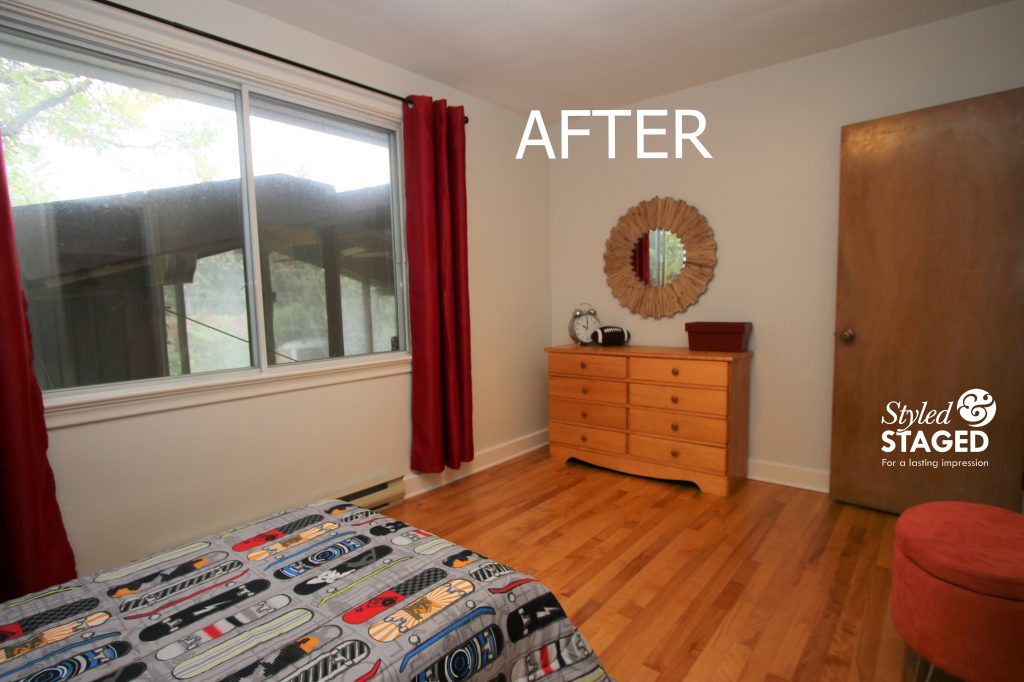 Since they had painted the other two bedrooms and the hallway, they realized that this room needed to be painted as well.
This entire house was decluttered, boxes and furniture were removed. the bedrooms and hallway were painted, the whole place was cleaned, it was staged and photographed in just 14 day!  It was a great team effort!!!
The best part of this house is that there is a completely finished 2 bedroom, livingroom, full bath and full kitchen downstairs with a separate entrance as an income property.